GENEVA.- This year Piguet Auction House will hold its Christmas sale from 12 to 15 December, offering a selection of 3100 lots with a global estimate of CHF 3.5-4.5 million. This winter, the focus is on Chinese art with an exceptionally rare collection of Ming/Qing (17th century) dynasty huanghuali wood furniture from a private Swiss collection, an unseen painting from the internationally renowned Chu The-Chun (1920-2014) and original bound lithographs signed Zao Wou-ki (1921-2013).
The Fine Jewellery and Watches sales echo the quality of the recent auctions held in Geneva this November. Piguet Auction House will present important sets of jewellery, collector's watches from the big names including a collection of over twenty vintage Rolex watches. The modern and antiquarian Books sale will also take place this December, alongside Russian art, luxury handbags, art glass and Old Masters.
An important ensemble dedicated to the masters of Chinese works of art
Ø The Carpenter collection: a collection from a family of diplomates
Piguet Auction House will present an exceptional and extremely rare ensemble of 17th century huanghuali furniture from a private Swiss collection. These pieces of furniture were acquired directly in China by Gardner Clarence Carpenter (1913-1952) during his assignment in the country during the 1940s. Part of the collection was then inherited by his son, Christopher Jenns Carpenter (1940-2015), diplomate under the UNHCR at the time it was awarded the Nobel Peace prize in 1981 and for which he was commended. He kept the collection in Switzerland and continued to enrich it until this day (over 100 lots come from this family's collection, of which 6 are huanghuali furniture). The pure and simplistic lines of the designs make this 300 year old furniture seem timeless. These well preserved pieces in this rare and precious wood will appear on the market for this first time and will be sold by Bernard Piguet on Wednesday 14 December. Two examples of these lots are the hua'an painting table and 2 yuanjiaogui cabinets - lots 573 and 574 each estimated at CHF 100,000-150,000).
Lot 573. A pair of huanghuali yuanjiaogui tapered cabinets, China, 17th-18th century. Estimate: CHF 100,000-150,000. Photo Piguet Auction House.
Paire de cabinets trapézoïdaux yuanjiaogui, en huanghuali, XVII - XVIIIe s.
ouvrant par deux vantaux à pivots intégrés séparés par un montant vertical et deux tiroirs dans le registre inférieur, tablier prolongé en ailerons enserrant les montants de section circulaire en façade et sur les côtés, surmonté par la moulure en tore de la traverse inférieure, 125x64x42 cm
Provenance: collection Carpenter, Suisse
En dépit de la popularité de ce type de meuble à charnières sur pivots de bois et montant central amovible, dont l'existence est attestée dès le millieu de l'ère Ming par de délicats modèles réduits découverts dans la tombe de Pan Yunzheng, datant d'environ 1600 (Berliner, 1996, p. 150, No 30 c, cit. in. Jacobsen & Grindley, op. cit. p. 148), les exemplaires à tiroirs en façade sont relativement rares à notre connaissance. Ils font cependant l'objet d'une mention dans le Xian Qing Ou Ji ("Notes rédigées à des Moments perdus") de l'érudit décorateur du XVIIe siècle Li Yu (1611-1680), qui fait l'éloge de la simplicité en condamnant l'ostentatoire et l'affecté, et décrit la manière d'optimiser la capacité des cabinets de petite taille par l'usage de rayonnages et tiroirs (ibid. p. 150). Cette source ne saurait cependant exclure absolument l'hypothèse de l'aménagement de ce dispositif à l'occasion d'une transformation postérieure au bâti original de ces meubles.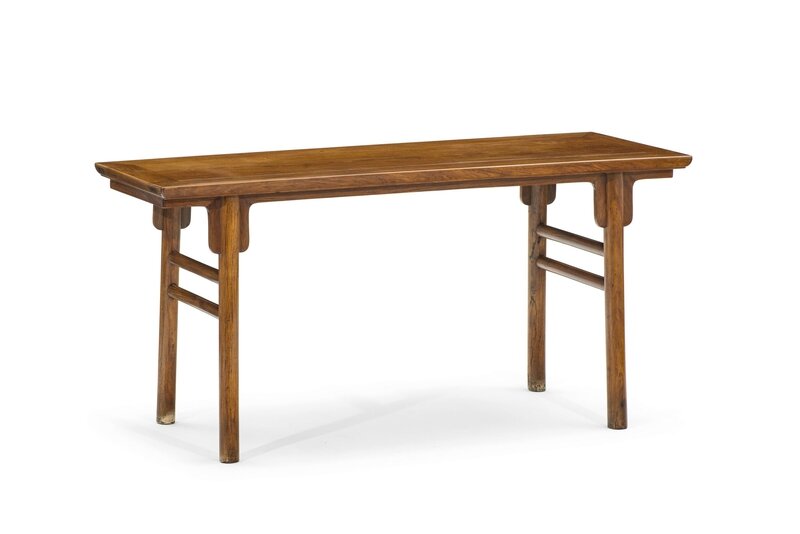 Lot 574. A huanghuali hua'an painting table, China, 17th century, 80x160 cm. Estimate: CHF 100,000-150,000. Photo Piguet Auction House.
Table de peinture hua'an en huanghuali Chine, XVIIe s.
épais plateau au cadre à tranche en quart de rond et angles assemblés à l'onglet solidarisé aux montants divergents de section circulaire par un tablier descendant en ailerons, les montants couplés de chaque côté par des doubes traverses de section ovale, le plateau doublé au revers de quatre renforts aux extrémités biseautées, le tenon de tête de l'un des montants visible à fleur de la surface du cadre de plateau. Légère corrosion de la surface des sabots due à l'humidité.
Pour des commentaires sur la typologie et la destination d'usage de table structurellement comparables, voir Jacobsen, Robert D et Grindley, Nicholas, Classical Chinese Furniture in the Minneapolis Institute of Arts, 1999, No 40, pp. 122-3 et Wu Bruce, Grace, The Dr. S. Y. Yip Collection of Chinese Furniture, Hong Kong, 1991, No 22, pp. 66-7.
Provenance: collection Carpenter, Suisse.
Une table stylistiquement comparable à la nôtre a été vendue chez Christie's New York, 19 sept. 1996, lot 16. 78x162X51,5 cm.
Ø Chinese Contemporary art
After the success of the June sale when a signed work by Chu Teh-Chun (1920-2014) changed hands for a mere CHF 790,000, the artist is back again at Piguet Auction House. An unseen and untitled oil painting known as « Composition, hiver » will be exhibited for the first time at the sale preview on 9, 10 and 11 December and will be auctioned with an estimate of CHF 200,000-300,000 (lot 1025 page 1).
Lot 1025. Chu Teh-Chun (1920-2014), Composition, hiver, huile sur toile, signée et datée (19)87, contresignée et datée 2 décembre 1987 au verso, 73x92 cm. Estimation CHF 200,000-300,000. Photo Piguet Auction House.
Provenance: acquis à Paris en 1987 directement de l'artiste à Paris en 1987 par les actuels propriétaires (collection privée, Suisse)
«L'art abstrait, loin d'être séparé de la nature, lui est plus intimement lié que ne le fut jamais l'art dans le passé» disait Wassily Kandinsky.
Chu Teh-Chun, formé à la peinture et à la calligraphie chinoise, fut désigné comme un «peintre de la dynastie des Song au XXe siècle après la série de ses "Paysages français" de 1960 où de profondes réminiscences chinoises pouvaient être ressenties. Cependant, cette désignation ne saurait suffire pour décrire le style de l'artiste qui n'a pas encore trouvé sa pleine expression poétique.
Entre les années 1960 - 1970, Chu Teh-Chun se détache de l'influence – certes modeste - de Kandinsky et pousse la création d'un monde particulier qu'il fait naître sur ses peintures. Son enseignement par la copie des grands maîtres 'a probablement pas manqué d'ancrer en lui – et dans ses toiles- les grands principes de la peinture dictés par Xie He (420-479) : Le Souffle ou la «vie» autonome de l'œuvre, en mouvement et en rythme, la relation entre objet, idée et forme, la correspondance des couleurs, l'importance de la composition et, bien sûr, le travail du trait.
En effet, la création d'une peinture de Chu comptait deux temps. L'un, «la première couche», comme il l'appelait, peut être vu comme la vibration de l'idée, le fameux «souffle» posée sur la toile en quelques heures. Venait ensuite «le métier» comme le qualifiait modestement l'artiste, soit le travail du geste et des couleurs.
Ainsi la représentation de la nature selon l'abstraction de Chu Teh-Chun est «une peinture très sentimentale», comme il le dira lui-même, à la fois peinture et poésie, une abstraction lyrique, et non synthétique. La passion pour la poésie Tang et Song ne quittera jamais Chu, et imprègne toute son œuvre. Cette littérature, éminemment sensible, nous paraît presque devenir une légende des «Pays Chu» comme Michel Ragon qualifiait les paysages abstraits de Chu Teh-Chun. Ainsi, un poème de Fan Zhongyan (989-1052), trouve un écho saisissant dans notre tableau:
"Là-haut des nuages d'émeraudes
Et sur le sol des feuilles jaunes
Sur les reliefs ondoyants aux teintes d'automne
Se répandent des froides brumes aux reflets glauques.
Le soleil décline au-dessus des collines
dont les vagues se mêlent au ciel.
Inexorable l'herbe au parfum douceâtre
s'étend jusqu'au-delà des hautes montagnes."
"A l'abri du rideau du Sud", Fan Zhongyan (dynastie Song).
Another great Chinese contemporary artist features in the Books sale on Tuesday 13 December. Original coloured lithographs by Zao Wou-ki (1921-2013) illustrate André Malraux's work La tentation de l'Occident (lot 91 estimated at CHF 6,000-9,000). The artist was recently honoured with an exhibition at the Gianadda foundation of Martigny.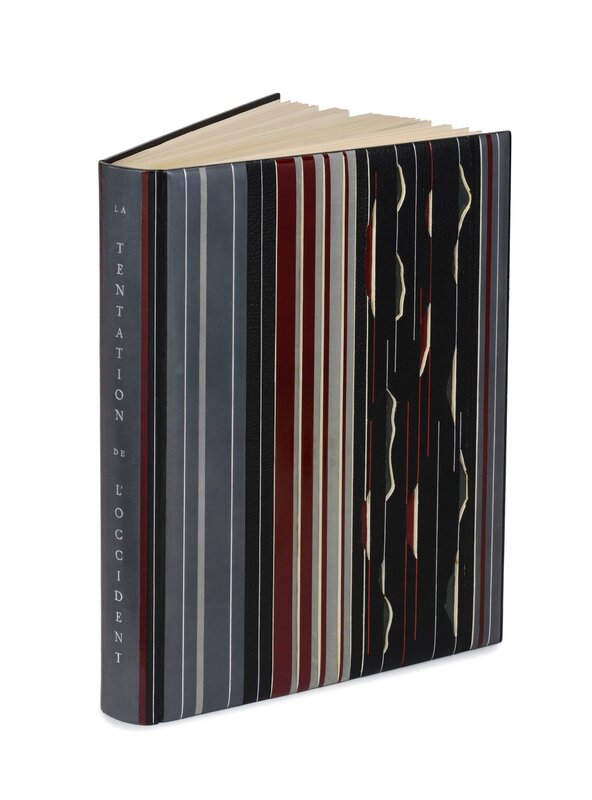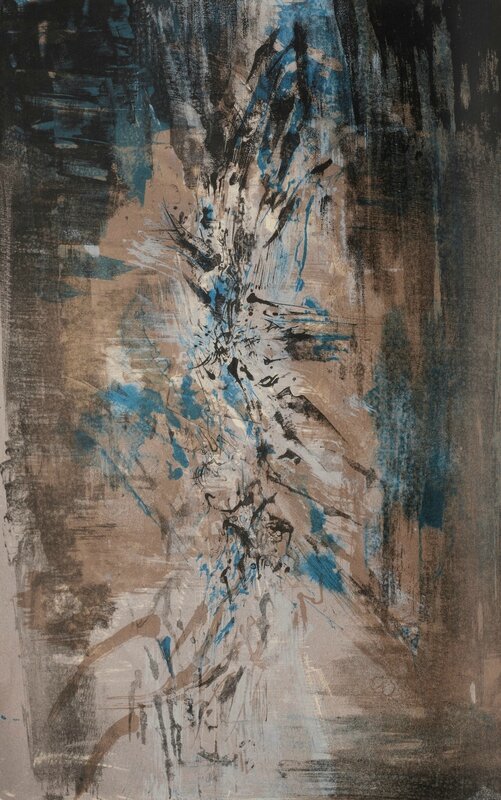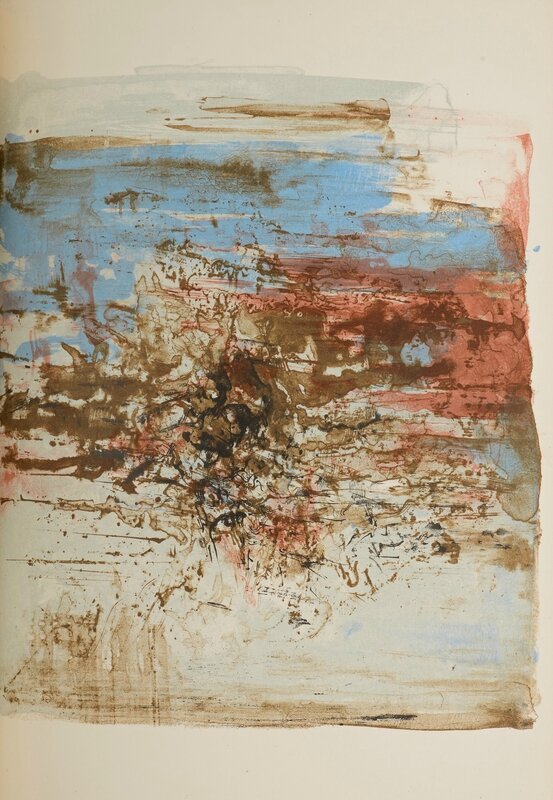 Lot 91. ZAO (Wou-Ki) - MALRAUX (André). La tentation de l'Occident. Sans lieu, Les Bibliophiles Comtois, 1962. Estimation: CHF 6,000-9,000. Photo Piguet Auction House.
Fort in-4° relié plein cuir, plats ornés d'une composition géométrique de lignes verticales mosaïquées de maroquin noir ajouré et de box gris et rouge rehaussé de filets rouge et argent, dos lisse orné en box gris encadrés de deux listels de box rouge, tr. dorées, chemise et étui en maroquin et placage de bois noir. Reliure signée Colette et Jean-Paul Miguet. Ill. de 10 lithographies originales en couleurs à pleine page (dont le frontispice) de l'artiste chinois Zao Wou-Ki. Tirage limité à 170 ex. sur papier vélin d'Arches à la forme, celui-ci n°24, dédicacé, daté et signé au crayon par Zao Wou-Ki. Magnifique exemplaire somptueusement relié;
The high quality of the Chinese works of art presented at this December's Asian Art sale should reinforce Geneva's place on the international art market.
The History of Imperial Russian returns once again to Geneva
As is tradition in December, Piguet Auction House will hold a Russian sale. This year's sale takes us back to time of Imperial Russia with letters from Grand Duchesses Olga and Xenia Alexandrovna Romanov, sisters of Tsar Nicholas II, addressed to their Genevan tutor, Ferdinand Thormeyer.

Dated from 1887 to 1943, these letters tell the story of their lives at Imperial court and their struggles after the fall of the Empire. They allow us a very personal insight into family life around the last Tsar of Russia.

Some objects, such as the silver and enamel vodka cups (charka, lots 204-206) and the oil painting by Grand Duchess Olga Alexandrovna Romanov (lot 203 estimated at CHF 1,500-2,000) also come from the Thormeyer collection.

The Russian sale also includes an important oil painting by celebrated Russian artist Aristarkh Vasilievic Lentulov (1882-1843) estimated at CHF 100,000-150,000 (lot 150), a wide varity of icons, silver and works of art.
The Christmas sale sparkles with fine jewellery and watches
A selection of high quality fine jewellery and watches will be presented at Piguet Auction House's Christmas sale. The most prestigious and emblematic brands such as Cartier, Chopard, IWC and Jaeger-LeCoultre will be on offer, with some more rare pieces that will certainly draw more special attention.

Ø Fine Watches Sale Highlights
In the watches sale, Rolex dominates the scene by the sheer number of collector's timepieces that will be put up for auction. No less than thirty models will be presented, twenty of which are from a private Swiss collector. These range from vintage models such as a 1969 Cosmograph Daytona (lot 1607 estimated at CHF 20,000-30,000) to a 2007 Cosmograph Daytona (lot 1581 estimated at CHF 20,000-30,000), with others such as a 1980 Submariner (lot 1605 estimated at CHF 8,000-12,000) and a 1986 Oyster Perpetual Day-Date (lot 1591 estimated at CHF 5,000-7,000).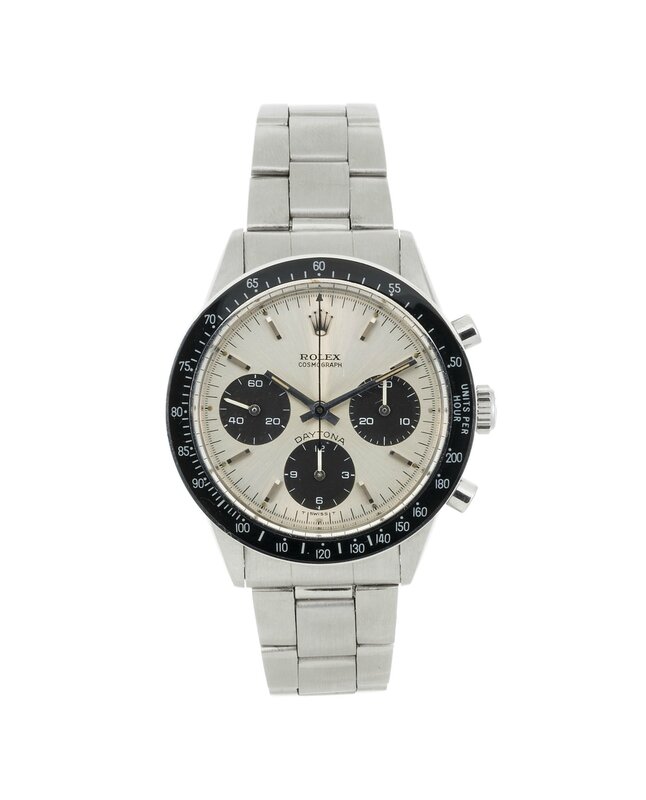 Lot 1607. Rolex, Cosmograph Daytona, rare, montre-bracelet chronographe en acier. Estimation CHF 20,000-30,000. Photo Piguet Auction House.
Signée Rolex, ref. 6264/6241, n°boîte 2372884, circa 1969.
Cal. 727 Valjoux, mécanique, 17 rubis, cadran argenté mat, index appliques argentés, index points luminescents, aiguilles argentées, chronographe à 2 compteurs noirs à graduation et chiffres blancs avec secondes au centre, compteur subsidiaire noir avec graduation et chiffres arabes blancs pour les secondes, lunette noire graduée jusqu'à 200., diam. 37 mm, boîte.
Inaugurée en 1963, la collection Cosmograph se voit adjoindre le nom Daytona en 1964 marquant ainsi l'attachement de Rolex pour les sports automobiles et célébrant ainsi le sponsoring de la marque qui débuta 2 ans plus tôt au profit du circuit du même nom . Cette collection est l'une des plus emblématiques de la maison Rolex. Déclinée sous différentes références, la référence 6264 fut produite de la fin des années 1960 jusqu'en 1972. Il s'agit du dernier modèle avec lunette noire dont les poussoirs ne sont pas sécurisés par le système permettant de les visser quand ils ne sont pas utilisés.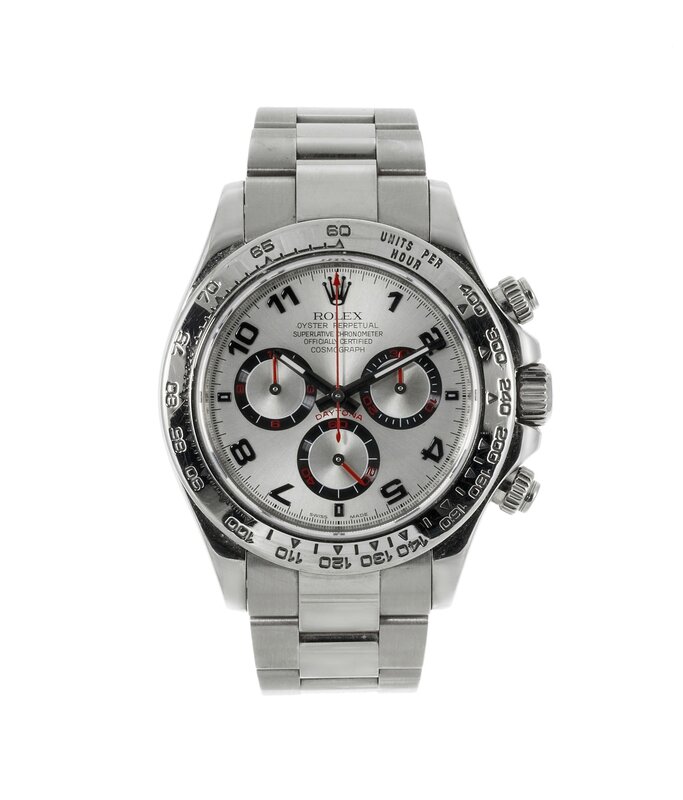 Lot 1581. Rolex, Oyster Perpetual Cosmograph, Daytona, montre-bracelet chronographe automatique en or gris 750. Estimation CHF 20,000-30,000. Photo Piguet Auction House.
Signée Rolex, réf. 116509, n°mouvement 0 0266017, n°boîte Z514118 et 2119, circa 2007.
Cal. 4130, automatique, 44 rubis, cadran argenté satiné, chiffres arabes appliques noirs, aiguilles luminescentes, chronographe à 2 compteurs avec graduation et aiguilles au centre rouge, compteur subsidiaire pour les secondes, lunette graduée noire pour le tachymètre, diam. 38 mm, certificat mentionnant la date d'achat le 22/06/2007, pochette, boîte
Apparue en 2000 la référence 116509 est dotée d'une boîte ainsi que d'un bracelet en or gris. Elle est déclinée dans 2 versions l'une avec un cadran noir, l'autre avec un cadran argenté mat avec index or gris appliques comme celui-ci.
Two stand out models from Patek Philippe are the rare white gold Tachymetre Chronograph estimated at CHF 40,000-60,000 (lot 1611) and the Calatrava Perpetual Calendar estimated at CHF 20,000-30,000 (lot 1610).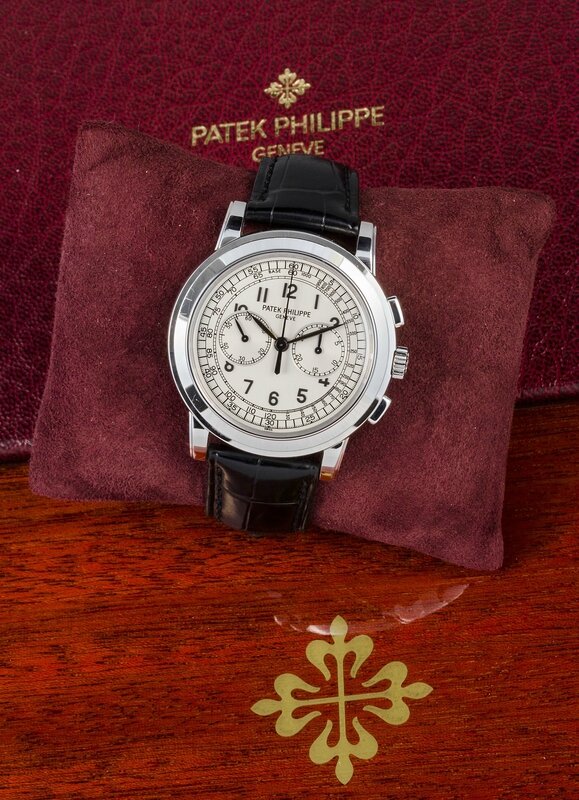 Lot 1610. Patek Philippe, Rare montre chronographe tachymètre en or gris 750. Estimation CHF 40,000-60,000. Photo Piguet Auction House.
Signée Patek Philippe, réf. 5070G-001, n°mouvement 3147838/4254115, circa 2004
Cal. 27-70 CHR, mécanique, 24 rubis, cadran argenté, chiffres arabes oxyde noirs, aiguilles noires, chiffres arabes et graduation noirs, aiguilles noires, chronographe à 1 compteur avec secondes au centre, graduation du tachymètre sur l'extérieur du cadran, compteur subsidiaire pour les secondes à 9 heures, fond transparent laissant apparaître le mouvement, diam. 41 mm, boucle déployante PP en or gris 750, bracelet PP en croco noir, certificat d'origine mentionnant la date d'achat le 12/03/2004, documentation, boîte, kit d'horloger Patek Philippe dans sa trousse contenant 1 loupe, 1 paire de gants ainsi qu'un chiffon et produit nettoyant pour montre water-resistant.
Cette référence se distingue d'emblée par son style qui puise son inspiration dans l'âge d'or des courses automobiles et dans les anciens chronographes. La production de la référence 5070 fut limitée à 250 exemplaires annuels en raison de la complexité du mouvement faisant ainsi la rareté de ces modèles.
Another brand and model of exceptional note is the Blancpain tourbillon watch in platinum (lot 1612 estimated at CHF 12,000-18,000).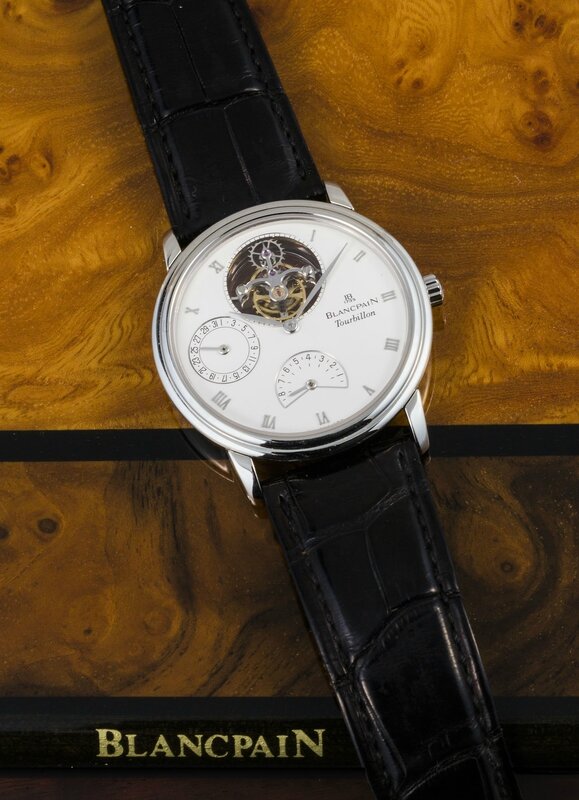 Lot 1612. Blancpain, montre tourbillon en platine avec réserve de marche de 8 jours et indication de la date. Estimation CHF 12,000-18,000. Photo Piguet Auction House.
Signée Blancpain réf. 0023-3427-55, n°mouvement 537, n°boîte 164, circa 2000
saphir, indication de la réserve de marche à 6 heures, compteur à 9 heures indiquant la date, verre saphir, diam. 33 mm, boucle Blancpain en platine, bracelet Blancpain en croco noir, date "d'achat" le 26/10/2000, révision datée du 26/10/2007, manuel d'instructions, boîte et loupe Blancpain, pochette de voyage.
Blancpain s'exprime dans ce modèle au travers d'une complication d'excellence, le tourbillon, dispositif qui compense les écarts de marche dûs à la gravité dans un boîtier extrêmement plat. De plus, cette montre est dotée d'une réserve de marche de 8 jours, combinaison créée en premier par la maison Blancpain. La numérotation 164 de cette pièce suggère que ce modèle a été réalisé de manière limitée.
Ø Fine Jewellery Sale Highlights
An opulent collection of Fine Jewellery by Adler will attract jewellery lovers with a matching set of clip earrings and necklace in white gold and diamonds with tear-drop emeralds (lot 1797 estimated at CHF 30,000-50,000) and a two-tone gold diamond and pear-cut emerald necklace with matching drop earrings (lots 1767 and 1768 estimated at CHF 30,000-40,000).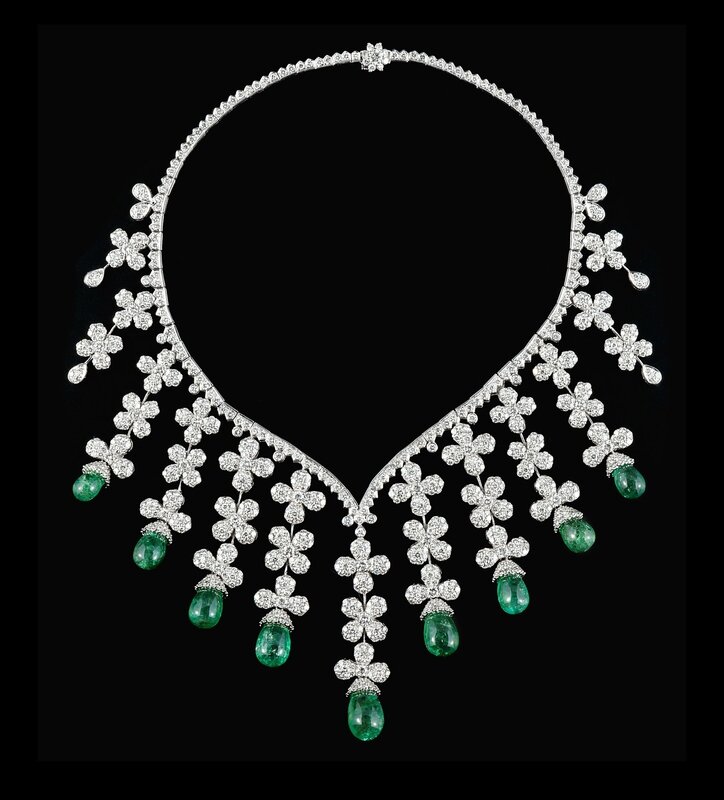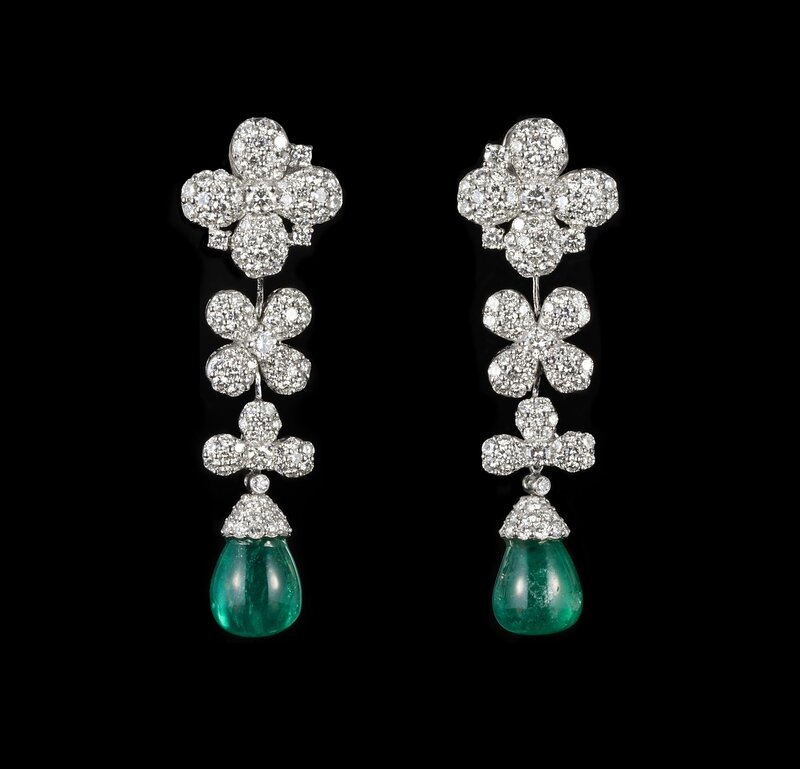 Lot 1797. Adler, ensemble comprenant 1 collier et 1 paire de clips d'oreilles en or gris 750 à décor de trèfles serti de diamants taille brillant (total env. 59 ct) et retenant des émeraudes taille gouttes (total env. 132 ct). Estimation CHF 30,000-50,000. Photo Piguet Auction House.
signés, long. 42 cm, h.7 cm, 231g, écrin.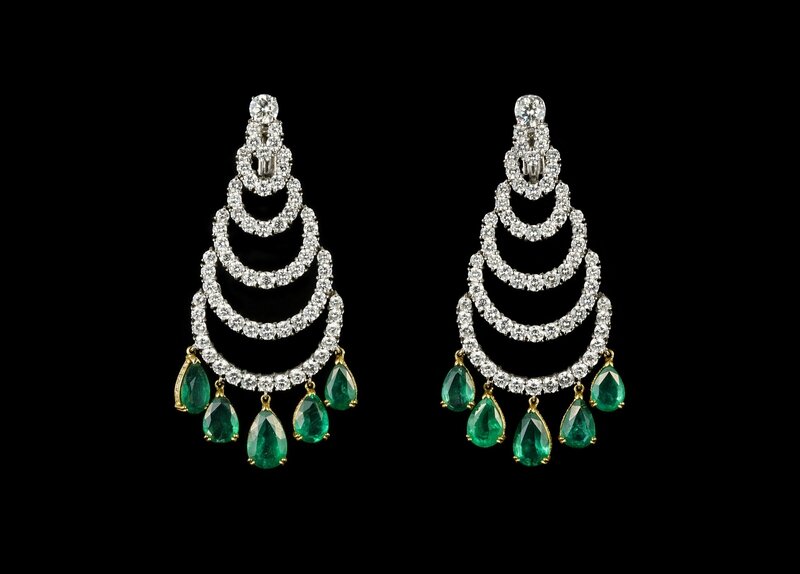 Lot 1767. Adler, paire de pendants d'oreilles, 2 ors 750 sertie de diamants taille brillant (total env. 14 ct) retenant des émeraudes taille poire (total env. 20 ct). Estimation CHF 5,000-7,000. Photo Piguet Auction House.
signée, h. 7 cm, 34g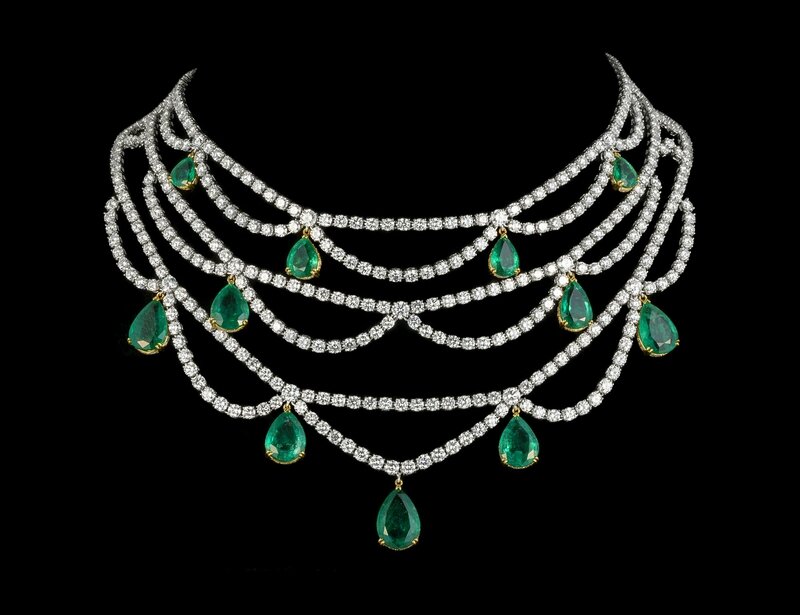 Lot 1768. Adler, collier 2 ors 750 serti de multi-lignes de diamants taille brillant (total env. 48 ct) retenant des émeraudes taille poire (total env. 35 ct). Estimation CHF 25,000-35,000. Photo Piguet Auction House.
signé, long. 39 cm, 97g, écrin
A variety of designer jewellery by the likes of Van Cleef and Arpels provides a wide choice for gifts this festive season. Other gift ideas for the more marked occasion would be this pair of clip earring by Boucheron Fine Jewellery (lot 1802 estimated at CHF 20,000-30,000) or a solitaire diamond ring by Harry Winston (lot 1765 estimated at CHF 30,000-50,000).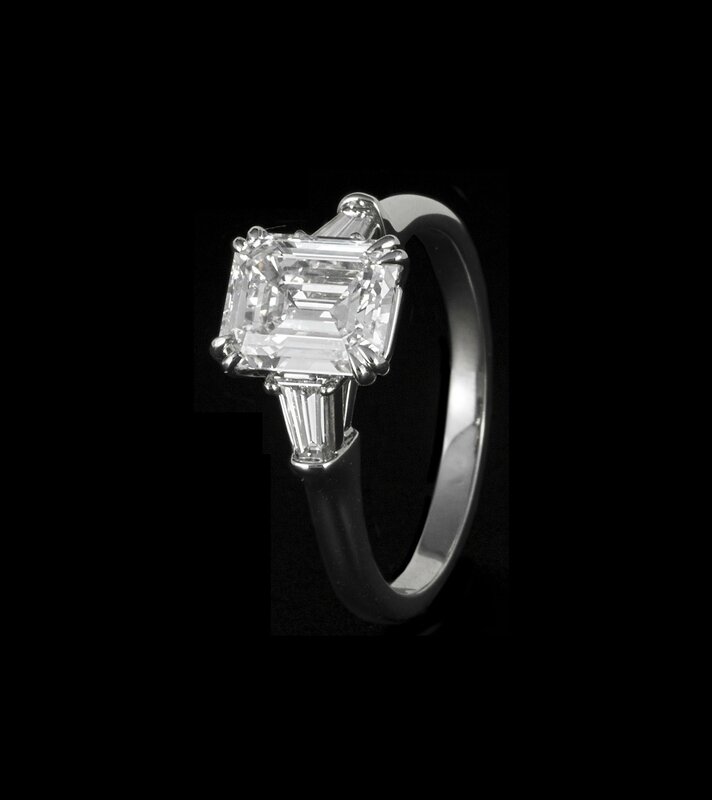 Lot 1765. Harry Winston, solitaire en platine serti d'un diamant taille émeraude de 2.52 ct, D, VVS2. Estimation CHF 30,000-50,000. Photo Piguet Auction House.
selon certificat du GIA n°5171882174 du 19/10/2016, épaulé de 2 diamants taille trapèze, monture dissimulant secrètement un diamant jaune taille brillant, signée, doigt 58-18.
Over 160 lots of luxury handbags
A vast collection of over 160 branded luxury handbags will also be presented at the December auction. A few examples of what is on offer:
Lot 244. Hermès, sac Birkin 35 en togo gold. Estimation CHF 4,000-6,000. Photo Piguet Auction House.
piqué sellier blanc, bouclerie dorée, tirette et clochette avec 2 clefs, cadenas, housse protège-pluie, housse, 26x35 cm, avec porte-accessoire pince en métal doré.
- A monogram Graffiti Speedy 30 handbag by Marc Jacobs & Stephen Sprouse for Louis Vuitton (lot 276 estimated at CHF 400-600).
- A gilt alligator style leather jewellery chest by Gautier, Geneva (lot 230 estimated at CHF 1,000-1,500).
Modern and Antiquarian books
The Book sale will launch the week long December auction, starting with the antiquarian book section. 18th and 19th century travel books will be followed by luxury editions of works with modern illustrations and bindings by renowned Parisian binders and finishing with some examples of erotic publications. The Book sale's star lot is a work illustrated with original colour lithographs by Chinese artist Zao Wou-ki (1921-2013) (lot 91).
Old Masters Sale, the high point of the paintings and sculptures session
Many paintings in Wednesdays evening's Old Masters sale deserve a special mention: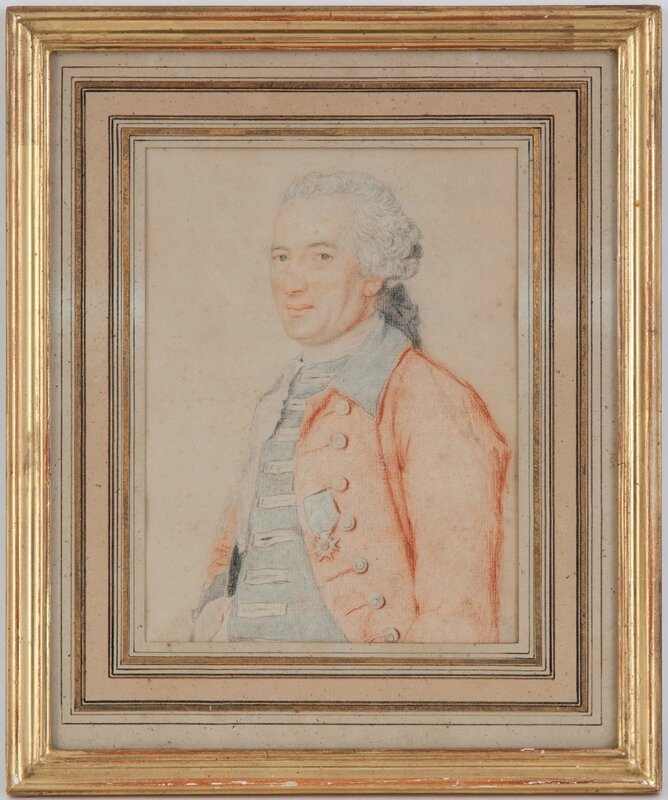 Lot 1245. Jean Etienne Liotard (1702-1789), Portrait de Pierre Pictet de Sergy (1724-1813), dessin à la sanguine et pierre noire, 23,5x17,5 cm. Estimation CHF 70,000-90,000. Photo Piguet Auction House.
Provenance: Dans la même famille depuis l'achat à l'artiste ca 1761 (ancienne collection Gustave Pictet, Genève)
Exposition: - Genève, 1888, n°73 avec attribution à Jean-Michel Liotard
Bibliographie: - Liotard, Catalogue, sources et correspondance, Roethlisberger-Loche, vol. II, n° JML38, fig. 901, p. 736
- Dessins de Liotard: Suivi du catalogue de l'oeuvre dessiné, de Herdt, n° 137, p. 286
Une note du registre des dépenses de Pierre Pictet, à la date du 14 novembre 1761, indiquant "Payé à M. Liotard mon portrait en craion, y compris le quadre... Livres 120" (cité par de Herdt et, ensuite, Roethlisberger-Loche) permet de dater cette oeuvre entre 1760 et 1761. Notons qu'il existe une copie contemporaine de ce portrait, faite par Jean-Michel Liotard, le frère jumeau de Jean-Etienne (repr. in Roethlisberger-Loche, fig. 902).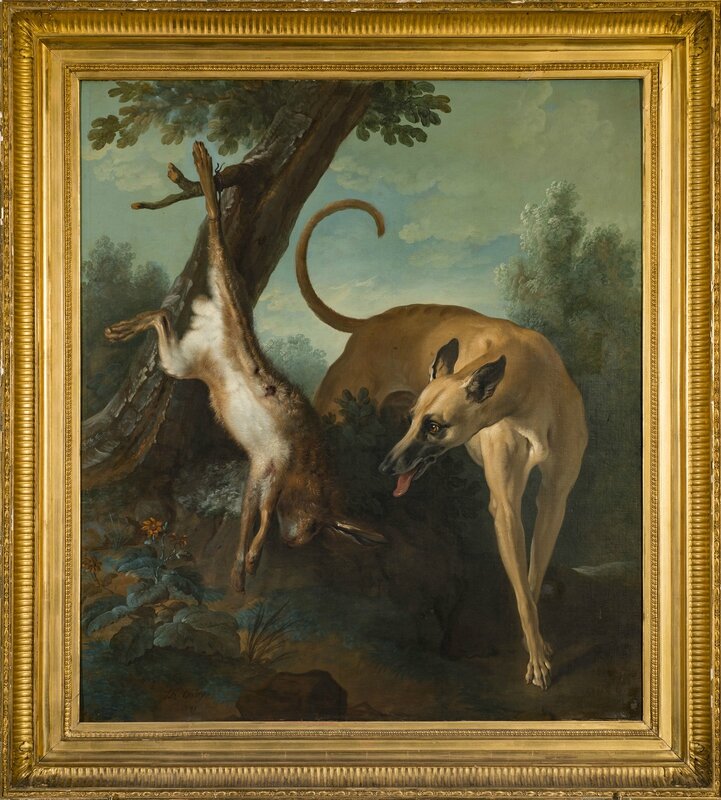 Lot 1246. Jean-Baptiste Oudry (1686-1755), Lévrier surveillant un trophée de chasse au lièvre, huile sur toile, signée et datée 1731, 131x114 cm. Estimation CHF 30,000-50,000. Photo Piguet Auction House.
Provenance: - hôtel particulier parisien, dans la même famille depuis le milieu du XIXe siècle
- vente Tajan, Paris, 24 juin 2004, lot n° 53
- collection privée, Genève.
Expertise: Eric Turquin, Paris, 24 juin 2004 (copie en notre possession)
Bibliographie pour comparaison: H. N. Oppermann, Jean Baptiste Oudry, vol. I, n° P481, fig. 69, p. 542
Ce n'est véritablement qu'en 1722 que Jean Baptiste Oudry, élève de Nicolas de Largillierre (1656-1746), s'affirme en tant que peintre animalier. Alors que la première partie de sa vie de peintre ne lui permet pas d'affirmer une personnalité artistique propre, c'est bien dans la représentation des natures mortes, paysages, et bien sûr des animaux qu'un style artistique personnel, original et novateur, va naître.
Entre 1722 et 1725, Oudry présente ses œuvres au Salon de la Jeunesse ce qui permet à son art d'éclater au grand jour notamment avec sa première peinture de chasse "La chasse au sanglier" de 1722. Le succès est considérable puisque 26 de ses toiles sont exposées à Versailles le 10 mars 1726, admirées par le Roi, la Reine mais aussi par toute la cour.
Au moment de l'exécution de notre tableau, Oudry est alors à l'apogée de son art. Comme peintre animalier, il est très probable que ses sources d'inspirations principales aient été les compositions des anversois Frans Snyders (1579-1657) et Jan Fyt (1611-1661), peintres animaliers et de gibiers les plus influents de leur temps. Il est intéressant de noter à ce propos que Largillierre fit copier à son élève plusieurs scènes de chasses hollandaises ainsi que l'indique le Mémoire pour servir à l'Eloge de Mr. Oudry (ca 1760, cf. H. Opperman, Jean-Baptiste Oudry, Garland, New York, 1977, vol. 1, p. 170).
Cependant, sa touche se veut plus douce et fondue, sa palette, plus chaude et contrastée. La composition, si typique des oeuvres d'Oudry, se condense autour des figures. La peinture animalière de Oudry réemprunte des figures d'animaux de son propre répertoire afin de varier les thèmes. A ce titre, notons l'exacte similitude entre la figure du lièvre de notre tableau avec celle dépeinte dans l'oeuvre "Nature morte avec un fusil, un pâté et gibier mort (Le Feu)", 1720, conservée au Palais royal de Stockholm.
Les horizontales se courbent autour de diagonales donnant un "effet naturel" sans être véritablement naturaliste. Ce jeu de lignes s'exprime particulièrement bien dans le traitement des animaux, et notamment dans la position du lévrier autour du trophée dans notre tableau. La peinture de Jean-Baptiste Oudry s'inscrit dans le style rocaille jouant sur les courbes et contre-courbes, exprimant une modernité qui le distingue de l'influence des maîtres hollandais.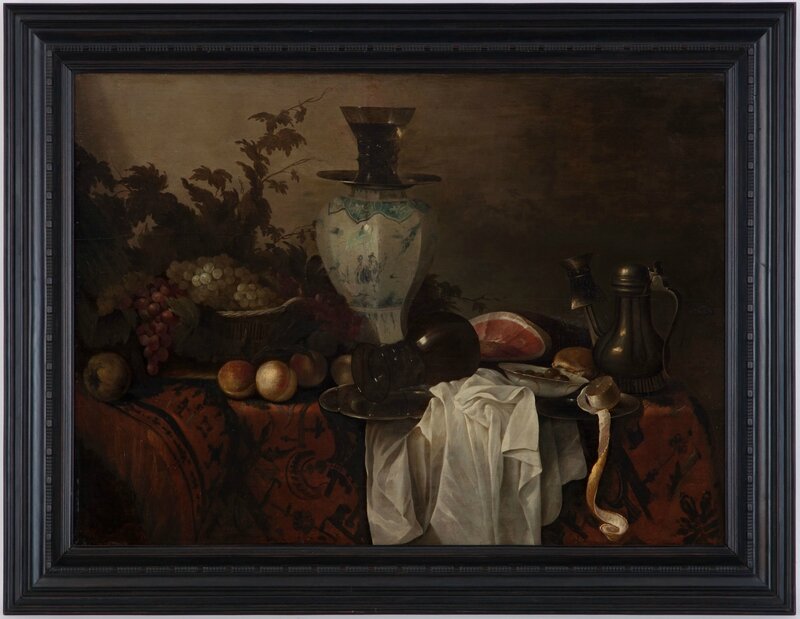 Lot 1205. Cornelis Kruys (1619-1654), Nature morte au vase de Chine, ca 1650, huile sur panneau, 84x116,5 cm. Estimation CHF 20,000-30,000. Photo Piguet Auction House.
Provenance: - Vente Lempertz, Cologne, 14 et 15 juillet 1933, lot n° 282, vendu comme Abraham Van Beijeren (ca 1620-1690)
- Vente Philips, Londres, 1er juillet 1997, lot n° 13
- Johann M. Latteier, Balzers, 1997
- Collection privée, Suisse
Expertise: nous remercions Fred G. Meijer du RKD (Netherlands Institute for Art History) de son avis sur cette oeuvre d'après photographies, novembre 2016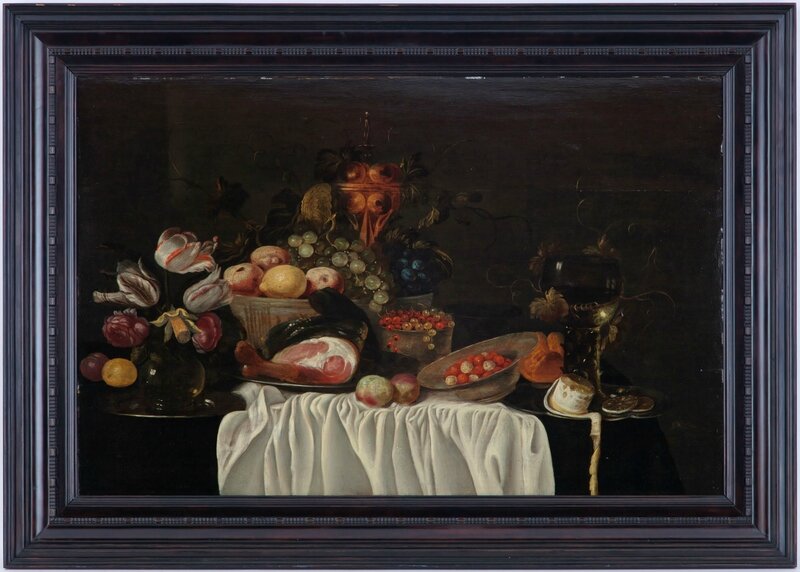 Lot 1206. Monogrammiste JHV (act. entre 1652-1663), Nature morte aux tulipes, huile sur panneau, monogrammée, 70x108 cm. Estimation CHF 15,000-20,000. Photo Piguet Auction House.
Provenance: - Vente collection de I. Riesner, Bruxelles, 19 novembre 1927, lot n° 45
- Collection R. Lamm, Paris, 1955
- Collection privée, Suisse
Expertise: nous remercions Fred G. Meijer du RKD (Netherlands Institute for Art History) de son avis sur cette oeuvre d'après photographies, novembre 2016.
L'identité du Monogrammiste JHV demeure inconnue à ce jour. De sa production artistique ne sont connues qu'une douzaine d'œuvres représentant des natures mortes, exécutées entre 1652 et 1663.
Les nombreuses similitudes entre les œuvres du Monogrammiste, de Jan Davidszoon de Heem et de Michiel Simons indiquent une connaissance précise de leurs travaux réciproques, situant cette production picturale entre Utrecht et Amsterdam.
Cette proximité de style aura poussé les experts, en 1955, à voir dans cette peinture la main de Jan Davidszoon de Heem.
Great Christmas Gift Ideas
With the Christmas holidays approaching, Bernard Piguet and his team of specialists suggest a few gift ideas for presents at affordable prices to slip under the tree:

- A Speedy 30 handbag by Louis Vuitton (lot 275 estimated at CHF 300-500).

- A signed lithograph by Georges Braque (1882-1963) (lot 1133 estimated at CHF 600-800).

- A selection of art glass by Daum (lots 312 to 335).

- A white gold B Zero ring by Bulgari (lot 1515 estimated at CHF 200-300).

- 2 bracelets by Cartier which transform into a necklace (lot 1520 estimated at CHF 300-500).

- A pair of Royal Oak cufflinks by Audemars Piguet (lot 1547 estimated at CHF 400-600) or a pair of Hublot cufflinks (lot 4255 estimated at CHF 100-200).

- A Grace Kelly pen by Mont Blanc (lot 1641 estimé CHF 200-300).

- And over 350 lots of luxury handbags, accessories, jewellery and watches at attractive prices to be auctioned in the silent sale (auction via written bids only);