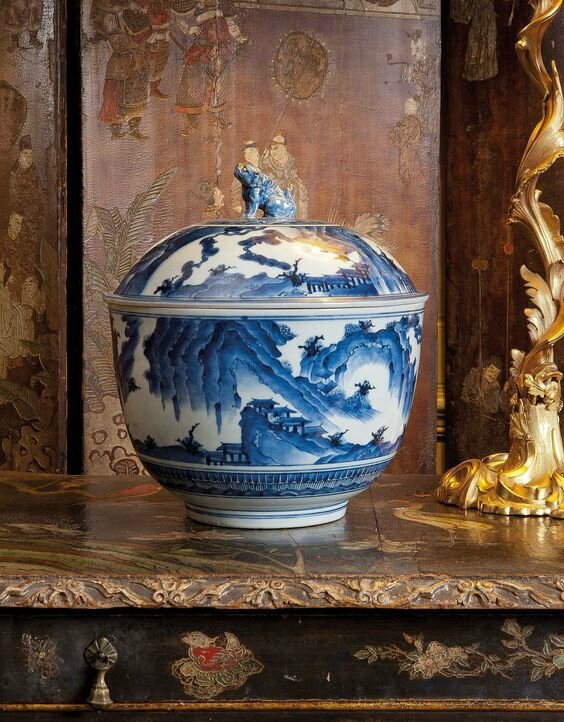 Lot 42. An Arita Tureen and Cover, Edo Period (late 17th century). Photo Christie's Image Ltd 2016.
Decorated in underglaze blue in the Kakiemon style with continuous design of buildings among mountains above a band of geometric design, the domed cover similarly decorated with landscape and a geometric band surrounding the finial shaped as a shishi [lion dog] - 34cm. high
Note: For similar examples, see Nagatake Takeshi, Yabe Yoshiaki, Imari, vol. 19 of Nihon toji taikei [Compendium of Japanese ceramics] (Tokyo, 1989), pl. 28; Toguri Bijutsukan [Toguri Museum of Art], Kaikan kinen meihin ten [Commemorative Exhibition for the Opening] (Tokyo, 1987), p.65, pl.57; and Toguri Bijutsukan [Toguri Museum of Art], Nihon toji meihin zuroku [Japanese ceramics in the Toguri collection] (Tokyo, 1988), p. 103, 298, no.144 (the Toguri Museum of Art collection).
Christie's on line. JAPANESE ART AT THE ENGLISH COURT