Workshop of the Saracchis, Small rock-crystal jug, Milan, ca 1600. Rock crystal; enamelled gold mount. Height 13 cm © Kunstkammer Georg Laue
Johann Daniel Mayer, Court treasury artworks of semi-precious stone with enamelled and fire-gilt silver mounts, Augsburg, 1670-1680. Jasper, jade and rock crystal mount: silver fire-gilt © Kunstkammer Georg Laue
Literature: published in: Georg Laue, Tresor. Treasures for European Kunstkammer, Munich 2017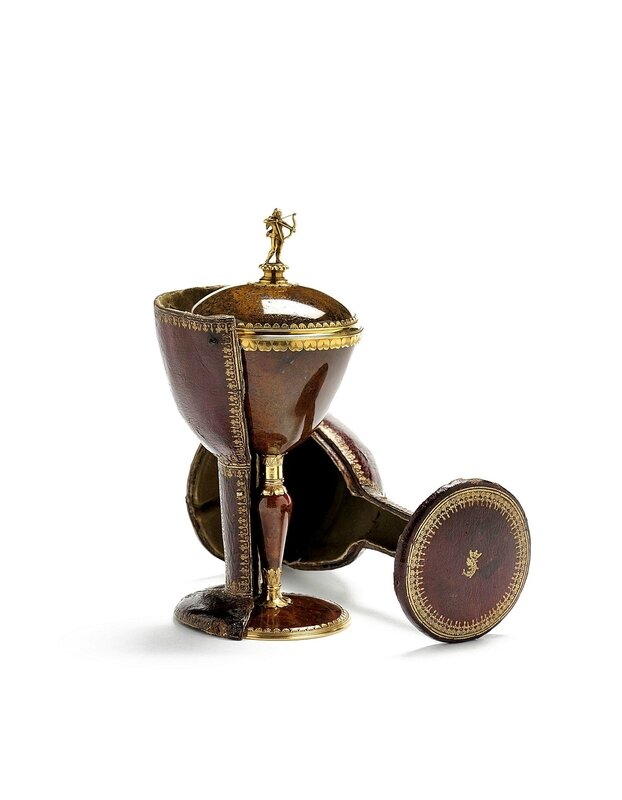 Johann Georg Kobenhaupt, Moss agate cup in it's leather case, Stuttgart, circa 1620. Moss agate, gold, leather case. Height 21 cm © Kunstkammer Georg Laue
Literature: published in: Georg Laue, Tresor. Treasures for European Kunstkammer, Munich 2017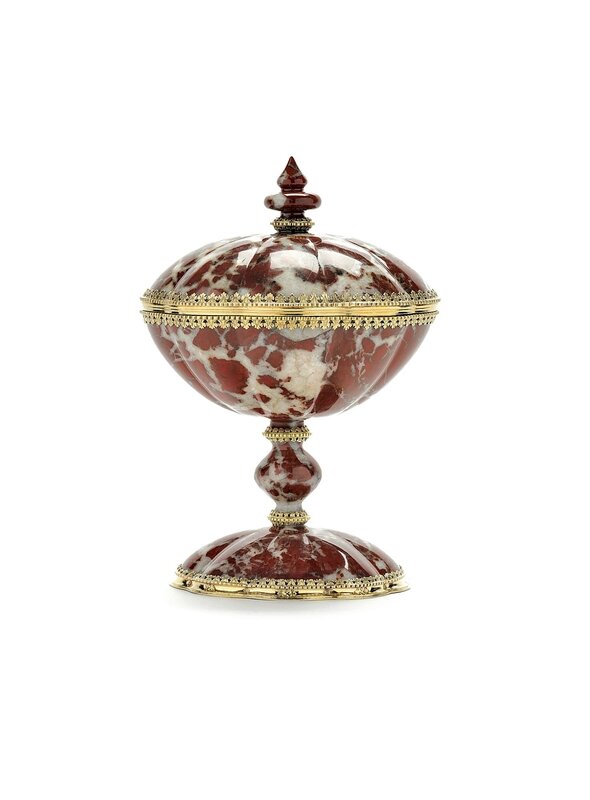 Johann Georg Kobenhaupt, Court jasper cup, Stuttgart, circa 1620. Jasper Kellerwaldachat, fire-gilt silver. Height 16.5 cm © Kunstkammer Georg Laue
Literature: Georg Laue, Tresor. Treasures for european Kunstkammer, Munich 2017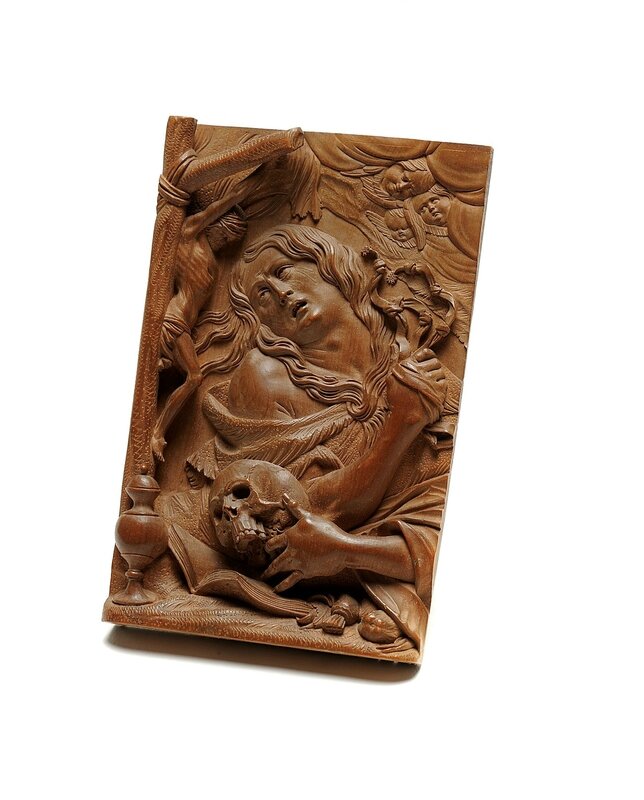 Christoph Daniel Schenck (1633-Constance-1691), Memento Mori - St Magdalene, Constance, 1679. Limewood. Height 13 cm. Monogrammed and dated 'C.D.S. 1679' © Kunstkammer Georg Laue
Executed with consummate mastery, this relief bears the monogram 'C.D.S.', which stands for Christoph Daniel Schenck, one of the most important South German sculptors active in the last third of the 17th century. Another relief by the artist that shows Mary Magdalene in contemplation of the vanity is displayed at the Museum für Kunst und Gewerbe in Hamburg; the J. Paul Getty Museums owns two further wooden reliefs by Schenck that are coming from the Baden-Baden Kunstkammer.
Provenance: Private collection, UK
Literature: Christoph Daniel Schenck (1633-1691), Sigmaringen 1996, pp. 121-122, cat. no. 6; F. Fischer, Große Kunst in kleinem Format, Stuttgart 2004, pp. 30-31, cat. no. 9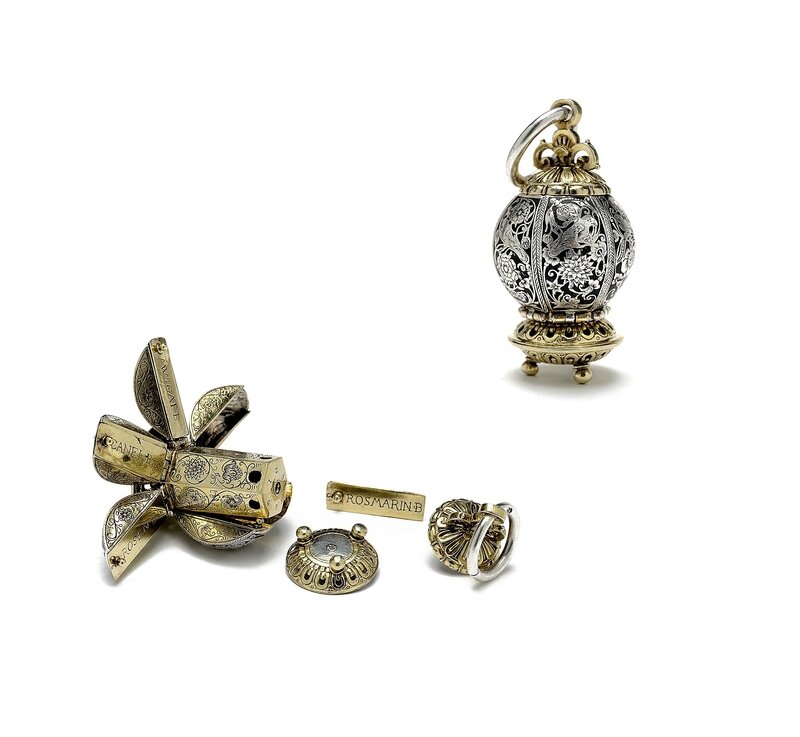 A Renaissance pomander, Germany, circa 1620. Fire-gilt silver and niello Height 7 cm © Kunstkammer Georg Laue
What appears to be an ovoid silver pendant is in fact a particularly rare and precious receptacle for various scents and medicinal substances, a so-called pomander. The main body of the pomander depicts engraved birds in tendrils of flowers and plants that stand out from the dark background of the niello. It consists of six hinged compartments that open up like segments of an orange when one unscrews the top ring. A nearly identical piece with engravings of flowers with niello is displayed at the Victoria and Albert Museum in London.
Provenance: Private collection, Switzerland
Literature: G. Laue, Tresor. Treasures for European Kunstkammer, vol. XI, Munich 2017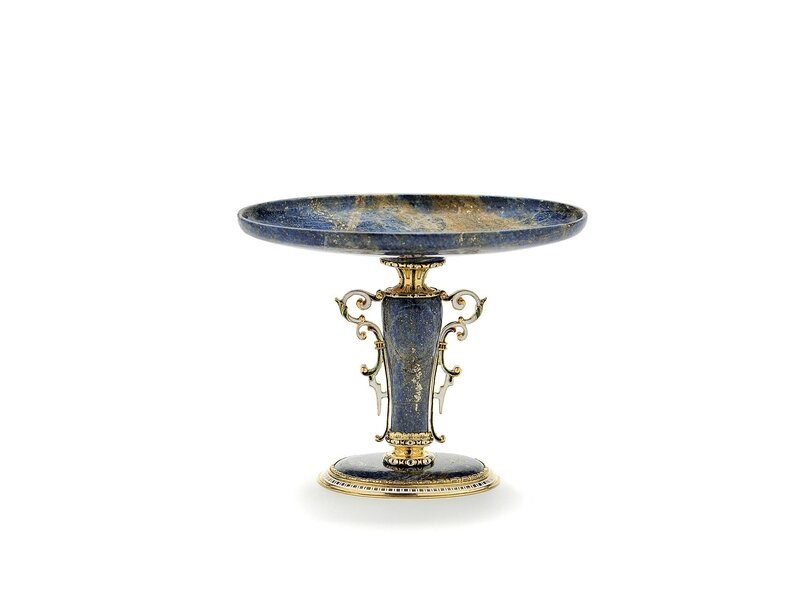 Gasparo Miseroni, Lapis lazuli tazza, Milan, ca 1570. Lapis lazuli, enamelled gold mount. Height 7,5 cm © Kunstkammer Georg Laue
The precious lapis lazuli tazza is composed of a flat oval bowl, a baluster shaped shaft and a foot disc that are fitted with enameled gold. Both the vessel's shape and fittings are typical for the Milanese artworks in the 2nd half of the 16th century. Another lapis lazuli cup with similar fittings is at the Württembergisches Landesmuseum (Württemberg State Museum) in Stuttgart. This exquisite vessel made by Gasparo Miseroni (ca 1518-1573) in around 1560 was in possession of the Duchess Barbara Sophia of Württemberg (1584-1636) in the beginning of the 17th century before it entered the Kunstkammer of Eberhard III of Württemberg (reign 1628-1674) in 1669.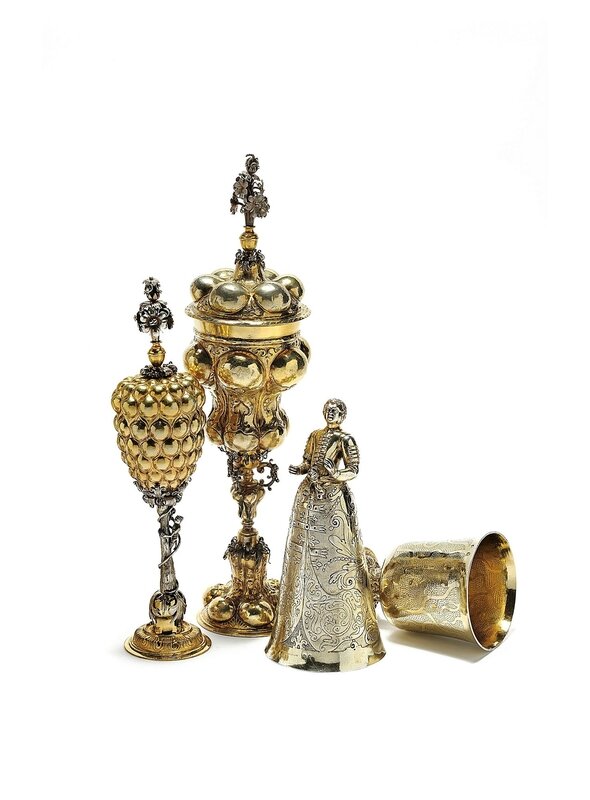 Renaissance cups, South German, 1580-1630. Fire-gilt silver. Height 11 to 36 cm © Kunstkammer Georg Laue
Renaissance tankards, South German, 1580-1625. Fire-gilt silver. Height 10 to 19 cm © Kunstkammer Georg Laue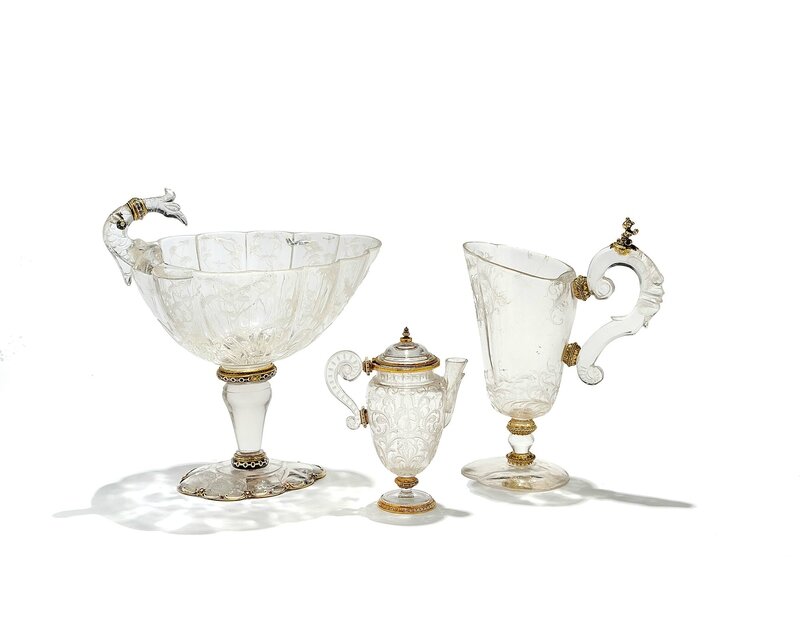 Rock-crystal treasures, South German and Milan, ca 1600. Rock crystal; enamelled gold and fire-gilt silver mounts. Height 13-23 cm. © Kunstkammer Georg Laue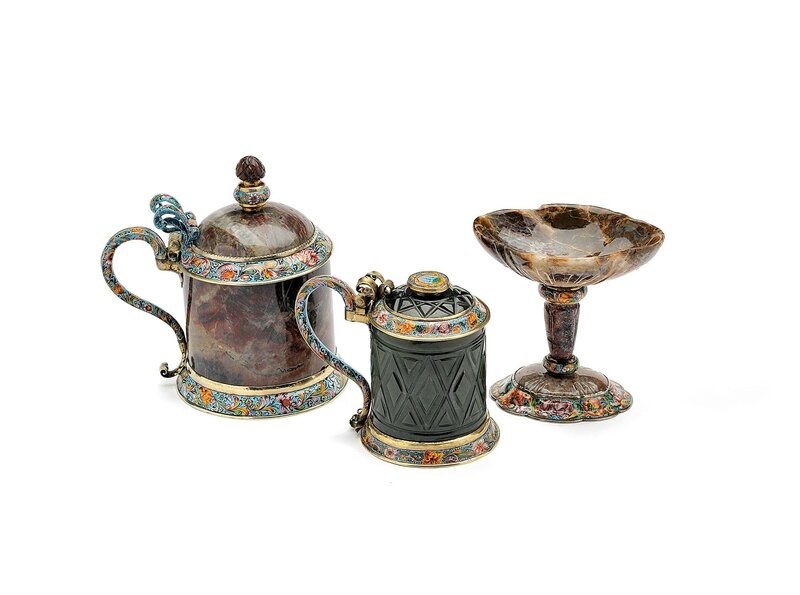 Johann Daniel Mayer, Semi-precious stone treasures from Augsburg, Augsburg, ca 1660. Jade, agate; fire-gilt and enamelled silver mount. Height 10 to 15 cm © Kunstkammer Georg Laue
Semi-precious stone treasures mounted in gold and silver, Milan and Stuttgart, ca 1600. Lapis lazuli, agate, jasper, fire-gilt silver and gold mount. Height 8 to 21 cm © Kunstkammer Georg Laue
Hardstone vessels belonged to the most sought-after collectibles in the Renaissance and were found in all princely treasuries of that time, for instance, in the Green Vault in Dresden, the Imperial Treasury in Vienna and the Medici collections in Florence. Made of rock crystal, lapis lazuli, agate, jasper, and other rare precious stones, these exquisite vessels were fitted with gold or fire-gilt silver mount and embellished with engraved or enamelled ornaments.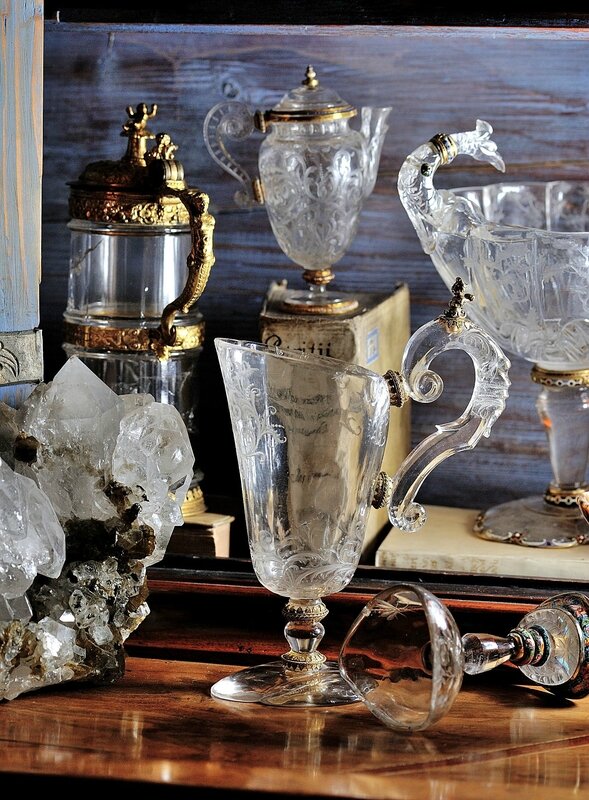 Still life with treasuries of rock crystal, Italian and German, 16th-17th centuries. Height 11 to 23 cm © Kunstkammer Georg Laue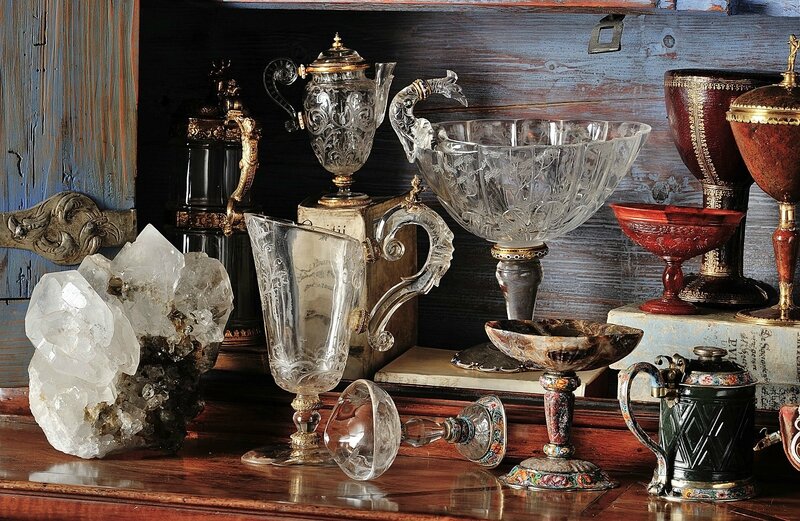 Still life with treasuries of rock crystal, jasper, jade, agate and amber, Italian and German, 16th-17th centuries. Height 7 to 23 cm © Kunstkammer Georg Laue
Georg Laue at TEFAF Maastricht 2017, Stand 204