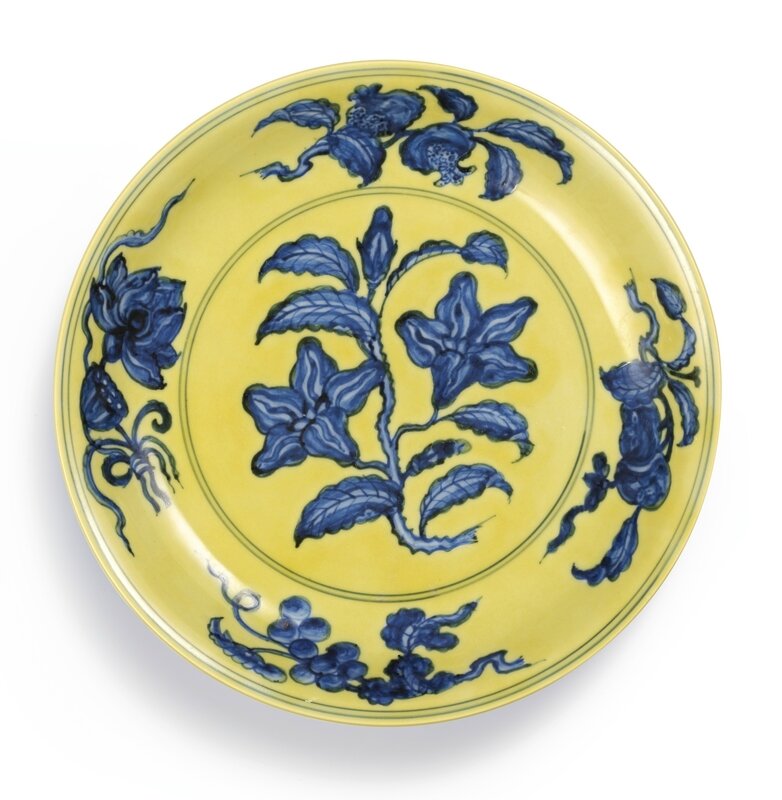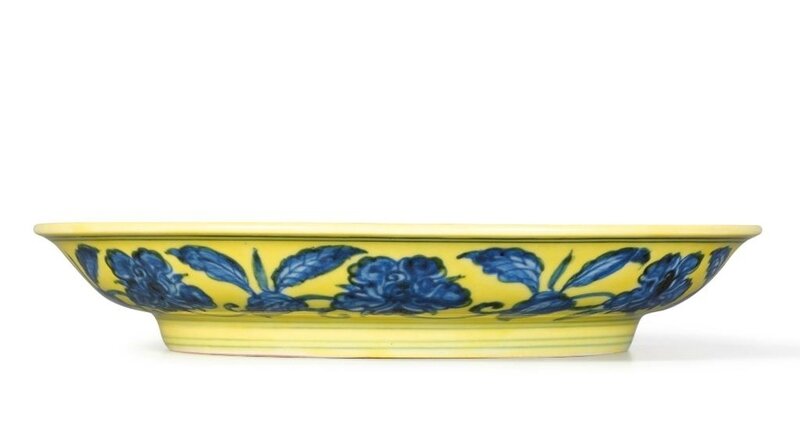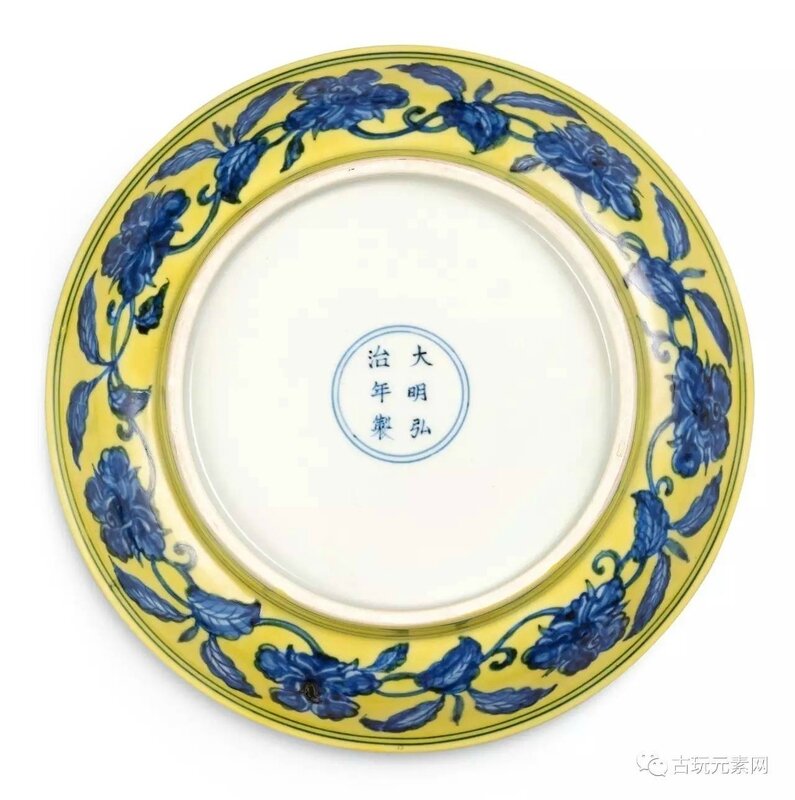 Lot 2. An Exceptional Yellow-Ground, Blue And White 'Gardenia' Dish, Mark And Period Of Hongzhi (1488-1505). Diameter 26.1 cm. Est. HK$2.5 – 3.5 million / US$320,000 – 449,000. Lot sold 11,500,000 HKD. Photo: Sotheby's.
the shallow rounded sides rising from a tapered foot to an everted rim, freely painted in shaded tones of cobalt reserved on a rich yellow ground, the interior with a slightly recessed medallion enclosing a leafy branch bearing two five-petalled gardenia blooms and a tightly closed bud, encircled on the cavetto by fruiting branches of pomegranate, crab apple, grape and a beribboned lotus bouquet, all between double-line borders, the underside with a continuous scroll of seven large blooming roses borne on a foliate stem, between double lines at the rim and foot, the base left white and inscribed in underglaze blue with a six-character reign mark within double circles - 26.1 cm, 10 1/4 in.
Provenance: Collection of Sir Percival David (1892-1964), one of a pair.
Collection of The Percival David Foundation of Chinese Art, London (PDF A773b, pair to A773a) until 1968.
Sotheby's London, 15th October 1968, lot 108 (£5,700).
Bluett & Sons Ltd, London, 1968.
Collection of Roger Pilkington (1928-69), from 1968 (£6,555).
Collection of Maureen Pilkington (1928-2011).
Bibliography: Margaret Medley, Illustrated Catalogue of Ming Polychrome Wares in the Percival David Foundation of Chinese Art, Section 5, London, 1966, pl. XVII, no. A773.
Roy Davids and Dominic Jellinek, Provenance. Collectors, Dealers and Scholars: Chinese Ceramics in Britain and America, Great Haseley, 2011, pl. 131.
Hongzhi Exquisite Blue-and-Yellow
Regina Krahl
This dish, although an example of a well-known design, must be one of the finest specimens of this pattern and date to have been preserved. The wonderfully soft blue painting of the fruit and flower design and the superb preservation of the yellow glaze, which is known to rub easily with use, make this dish an outstanding representative of Ming imperial porcelain.
The dish belonged to the collection of Sir Percival David and later the Percival David Foundation of Chinese Art, but was sold at auction since the Foundation had four more dishes of this design, in blue-and-yellow and brown-and-white, with Hongzhi (1488-1505) and Zhengde (1506-21) reign marks, none, however, of comparable quality. The extraordinarily high price paid for the dish at Sotheby's auction at the time is testimony that its quality was already fully recognised and appreciated half a century ago.
The gardenia (zhizi) is a flower very rarely depicted on Chinese ceramics and known almost exclusively from the present design. It is not immediately associated with any auspicious meaning, but the highly fragrant flowers were popular with ladies to wear in the hair, and were used for flavouring tea and for preparing cosmetics, and the small fruits of the plant were coveted for dyeing – producing a fine yellow or orange colour – as well as for their medicinal benefits.
The blue-and-yellow colour scheme was developed in the Xuande period (1426-35), when the first dishes of this design were produced and was taken up again in the Chenghua period (1465-87). In both periods, the base of the dishes was generally still unglazed and the mark inscribed in a horizontal cartouche below the rim. In the Hongzhi and Zhengde reigns the design experienced its peak, and after the Jiajing reign (1522-66), when rare examples were still produced, was totally abandoned. Examples of the first four reigns are illustrated in Soame Jenyns, Ming Pottery and Porcelain, rev. ed., London, 1988, pls 102-104 and col. pl. H, from the British Museum, Riesco collection and Sir Percival David Collection. The Riesco dish, being a companion piece of Hongzhi mark and period, formerly in the collection of Edward Howard Paget, was sold at Christie's Hong Kong, 27th November 2013, lot 3114.
Blue-and-yellow Hongzhi, Zhengde and Jiajing examples, as well as a blue-and-white Hongzhi dish of this design are illustrated in Regina Krahl, Chinese Ceramics from the Meiyintang Collection, London, 1994-2010, vol. 4, no. 1674, and vol. 2, nos 683, 684, and 682, the companion dish to the present piece, from the collection of Dr and Mrs Sherman E. Lee and the Reach Family collection, sold in these rooms, 7th April 2011, lot 57.
The pair to the present dish, which is still in the Sir Percival David Collection in the British Museum, is illustrated in Stacey Pierson, Designs as Signs: Decoration and Chinese Ceramics, London, 2001, pl. 19 (fig. 1); the dish is also illustrated in Margaret Medley, Illustrated Catalogue of Ming Polychrome Wares, Percival David Foundation of Chinese Art, London, 1978, pl. III, no. 26, together with the Zhengde version of the same design, no. 29, and Hongzhi and Zhengde versions of the same design painted in iron-brown on a white ground, nos 27 and 28.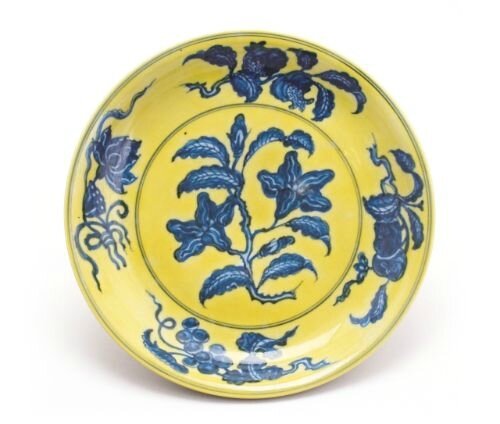 Underglaze-blue and yellow enamel 'gardenia' dish, mark and period of Hongzhi, Sir Percival David Collection © The Trustees of the British Museum
Dishes of this design are also preserved in the National Palace Museum, Taipei, included, for example, in Blue-and-White Ware of the Ming Dynasty, book IV, Hong Kong, 1963, pl. 11; and in the Museum's exhibition Ming Chenghua ciqi tezhan [Special exhibition of Ming Chenghua porcelain], Taipei, 1977, cat. no. 139, together with Xuande and Jiajing examples, cat. nos 138 and 141; in the Palace Museum, Beijing, illustrated in The Complete Collection of Treasures of the Palace Museum. Blue and White Porcelain with Underglazed Red, Shanghai, 2000, vol. II, pl. 231, together with Chenghua and Zhengde versions, pls 230 and 233; in the Shanghai Museum, illustrated in Lu Minghua, Shanghai Bowuguan zangpin yanjiu daxi/Studies of the Shanghai Museum Collections: A Series of Monographs. Mingdai guanyao ciqi [Ming imperial porcelain], Shanghai, 2007, pl. 3-71, together with a blue-and-white example, pl. 3-70; in the Baur Collection, published in John Ayers, Chinese Ceramics in the Baur Collection, Geneva, 1999, vol. I, pl. 65, together with an example painted in brown on white, pl. 66; and in the Metropolitan Museum of Art, New York, illustrated in Suzanne G. Valenstein, A Handbook of Chinese Ceramics, New York, 1989, pl. 152. Compare also the dish of this design of Zhengde mark and period, also from the collection of Roger and Maureen Pilkington, lot 4 in this auction.
Bluett & Sons bought the dish from Sotheby's sale of the Percival David Foundation duplicates in 1968 for £ 5,700 for stock. They had a bid from Frederick Knight for £ 5,500, in case he did not get the 'melon' 'palace bowl', lot 97 in the same sale for £ 6,500, which, however, he did get. Roger Pilkington eventually paid even more, £ 6,555, for the present dish. That a higher price could be asked for this Hongzhi piece than for a Chenghua 'palace bowl' reflects the outstanding quality of this dish.
Sotheby's. Yellow-Ground Wares from the Collection of Maureen Pilkington, Hong Kong, 05 avr. 2017, 10:00 AM