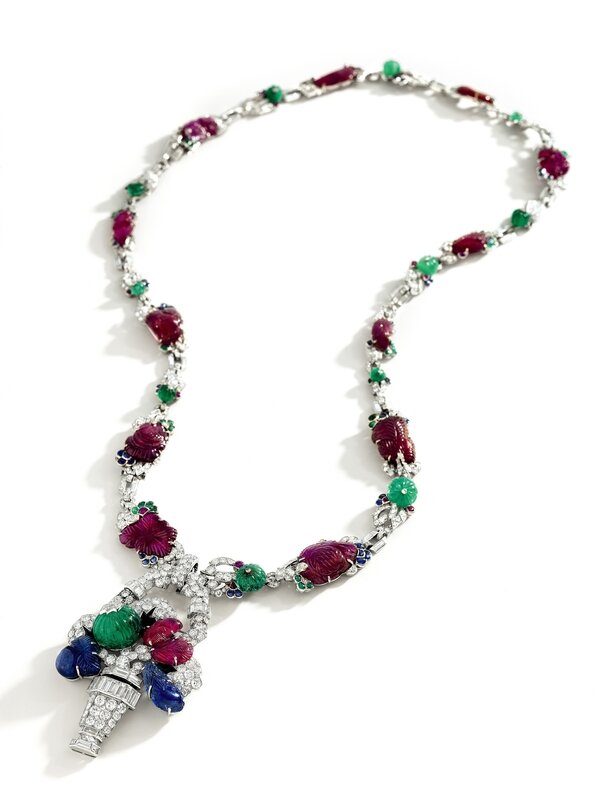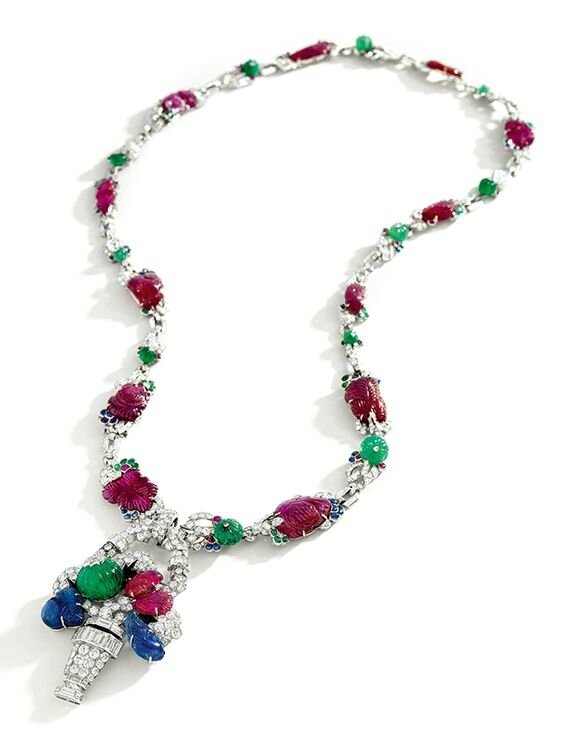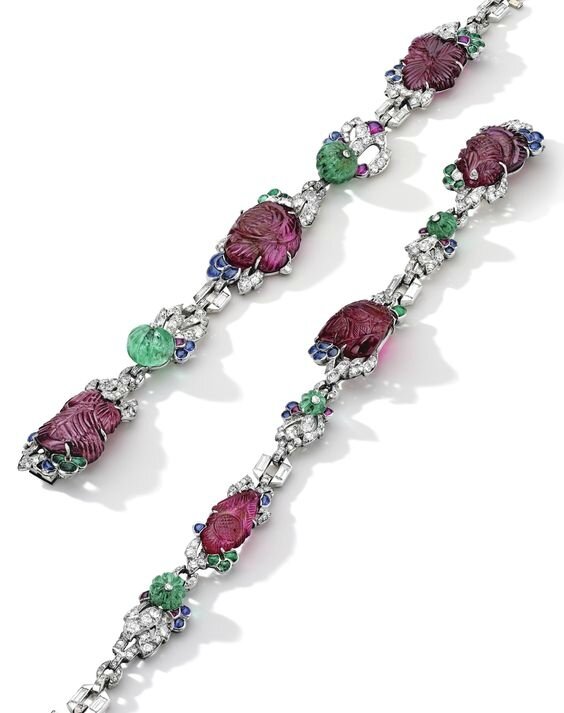 Lot 1703. Rare Gem Set and Diamond Pendent Necklace, Mauboussin, 1929. Estimate HK$5,900,000–7,500,000 (756,000–962,000 USD). Photo: Sotheby's
The pendant designed as a flower vase, set with baguette, circular- and single-cut diamonds, embellished with sapphires, rubies and emeralds, accented by black enamel, suspended from a link necklace of similar design, the diamonds weighing approximately 18.00 carats in total, mounted in platinum, unsigned, numbered, pendant with French assay and maker's marks, necklace with French assay marks, 1929 composite, pendant with later-added brooch pin fitting, necklace can be detached to be shortened and worn as four bracelets, necklace and bracelets lengths approximately 700, 175, 170, 170 and 165mm respectively, fitted case stamped Mauboussin.
Accompanied by two Mauboussin authenticity certificates by Marguerite de Cerval.
French Chic
Established by George Mauboussin in late 19th century Paris, France, Maison Mauboussin won many awards in the 1920's for its innovative creations which boasted legibility of design, clear bold lines and a proclivity towards geometric patterns, including receiving the Legion of Honour and Grand Prize at the 1925 Exposition des Art Décoratifs in Paris.
Following the First World War, fashion changed radically. Necklaces were longer; the sautoir was very sought after by the élégantes of the 1920s, who wore long necklaces often supporting a pendant, and paired with two or three bracelets. The fascination with the Far East also drew inspiration to use more coloured gemstones, in the form of leaves, foliate motifs or exotic fruits, highlighted with diamonds and black enamel or onyx.
Between 1928 and 1931, Mauboussin held three themed exhibitions – Rubies, Emeralds and Diamonds. These exhibitions brought the Maison tremendous publicity, as well as many elite clients, including European royalty and Hollywood legends, Marlene Dietrich and Greta Garbo.
The present pendent necklace is a very fine example of this innovative look, perfectly demonstrating how Mauboussin participated in this style revolution. Set with carved gemstones, the long sautoir can be separated into four bracelets with a detachable pendant of giardinetto motif. Designed in 1929, this piece embodies the archetypal designs of the era.
Sotheby's. Magnificent Jewels and Jadeite, Hong Kong, 04 Apr 2017, 02:30 PM