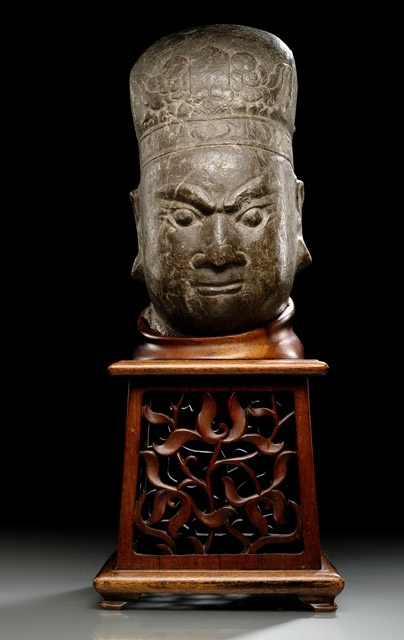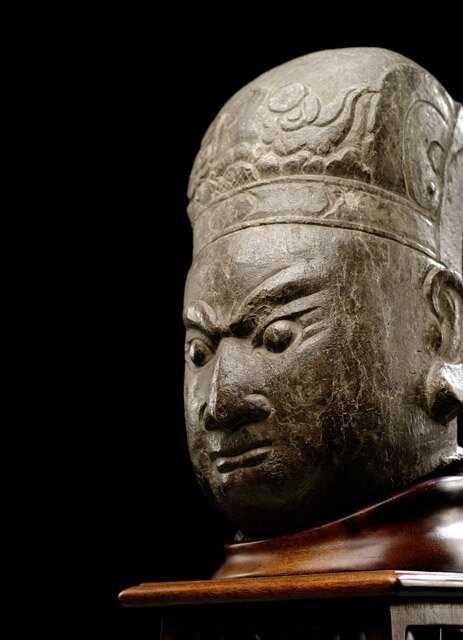 Lot 519. A very rare stone head of a King of Hell, with wood stand, China, Song-Ming dynasty; H. 37 cm. Estimate 30 000-50 000 €. Photo Nagel
The well-carved head displaying a ferocious facial expression with bulging eyes below raised bushy eyebrows, broad nose, protruding lips, hair combed in a chignon covered with the specific bonnet secured with a band and sculpted to the front with sceptre emblem flanked to each side with sun and moon emblems above cloud formations. The open-work wooden base was probably crafted in Germany in the early 20th ct. Head and stand reach a height of 66.5 cm, the head itself measures 37 cm. Minor chips and traces of age.
Provenance: French private collection former property from the Dr. Hans Koch collection, acquired at Lempertz in June 2012
Note: The Indian god of the realm of the dead, Yama, was incorporated both into the Chinese-Buddhist and the Daoist pantheon. The notion of one king of hell and nine subordinate kings and judges of hell subsequently developed. These kings and judges were to condemn evil souls to the ten hells. During the Ming dynasty, many places saw the construction of temples including these statues, e.g. the ten judges of hell in the Buddhist Shuanglin temple in Pingyao, Shanxi (15th ct.), see: Angela Falco Howard et al.: Chinese Sculpture, New Haven, 2006, p. 410, fig. 4.50.
Nagel. Asiatische Kunst. Sale 100, 16.06.2017