Lot 68. Edwaert Collier (Breda 1642 - 1708 London(?), Vanitas still life with a candlestick, musical instruments, dutch books, a writing set, an astrological and a terrestial globe and an hourglass, all on a draped table, signed and dated lower center: Edwaerdt/Collier/1662, oil on canvas, 38 1/2 by 51 1/8 in.; 98 by 129.7 cm. Estimate 400,000 — 600,000 USD. Lot sold 506,500 USD. Photo: Sotheby's.
Provenance: Count Edward Raczynski, Warsaw and London;
Mr. and Mrs. Fielding Lewis Marshall;
Their sale, London, Bonham's, 28 March 1974, lot 28;
Anonymous sale ("Property of a Gentleman"), London, Sotheby's, 17 December 1998, lot 39;
There purchased by the present collector.
Exhibited: On loan to the William Hayes Ackland Memorial Art Center, Chapel Hill, North Carolina, no. L-61.4.7 (according to a label on the reverse);
London, Sotheby's, The Marshall Collection, 31 December 1973 - 8 January 1974, cat. no. 19, reproduced.
Literature: E. Zarnowska, La Nature morte hollandaise, Brussels/Maastricht 1929, p. 11 (as dated 1665).
Note: This is an early work by Collier, painted when he was only twenty years old, and during a period when he produced some of his finest work. He was probably still in Haarlem where he is thought to have trained and is first recorded in a list of guild members.1 His residence in Leiden is fully documented from 1667 to 1693, after which he left for London where he worked until returning to Leiden from circa 1702 to 1706. He apparently returned to England as his last known work is dated 1707 and inscribed fecit London.
Collier produced vanitas still lifes throughout his career. Here he has included many of the standard elements that would have been readily recognizable to his audience: the burning candle, pocket watch and hourglass (denoting the passage of time and brevity of life); the violin with a broken string (the transient pleasure of music); the money bag (worldly riches); the scholarly books and globes (the vanity of learning); and the military flag (worldly power). Wealth, knowledge and power are all earthly, temporary and ultimately meaningless. Should anyone somehow miss the point, Collier has included the archetypal text of all vanitas still lifes on a piece of paper at far right: Vanitas/Vanitatu(m)/Et Omnia/Vanitas [Vanity of Vanities, All is Vanity], (Ecclesiastes 1:2).
Two other similar vanitas still lifes by Collier dated 1662 can be found in the collections of The Metropolitan Museum of Art, New York (Inv.no. 71.19) and the Rijksmuseum, Amsterdam (Inv. no. SK-A-3471).
Edwaert Collier (Dutch, Breda ca. 1640?–after 1707 London or Leiden), Vanitas Still Life, 1662. Oil on wood, 37 x 44 1/8 in. (94 x 112.1 cm). Purchase, 1871, 71.19 © 2000–2017 The Metropolitan Museum of Art.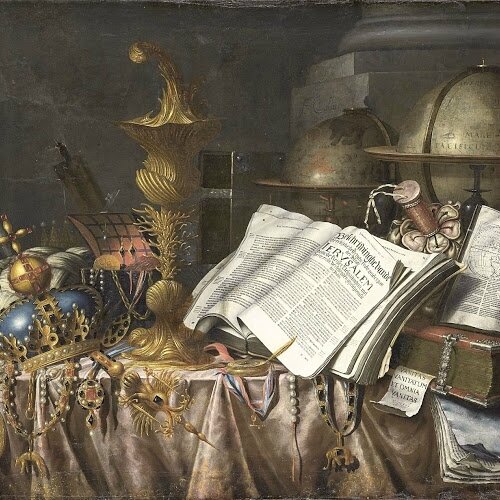 Edwaert Collier, Vanitas Still Life, 1662. Oil on canvas,h 102.5 cm × w 132 cm. G.H. Kroon Bequest, Amsterdam, 1945, SK-A-3471 © Rijksmuseum, Amsterdam.
1. See A. v.d. Willigen and F.G. Meijer, A Dictionary of Dutch and Flemish Still-life Painters Working in Oils, 1525-1725, Leiden 2003, p. 64.
Sotheby's. Important Old Master Paintings and Sculpture, New York, 31 Jan 2013