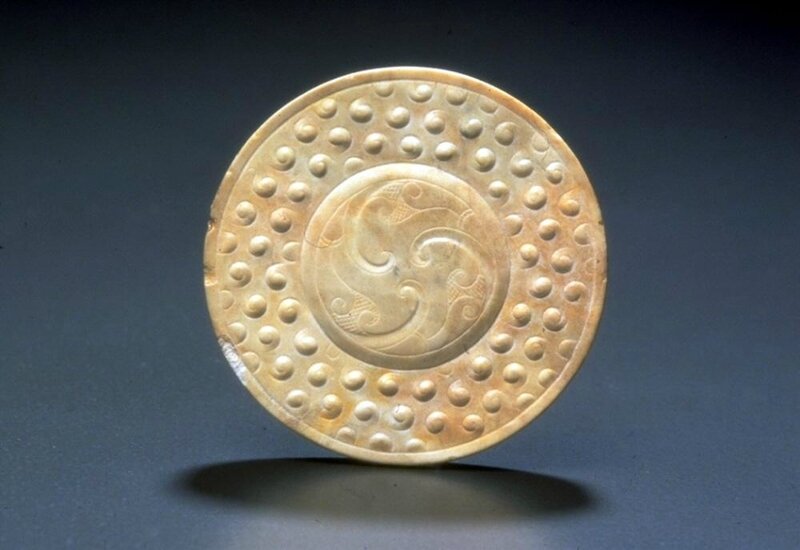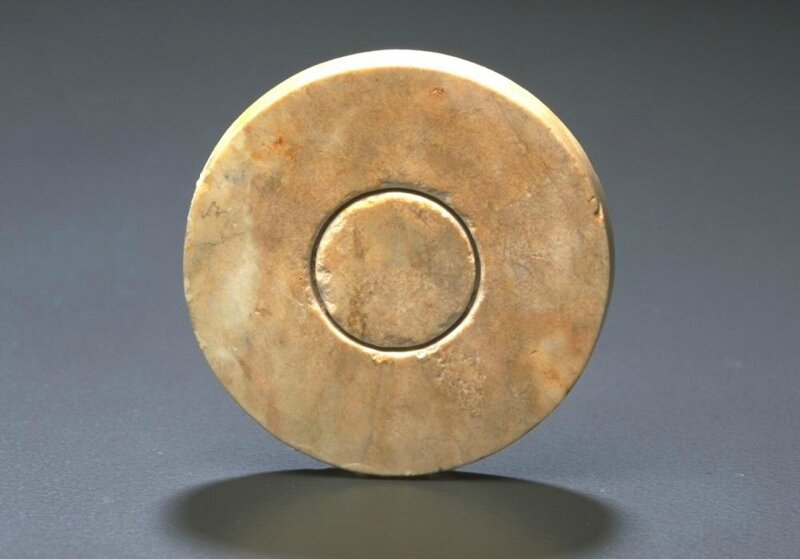 Sword pommel, China, Warring States Period (approx. 480-221 BCE). Nephrite. Diam. 1 15/16 in. The Avery Brundage Collection, B60J621 © 2017 Asian Art Museum Chong-Moon Lee Center for Asian Art and Culture.
This sword pommel has a slightly beveled ridge around its outer edge. A field of raised comma spirals defined by incised lines fills the exterior region, and the grid used by the carver to arrange the whorls is slightly visible. This "sprouting grain" pattern is the culmination of the development of textured surfaces that began with the incised dragon's head pattern. A smooth, plain border gently slopes upward and separates off the central face, which is decorated with a cloud motif consisting of three grooves, secondary incised lines and three areas of fine cross-hatching. The surface is carefully worked and finely finished. This was the standard central design on most sword pommels. Others were decorated with a four or five open petal pattern in relief or were covered by high relief dragons. The back of this piece is plain except for a circular groove. It shows the precision and workmanship characteristic of jades from the Warring States period, demonstrating the refinement of jade working techniques from earlier times. It is highly finished with a combination of order and fluidity.
Sword fittings were abundant during the Warring States period because of the breakdown of central authority and the increase in political turmoil. The sword pommel was attached perpendicularly to the upper end of the sword handle. It is one of four jade military pieces for the sword -- pommel, slide, chape, and guard. Several pommels were found in the tomb of the Nanyue King in Guangzhou. The central designs on these differ, suggesting the path of development of the decor in later times.
The surface of this piece has been almost totally altered by burial or other means. It is now a warm ivory with areas of light tan. Due to the opacity of the surface it is difficult to determine the quality of the stone. The level of finish is quite high, as is the polish.
1. Forsyth, plate 124
2. Rawson, 21:3
3. Fung, p. 199
4. Ip Yee, no. 108
5. Hansford, Chinese Carved Jades, plate 53A
6. Kaogu, 1965, no. 6, p. 3 of plates, fig 4