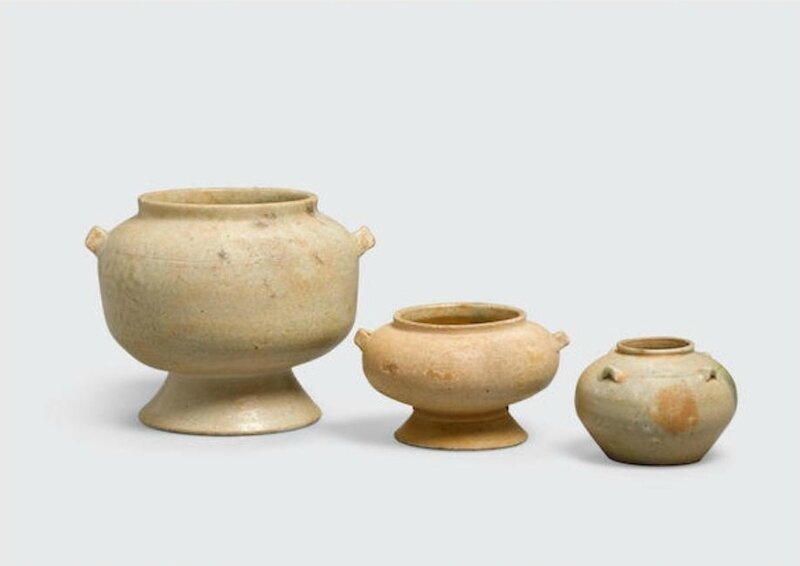 Lot 850. A group of three small glazed containers with green enamel splashes, Hán Việt period, 1st-4th centuries. Estimate US$ 1,500 - 2,500 (€1,300 - 2,100). Unsold. Photo: Bonhams.
The first a guan-type vessel of compressed ovoid form with a short neck, opposing strap loops on the shoulder and raised on a tall spreading foot, accented with a single leaf green enamel splash and an incised string band along the shoulder; the second of similar form but smaller in size, the more compressed globular body showing a splash of green on the inside neck and a patches of green along the lower body; the third a compressed ovoid jarlet with a short neck, four loop handles and an incised sting band at the shoulder, a large green splash visible on one side and the flat base left without glaze. 6 1/4in and 4 1/2in (15.8 and 11.5cm); length across handles of first two containers; 3 1/4in (8.2cm) diameter of the jarlet.
Published: James H. Brow and Anh Hoang Brow, 'Vietnamese Ceramics: A Ten Thousand Year Continuum,' Arts of Asia, March-April 2004, p. 81, no. 3.
Note: For a guan container similar in shape to the first vessel in the lot, see John Stevenson and John Guy, Vietnamese Ceramics: A Separate Tradition, 1997, p. 172, no. 8. The third jarlet recalls similar shapes associated with Jin dynasty kilns in Zhejiang and neighboring provinces: see He Li, Chinese Ceramics: a New Comprehensive Survey, 1996, p. 81, no. 100 (Western Jin [265-316], 5 1/2in [13.9cm] diameter.