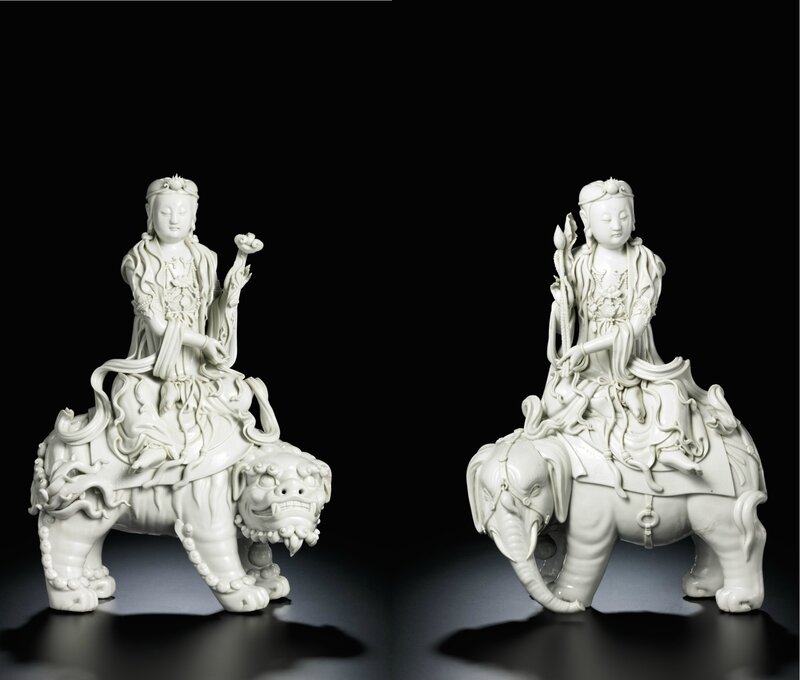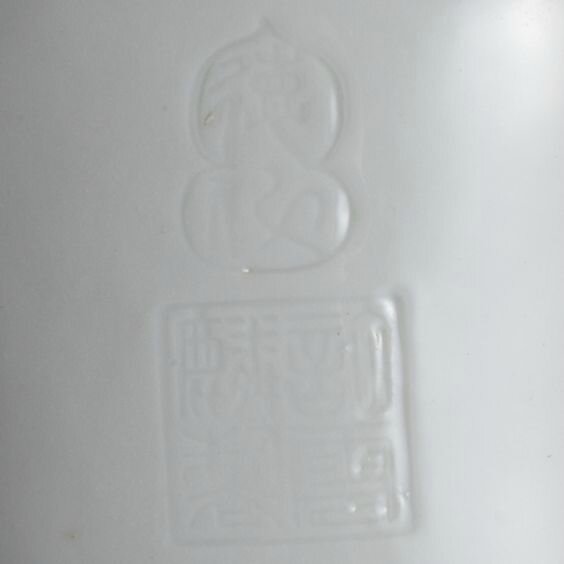 Lot 3196. A pair of fine large Dehua 'Blanc-de-Chine' figures of Manjusri and Samantabhadra, by Xu Yunlin, Qing dynasty, early 20th century; 46 and 46.5 cm., 18 1/8 and 18 1/4 in. Estimate 1,200,000 — 1,500,000 HKD. Lot sold 3,400,000 HKD. Courtesy Sotheby's 2013
each impressive bodhisattva modelled seated in lalitasana, dressed in flowing robes partly covering his bejeweled torso and fastened at the waist by long tasseled strings, his face bearing a meditative expression, with downcast eyes and a serene smile, crowned with a diadem enclosing a cintamani pearl and further framed with long plaited tresses falling on the shoulders, Manjusri holding a ruyi with both hands while riding on a Buddhist lion, Samantabhadra holding a lotus while seated on a caparisoned elephant, all below a crisp silky glaze, both impressed on their lower back with a two-character double-gourd Dehua mark above a Xu Yunlin zhi seal.
Provenance: Collection of E.E. and M.C. Schwarz.
A private European collection.
Note: The square seal Xu Yunlin zhi stamped on to the back of each figure belongs to Xu Youyi (1887-1940), the principal follower, pupil and associate of the master Dehua potter Su Xuejin (1869-1919). According to John Ayers in the catalogue to the exhibition Blanc de Chine. Divine Images in Porcelain, China Institute Gallery, New York, 2002, p. 121, Xu Youyi, previously considered to be an eighteenth century potter, came from a family of carvers of wood and clay images. His pieces are characterised by elaborate details and a consistent milky-white glaze.
A similar figure of Samantabhadra is illustrated Robert Blumenfield, Blanc de Chine. The Great Porcelain of Dehua, Berkeley, 2002, pp. 203-4, and frontispiece. A related figure was sold in our London rooms, 9th November 2005, lot 774, and another sold in our New York rooms from the Albright-Knox Gallery collection 20th March 2007, lot 774. These figures are often misidentified as Guanyin. Further related figures of Guanyin riding a Buddhist lion include one sold in our London rooms, 20th June 1978, lot 133; one sold at Christie's Hong Kong, 17th January 1989, lot 852; and another, but depicted with the lion reclining, sold at Christie's Hong Kong, 30th May 2006, lot 1547. See also a figure of a standing Buddha bearing the stamps of Xu Youyi, from the Richard Lehman Gray collection, included in the exhibition Blanc de Chine, op. cit., cat. no. 72, together with two Heavenly Kings (Tianwang), cat. no. 73.
Both Samantabhadra and Manjusri are an attendant bodhisattvas of Shakyamuni Buddha and are portrayed flanking the Buddha. Manjusri is depicted riding a lion on the left, representing wisdom. Samantabhadra is depicted riding a white elephant on the right and is in charge of reason. Together they represent the accommodation of both wisdom and reason in the Buddhist faith.