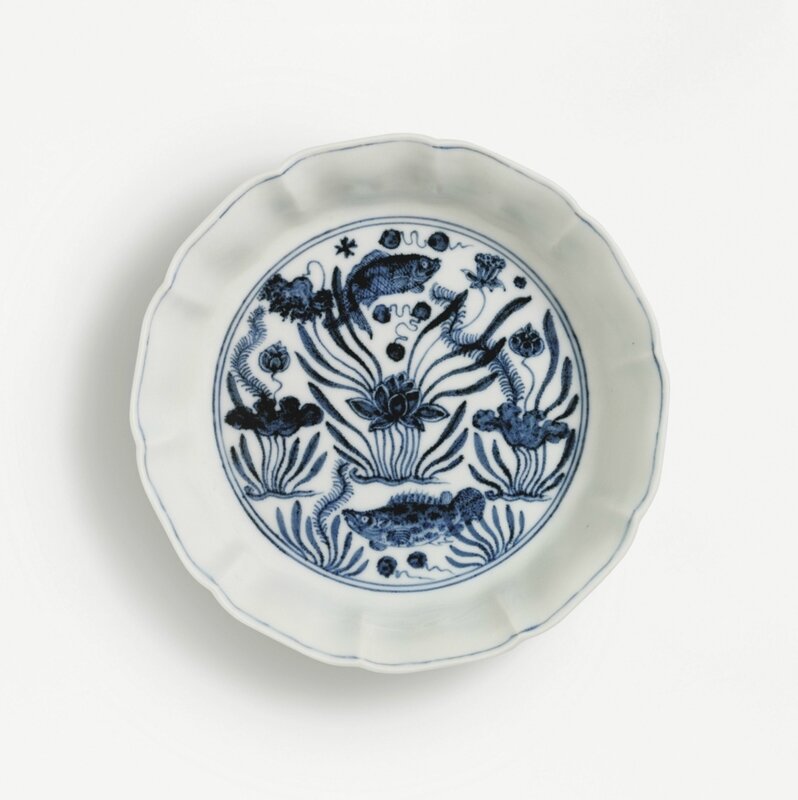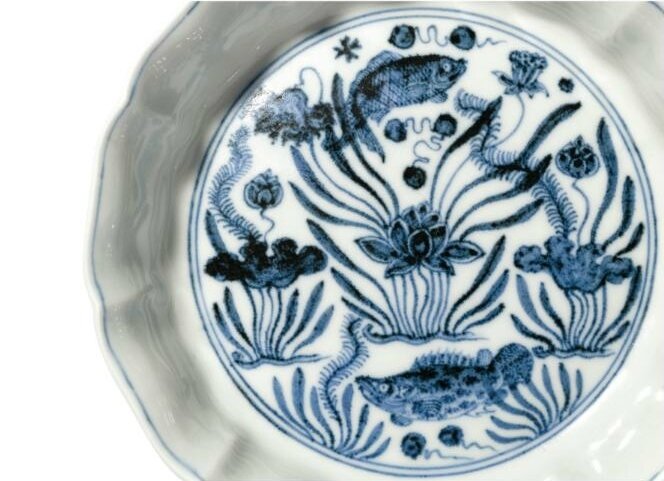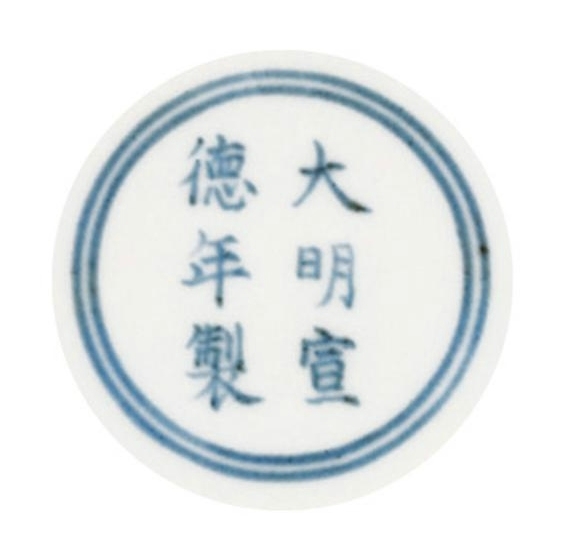 Lot 54. An exquisite blue and white 'fish pond' brush washer, Mark and period of Xuande (1426-1435); 18 cm., 7 1/8 in. Est. 40,000,000 — 60,000,000 HKD. Lot Sold 51,060,000 HKD. photo Sotheby's 2011
of ten-lobed mallow shape with flared sides and correspondingly shaped foot, the domed base inside superbly painted in cobalt blue with a carp and a mandarin fish swimming among clumps of lotus and water weeds, the outside with four different fishes in varied attitudes among similar water plants, the fishes finely detailed with hatching and stippling and varied shades of blue to render their peculiar markings, lotus flowers and leaves in different stages, and the latter with veins finely incised through the blue to appear in white, the base inscribed with the reign mark.
Literature: Regina Krahl, Chinese Ceramics from the Meiyintang Collection, London, 1994-2010, vol. 4, no. 1653.
Note: Brush washers of this form are otherwise known almost only with dragons, phoenixes, or a combination of dragon and phoenix, which would seem to represent a version for official duties, while the present piece, with its scholarly associations may have been intended for the Emperor's 'leisure' activities, such as writing or painting which, although no less official occasions, were deliberately distinguished in character. The Xuande Emperor in particular was renowned as an accomplished poet and painter. The fish pond was of course a most appropriate pattern for a vessel meant to be filled with water.
A broken washer of this design has been recovered from the waste heaps of the Ming imperial kilns at Jingdezhen, see the exhibition catalogue Xuande Imperial Porcelain Excavated at Jingdezhen, Chang Foundation, Taipei, 1998, cat. no. 19-2. Although the catalogue states, p. 202, that "this is one of the most common designs on Xuande imperial ware", only three other washers of this form and design appear to be recorded: one from the collection of Mr. and Mrs. Alfred Clark, illustrated in A.D. Brankston, Early Ming Wares of Chingtechen, Peking, 1938, pl. 19, and exhibited, with metal-bound rim, in Blue and White Porcelain from the Collection of Mrs. Alfred Clark at Spink & Son, London, 1974, cat. no. 14; another discovered in Tianjin city, published in Wenwu, 1977, no. 1, p. 92; and a third, of smaller size (16 cm), sold at Hanhai Art Auction Corp., Beijing, 7th October 1995, lot 1031. The Taipei catalogue (op.cit., p. 202) states that in the early Wanli period, the poet and dramatist Tu Long (1542-1605) mentioned mallow-flower shaped Xuande period washers with fish and aquatic plants, but that a painting in the Palace Museum, Beijing, depicting a Xuande hunting scene, shows a vessel of this type serving as a stand for a pear-shaped vase.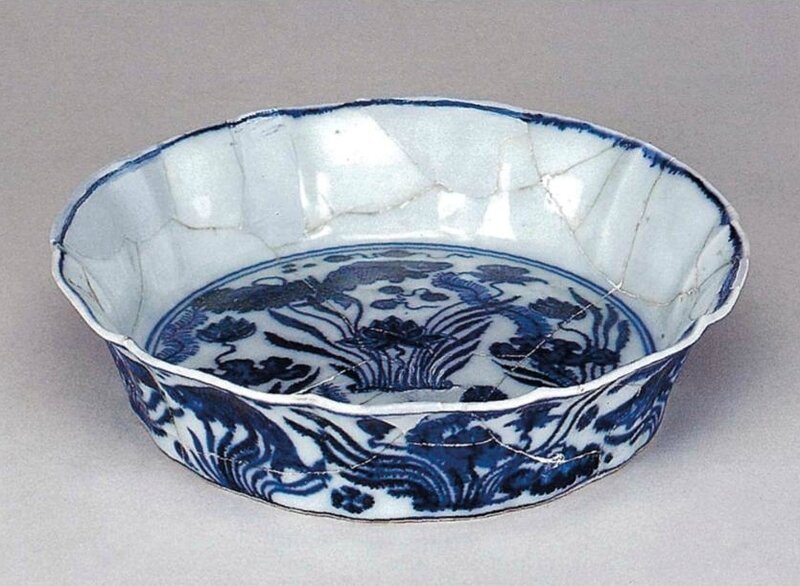 Blue and white 'fish pond' brush washer, mark and period of Xuande, excavated from the Ming imperial kiln site at Jingdezhen. After: Xuande Imperial Porcelain Excavated at Jingdezhen, Chang Foundation, Taipei, 1998, cat. no. 19-2.
The same design is also known from deep Xuande bowls with similar fluted mallow-shaped sides and from circular Xuande dishes, see Mingdai Xuande guanyao jinghua tezhan tulu/Catalogue of the Special Exhibition of Selected Hsüan-te Imperial Porcelains of the Ming Dynasty, National Palace Museum, Taipei, 1998, cat. nos 140 and 180; a close copy exists in Taipei of a brush washer with the same shape and design of Jiajing mark and period, see Porcelain of the National Palace Museum. Blue-and-White Ware of the Ming Dynasty, Book V, Hong Kong, 1963, pl. 21; and another Jiajing example from the collection of Myron S. Falk was sold at Christie's New York, 16th October 2001, lot 143. Compare also a Xuande brush washer with pomegranates and other fruits, one with dragon and phoenix and one with phoenixes only in The Complete Collection of Treasures of the Palace Museum. Blue and White Porcelain with Underglazed Red, Shanghai, 2000, vol. 1, pls 127-9, the former two probably unmarked.
Sotheby's. The Meiyintang Collection - An Important Selection of Imperial Chinese Porcelains. 07 April 2011. Hong Kong