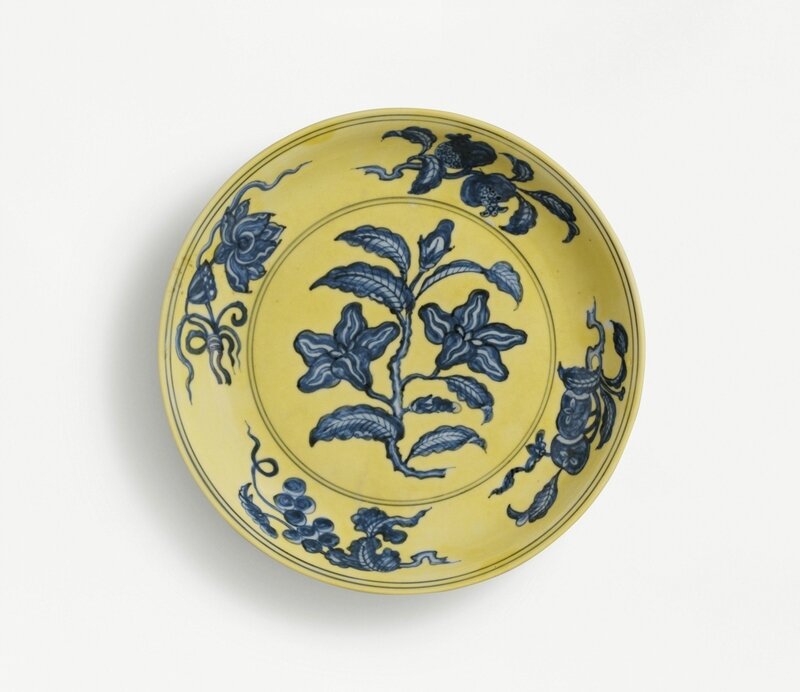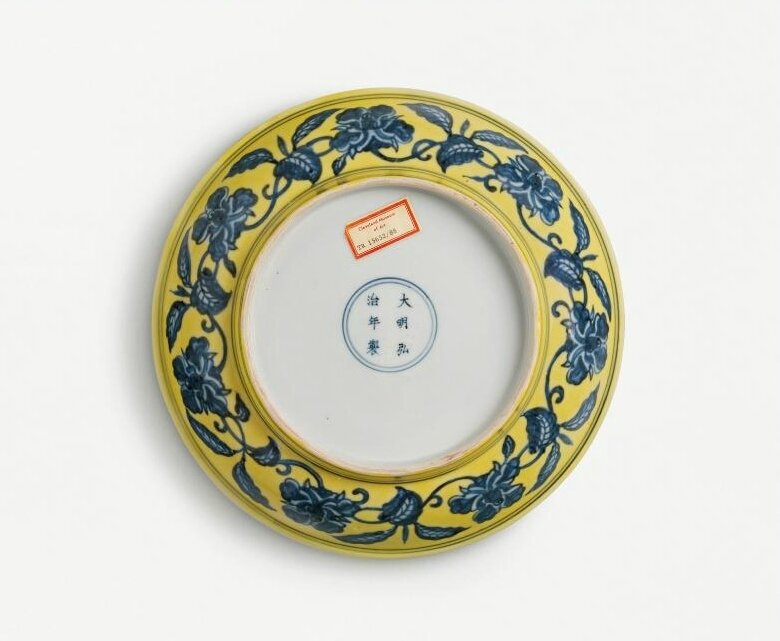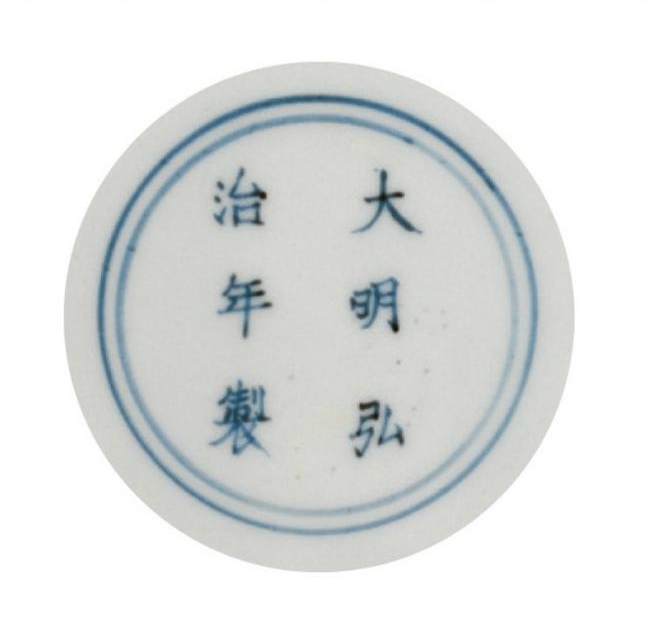 Lot 57. A fine blue and yellow 'Gardenia' dish, mark and period of Hongzhi (1488-1505); 26.2 cm., 10 3/8 in. Est. 6,000,000 — 8,000,000 HKD. Lot Sold 7,220,000 HKD. photo Sotheby's 2011
the curved sides flaring towards the rim, the centre painted in cobalt blue with a gardenia spray with two large open blooms and two buds, the inner sides with a lotus flower and pod tied with a ribbon, branches of pomegranate and crab apple, and a bunch of grapes, the outside with a scroll with seven evenly spaced roses, all reserved on a ground of yellow glaze, which leaves the base free, where the six-character reign mark is inscribed.
Provenance: Collection of Dr and Mrs Sherman E. Lee, Cleveland.
Reach Family Collection.
Eskenazi Ltd, London.
Private Collection, Japan.
Eskenazi Ltd, London.
Exhibited: The Cleveland Museum of Art, Cleveland (on loan 1980-86).
Chinese Art from the Reach Family Collection, Eskenazi Ltd, London, 1989, cat. no. 38 (illustrated).
Chūgoku no tōji/Special Exhibition of Chinese Ceramics, Tokyo National Museum, Tokyo, 1994, cat. no. 270 (illustrated).
Literature: Regina Krahl, Chinese Ceramics from the Meiyintang Collection, London, 1994-2010, vol. 4, no. 1674.
Note: This gardenia design in blue against a yellow ground was produced from the Xuande right through to the Jiajing reign, with the peak of production probably in the Hongzhi period. For Xuande and Chenghua prototypes in the British Museum, London, see Jessica Harrison-Hall, Ming Ceramics in the British Museum, London, 2001, nos 4: 43 and 6: 16. A Zhengde and an extremely rare Jiajing example also form part of the Meiyintang collection, as does a blue and white dish of this design of Hongzhi mark and period, and an iron-brown painted one of Zhengde mark and period; see Krahl, op.cit., vol. 2, nos 681-4. For other blue and yellow Hongzhi dishes see, for example, one in the Palace Museum, Beijing, published in The Complete Collection of Treasures of the Palace Museum. Blue and White Porcelain with Underglazed Red, Shanghai, 2000, vol. 2, pl. 231; one from the Carl Kempe collection illustrated in Oriental Ceramics: The World's Great Collections, Tokyo, New York, San Francisco, 1980-82, vol. 8, no. 226; one in the Metropolitan Museum of Art, New York, ibid., vol. 11, col. pl. 16; and one from the Sir Percival David Collection in the British Museum, London, in Margaret Medley, The Chinese Potter, Oxford, 1976, fig. 158.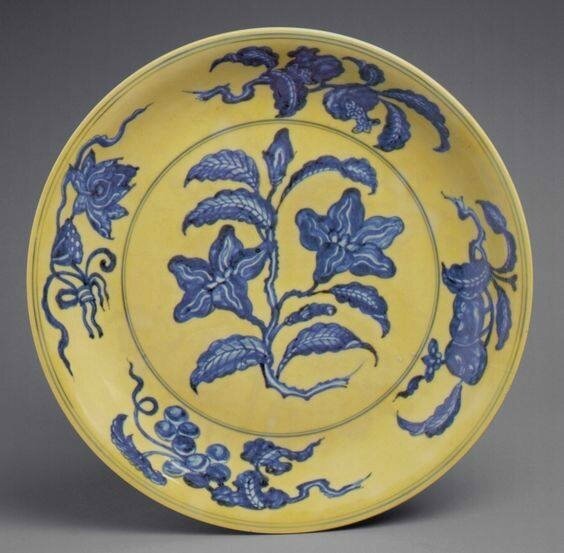 Dish with Gardenia, Ming dynasty (1368–1644), late 16th century. Porcelain painted with cobalt blue under and colored enamel over transparent glaze (Jingdezhen ware. Diam. 10 1/4 in. (26 cm), Rogers Fund, 1919, 19.28.10 © The Metropolitan Museum of Art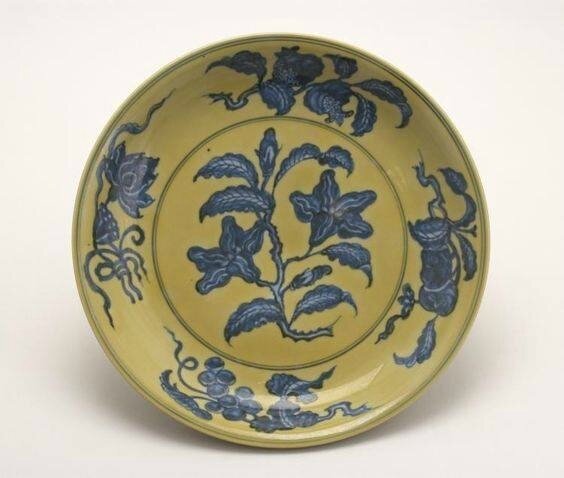 Dish with flowering gardenia, Ming dynasty, Hongzhi mark and period, AD 1488–1505, Jingdezhen, Jiangxi province. Porcelain with underglaze blue decoration and yellow glaze. Height: 47 mm, Diameter: 264 mm. Sir Percival David Foundation of Chinese Art, PDF A773 © Trustees of the British Museum
Sotheby's. The Meiyintang Collection - An Important Selection of Imperial Chinese Porcelains. 07 April 2011. Hong Kong