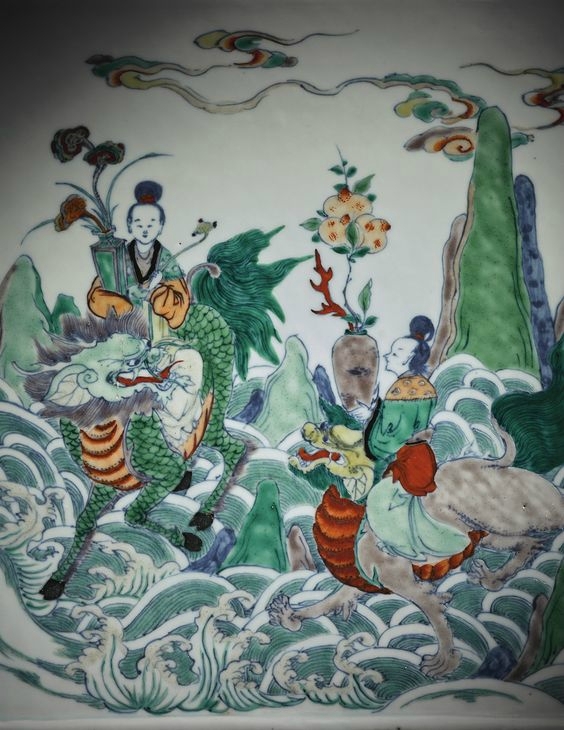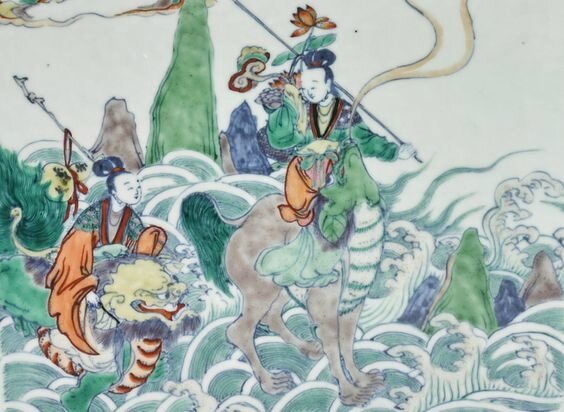 Lot 367. A large doucai 'Immortals' jardinière, Kangxi mark and period (1662-1722). Width 20 1/8 in., 51.1 cm. Estimate 350,000 — 500,000 USD. Lot sold 399,000 USD. © Sotheby's
of square section with canted corners, the sides sweeping upward from a waisted foot to a flat everted rim, the exterior painted in rich enamels outlined in softly colored underglaze blue, the continuous composition dominated by the roiling Eastern Sea punctuated by vertiginous peaks of the Islands of Immortality, one side with the Queen Mother of the West tranquilly traversing the crested waves on the back of a white elephant, a crane flying towards her with a scroll and a female attendant following closely astride a qilin, the other sides with additional attendants journeying on qilin, heavenly horses, petals, and leaves bearing auspicious gifts for the goddess, the foot molded with foliate cartouches enclosing scrolling lotus, pendent leafing pomegranate dangling between each cartouche, the top of the broad rim with stylized shou characters and prunus blossoms against a floral brocade ground, the underside of the rim with two horizontal six-character marks in underglaze blue, the lower interior and base unglazed, the base centered with a large circular aperture, coll. no. 1572.

The Jie Rui Tang Collection
Provenance: Milan Private Collection.
Christie's London, 15th May 2007, lot 282.
Exhibited: Embracing Classic Chinese Culture: Kangxi Porcelains from the Jie Rui Tang Collection, Sotheby's, New York, 2014, cat. no. 25.
Literature: Michel Beurdeley and Guy Raindre, Qing Porcelain: Famille Rose, Famille Verte, London, 1987, fig. 62.
Jeffrey P. Stamen and Cynthia Volk with Yibin Ni, A Culture Revealed: Kangxi-era Chinese Porcelain from the Jie Rui Tang Collection, Bruges, 2017, pl. 14.
SOWING THE SEEDS OF LONGEVITY: IMPERIAL 'BIRTHDAY' JARDINIERES OF THE LATE KANGXI PERIOD
The present jardinière represents the pinnacle of doucai porcelain in the Kangxi period. The colors are clear and crisp, applied in a harmonious balance of soft and vibrant tones, imbuing the coursing waves, mythical beasts, and immortal maidens with dynamism and vivacity. The boldness of the enamels and scale of the vessel mark a departure from delicate, restrained doucai porcelains of the Ming dynasty. The brushwork, too, places the jardinière in a mature phase of Qing dynasty porcelain production. As James Watt observed, jardinières of this type adopt Transitional Period Daoist subject matter, yet they have finer brushwork, a higher level of detail, and pictorial elements borrowed from woodblock-printed pattern books and painting manuals, all of which characterize Qing porcelain painting in the eighteenth century (Wen C. Fong and James C. Y. Watt, Possessing the Past: Treasures from the National Palace Museum, Taipei, Metropolitan Museum of Art, New York, p. 506). According to Peter Y. K. Lam, the style of the reign marks on the jardinière also point to a date late in the Kangxi emperor's reign. His research indicates that between 1713 and 1722, artisans began writing 'Qing' with a vertical interior stroke in the 'moon' radical (Peter Y. K. Lam, 'Lang Tingji and the Porcelain of the Late Kangxi Period', Transactions of the Oriental Ceramic Society, vol. 68, 2003-2004, p. 44). This is precisely the style of reign mark that occurs on the present jardinière and others of its type.
Lam further proposes that porcelains combining longevity subjects and this style of reign mark were produced in 1722 in anticipation of the Emperor's 70th birthday the following year (ibid., p. 44). This corroborates Watt's opinion that the National Palace Museum's jardinière of a similar subject and style was made as part of a set specifically for the Kangxi emperor's birthday (op. cit., p. 506). Paintings of Qing imperial birthdays illustrate the display of jardinières, antiquities, and artworks as part of the opulent celebrations, which suggests that this group of imperially marked 'longevity' jardinières would have been filled with appropriate plants and placed on view for guests to admire during the festivities. For paintings illustrating the Kangxi emperor's 60th birthday celebration and the Qianlong emperor's 70th birthday celebration, see China: The Three Emperors, 1662-1795, Royal Academy of Arts, London, 2005, cat. nos 25 and 26.
Imperial Kangxi jardinières of this birthday-themed group share a number of features including impressive size, doucaidecoration, faceted bodies, immortality motifs, and two horizontal six-character reign marks inscribed in underglaze blue on the underside of the rim. Known examples have either six or eight sides, an everted rim that is either shaped or geometric, and either a continuous waisted foot or multiple ruyi-form feet. The large square-section planters with canted corners and a continuous waisted foot, as seen here, are the rarest of the formulations. A famille-verte jardinière of this form with bird and flower motifs from the Qing Court Collection and now in the Palace Museum is illustrated in Complete Collection of Treasures of the Palace Museum: Porcelains in Polychrome and Contrasting Colors, Hong Kong, 1999, cat. no. 95. A jardinière of related form, with the same base decoration but with bird and flower decoration from the collection of Brooke Astor was sold in these rooms, 24th September 2012, lot 626.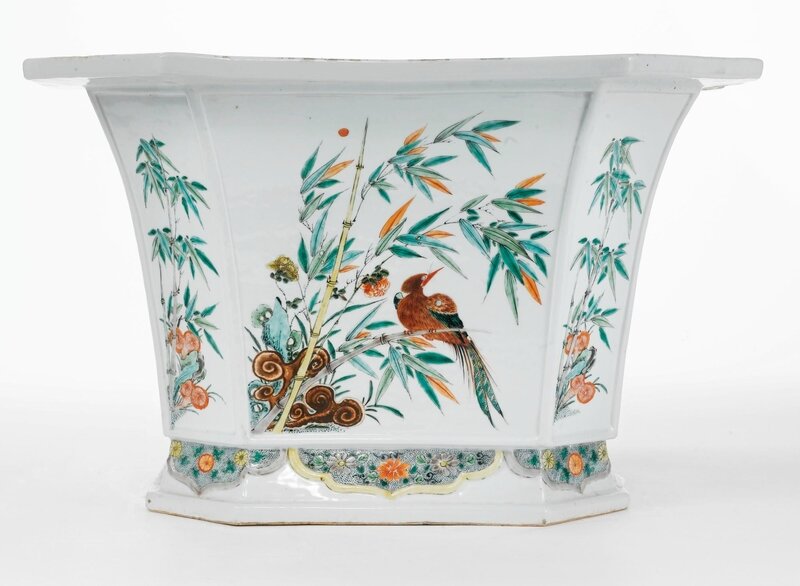 From the collection of Brooke Astor. A Chinese famille-verte octogonal jardinière, Kangxi mark and period (1662-1722); width 20 1/4 in., 51.4 cm. Sold for 410,500 USD at Sotheby's New York, 24th September 2012, lot 626. © Sotheby's
Three doucai jardinières belonging to the Imperial 'birthday' group have remained in the Palace collections. An elongated hexagonal example with a waisted foot, shaped rim, and an image of male immortals by a roiling sea is now in the Palace Museum, Beijing, ibid., cat. no. 192 (fig. 1). A second jardinière with this shape and subject, but supported on ruyi feet, is in the collection of the National Palace Museum, Taipei, illustrated by Wen C. Fong and James C. Y. Watt, op. cit., pl. 289. The third of this type, also in the National Palace Museum, Taipei, is of hexagonal form set on ruyi feet, illustrated in Porcelain of the National Palace Museum: Enameled Ware of the Qing Dynasty, vol. 1, Hong Kong, 1969, pl. 5. A related pair of elongated hexagonal jardinières with male Daoist immortals and lobed rims sold at Sotheby's London, 10th July 1979, lot 175. A similar example with male immortals, a shaped rim, and a diaper pattern around the waisted foot sold at Christie's Hong Kong, 28th November 2005, lot 1336. Another jardinière, also with male Daoist immortals and a shaped rim but resting on ruyifeet sold at Sotheby's Hong Kong, 31st October – 1st November 1974, lot 271 and again at Christie's New York, 15th-16th September 2011, lot 1549. In each case, the reign mark is written in the same manner with a vertical stroke at the interior of the 'moon' radical in 'Qing'.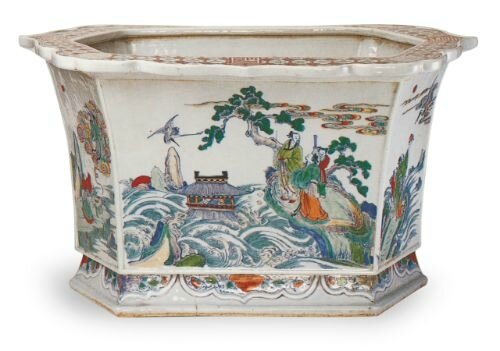 A doucai 'Immortals' jardinière, Kangxi mark and period, Palace Museum, Beijing © The Palace Museum, Beijing
A Rare Large Doucai Hexagonal Jardiniere. Kangxi Six-Character Mark In Underglaze Blue In A Line And Of The Period (1662-1722); 22 in. (56 cm.) long. Sold for $242,500 at Christie's New York, 15th-16th September 2011, lot 1549. © Christie's Ltd 2011
Cf. my post: A Rare Large Doucai Hexagonal Jardiniere, Kangxi Six-Character Mark In Underglaze Blue In A Line And Of The Period (1662-1722)
Sotheby's. KANGXI: The Jie Rui Tang Collection, New York, 20 March 2018, 11:00 AM