HONG KONG.- On 3 April, Sotheby's Hong Kong Magnificent Jewels and Jadeite Spring Sale 2018, will offer exceptional and rare treasures that epitomise quality and artistry. Headlined by a superb jadeite bangle estimated in excess of HK$80 million / US$10,230,000, the sale also offers an impressive 24.70 carat Burmese ruby, complemented by a special curation of show stopping earrings, classic period jewels, such as a rare Art Deco Egyptian revival bracelet by Van Cleef & Arpels from 1925, as well as other stylish and contemporary designer creations. Featuring over 280 lots, the sale is estimated in excess of HK$730 million / US$93.6 million*.
Jessica Wyndham, Head of Department, Jewellery, Sotheby's Asia, comments, "We are so pleased to present such an exciting sale to the market – not only do we have some superb examples of jadeite, led by "The Circle of Heaven", and coloured stones with our 24.70 carat unheated Burmese ruby, but also a wonderful selection of contemporary and vintage signed jewels. This sale is a standing testament to Sotheby's strong position in the global jewellery market."
Chin Yeow Quek, Deputy Chairman, Sotheby's Asia, Chairman International Jewellery, Sotheby's Asia, adds, "This season, Sotheby's continues to bring the most fabulous jewels to Hong Kong for our most discerning jewellery connoisseurs and collectors, with an expansive offering across categories of diamonds, gemstones and jadeite. Prepare to be dazzled!"
HIGHLIGHTS OF THE SEASON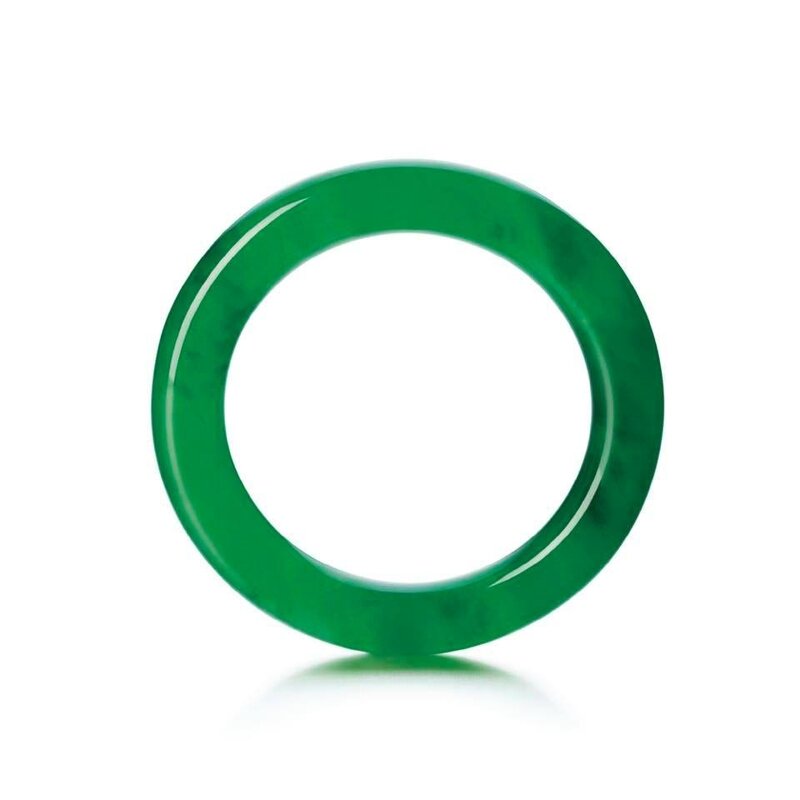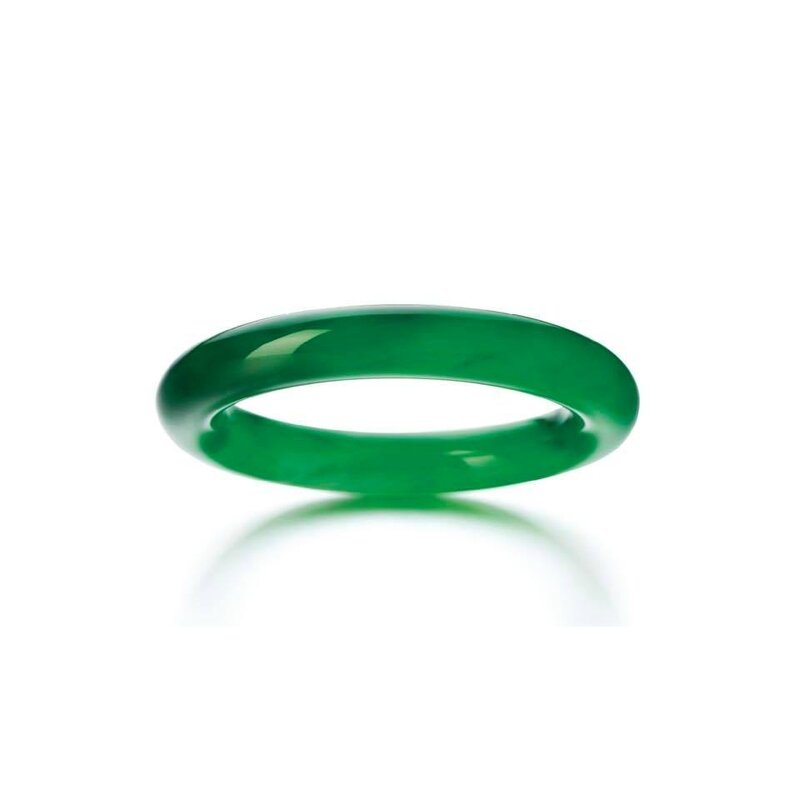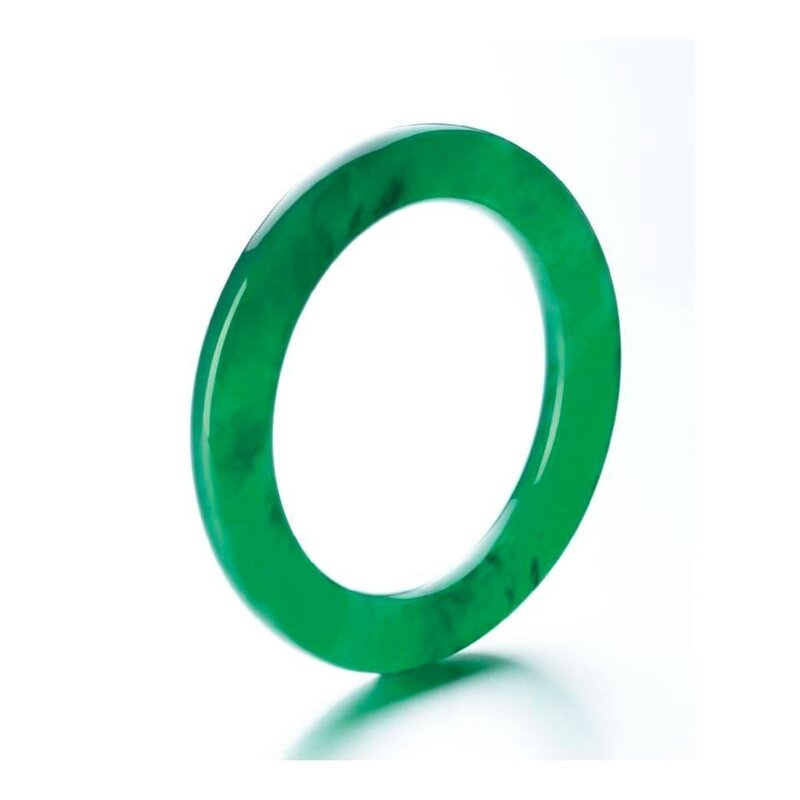 Lot 1771. 'The Circle of Heaven'. A Superb Jadeite bangle. Estimate: HK$80,000,000-100,000,000 / US$10,230,000-12,790,000. Courtesy Sotheby's.
"The square earth is a chariot; the round heaven is its canopy." - Excerpt of a poem written by Song Yu in 300 BC.
The highly translucent jadeite bangle of fine texture, brilliant emerald green colour throughout. Inner circumference and thickness approximately 56.86mm and 11.62mm.
Accompanied by Hong Kong Jade & Stone Laboratory certificate numbered KJ 97608, dated 2 February 2018, stating that the jadeite is natural, known in the trade as "A Jade".
HISTORY OF JADE IN CHINESE CULTURE
Jade has long been treasured in China, bearing a cultural significance that dates back 8,000 years. The Chinese have honored and cherished this mystical gem like no other, and throughout the ages it has become an integral part of Chinese civilization, known as the 'stone of heaven'. The ancient Chinese attributed the beauty of jade to its five virtues: benevolence, wisdom, courage, justice and purity. Jade is a generic term for both nephrite and jadeite – however, jadeite is far rarer, with the best specimens boasting a deep green hue and lustrous translucency, and was therefore reserved only for Emperors and their royal court in the past.
Both nephrite and jadeite are one of the toughest minerals on earth. This was discovered and applied by the Chinese early on, who used nephrite as tools, ornaments and weapons for thousands of years. Jadeite, unlike nephrite, was introduced later in history. Local lores from the 13th century say that a Yunnan trader travelling through an area now known as northern Myanmar casually picked up a boulder to help ease the balance of packages on his mule – and when that boulder was cracked open, a vivid emerald green gem appeared within. With a toughness like nephrite but a colour and translucency far superior than the gem they knew, the Chinese were fascinated.
One of the earliest well-known lovers of jade from the imperial family was Emperor Qianlong (1711 – 1799). As an avid art collector, Emperor Qianlong was especially fond of the rich colours that came from jadeite. The gem was soon called fei cui (翡翠), as the saturated colours of the stone were seen akin to the bright blue feathers of a kingfisher bird. The Palace Museum holds two jadeites from the Qianlong period, both truly remarkable treasures from the past.
HISTORY OF JADEITE BANGLES IN THE IMPERIAL COURT
Jade bangles, among various forms of jewellery, are an indispensable part of China's historic culture. They have been appreciated as a symbol of wealth and power for thousands of years. In the past, nephrite bangles were worn with various intricate designs as adornments – however, the discovery of jadeite led to jadeite bangles being highly sought after by the wealthiest and most powerful individuals.
Jadeite bangles of emerald green colour were greatly admired by the imperial court, and have adorned the arms of various empresses throughout history. The Empress Dowager Ci'an (1837 – 1881) was seen in her portrait wearing a pair of green jadeite bangles as she rests in a beautiful garden.
The Empress Dowager Cixi (1861 – 1908) had a lifelong admiration of the finest jadeites. She was known to surround herself with jadeites everywhere in the Palace of Eternal Spring – using jadeite bowls for tea, jadeite chopsticks for her meals, jadeite rings, bangles and hairpins for jewellery, and even held jadeite cabbages in her hands as playthings. A portrait of Cixi dressed in casual garments also reveal a pair of deep emerald green jadeite bangles on both of her arms, said to be a gift from Emperor Xianfeng when she was first named the imperial concubine (Fig.1). This pair was estimated to be worth 420,000 teals at the time, which would be about 70 million yuan today. Cixi kept these pair of stunning jadeite bracelets on her arm for the rest of her life in fond remembrance of the emperor.
The Palace Museum collection includes a stunning jadeite bracelet of exceptional quality – perfect in proportion and shape, with lush hues of green. Outside the imperial court, fine jadeite bangles were extremely scarce. One can imagine an empress of the royal court enjoying the deep saturated hues of the jadeite bangle, a symbol of great authority and privilege.
JADEITE BANGLES
Compared to various forms of jadeite jewellery, bangles command one of the highest values due to the extensive wastage of the rough material. This involves a sizeable investment and risk because the centre of jadeite bangles needs to be hollowed out from a single boulder. This is called a hololith, indicating that the bangle was crafted from one gemstone.
The standards when grading jadeite are as follows: colour, translucency, texture, shape and size. Because the green colour of the jadeite is usually saturated around a vein, the possibility of the vein growing or overlapping with another vein to form a green zone that is suitable for a whole bangle to be carved out without colourless areas is extremely rare. It is even rarer for this saturated area to be of fine translucency over an area wide enough for the whole hololith to be carved. Usually jadeite bangles may enjoy the privilege of having a strong colour or a glossy translucency; but to have both in a single boulder is an impeccable feat of nature that is almost impossible to find.
When a boulder has the perfect colours and translucency, the other three criteria still need to be met for a bangleto be formed. As a natural mineral, jadeite has an infinite variety of inclusions such as blotches, spots, clouds, veins, and a combination of any of these. While carving, natural fissures may also be found within the jadeite boulder, making it extremely difficult to complete a wholesome piece of jewellery. Therefore the texture of jadeite has to be clear and evenly distributed, and free of any blemishes that may hinder the appearance of the bangle.
In terms of size and shape, it is extremely difficult to carve a bangle that is thick and sumptuous. As fine material is now very scarce, most modern bangles are thinner and therefore lighter than the jadeite bangles from the past. A jadeite bangle with uncompromising thickness and a full, round shape is exceptionally rare, as jadeite boulders rarely have even texture, translucency or colour distribution in a size great enough for a complete bangle to be formed without flaws.
Despite such rarity Lot 1771, the 'Circle of Heaven' boasts a solid thickness with superb proportion, alongside perfect colour, translucency and texture. This is truly a sight of magnificent splendour. For a jadeite bangle to enjoy a brilliant, green hue throughout its whole piece, with a clean texture and water-like translucency could almost be considered a miracle of nature. Then, to create a bangle of fine polish and such ideal shape celebrates the outstanding workmanship of humanity.

FAMOUS JADEITE COLLECTIONS

Jadeite has been highly prized by the most affluent and powerful, and numerous female figures who were leading icons of their time were great patrons of the gem. In recent history, notable women such as Barbara Hutton and Madame Chiang Kai-Shek have enjoyed outstanding jadeite collections of their own.
Barbara Woolworth Hutton was the famed heiress to the retail tycoon Frank Woolworth - which made her one of the wealthiest women of the world. She was well known for having an exquisite eye for jewels, which was evident by her extraordinary collections. In acquiring the finest jewels of the world, Barbara was highly distinguished in her selection when it came to jadeite. Sotheby's Hong Kong auctioned the Hutton-Mdivani Jadeite Necklace by Cartier in 2014, which holds the world auction record for any jadeite jewellery and for any Cartier jewellery at 214,040,000 HKD – higher than twice the amount of the initial estimate. Barbara also owned a fine carved jadeite bangle as well – which was also sold by Sotheby's Hong Kong in 1988 for 7,040,000 HKD.
Madame Chiang Kai-shek, who is also famously known by her maiden name Soong May-ling, collected fabulous jadeite jewelleries throughout her time. As a leading style icon of her time, Madame Chiang was influential in bringing the charms of Chinese culture to an international audience. One of her treasured pieces of jadeite jewellery includes a stunning pair of jadeite bangles, engraved with a twisted pattern. Jadeite bangles of such design are very difficult to make, as the twisting curve of the design has to be carved out seamlessly from beginning to the end. This pair was described to be 'of bright intense green colour and sumptuously translucent'. She can be seen wearing this very pair of jadeite bangles on her 100th birthday party in 1998.
From Barbara Hutton to Madame Chiang Kai-shek, it is apparent that the captivating beauty of jadeite jewelleries enchanted the most beautiful, influential, wealthy and well-dressed ladies of all eras.
THE CIRCLE OF HEAVEN
The 'Circle of Heaven' is a truly a sublime gift from nature. Its vibrant emerald green colour is sumptuously saturated throughout the entire hololith, with a glowing, glossy translucency of the finest jadeite. And the symbolism behind the name is rich and potent - as the concept of both circle and heaven is intricately woven together for jadeite in Chinese culture.
The circle as a symbol has long held intense values throughout Chinese history, signifying a perfected unity and wholesome fulfillment. It was heightened by the fact that a perfect circle cannot be produced by unaided human skills, and therefore was revered as a transcendent symbol in the old ages. In gai tian (蓋天) theory of cosmography, the heaven is portrayed as a round, full circle. A poem by Song Yu written in 300 BC states: The square earth is a chariot; The round heaven is itscanopy. As the heavens were synonymous to immortality, round jadeite bangles have long symbolized unity and eternity.
Jade as a gemstone has long been admired as a 'stone of heaven'. There are many theories as to why it is called so; some think it's because the remarkable toughness of the gem made it extremely difficult to break, but the relatively lower hardness allowed the stone to be malleable in the hands of craftsmen. Throughout the ages, jade was crafted to take various forms, including tools and weapons. When these items were used, they realized that the jade was extremely durable – which led them to think that the gems had innate power given by the heavens.
Yu (玉), which is jade in Chinese, is one of the oldest characters in the language. The pictograph is known to have originated in 2,950 BC, and symbolizes the linking of heaven and earth. It is also very similar to the Chinese word wang (王), which signifies king, or ruler. Throughout history, jade became associated with two major concepts, which are represented by 吉 (Ji) and祥 (xiang). Ji is a representation of serene harmony; xiang is a state of serenity, and peace of mind. Both concepts merge together harmoniously in the full form of a jadeite bangle. Therefore the 'Circle of Heaven' is rich and potent in its symbolism, made with the 'stone of heaven' to represent the heavens in its perfect form.
Not only does its circular form signify the ideal of ultimate unity and wholesome fulfilment, according to the Gaitian theory of cosmography in which the heaven is portrayed as a round, full circle, jadeite is also believed to be "the stone of heaven" in ancient Chinese belief. An extremely rare and highly translucent jadeite bangle of full brilliant emerald green colour with fine texture, the bangle is rich and potent in its symbolism.
A Spectacular Burmese "Pigeon Blood" Ruby and Diamond Ring. Set with a cushion-shaped ruby weighing 24.70 carats, within a surround of pear-shaped diamonds, the shank paveset with brilliant-cut diamonds of pink tint. Estimate: HK$82,000,000-92,000,000 / US$10,490,000-11,770,000. Courtesy Sotheby's.
For centuries, the ruby has been distinguished as one of the most valuable gemstones in the world, and amongst them the Burmese "Pigeon Blood" Ruby is the most sought after and the discovery of any gemstone larger than 5 carats is a cause for celebration among gem connoisseurs. In addition to being set with an impressive 24.70 carat treasure from Mogok, this extremely rare ruby is mounted within a surround of diamonds which are Dcolour and internally flawless to VVS1 clarity.
"Unheated Mogok rubies in excess of 20 carats are among the rarest gems in the world. Very few of these treasures from the world's most important and legendary ruby source are known to exist." - Christopher P. Smith, President, American Gemological Laboratories
A Dazzling Collection of Signed Pieces by Van Cleef & Arpels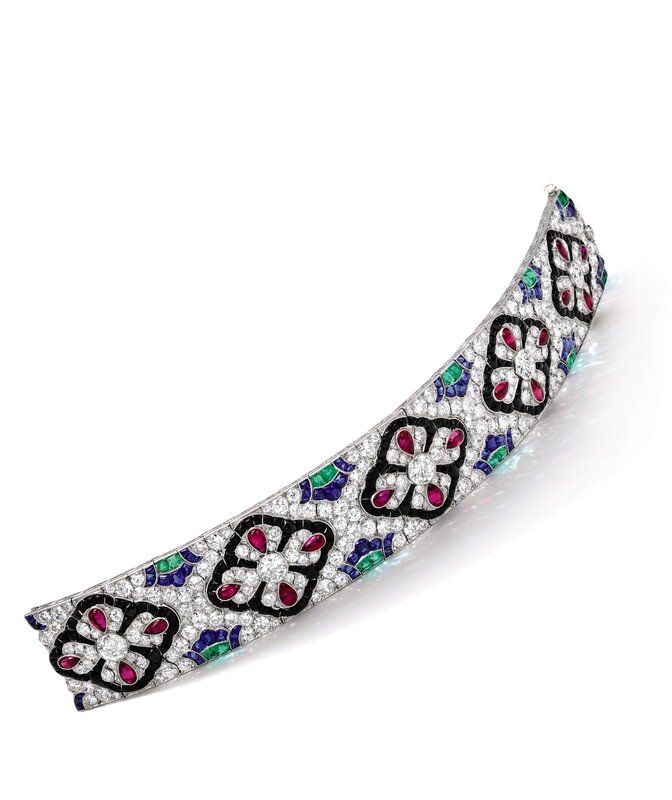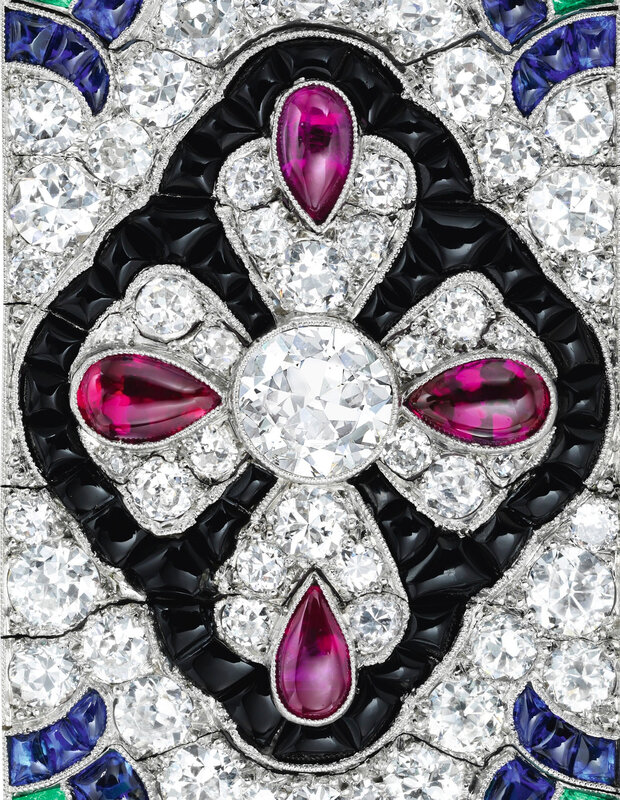 Lot 1783. A Unique Art Deco Gem Set and Diamond Bracelet, Van Cleef & Arpels, 1925. Estimate: HK$6,600,000-8,500,000 / US$845,000-1,090,000. Lot sold 9,360,000 HKD (1,192,558 USD). Courtesy Sotheby's.
This Egyptian-revival bracelet embraces the aesthetics of striking geometrics which the Art Deco has come to be known for. Inspired by exotic motifs from faraway lands whilst celebrating the avant-garde woman, the wide diamond bracelet serves as a tabula rasa to the bright and contrasting colour schemes of the finest sapphires, rubies, emeralds and onyx. Depicting the subtle beauty of lotus flowers, a prominent decorative motif in Egyptian art. Van Cleef & Arpels' archival sketches for such pieces reveal the company's meticulous study of the iconography of the ancient empire.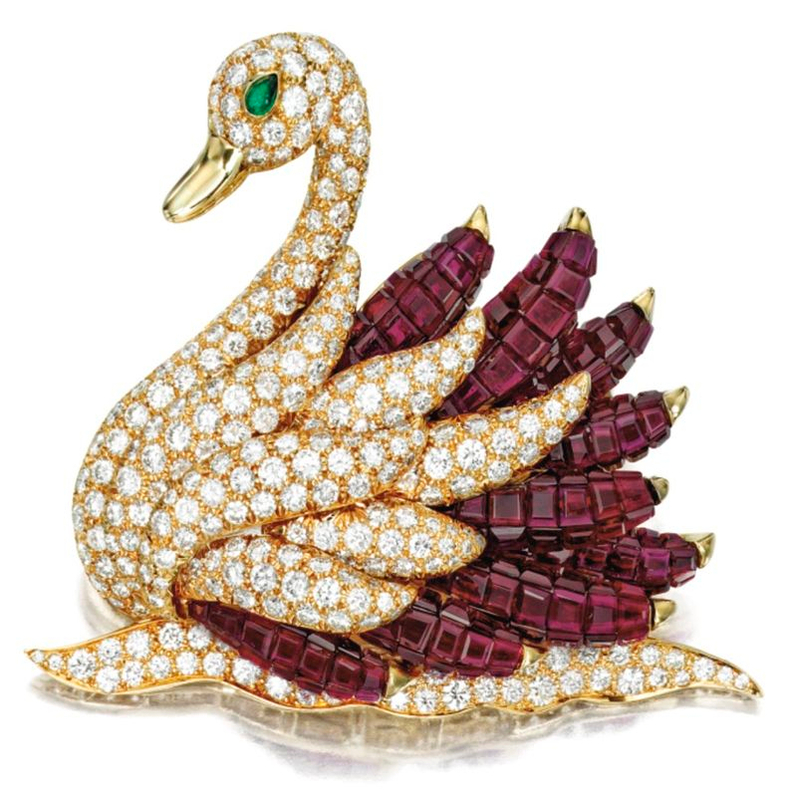 Ruby, Diamond and Emerald Brooch, Van Cleef & Arpels. Estimate: HK$2,200,000-2,800,000 / US$282,000-358,000. Courtesy Sotheby's.
In the form of a swan, a long-revered symbol of grace and serenity, this beautiful brooch is a triumph of artistry. The rubies, carefully selected for their uniform hues, are carefully polished and fitted one-by-one onto metal rails, in such a way that the metal is invisible to the eye. The result is an entirely smooth canvas of colour and brilliance that twists and turns to the beholder's delight.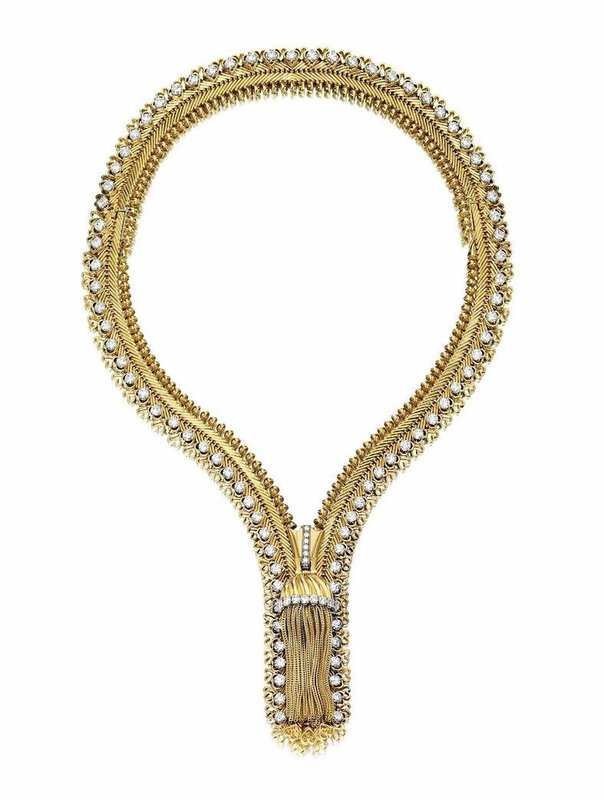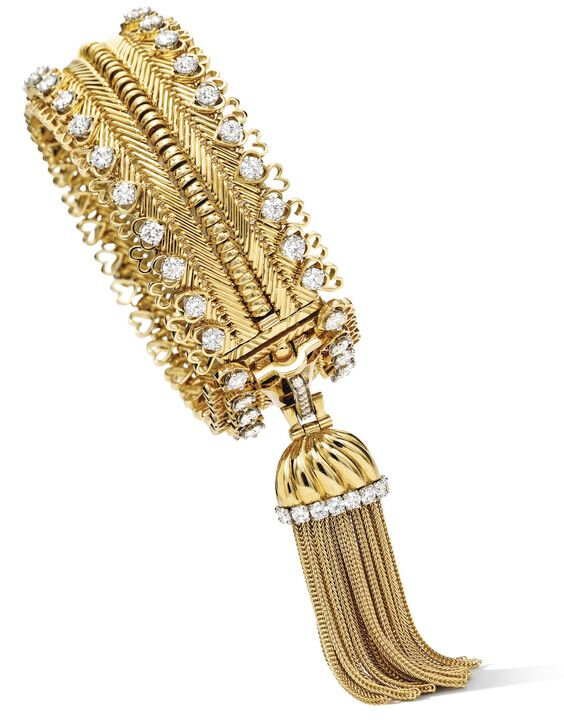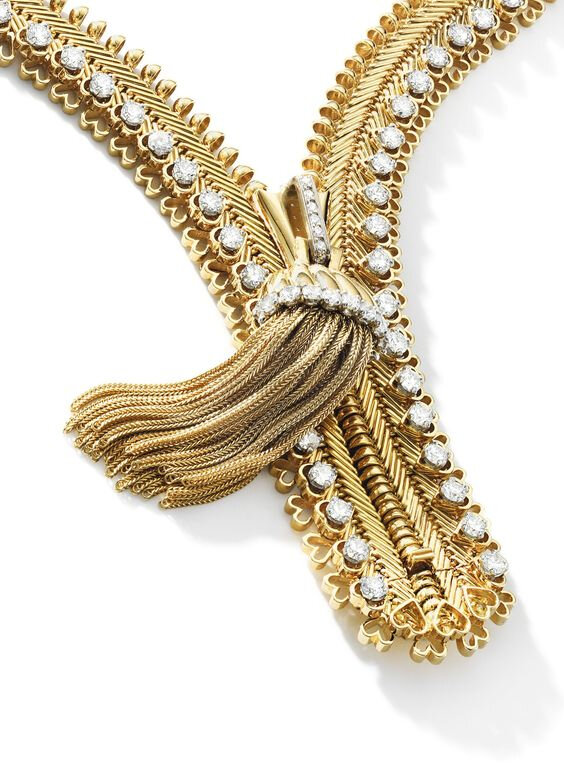 Lot 1780. An Iconic Diamond Necklace / Bracelet, 'Zip', Van Cleef & Arpels. Estimate: HK$1,200,000-2,000,000 / US$154,000-256,000. Lot Sold 2,750,000 HKD (350,378 USD). Courtesy Sotheby's.
Van Cleef & Arpel's iconic 'Zip' necklace exemplifies the Maison's creativity and capability to transform the everyday objects into exquisite jewels. This ingenious creation is credited to originate from a suggestion from the Duchess of Windsor in 1938, with the micro-engineering of this design taking the Maison's workshops decades to perfect. Celebrated as a collier fermeture éclair, the highly flexible and decorative design can be converted from a necklace to a bracelet, and is emblematic of the iconic pieces created by Van Cleef & Arpel since the 1950s.
Coloured Stones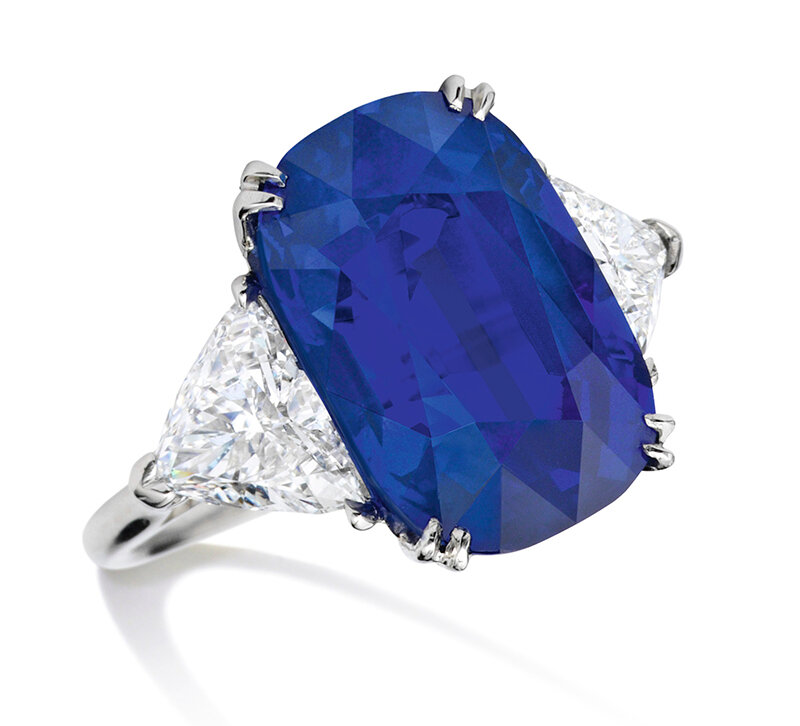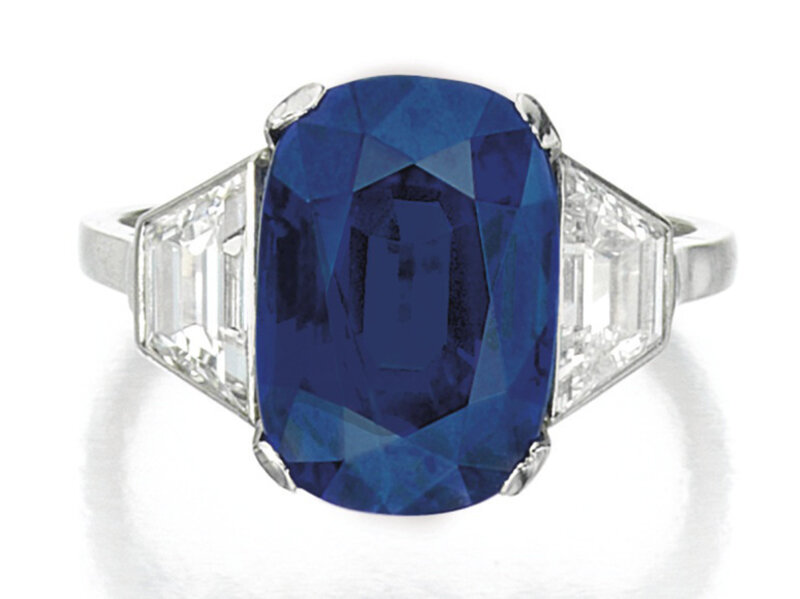 Lot 1773. A Kashmir Sapphire and Diamond Ring, Cartier. Estimate: HK$9,500,000-13,000,000 / US$1,220,000-1,670,000. Lot sold 9,960,000 HKD (1,269,004 USD). Courtesy Sotheby's.
This 10.18-carat Kashmir Sapphire, mounted by Cartier, is a wonderful example of the highly desirable velvety colour which is coveted by collectors far and wide.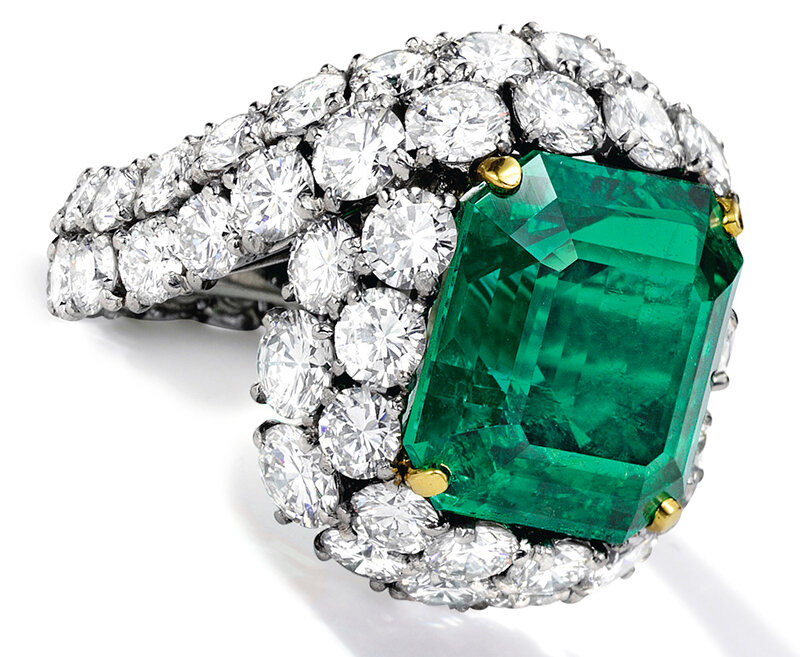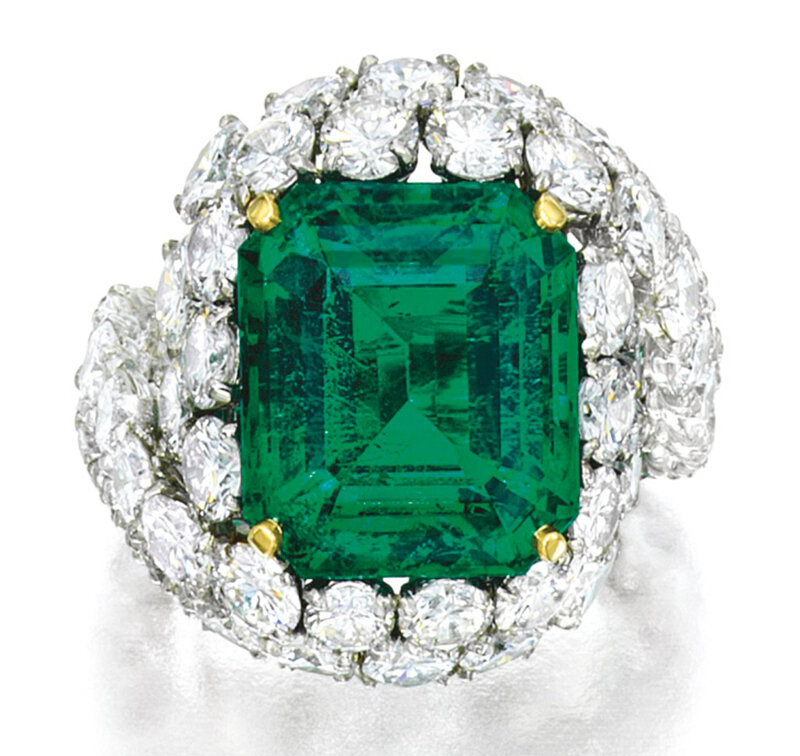 An Important Colombian Emerald and Diamond Ring, Monture Cartier. Estimate: HK$8,700,000-11,000,000 / US$1,120,000-1,410,000. Courtesy Sotheby's.
This wonderful step-cut 14.72-carat emerald originating from Colombia sports a rich natural saturation, a rare feat as it has not undergone traditional oil treatments that are common amongst its contemporaries.
Coloured Diamonds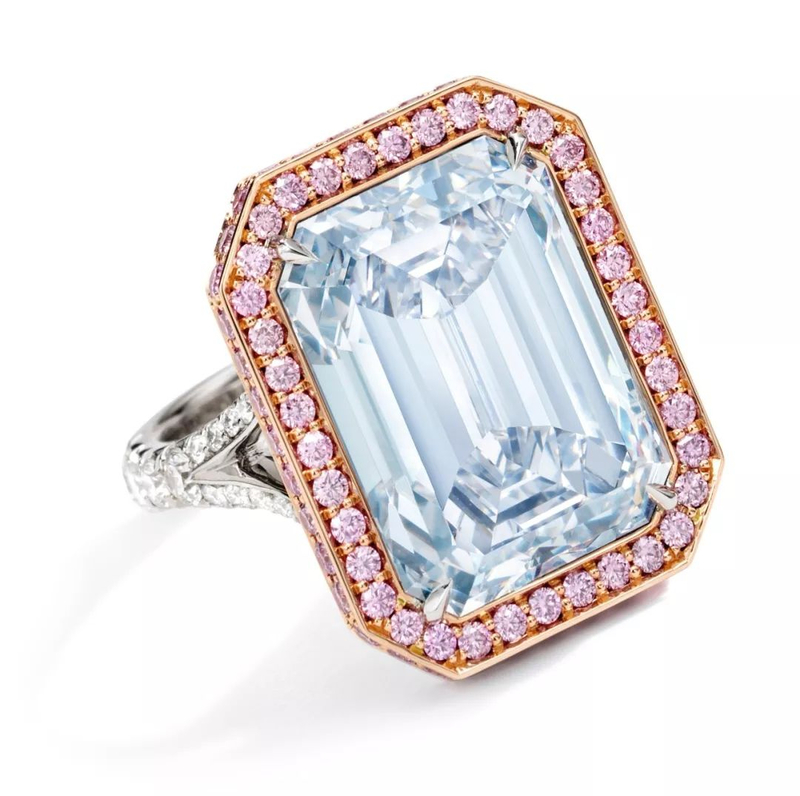 Lot 1776. A Rare Fancy Blue Diamond and Diamond Ring. Estimate: HK$46,200,000-60,000,000 / US$5,910,000-7,680,000. Unsold. Courtesy Sotheby's.
This step-cut fancy blue diamond weighs an impressive14.18 carats, rendering it a rare specimen of its category. With the increasing demand for coloured diamonds, this stone is the perfect choice for anyone looking for a blue diamond of impressive size.
Set with a step-cut fancy blue diamond weighing 14.18 carats, within a surround of brilliant-cut diamonds of pink tint, the mount decorated with brilliant-cut diamonds, mounted in platinum and 18 karat pink gold, size 6.
ccompanied by GIA report numbered 6183520528, dated 21 November 2017, stating that the diamond is Fancy Blue, Natural Colour, VVS2 Clarity; further accompanied by diamond type classification report stating that the diamond is determined to be a Type IIb diamond. Type IIb diamonds are very rare in nature and contain small amounts of boron that can give rise to a blue or gray colouration.
Please note the diamonds of pink tint have not been tested for natural colour origin.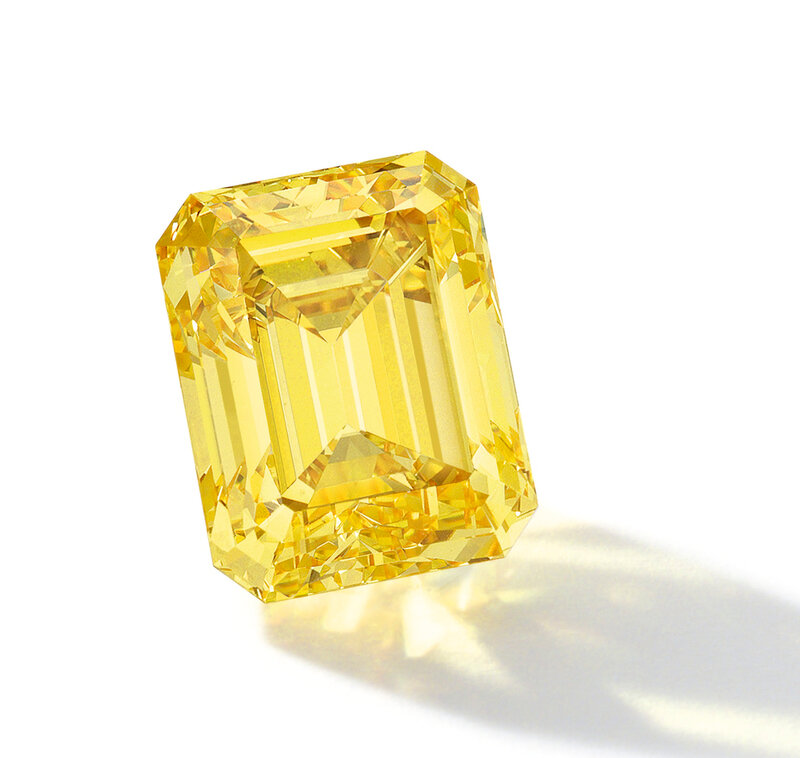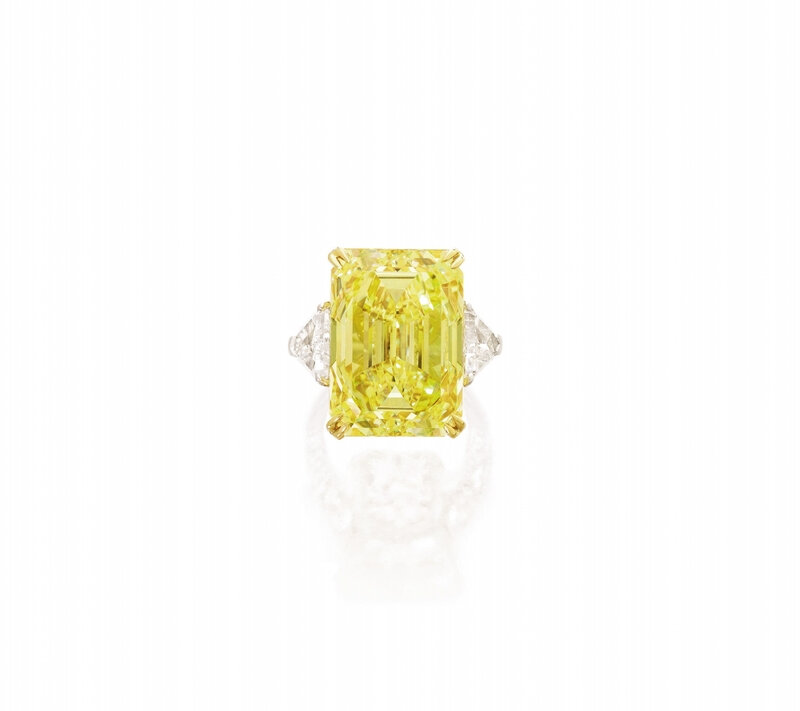 Lot 1762. A Historic 5.29 carats Fancy Vivid Yellow Diamond Ring "Cullinan Vivid". Estimate: HK$4,200,000-6,500,000 / US$540,000-835,000. Lot sold 5,160,000 HKD (657,436 USD). Courtesy Sotheby's 2018.
Set with a step-cut fancy vivid yellow diamond weighing 5.29 carats, mounted in 18 karat white and yellow gold, size 6.
Provenance: Originally in the collection of Sir Ernest Oppenheimer, then General Pierre de Villers and subsequently in the collection of the family of R.V. Cullinan.
ccompanied by GIA report numbered 6187293461, dated 10 April 2017, stating that the diamond is Fancy Vivid Yellow, Natural Colour, VS1 Clarity, with Excellent Polish and Symmetry.
A CONNOISSEUR'S EYE:THE CULLINAN VIVID
Of enviable provenance, starting with a fortuitous encounter on a train this 5.29 carat Fancy Vivid Yellow diamond has since exchanged hands between some of history's most renowned diamond connoisseurs, all of whom had a keen eye for quality, undoubtedly appreciating the rarity and beauty of this stone.
Avid collectors of the finest gems, the Cullinan family were always on the lookout for the most remarkable stones. In this instance, R.V. Cullinan, son of the legendary diamond magnate, asked General Pierre De Villiers, a director of De Beers, to help him source some rare diamonds. On a train returning from the Kimberly De Beers mine, whilst discussing the outcome of their recent expedition, Sir Ernest Oppenheimer, the diamond and gold mining entrepreneur, who had controlling stakes in De Beers at the time, stated that his recent acquisitions were better than those of General De Villiers. Once the diamonds were revealed, the General struck a deal to purchase the diamonds, ultimately dividing the collection between himself and R.V. Cullinan.
The Cullinan diamond dynasty was founded by Sir Thomas Cullinan who is renowned for giving his name to the Cullinan diamond, the largest gem-quality rough diamond ever found, weighing 3,106.75 carats. The Cullinan mine produced several important stones of various cuts and sizes, the largest ofwhich is named the Cullinan I or the Great Star of Africa, mounted in the British head of the Sovereign's Sceptre, whilst the second-largest is the Cullinan II or the Second Star of Africa is mounted in the Imperial State Crown. Both diamonds are part of the Crown Jewels of the United Kingdom and the rest are part of the Queen's private collection.
What De Villiers no doubt noted about this diamond is that the intensity of the colour is as strong when viewed from the front as it is when viewed from the side which is often not the case in coloured diamonds. It is therefore understandable why the General was so eager to strike a deal straight away in order to secure the stone. This remarkable stone has been cherished by the family until recently and will no doubt become an excellent addition to the next connoisseur's collection.
Jadeite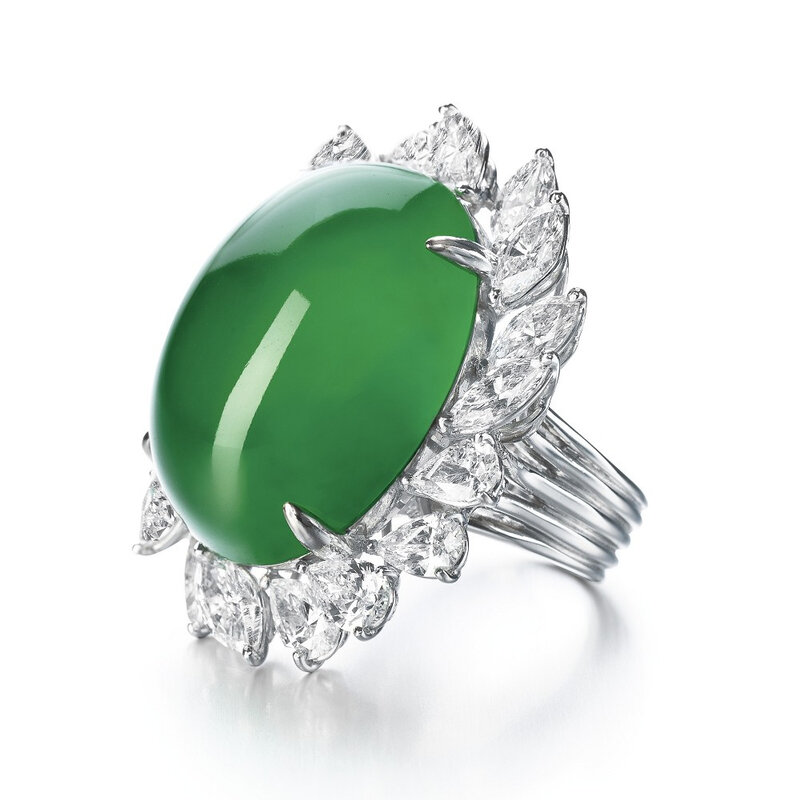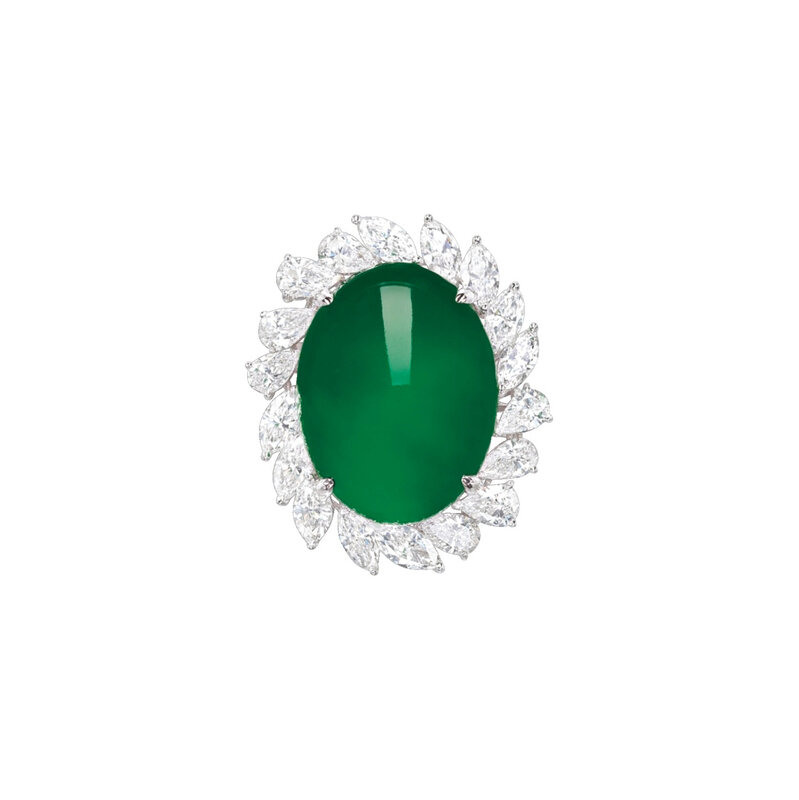 Lot 1770. A Rare and Important Jadeite and Diamond Ring. Estimate: HK$18,000,000-28,000,000 / US$2,310,000-3,580,000. Unsold. Courtesy Sotheby's 2018.
A highly translucent oval jadeite cabochon of brilliant emerald green colour, the jadeite is exceptional for its very fine texture and superb shape.
Set with an oval jadeite cabochon of bright emerald green colour and very good translucency, within a marquise-cut and pear-shaped diamond surround weighing approximately 6.00 carats in total, mounted in 18 karat white gold, size 5½. Cabochon approximately 25.69 x 19.68 x 9.61mm.
Accompanied by Hong Kong Jade & Stone Laboratory certificate numbered KJ 97535, dated 23 January 2018, stating that the jadeite is natural, known in the trade as "A Jade".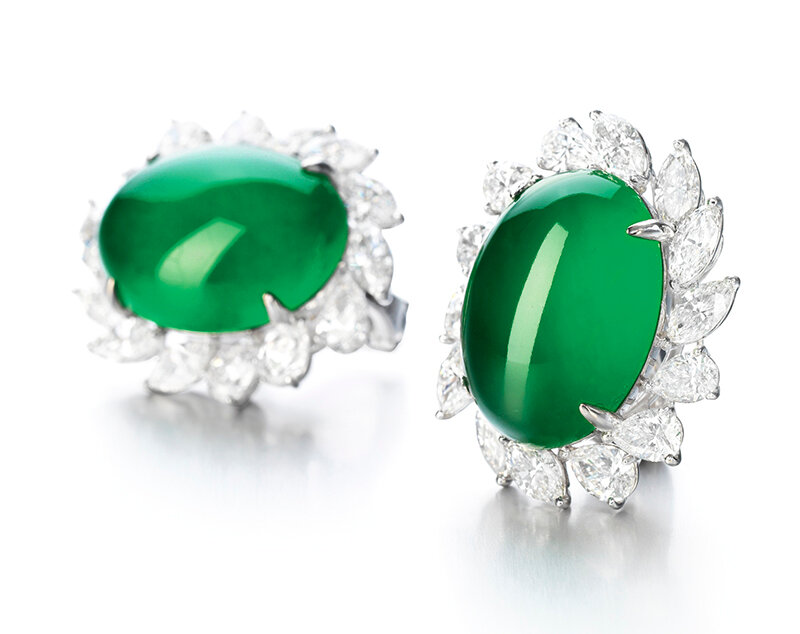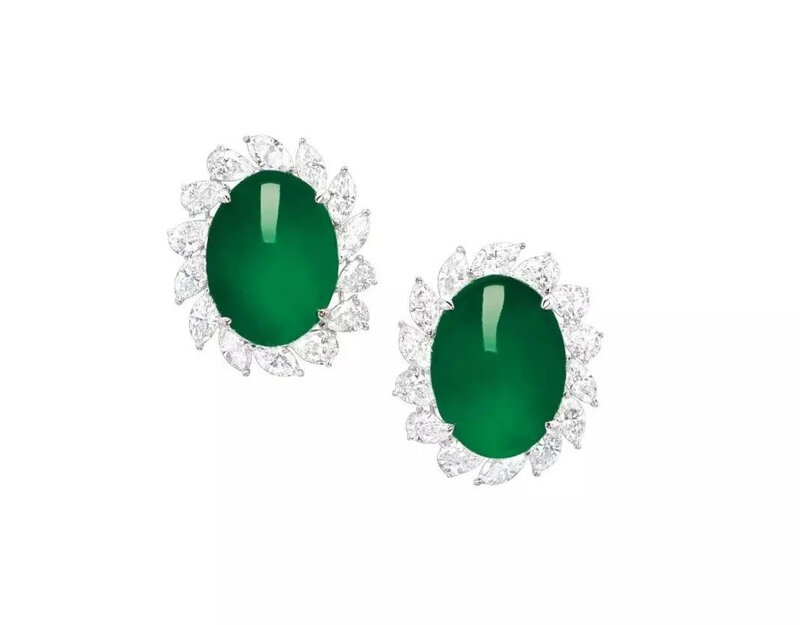 A Rare and Important Pair of Jadeite and Diamond Earrings. Estimate: HK$15,000,000-25,000,000 / US$1,920,000-3,200,000. Courtesy Sotheby's.
A finely matched pair of jadeite cabochon ensuite with the cabochon ring.
Earrings for the Red Carpet
From a marker of social status to a fashion statement, earrings have been a principal form of jewellery throughout history. The way earrings have been worn and their function within an ensemble have quickly become the ideal form for harmonising or adding drama to an overall 'look', and in Hollywood, earrings are the essential finishing touch. The inspiration for this curated collection came from Ashley Judd's red carpet look at the 2018 Golden Globes, during which she wore the Martin Katz Emerald and Diamond Pendent Earrings (Estimate: HK$1,600,000-2,000,000 / US$205,000-256,000), listed below.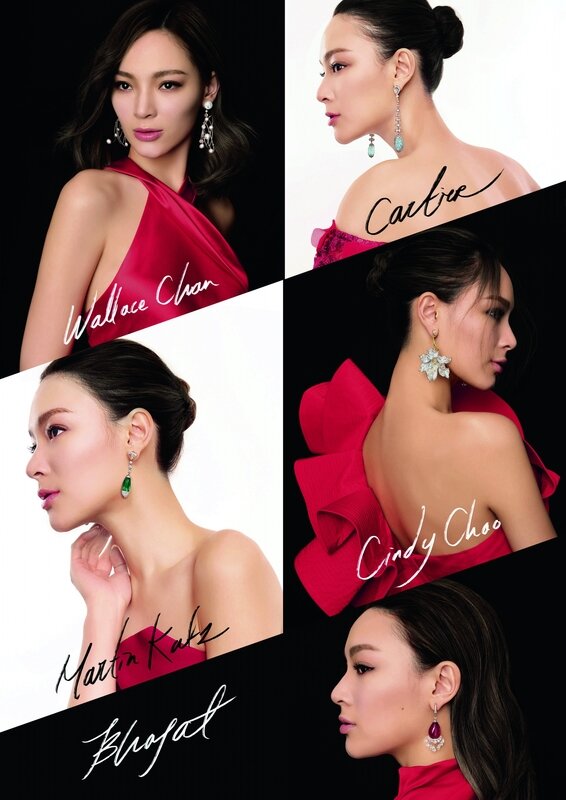 Pair of Keshi Pearl, Rock Crystal and Diamond Pendent Earrings, Wallace Chan. Estimate: HK$480,000-650,000 / US$61,500-83,500. Courtesy Sotheby's.
Pair of Aquamarine and Diamond Pendent Earrings, 'Charlize', Cartier. Estimate: HK$950,000-1,400,000 / US$122,000-179,000. Courtesy Sotheby's.
Pair of Emerald and Diamond Pendent Earrings, Martin Katz. Estimate: HK$1,600,000-2,000,000 / US$205,000-256,000. Courtesy Sotheby's.
Pair of Spinel and Diamond Pendent Earrings, BHAGAT. Estimate: HK$950,000-1,400,000 / US$122,000-179,000. Courtesy Sotheby's.
Pair of Diamond Pendent Earrings, 'Four Seasons', Cindy Chao. Estimate: HK$650,000-850,000 / US$83,500-109,000. Courtesy Sotheby's.
"Earrings are the one jewellery pieces that add instant glamour for any woman at any occasion. On the red carpets the dangling earrings are especially loved for their dramatic movement, and their ability to accentuate contours of female necklines."
"My Four Seasons art jewel collection has been seen on international red carpets by BingBing Li, Amy Adam and Salma Hayek. This particularly sculptural and articulated pair of Maple Leaves earrings is my latest creation of the collection." - Cindy Chao