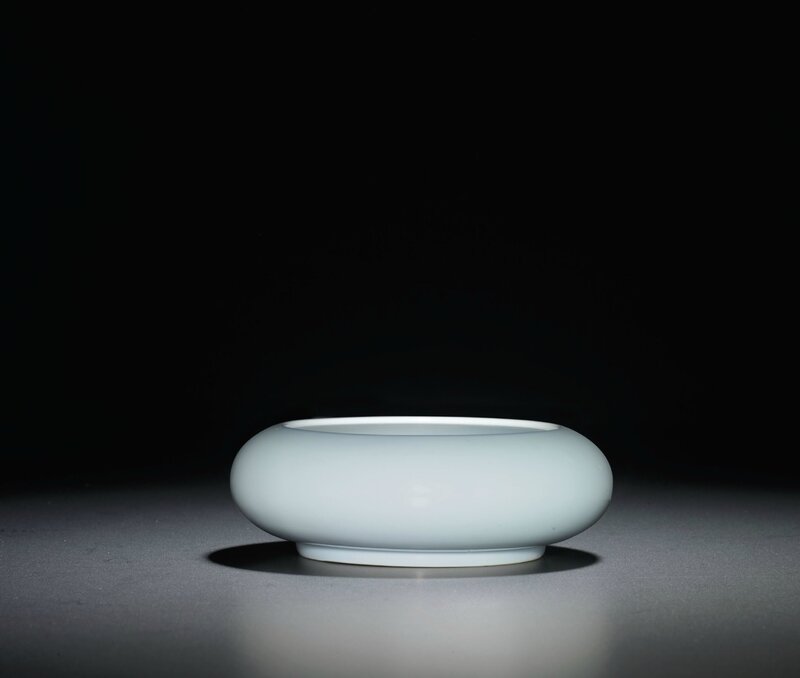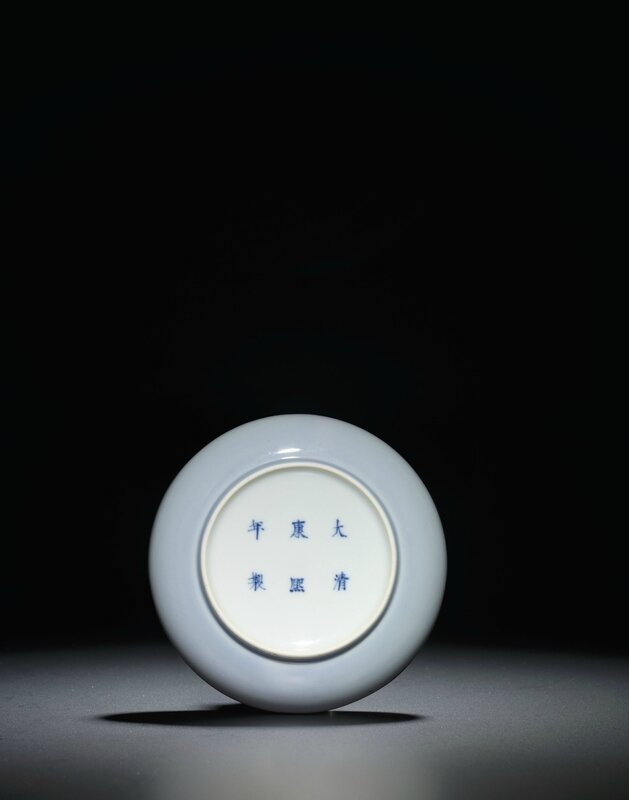 Lot 2260. A fine and rare clair-de-lune brush washer, tangluoxi, Kangxi six-character mark and of the period (1662-1722); 4 5/8 in. (11.8 cm.) diam. Estimate HKD 2,000,000 - HKD 3,000,000. Price realised HKD 2,430,000. © Christie's Images Ltd 2013
The washer is finely potted of compressed globular form on a low foot ring. It is covered both inside and out with a pale lavender-blue glaze pooling around the incurved rim to form an attractive blue halo, while the base is glazed white.
Property of the Yiqingge Collection.
Note: A comparable clair-de-lune washer in the National Palace Museum is illustrated in Qing Monochromes, Taipei, 1981, p. 85, no. 36. There are three clair-de-lune brushwashers illustrated in The Baur Collection, Geneva, 1972, vol. 3, nos. A318, A320, and A321, where Ayers mentions another three in the Widener Collection, National Gallery of Art, Washington, DC. Other examples are illustrated in Oriental Ceramics, The World's Great Collections, vol. 12, Tokyo, 1982, no. 136, in the Metropolitan Museum of Art; in Sekai toji zenshu, vol. 15, Tokyo, 1983, p. 36, pls. 28 and 29, in the National Palace Museum, Taiwan; and by Lee, Selected Far Eastern Art in the Yale University Art Gallery, no. 44. One in the Percival David Foundation was included in the O.C.S. exhibition, Arts of the Ch'ing Dynasty, London, 1964, no. 268 and another in the O.C.S. exhibition, The Chinese Scholar's Desk, Oxford, 1979, no. 26. It is illustrated again by R. Scott, For the Imperial Court: Qing Porcelains from the Percival David Foundation of Chinese Art, New York, 1997, p. 67, no. 13. A further example is illustrated in Chinese Porcelain, The S.C. Ko Tianminlou Collection, Hong Kong, 1987, Part II, pl. 150, in which Tam notes, p. 192, that this is one of the imperial wares on which the Kangxi reign mark is arranged in three columns of two characters each, without encircling lines.
Compare to similar Kangxi-marked clair-de-lune brush washers sold at Christie's New York, 20 March 2002, lots 234 and 235; and 18 September 2003, lot 349.
Christie's. IMPERIAL SALE: IMPORTANT CHINESE CERAMICS AND WORKS OF ART. 29 May 2013. Convention Hall.