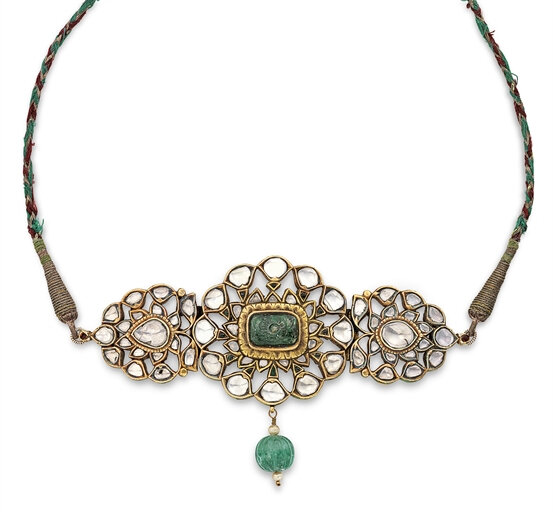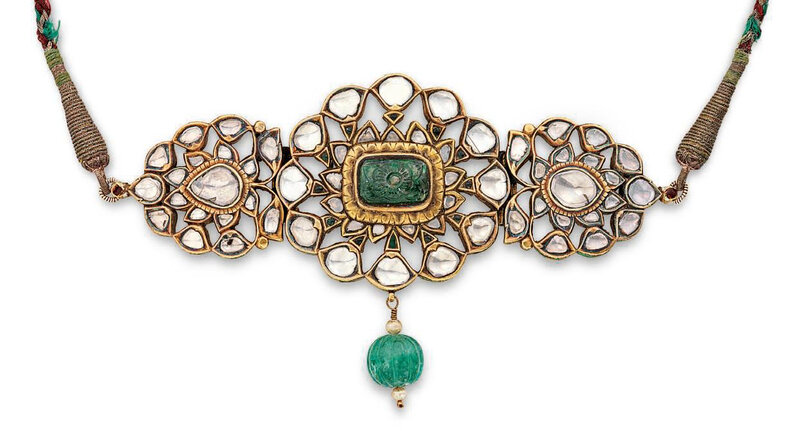 Lot 142. A diamond and emerald-set enamelled armband (bazuband), India, 19th century; 2 1/8 x 5 1/8in. (5.4 x 13.2cm.). Estimate GBP 15,000 - GBP 20,000 (USD 21,045 - USD 28,060). © Christie's Images Ltd 2018
Of typical form, the central panel set with diamonds around a rectangular carved emerald, a fluted emerald bead suspended below, with hinged tapering foliate panels on either side similarly set with diamonds, the reverse enamelled with red and green floral motifs on cream ground.
Note: The armband (bazuband) is an ancient form of jewellery and can be seen on early Indian sculpture, such as on figures of Gandharan-period bodhisattvas in the 3rd and 4th centuries. The armband could be worn singly but is often seen worn in pairs on both arms. Bazubands from the Mughal period are usually a three-part hinged ornament, each section set with gemstones. The Gentil Album, dated circa 1774, in the Victoria and Albert Museum illustrates various tripartite jewels which could be bazubands or sarpatti (part of turban ornaments) (inv. no. IS 1925-1980; S. Stronge, N. Smith and J.C. Harle, A Golden Treasury: Jewellery from the Indian Subcontinent, Ahmedabad, 1988, fig. 6, pp.28-29. There is a comparable bazuband from Hyderabad, dated to circa 1775-1825, and a 19th century sarpech (turban ornament) from Jaipur in the Al Thani collection. Both ornaments, like our bazuband, have three hinged openwork gem-set panels and an enamelled reverse (Amin Jaffer, Beyond Extravagance: A Royal Collection of Gems and Jewels, New York, 2013, no.73,80, pp.194,196).
For other gem-set and enamelled armbands of comparable form which have sold at auction, see Christie's, London, 8 October 2015, lot 180 and Christie's, New York, 16 April 2013, lot 185.
Christie's. Art of the Islamic and Indian Worlds Including Oriental Rugs and Carpets, 26 April 2018, London