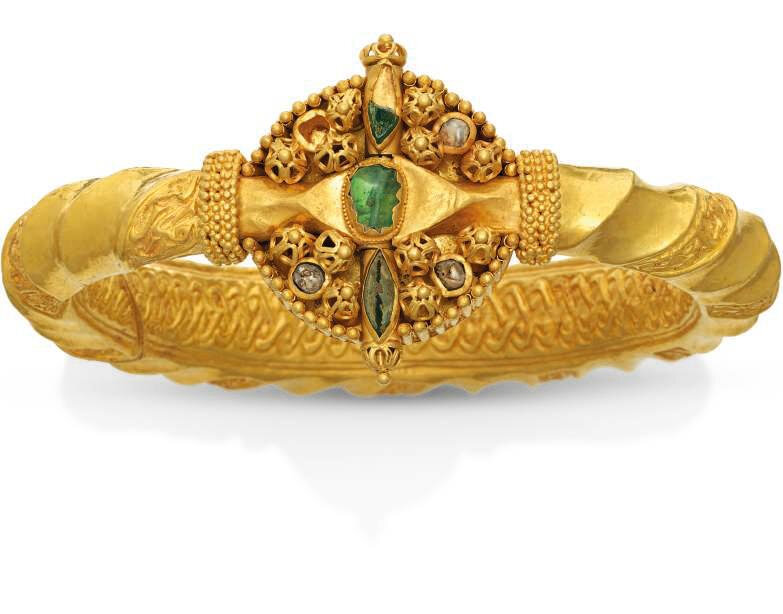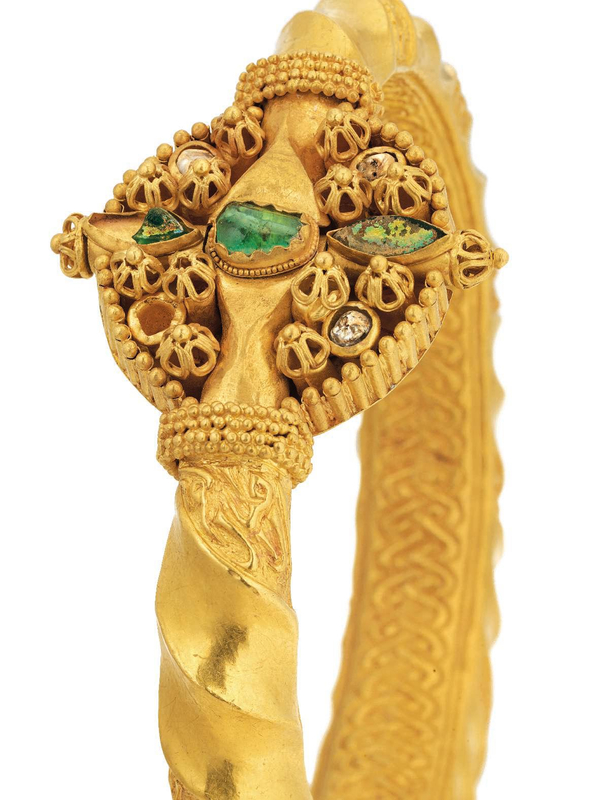 Lot 8. A rare Fatimid gold armlet, Egypt or Syria, 11th century; 5 ¾in. (14.6cm.) diam. at widest. Estimate GBP 100,000 - GBP 150,000 (USD 140,300 - USD 210,450). © Christie's Images Ltd 2018
The twisted band of the hinged bracelet with lines of calligraphy on alternate facets, the interior with continuous knotted strapwork, the bezel with a cruciform motif set with an emerald and green glass beads, the interstices of the cruciform with three filigree domes surrounded by small pearls, attachment pin through the centre of the bezel, minor damages.
Provenance: Private collection, Morocco, circa 1920, and thence by descent to the present owner.
Note: This magnificent armlet is a rare survival of the gold work of Fatimid Egypt. Very few other Fatimid armlets or bracelets are known. Those that remain are in museum collections. Ours bears closest resemblance to one in the Freer Gallery of Art (inv.no.F1948.25; Na'ama Brosch (ed.), Jewellery and Goldsmithing in the Islamic World, Jerusalem, 1987, fig.11, p.25) which is a near pair to an example in the National Museum of Syria, in Damascus (inv.no.2799-A; Mikhaiil B. Potrovsky and John Vrieze (eds.), Heavenly Art, Earthly Beauty, Amsterdam, 2000, no.265, p.271). Like ours both the Freer and the Damascus armlets use techniques of repoussé and extremely refined granulation in their decoration, a characteristic feature of Fatimid jewellery. The both also have central panels set with a design based around a quatrefoil motif, with settings for gems (now lacking in the Freer and Damascus bracelets) alternated with small filigree domes. The back of both of those bracelets are flat and sharply engraved as ours, there that case with roundel motifs.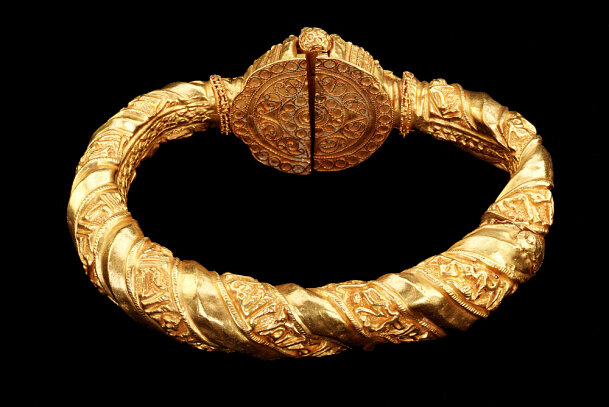 Armlet or Anklet, Syria, Fatimid period, 11th century. Gold. H x W: 12.9 x 10.8 cm (5 1/16 x 4 1/4 in). Purchase — Charles Lang Freer Endowment, Freer Gallery of Art, F1948.25 © 2017 Smithsonian Institution
The similarity between the Freer and the Damascus armlets, suggests that they were conceived as a pair, made to be worn on both arms at the same time (Esin Atil, W.T. Chase and Paul Jett, Islamic Metalwork in the Freer Gallery of Art, Washington DC, 1985, p.66). Another pair of matching gold Fatimid armlets, although of different form to ours, are in the Al-Sabah Collection (Marilyn Jenkins (ed.), Islamic Art in the Kuwait National Museum. The Al-Sabah Collection, London, 1983, pl.65). For further discussion of the Freer and Damascus pair see Paul Jett, 'A Pair of Islamic Gold Bracelets Reunited', in Jewellery Studies 6, 1993, pp.74-76. This fashion for wearing pairs of bangles can also be seen in contemporaneous Fatimid painting. Though simplified for the medium, they are clearly worn on both of the arms of a lady holding a wine bottle on a bowl in the Museum of Islamic Art, Cairo (inv.no.14987; published in Viktoria Meinecke-Berg, 'Fatimid Painting: On Tradition and Style. The Workshop of Muslim' in Marianne Barrucand (ed.), L'Egypte Fatimide son art et son histoire, Paris, 1999, fig.6, p.15).
Armlet, Damascus, possibly Raqqa, Syria, Late Fatimid or Atabeg, Hegira 5th century / AD 11th century. Hammered and moulded gold. Diameter 12.5 cm, National Museum of Damascus, 2799.
The Damascus armlet is said to have been excavated in Raqqa in 1939, suggesting a similar provenance for ours. Others armlets are in the Museum of Islamic Art in Doha and the Metropolitan Museum of Art (inv.1979.7.1 and 58.37; Marilyn Jenkins and Manuel Keene, Islamic Jewellery in the Metropolitan Museum of Art, New York, 1983, nos.44 and 45, pp.77-78). One bracelet was exhibited for sale by Spink & Son, Persian and Islamic Art, April-May 1977, lot 170, p.52. The gold composition and manufacturing techniques of this armlet have been analysed and appear to be consistent with a medieval Islamic date.
Christie's. Art of the Islamic and Indian Worlds Including Oriental Rugs and Carpets, 26 April 2018, London