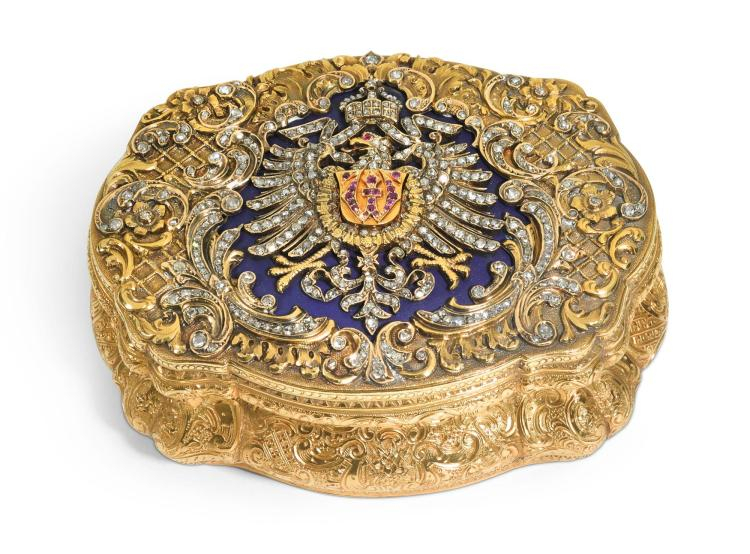 Lot 389. A jewelled gold and frosted glass presentation box, Hanau, circa 1871; 9.5cm., 3 3/4 in. wide. Estimate 15,000 — 25,000 GBP. Courtesy Sotheby's 2018.
cartouche form, the lid applied with a rose diamond and ruby-set coat of arms of the House of Hohenzollern and the initial of Emperor William I, surrounded by the chain of the Order of the Black Eagle on a matte cobalt blue glass ground, framed with diamond-set scrollwork and flowers over a pierced trellis pattern on a sabléground, the bombé sides and base engraved with scrolls and swags, maker's mark apparently illegible but said to be that of the Berlin Court Jeweller Louis Werner, German post-1884 crown, further struck: 585 and numbered: 3799
Note: William I, son of Louise of Mecklenburg-Strelitz and Prince Frederick William, was the first German Emperor from 1871 until his death in 1888, as well as the first Head of State of a united Germany. Born William Frederick Louis of Prussia in Berlin in 1797 and having an older brother, he was not expected to become king but to pursue a military career instead. Therefore he started serving in the Army in 1814, was appointed captain at the age of 16 and fought against the French in the Napoleonic wars, resulting in his enduring antipathy towards France. Well-known for his conscientiousness, rationality and self-restraint, he insisted on a powerful and well-trained army and seemed suited for the position of the Royal Regent in 1858, after a stroke had left his older brother King Frederick Wilhelm IV incapacitated. He succeeded as King of Prussia in 1861. Arguably his most relevant achievements were the unification of North and South Germany to one German Empire during the Franco-Prussian War, the modernising reforms and the establishment of a welfare state with the help of chancellor Bismarck. On 18 January 1871, which is the year when this jewelled presentation box was made, he was proclaimed Emperor Wilhelm I in the Hall of Mirrors in Versailles.
Sotheby's. From Earth to Fire, London, 01 mai 2018, 02:00 PM