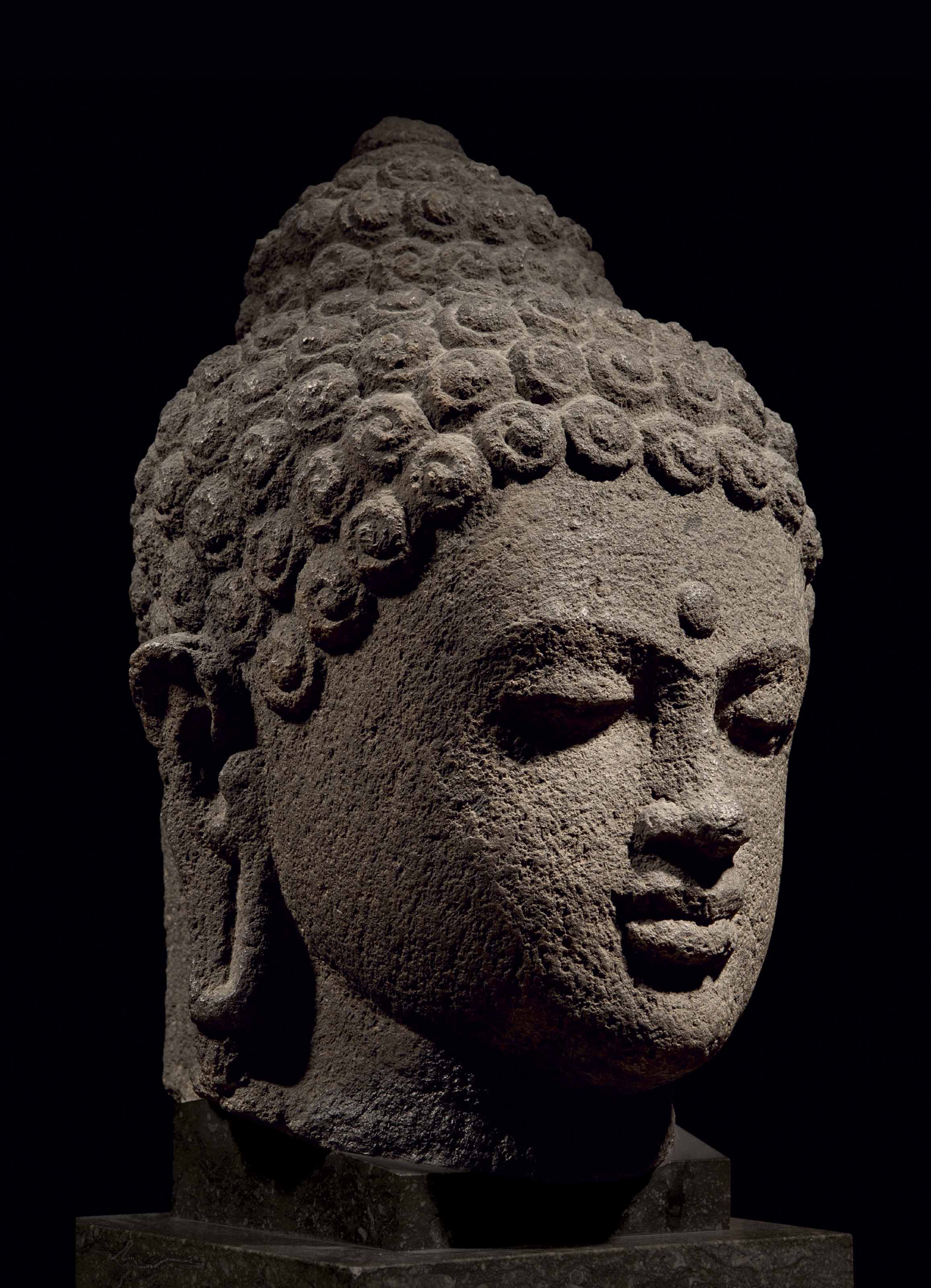 Lot 23. An Important Stone Head of Buddha, Indonesia, Central Java, 9th Century; 15 ¾ in. (39.9 cm.) high. Estimate USD 200,000 - USD 300,000. Price realised USD 509,000. © Christie's Images Ltd 2015.
Finely carved with bow-shaped mouth and downcast eyes centered by a raised urna, flanked by pendulous pierced earlobes, the hair in snail-shell curls over the conicalushnisha.
Provenance: With Aaron Vecht, Amsterdam, 1932.
Private Collection, New York, 1939-1960s.
Collection of Robert H. Ellsworth, New York, acquired by 1980.
Literature: A. Juliano, "Robert H. Ellsworth Treasures the East," Architectural Digest, October 1985, p. 102.
A. Christy, "Not for Sale: A Few of Robert Ellsworth's Favourite Possessions," Orientations, June 1991, p. 58-59, fig. 5.
Note: This magnificently carved head of Buddha closely resembles the manifold transcendental Buddhas erected in Central Java under the Sailendra Dynasty at the beginning of the 9th century. The forehead extends broadly over heavy lids and a slight, serene smile, giving the Buddha a quiescent and particularly introspective expression. Certain features of this sculpture speak directly to the classical Central Javanese Buddha images of the 9th and 10th centuries, including the clearly defined curls, elongated earlobes and smooth chiseling of the porous volcanic stone. The soft contours, straight nose, and plump lips are reminiscent of Gupta prototypes. The Gupta Empire, spanning from the 4th to 6th centuries, was known for the development of sensual features and balanced volumes that strongly influenced the styles of later kingdoms. The present example, in part due to its material and to local Buddhist considerations, is a distinct development upon this prototype through sensitive, lifelike modeling with subtle contours.
Two similar examples include the head of a Dhyani Buddha from the Avery Brundage Collection (see R. d'Argence´ et al, Indian and South-East Asian Stone Sculptures from the Avery Brundage Collection, 1969, pp. 86-87) and the head of Buddha in the Rietberg Museum (see J. Fontein, The Art of Southeast Asia; The Collection of the Museum Rietberg Zurich, 2007, pp. 106-107). In each one, the balanced proportions and curved treatment of the rough surface speak to an emphasis on creating outwardly naturalistic and inwardly thoughtful images of Buddha. The Avery Brundage example is most similar to the Ellsworth sculpture in its more pronounced features, including a clear delineation of the eyelids and a gentle smile.
When Robert Ellsworth happened upon this head of Buddha in the 1960s, after an American collector had purchased it from a dealer in Holland in 1932 and brought to America in 1939, he considered it to be "one of the most beautiful volcanic stone heads" from this region and was adamant to keep it in his collection (see A. Christy, "Not for Sale: A Few of Robert Ellsworth's Favourite Possessions," Orientations, June 1991, pp. 58-59, fig. 5). From its prominent place in the foyer, this head of Buddha continued to grace visitors with a profound lowered gaze and peaceful presence.
Christie's. The Collection of Robert Hatfield Ellsworth Part I - Masterworks Including Indian, Himalayan and Southeast Asian Works of Art, Chinese and Japanese Works of Art, New York, 17 March 2015