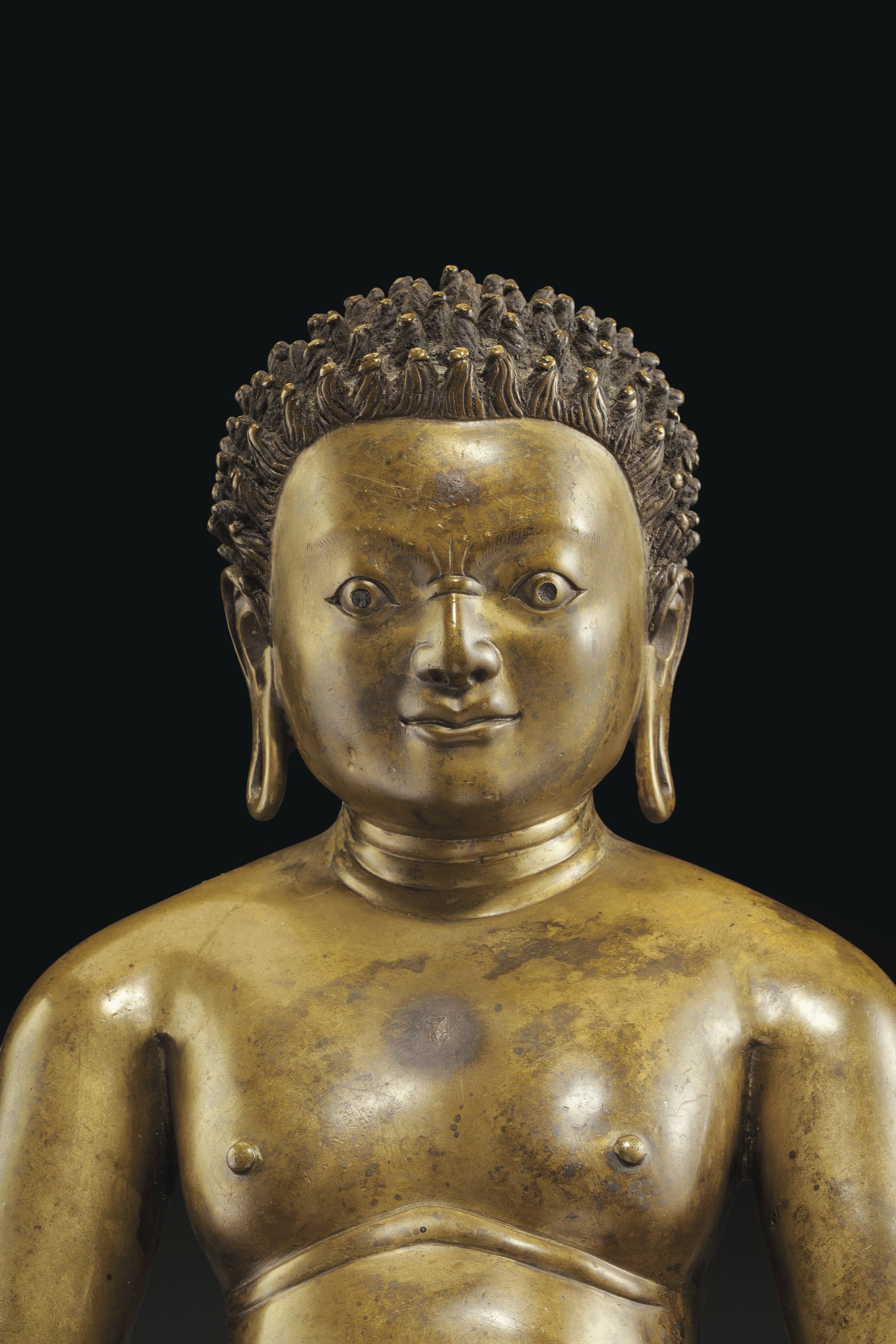 Lot 8. A Rare and Important Bronze Figure of a Seated Yogi, Possibly Padampa Sangye Tibet, 11th-12th century; 13 ½ in. (34.2 cm.) high. Estimate USD 1,000,000 - USD 1,500,000. Price realised USD 4,869,000. © Christie's Images Ltd 2015.
Seated in padmasana, hands resting in dhyanamudra, the Indian mystic sits with a slightly turned head covered in thick tufts of hair, his face with wide-open eyes, rounded nose, and slightly parted lips, his nude fleshy body with a rich patina.
Provenance: Christian Humann (d. 1981), New York, before 1976, named the Pan-Asian Collection by 1977.
Collection of Robert H. Ellsworth, New York, acquired in May 1982.
Literature: C. Reedy, "Tibetan Bronzes: Technical Observations," On the Path to the Void: Buddhist Art of the Tibetan Realm, 1996, pp. 165-168, figs. 4-6.
C. Reedy, Himalayan Bronzes, 1997, cover ill. and p. 193, fig. W134.
M. Rhie, et al., Wisdom and Compassion: The Sacred Art of Tibet, 2000, p. 46, fig. 8.
Exhibited: On loan to the Los Angeles County Museum of Art, 1976-1982 (L.76.24.142).
Note: A masterwork of early Tibetan bronze sculpture and one of Mr. Ellsworth's most cherished works of art, this superlative depiction of a seated Indian adept, or as Mr. Ellsworth affectionately called him "Yogi", exudes intensity and power. Rendered in portrait-like fashion, the figure sits in the lotus position, his hands in a gesture of meditation. Though the identification of this figure is not confirmed, his thick coils of tufted hair and a wide-eyed gaze bear close comparison to depictions of the great Indian sage, Padampa Sangye.
The historical Padampa came to Tibet from India in the second half of the 11th century. According to legend, his father Viryavarman was from a family of jewel merchants and was perhaps also a sea captain. Padampa's mother, Barasaha, was from a family of incense-makers. Padampa is said to have been a skye ba bdun pa, one "born as a Brahmin for seven births in a row." Padampa travelled widely throughout his life and spent many years practicing meditation in sacred Buddhist sites, including Bodh Gaya in North India and Svayambhunath Stupa, in the Kathmandu Valley. He also practiced in jungles and cemeteries throughout South Asia, including the famous cemetery of Sitavana where many Buddhist adepts trained. He spent the final years of his life in retreat and teaching in Dingri in Southern Tibet.
The Ellsworth figure can be compared with four other works depicting Padampa Sangye. The first is from the collection of Nyingjei Lam, (R. Linrothe, Holy Madness: Portraits of Tantric Siddhas, 2006, pp. 362-323, cat. no. 78) and shows Padampa Sangye seated in a gesture of pacification with a cloth loosely draped over his shoulder and legs. The second, a 14th century painting from the collection of Stuart Cary Welch, (himalayanart.org, item no. 59965) depicts the brown-skinned sage with his hands performing the gesture of teaching. A third portrayal, a painting from the collection of the Rubin Museum depicts a seated blue figure with the name Dampa Gyagar Nagchung, another title for Padampa Sangye, in an inscription on the reverse of the painting (himalayanart.org item no. 89141). The fourth, also from the Rubin Museum, is a 15th century sculpture of Padampa who is shown seated with his right hand raised in a gesture of salutation. All share three distinguishing features of Padampa Sangye: the presence of thick, pointed tufts of hair, a symbol of asceticism; an intense wide-eyed gaze, suggesting an awakened state of consciousness; and a robust nude or partially nude body, indicative of yogic prowess.
One of the earliest known sculptural depictions of a mystic, the Ellsworth image powerfully captures the concept of the icon as a vessel for transmitting benedictions. The intensity of his gaze, exaggerated by a high thin brow, commands the viewer to make eye contact and imbibe the teacher's wisdom. His thickly coiled hair resembles the snail shell-like curls of the Buddha. The prana-filled torso conveys the vigor and strength of an accomplished yogi. Padampa had a magnetic personality, and the master artist who realized this sculpture has infused it with the same intense wisdom as the master teacher.
Placed on his bedroom headboard, Mr. Ellsworth slept beneath the watchful gaze of this ancient master. So cherished was this sculpture in the Ellsworth household that when it was sent to the Los Angeles County Museum in the mid 1980s for a metallurgic survey, his housekeeper, noticing the work had been removed, threatened to resign if the beloved work was not returned promptly. Eventually returned to its rightful place on the headboard and never to travel again, harmony was restored to the Ellsworth household (Anita Christy, "Not for Sale: A Few of Robert Ellsworth's Favourite Possessions", Orientations 22 no., 6 June 1991, p. 56-62). Rarely do works of such iconic and supreme distinction come onto the market.
Christie's. The Collection of Robert Hatfield Ellsworth Part I - Masterworks Including Indian, Himalayan and Southeast Asian Works of Art, Chinese and Japanese Works of Art, New York, 17 March 2015