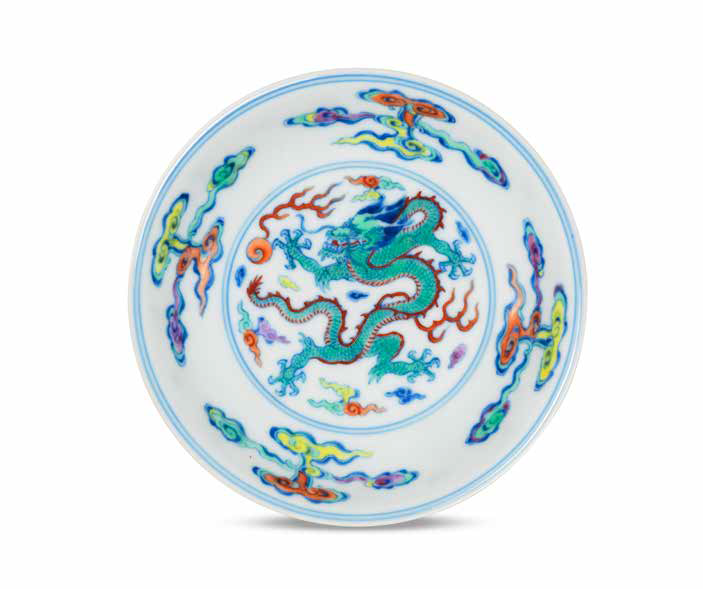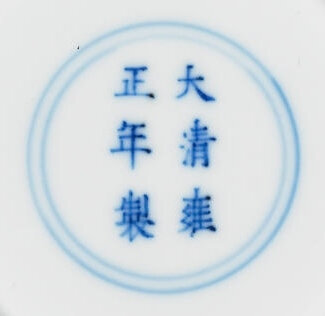 Lot 72. A fine and rare doucai 'dragon' saucer-dish, Yongzheng six-character mark and of the period (1723-1735);11.7cm (4 1/2in) diam. Estimate: HK$350,000.00 - HK$450,000.00(€ 39,000 - 50,000). © Bonhams.
Finely potted, the well vividly painted in the interior delicate underglaze blue and colourfully enamelled in yellow, green, iron-red and pink with a writhing five-clawed dragon chasing a flaming pearl amidst fire and lingzhi-shaped cloud scrolls, the cavetto with lingzhi-shaped cloud scrolls at each point of the double-axis, the undersides decorated with crashing waves crested with foam beneath cloud scrolls, all bordered by fine double-lines painted in underglaze blue, box.
The Yongzheng emperor was known for his micromanagement style of governing. Indeed, he personally influenced the artistic direction of Imperial kiln porcelain, creating unique styles of porcelain that reflected his taste and aesthetic standards. This can be seen on the present lot with the multi-coloured wispy lingzhi-shaped five-coloured clouds, 'wuse yun' (五色雲) or 'qing yun' (慶雲), depicted surrounding the dragon on the present lot.

The motif can be further interpreted as a pun on the word 'cloud', yun (雲), which is a homophone for fuyun (福運), 'good fortune'. In an agricultural society, the rain-bearing clouds would have been perceived as a benevolent omen, for the necessary irrigation of the crops.

The Yongzheng emperor seemed to have had a particular fondness for the physical as well as symbolic appearance of qing yun between the 7th and the 10th year of his reign, corresponding to 1729–1732. Scenes of auspicious five-coloured clouds appearing above the sky were recorded several times in the Palace memorials presented to the emperor. The Imperial archives also recorded that paintings depicting such particular type of clouds were ordered by the Yongzheng emperor in 1730; see Lin Lina, 'Auspicious symbols and scenes of the Yongzheng period', in Feng Mingzhu, Harmony and Integrity: The Yongzheng Emperor and His Times, Taipei, 2009, pp.374–399.

The Yongzheng emperor's fondness for this decoration is evident in the number of extant Imperial works of art, similarly decorated with multi-coloured clouds, including the carved wooden plaque inlaid with painted enamel wispy clouds and the inscription reading 'Heed Rashness and Use Perseverance'; a painted enamel snuff bottle, Yongzheng mark and period; a painted enamel tiered box and cover, Yongzheng mark and period; and a stand with a hanging fish pendant, depicted in 'Yinzhen's [Yongzheng's] Amusements: Copying a Sutra in a Studio', illustrated in the National Palace Museum, Taipei exhibition catalogue by Feng Mingzhu, ibid., pp.20, 116-117, 258 and 269. See also a doucai bottle vase, Yongzheng mark and period, similarly decorated with cloud scrolls, which was sold at Sotheby's Hong Kong, 8 April 2010, lot 1862.

The above examples illustrate the emperor's use of this highly particular stylised motif with which he personally identified and for decorating objects for his personal use. The present lot combines this auspicious symbol with the Imperial five-clawed dragon, symbolising the emperor.

This design in doucai was made in a variety of sizes. See a larger example in the Hong Kong Museum of Art, Hong Kong, included in the exhibition Wonders of the Potter's Palette, Hong Kong, 1984, no.45; Another example is illustrated in Anthology of Chinese art : Min Chiu Society Silver Jubilee Exhibition, Hong Kong, 1985, p.382, no.175; Compare a similarly decorated pair of doucai dishes of the same size to the present lot, Yongzheng marks and period, which were sold at Sotheby's Hong Kong, 30 April 1991, lot 120A, illustrated in Sotheby's Hong Kong: Twenty Years, Hong Kong, no.271.
Bonhams. Fine Chinese Ceramics and Works of Art, Hong Kong 27 november 2018.