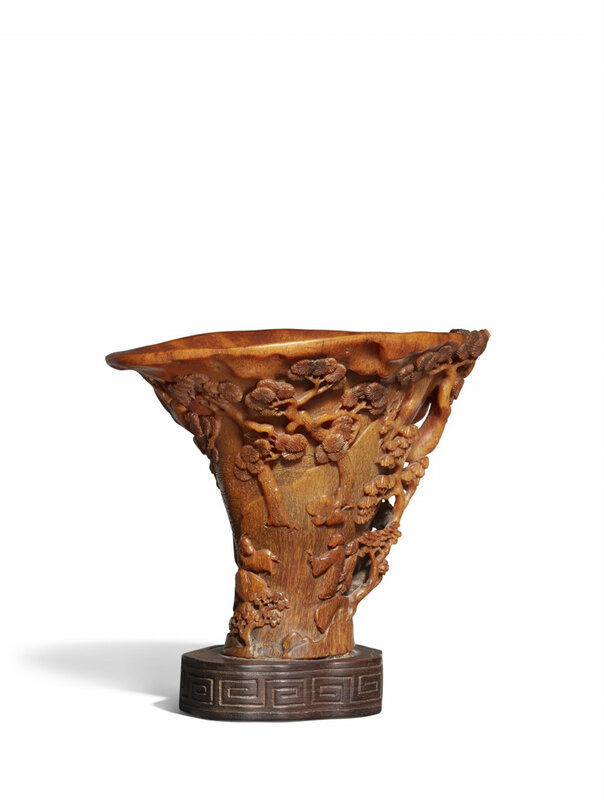 Lot 831. An elegant and tall rhinoceros horn libation cup, 17th century. Total height 14.7 cm. Estimated price €60.000 - €80.000. Result: €93.750. © Lempertz
With a handle in the shape of a pine tree spreading its branches over the rim into the interior of the cup, the outside finely carved with three scholars, a boy servant and a deer underneath trees and pines on river banks in a mountainous landscape. Minor losses to branches and the foot. 17th century. Wooden stand incised with a keyfret band.
Provenance: The grand-grandfather of the present owner purportedly recieved this object from Eugen Herrigel (1884-1955), author of the book "Zen in the Art of Archery", who purchased the rhinocerous horn cup during his trip to China in the 1920s.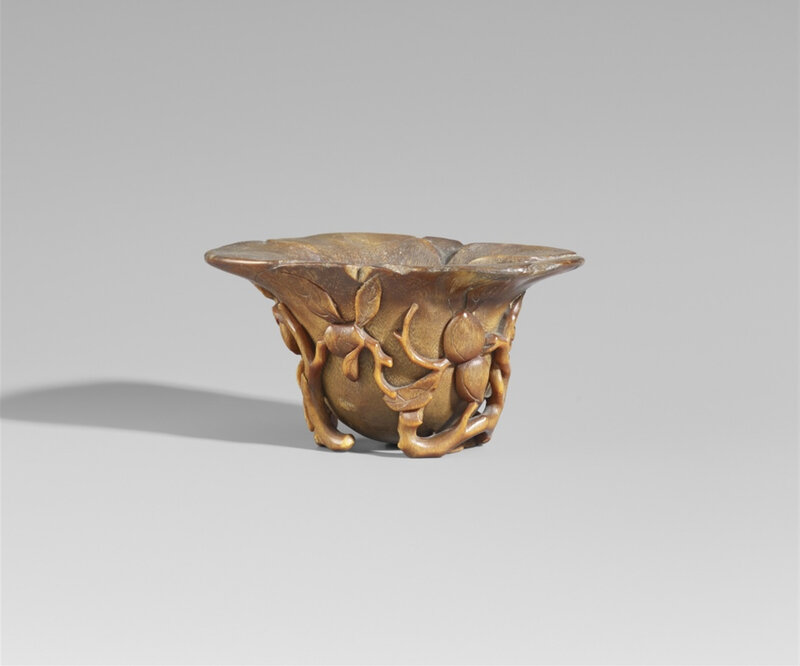 Lot 832. A rhinoceros horn libation cup, 18th-19th century. Height 7.4 cm; width 14.9 cm; depth 9.7 cm. Estimated price €7.000 - €9.000. Result: €35.000. © Lempertz
In shape of a magnolia flower, carved to the outside with three types of branches: a peach branch bearing a flower and two fruits, a pomegranate branch with one fruit split open and a branch with two magnolia flowers, all softly modelled and with undercuttings. Various branches and leaves are shaped into the foot. Damages.
Provenance: Collection Consul Otto Bernheimer (1877-1960), Munchen
Otto Bernheimer was third-generation proprietor of the famous interiors and antique house L. Bernheimer situated in the palace of the same name in Munich. The house had always also sold Asian artworks, increasingly in the 1930s through exhibitions.
Otto Bernheimer's private collection, which included Asian works of art, was auctioned by Weinmüller in Munich in 1960. The smart set as well as the international art market were present in equal measures, resulting in a number of high prices.
Weinmüller, Munich, 9./10.12.1960, lot 1162
Probably acquired at the above auction by Emil Damm, Munich
Private collection, Munich.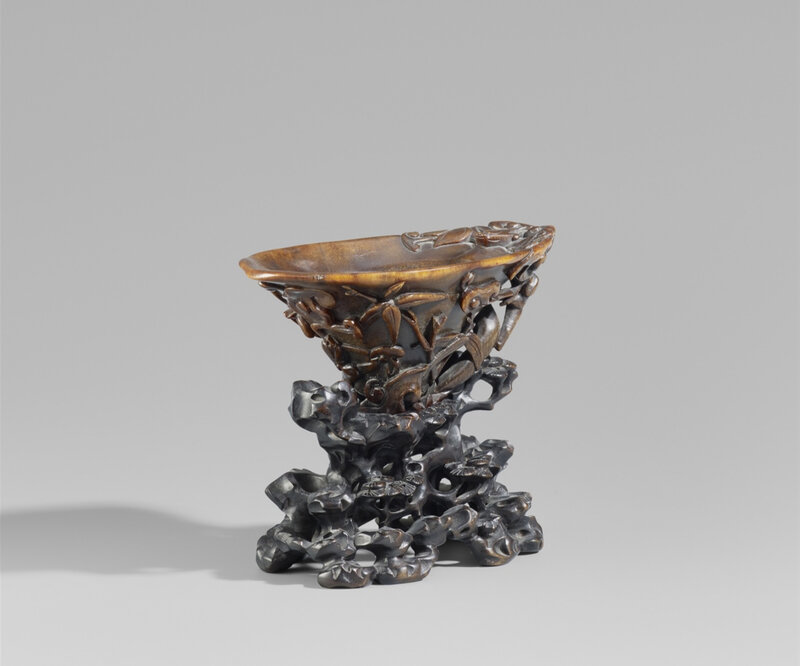 Lot 833. A rhinoceros horn libation cup, 19th century. Height 8.6 cm; width 16.8 cm; depth 11 cm. Estimated price €15.000 - €20.000. Result: €35.000. © Lempertz.
The conical shape rising to a wide oval rim, the inside carved in shallow relief with a lingzhi head, the outside carved in openwork with a descending qilong with a lingzhi in his mouth and a rising qilong which looks over the rim into the inside of the cup, amidst bamboo and lingzhi arranged like clouds, the foot shaped by bamboo, lingzhi and a rock. Hair crack originating at the rim and running down the inside. In a fitted wooden stand carved with rocks, pine branches and lingzhi.
Provenance: Private collection, Rhineland, acquired at Nagel, Stuttgart, in the 1980s.
Lot 834. A libation cup of rhinoceros horn, 19th-20th century. Height 6.3 cm. Estimated price €18.000 - €25.000. Result: €20.000. © Lempertz.
the handle in shape of a two-clawed qilong, and three taotie on leiwen in shallow relief, intercepted by ridges decorated with stylised flowers. Minor damage.
Provenance: Private Collection Felke, Rhineland-Palatinate.
Lempertz. Asiatische Kunst, 08.12.2018, 13:00, Köln