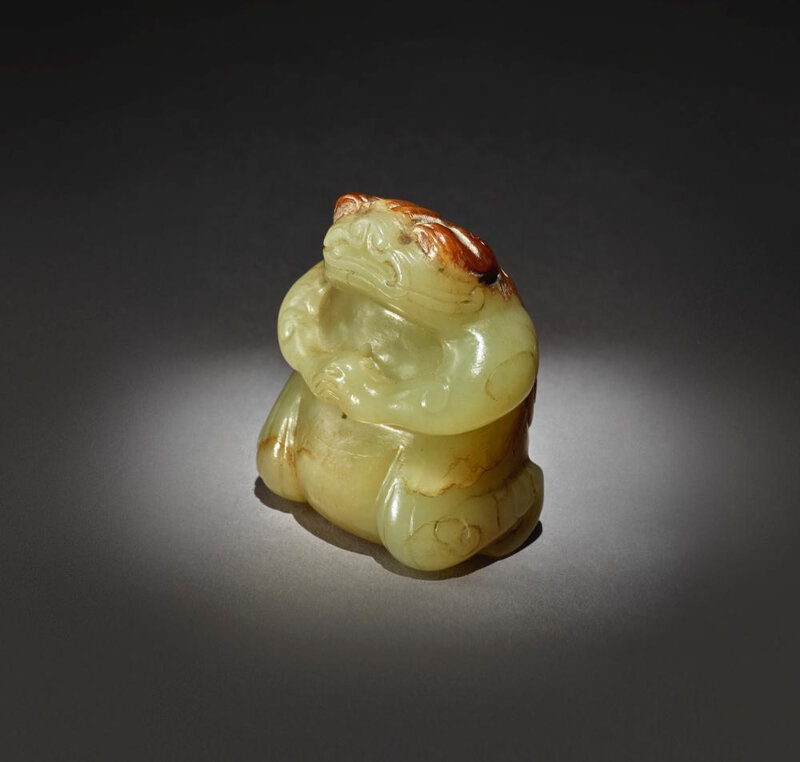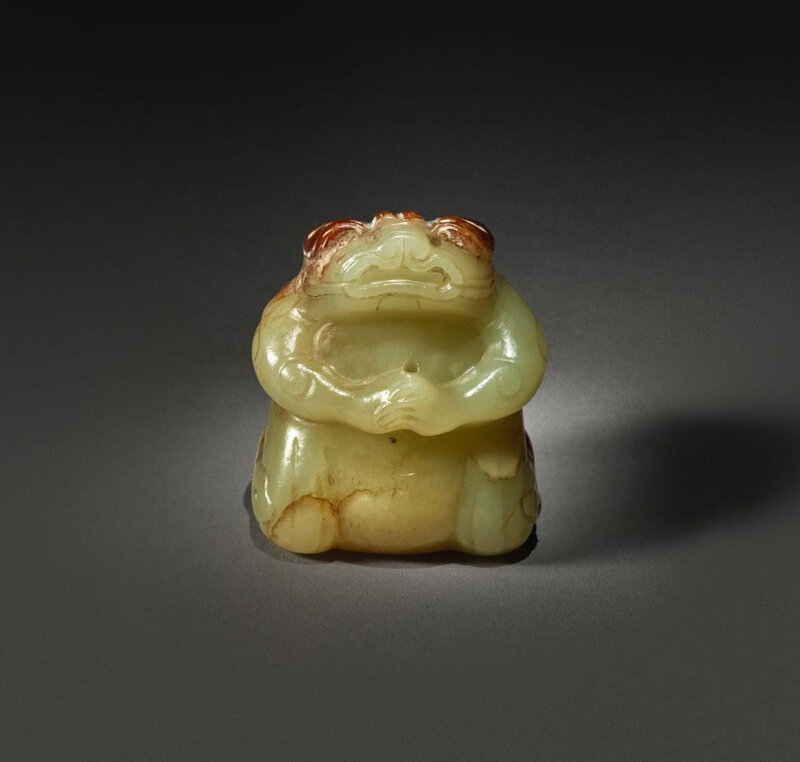 Lot 106. An exceptionally rare yellow and russet jade figure of a mythical toad, Six Dynasties (220-589); Height 1 7/8 in., 4.7 cm. Estimate 200,000 - 300,000 USD. Lot Sold 620,000 USD. Courtesy Sotheby's.
masterfully carved in the round, the mythical creature kneeling, its fingers clasped at the chest above the rounded belly, the face with a snout nose framed by bulging eyes beneath heavy lids, all above the wide lipped mouth open in a grimace and with long whiskers on either side, the top of the head with two coiled horns flanking a grooved ridge, two wings emerging from the forearms carved in low relief to its back, the body finely detailed with incised lines, the stone of a warm yellowish-green color with slightly calcified russet skin skillfully integrated into the top of the head and upper back, pierced through the hands, wood stand (2).
Provenance: Collection of Stephen Junkunc, III (d. 1978).
Literature: Gustav Ecke, 'Early Chinese Jades selected from Alfred Salmony's posthumous work', The Connoisseur, vol. CXLVII, March-June 1961, p. 67, fig. 20.
Alfred Salmony, Chinese Jade Through the Wei Dynasty, New York, 1963, pl. XLI, figs 2a-c.
Note
: This exceptionally rare carving of a mythical toad depicts its subject in a unusual submissive posture; kneeling on its hind legs with its forelimbs clasped at the chest, representing a clear departure from the more frequent jade carvings of naturalistic animals or mythical beasts in striding, recumbent or seated postures known from the period.
Only one other jade carving of this type is known, in the Field Museum of Natural History, Chicago, which was illustrated alongside the present lot in Alfred Salmony, Chinese Jade Through the Wei Dynasty, New York, 1963, pl. XLI-1, fig. 1, and was subsequently included in the exhibitions Chinese Jade Throughout the Ages, Victoria and Albert Museum, London, 1975, cat. no. 193, and Chinese Jades from Han to Ch'ing, Asia House Gallery, New York, 1980, cat. no. 14.
Whilst the identification and significance of this mythical toad may remain a mystery, stylistically it relates to pottery vessels, bronze and stone sculptures produced in China during the Six Dynasties period.
The unusual subject of the toad appears in Chinese art from the Eastern Han period. An earthenware pole stand in the form of a toad was excavated in 1942 at Pengshen, Sichuan Province, and is now in the Nanjing Museum, Nanjing, illustrated in Xu Huping, The Treasures of the Nanjing Museum, Hong Kong, 2001, pl. 32. The subject of the toad gained popularity during Three Kingdoms to Western Jin period when a number of playful celadon-glazed vessels made for the scholar's desk were produced in kilns in northern Zhejiang and southern Jiangsu. Compare several toad-form waterpots illustrated in Mary Tregear, Catalogue of Chinese Greenware in the Ashmolean Museum Oxford, Oxford, 1976, pls 60-66; another, described as a brushwasher with the forearms outstretched, clasping a cup to its mouth, illustrated in Desmond Gure, 'Selected Examples from the Jade Exhibition at Stockholm, 1963; A Comparative Study', The Museum of Far Eastern Antiquities Bulletin, no. 36, 1964, pl. 16, fig. 3; and a tripod waterdropper of related form, illustrated in Zhongguo meishu quanji. Gongyi meishu bian: Taoci [Complete series on Chinese art. Arts and crafts section: Ceramics], Shanghai, 1988-1991, vol. 1, pl. 173. The unusual kneeling posture is seen on a Western Jin dynasty Yueyao model of a mythical beast, its left forepaw placed on its chest, whilst its right is raised to its chin, sold in our Hong Kong rooms, 5th April 2017, lot 3209.
A strikingly similar bronze sculpture of a kneeling mythical beast, attributed to the Six Dynasties, is in the Avery Brundage Collection, illustrated in René-Yvon Lefebvre d'Argencé, Chinese, Korean and Japanese Sculpture in the Avery Brundage Collection, San Francisco, 1974, pl. 18. Whilst the creature bears no resemblance to a toad, it is similarly depicted in a submissive kneeling posture, and with its mouth in a broad lipped grimace.
As Salmony observes, an additional distinctive feature of the present lot is the 'blunted, squared-off mouth', framed by its clearly pronounced lips in a comical grimace, op.cit., p. 255. Similar arrangements of the mouth are also seen on large stone sculptures of the Six Dynasties period, including a Western Jin dynasty stone chimera, illustrated in Osvald Siren, Chinese Sculpture from the Fifth to the Fourteenth Century, vol. 2, New York, 1925, pl. 1B, and a stone chimera attributed to the Southern Dynasties, 420-556 AD, illustrated in ibid., pls 13a-b.