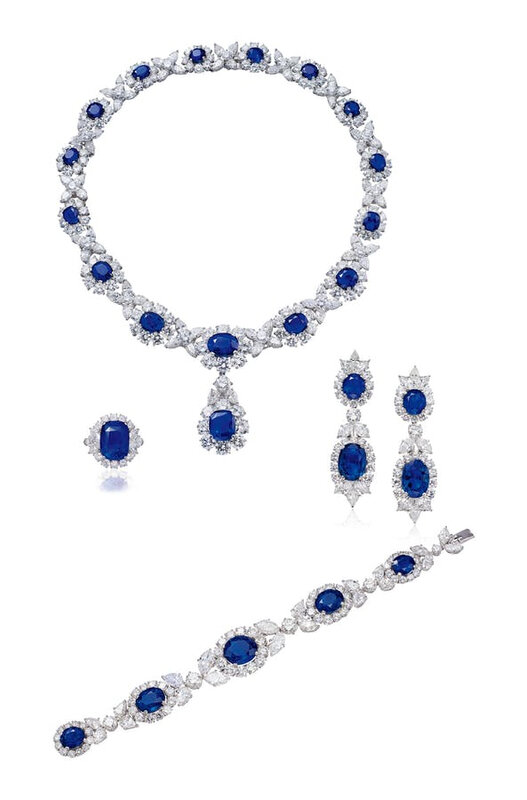 Lot 2194. A Highly Important Suite of Kashmir, Burmese, Sri Lankan Sapphire and Diamond Jewellery, By Harry Winston. Estimate HKD 38,000,000 - 48,000,000 (USD 4,840,782 - 6,114,672). © Poly Auction Hong Kong Limited
Comprising: a necklace set with 16 cushion-and oval-shaped sapphires weighing 75.22 carats in total, within a brilliant-cut diamond surround, spaced by vari-shaped diamonds, 206 diamonds altogether weighing 108.33 carats, pendant detachable; a ring centered by a cushion-shaped sapphire weighing 18.32 carats, flanked by marquise and pear-shaped diamonds, within a brilliant-cut diamond frame, 13 diamonds altogether weighing 4.23 carats; a bracelet set with 5 oval-shaped sapphire weighing 36.27 carats, surrounded by brilliant-cut diamonds, spaced by vari-shaped diamonds, 85 diamonds altogether weighing 33.11 carats; a pair of ear pendants set with 4 sapphires weighing 39.99 carats, decorated with round, marquise and pear-shaped diamonds weighing 21.14 carats in total, ear pendants detachable, all mounted in platinum, necklace approximately 38.5 cm long, ring size 6, bracelet 18.8cm long, ear pendants 6.5 cm long.
Accompanied by report no. 9401003-1, 9401003-2, 9401003-3, 9401003-4, 9401003-5, 9401003-6, 9401003-7, 9401003-8, 9401003-9, 9401003-10, 9401003-11, 9401003-12, 9401003-13, 9401003-14, 9401003-15, and 9401003-16 dated 7 January 1994 from the Gubelin stating that the 2.789, 2.973, 3.010, 3.430, 3.049, 6.528, 5.249, 9.936, 9.946, 7.457, 4.634, 3.097, 3.730, 2.996, 3.501 and 2.894 carat sapphires are B2:H8 Kashmir origin, with no indication of heatingAccompanied by report no. 17038068 dated 10 April 2017 from Gubelin stating that the 18.32 carat sapphire is of Sri Lanka (Ceylon) origin, with no indications of heatingAlso accompanied by an information sheet to report no. 17038068 on unheated sapphires Accompanied by report no. 17038065, 17048064, 17038060, 17038062, 17038063, 17038061, 17038067, and 17038066 dated 11 April 2017 from Gubelin stating that the 16.01, 13.00, 4.64, 9.00, 10.70, 4.55, 5.31, and 5.67 carat sapphires are of Burma(Myanmar) origin, with no indications of heatingAlso accompanied by an information sheets to reports no. 17038068, 17048064, 17038062, 17038063, 17038067, and 17038066 on unheated sapphiresAccompanied by report no. 17038059 dated 19 April 2017 from Gubelin stsating that the 7.38 carat sapphire is of Burma(Myanmar) origin, with no indications of heating
HARRY WINSTON
He saw Hollywood as a way to bring the excitement and glamour of jewels to a much broader audience. Championing the moment Best Actress winner Jennifer Jones stepped out on the red carpet at the Academy Awards in 1944, Mr. Winston's legacy of dressing generations of famous faces in extraordinary jewels is a tradition that the House continues to honor and celebrate today.
The creation of each piece of Harry Winston jewelry evolves from a singular desire to celebrate the individual beauty of each gemstone. Using pioneering techniques developed by the House's master craftsmen and designers, extraordinary jewels are handcrafted in delicate platinum, and meticulously handset with only the highest quality diamonds. In establishing the company's signature style, Mr. Winston introduced a new philosophy for fine jewelry design, in which jewels were defined by the gemstones themselves, and not the metal they were set in. This new vision for gemstones setting came to him one December night in the 1940s, when he returned home to his Scarsdale estate and was inspired by the way the fresh wintry snow glistened on a lush holly wreath hanging on his door. Noticing the way the wreath's graceful dimensions and fluid curves were shaped not by the branches, but by the individual leaves, Mr. Winston began to envision a contemporary way to craft his jewels, allowing the gemstones to guide each design, rather than their settings. The House's signature technique thus allows different cuts of diamonds – round brilliant, pear, and marquise shapes – are set together at varying angles, creating highly dimensional pieces of jewelry that capture the light from all directions resulting in unparalleled sparkle.
This suite of sapphire and diamond necklace, bracelet, earrings and ring, by Harry Winston we are offering in this auction is truly magnificent, it comprising 169.8 carat sapphires in total, 16 of them has been graded as Kashmir sapphire. Kashmir sapphires are most famous for its violetish blue to pure blue hue, with moderately strong to vivid saturation and medium-dark tone. Its internal environment has minute internal inclusions – rutile silk – that give the gem a velvety luster and a soft texture which also intensifies its color. It is a special collector's gem with exceptional value. The well-proportioned oval-shaped sapphire shows depth of color softened by the warm inner glow and a subtle velvety sheen. Kashmir sapphires are indeed an exclusive class of their own, worthy of admirations for the generations to come.