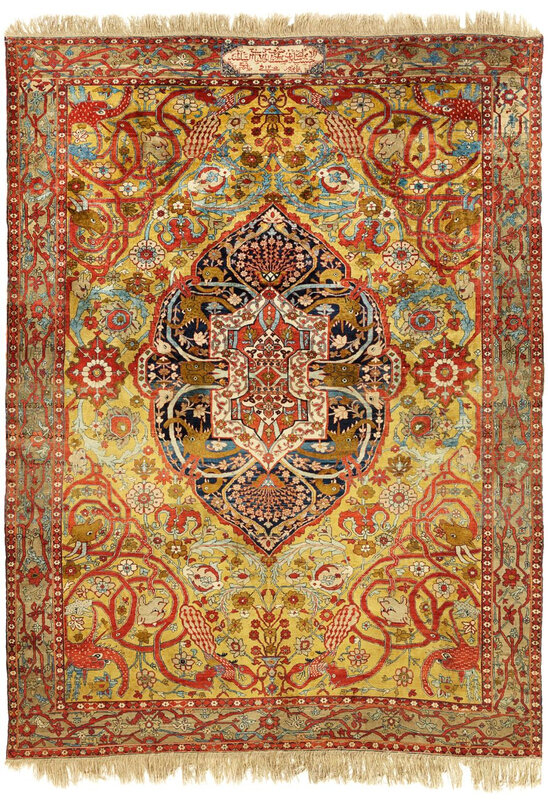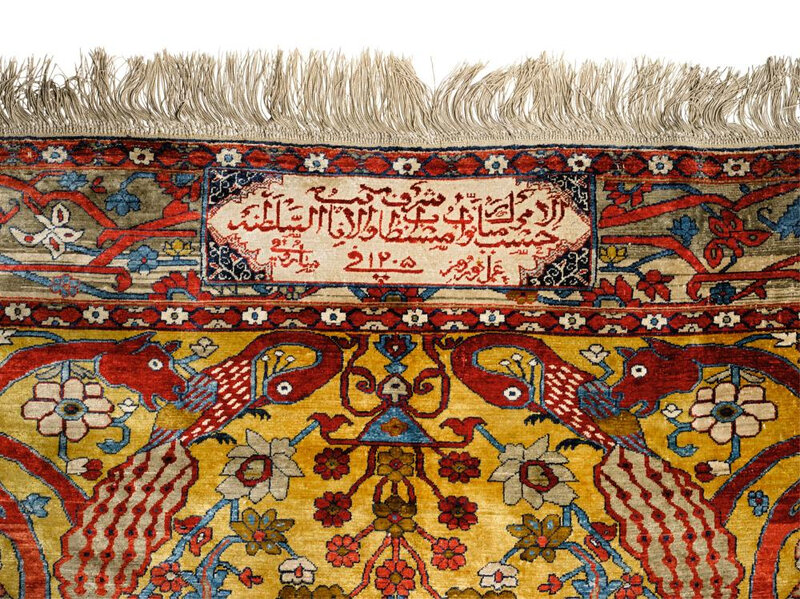 Lot 297. A West Persian silk rug with an inscription panel, the inscription reading: hasb al-amr-e navvab-e mustatab-e ashraf-e vala na'ib al-saltanah 'By the order of the Highness, the Gracious, the Noble, the Exalted, the Vice-regent (Na'ib al-Saltanah)' 'amal-e nawruz saruqi fi 1205 'The work of Nawruz Saruqi in 1205 (1790-91)', approximately 295 by 197 cm.,9ft. 8in; 6ft. 5in., dated AH 1205 (1790-91 AD). Estimate 60,000 — 80,000 GBP. Lot sold 150,000 GBP (173,911 EUR). Courtesy Sotheby's.
Provenance: Possibly Kathinka von Heeg (c.1819-1897), Schloss Altenweiher
Konstantin Dorfner (1866-1901), Schloss Altenweiher
Thence by descent.
Note: Baba Khan (later Fath-'ali Shah) was nominated as the heir and vice-regent by Agha Muhammad Khan Qajar after his accession to the throne in 1200 (1786), see Encyclopaedia Iranica, (http://www.iranicaonline.org/articles/fath-ali-shah-qajar-2). Bamdad references Baba Khan being nominated as a Na'ib al-saltanah and notes historians have suggested various dates for exactly when he was nominated, as there is no recorded seal of Baba Khan as a na'ib al-saltanah. Perhaps the impetus for commissioning this splendid and finely woven carpet was that nomination.
On an intense golden yellow field is a lobed medallion enclosing an ivory strapwork cartouche with madder infill that encloses a pair of mirrored stylised crowns. Three plane vine scrollwork is used to decorate the medallion, with the tan scrolls terminating in the mythical animal and bird heads of the Vaq-Vaq tree and enclosing flower sprays and floral vines. The field itself is filled with a variety of motifs familiar from 17th century classical carpets: lyre palmettes, sickle leaves, rosettes and small vases of flowers. The spandrels are indicated with red vine scroll interlace, terminating in further mythical animals and attenuated peacocks. The sand coloured border encloses cartouches formed of hooked stems entwined with flowering vines.
The Vaq or talking tree in Turkic legend was a tree with fruits resembling human or animal heads, which talked with one another: "Vaq-vaq." As an ornamental motif it appears in the decorative arts of the Middle East from medieval times, often as decoration in miniatures, it is also seen in stonework, metalwork, embroideries and in carpets. Further discussion and examples can be found it Kerimov, Lyatif and Tagieva, Roya, Vaq-Vaq, Hali 6/1, Spring 1983, pp.36-37.
In the 19th century, the Vaq-Vaq tree is found as the primary motif in a group of silk rugs normally ascribed to Heriz. On first acquaintance, Heriz would seem the most likely place of manufacture for this rug too, were it not for the inscription 'The work of Nawruz Saruqi'. Did the weaver or the artist come from Saruq and was the rug made there or further north in the Heriz area? Piled wtih glossy, luscious silk and with a flexible handle, this piece has 8 knots per/cm vertically and 7 knots per/cm horizontally.
Dated silk rugs are rare: one of the best known, the Ritman Burns silk rug is illustrated Frontlines Masterpiece, Hali 168,Summer 2011, p.33. It has three dates (1213 (1798/99); 1216 (1801/02); 1238 (1822/23). A silk rug, possibly Kirman and dated 1210 or 1219 (1795 or 1804) is illustrated in Shaffer, D., Joining up the dots, Hali 198, Winter 2018, p.62. Not only is the present rug highly important for the rarity and content of its inscription, ordered for the vice-regent Baba Khan, the future king, Fath-'ali Shah, it also appears to be the earliest dated post-classical silk rug known to date.
Sotheby's. Arts of the Islamic World including Fine Rugs and Carpets, London, 01 May 2019, 10:30 AM