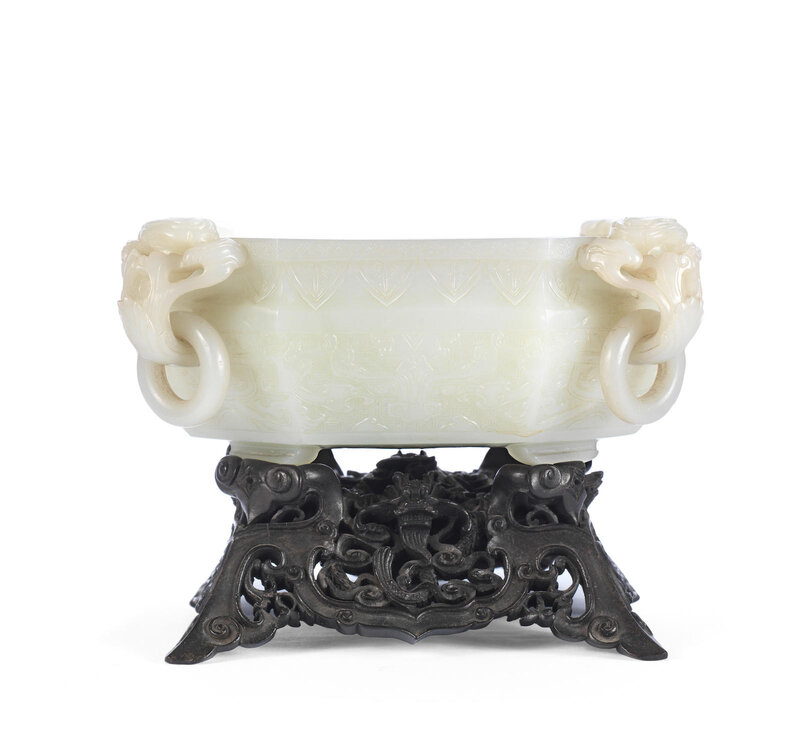 Lot 160. A superb greenish-white jade octagonal 'marriage' bowl, Qianlong period (1736-1795); 23.5cm (9 1/4 in) wide. Estimate £ 80,000 - 120,000 (€ 93,000 - 140,000). Sold for £ 275,062 (€ 314,016). © Bonhams 2001-2019.
Deftly carved around the waisted exterior in shallow relief with archaistic taotie masks on a key-fret ground, the short neck with pendent plantain leaves and triangles on the mouth-rim, four handles in the form of acanthus leaves and auspicious lingzhi fungus suspending loose rings, all standing on four short spreading feet, the translucent stone of greenish white tone with some cloudy-white veins, zitan wood stand.
Provenance: an important English noble family, and thence by descent.
Note: This exceptionally lustrous and superbly carved jade bowl epitomises the highly skilled craftsmanship achieved at the height of the Qing dynasty, during the celebrated reign of the Qianlong emperor. Marriage bowls, sometimes referred to as water basins or brush washers, were popular vessels during the Qing period and were often decorated with auspicious designs that conveyed felicitous wishes upon the owners.
The superb 'marriage' bowl may have been commissioned to mark an Imperial birthday. Lingzhi fungi are associated with longevity as well as with the virtues of a good ruler as classical texts, such as the Shangshu Dazhuan 尚書大傳 and the Baihu Tong Delun 白虎通德論, compiled during the Han dynasty (206 BC - 220 AD) described the growth of lingzhi as a powerful indicator of good government. In addition, the taotie masks carved in shallow relief around the body of the present bowl, ubiquitous designs found on bronze ritual vessels of the Shang and Zhou dynasties (ca. 1600 BC - 314 BC), recall the Qianlong emperor's fascination with antiquity and archaism. Proposing to 'restore ancient ways', referring to the view of ancient culture as having intrinsic qualities of sincerity, simplicity and happy exuberance, the emperor instructed the court to collect drawings of antiquities, such as the Xi Qing Gu Jian (Catalogue of Xiqing Antiquities), which provided the Imperial craftsmen with a primary source of inspiration. See Chang Li-tuan, The Refined Taste of the Emperor: Special Exhibition of Archaic and Pictorial Jades of the Ch'ing Court, Taipei, 1997, pp.49-50.
Jade 'marriage' bowls of octagonal shape and flanked by four ring handles are extremely rare. A pale celadon jade octagonal 'marriage bowl', 18th/19th century, bearing a similar shape as the present bowl but flanked by two handles and carved around the exterior with cranes and pine trees, was sold at Christie's Hong Kong, 6 April 2015, lot 47.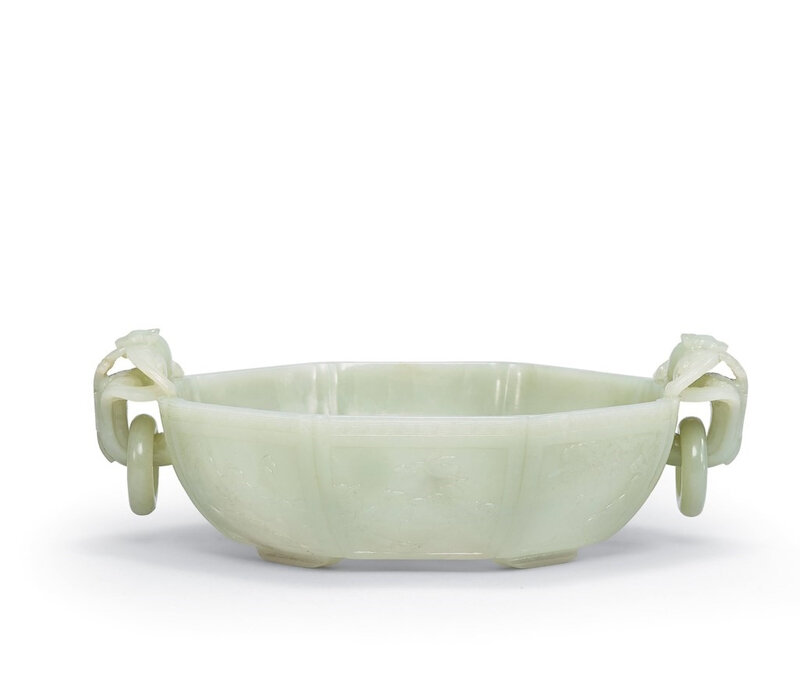 A pale celadon jade octagonal 'marriage bowl', 18th-19th century, from the Yaogushanfang Collection. Sold for 1,840,000 HD at Christie's Hong Kong, 6 April 2015, lot 47.
Bonhams. Fine Chinese Art, London, 16 May 2019