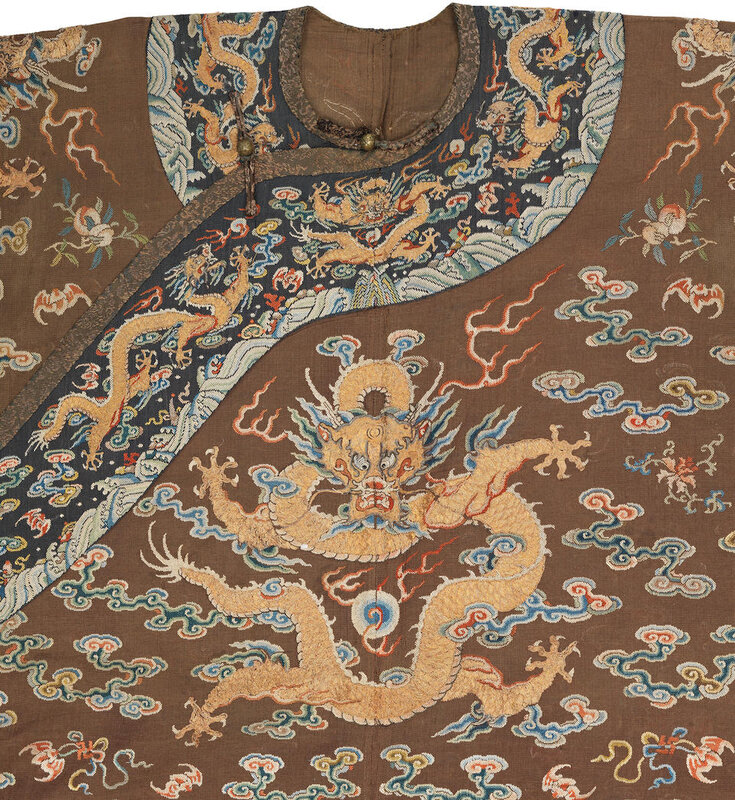 Lot 197. A very rare Imperial chestnut-ground gauze silk summer 'dragon' robe, jifu, Qianlong period (1736-1795); 239cm (81 1/2in) wide x 139.1cm (54 6/8in) long. Estimate £ 50,000 - 80,000 (€ 58,000 - 93,000). Sold for £ 112,562 (€ 128,503). © Bonhams 2001-2019
The vibrant chestnut ground worked in counted stitch and couched gold threads with nine five-clawed dragons pursuing flaming pearls on the front and back panels, the shoulders and the underflap, all on a ground of multi-coloured trialing clouds interspersed with floral sprays and bats suspending beribboned emblems, all above a finely-drawn border of turbulent waves tossed with further ruyi clouds and craggy rocks issuing peony sprays and gnarled peach-laden branches, with matching blue-ground borders at the collar and cuffs embellished with striding dragons and other related motifs, the extensions of matching pale chestnut gauze, with golden buttons.
Provenance: Linda Wrigglesworth Ltd., London, 1995
An Australian private collection.
CLOTHED FOR LONG LIFE:
THE POWER OF FLOWERS AT THE COURT OF THE QIANLONG EMPEROR
Linda Wrigglesworth
Brilliantly embroidered on both sides in fine counted stitch with nine resplendent dragons worked in metallic gold thread and interspersed with trailing ruyi clouds and colourful sprigs of blossoming flowers, the present robe is a spectacular testament to the highest standards achieved in silk embroidery by the Imperial Workshops during the 18th century.

Brown-ground jifu robes are among the rarest surviving examples of Imperial garments manufactured during the Qing dynasty, especially when complete with all their original parts including the neck edgings, cuffs, sleeve extensions, brocade ribbon borders and inner edging panels, such as the present robe.

Tailored in a delicate silk gauze, this robe would have been certainly worn during the warmer months of the year and possibly by the Qianlong emperor himself (1735-1795) or a very high-ranking member of the Imperial family of Princely rank, on the occasion of a felicitous event. Ever since the earliest times in China, dragons were regarded as intermediaries between Heaven and Earth and empowered with extraordinary abilities that compared with those of the emperors. In addition, the chestnut-colour, referred to in Chinese as jiang, written in two characters interchangeably meaning either 'dark red' or 'sauce', was referred to in the 'Illustrated catalogue of all the Ceremonial Trappings of the Imperial Court' Huangchao liqi tushi, edited in 1759, as one of the 'Five Imperial Yellows' that could be worn by the emperor's sons and first rank's princes but also the emperors when visiting their mothers or retiring in their private quarters (See note 1). See a Court painting in the collection of the Denmark National Museum in Copenhagen (acc.no.B.5396), Qianlong period, depicting a Prince wearing a related fur-lined brown-ground dragon robe. A further example of a related yellow-brown-ground silk dragon robe, Qianlong, from the Qing Court Collection, is illustrated in The Complete Collection of Treasures of the Palace Museum: Costumes and Accessories of the Qing Court, Hong Kong, 2005, p.61, no.35.

The present robe is particularly unusual for the details embroidered amongst the cloud scrolls, including abundant branches of ripened peaches, marigold issuing from craggy rocks. These subjects suggest that the garment may have been worn by the Qianlong emperor during one of his birthday celebrations. Possibly China's most auspicious fruit, the peach was regarded as a powerful omen of longevity and happiness. The poet Tao Qian (365-427) referred to a peach orchard as a paradisiacal dimension discovered through the crevices of a rock, and the popular novel 'Journey to the West', Xiyou Ji, compiled during the 16th century, mentioned the 'peaches of immortality' which grew in the garden of the Queen Mother of the West, Xi Wangmu, once every three thousand years (See note 2). Combined with bats hovering above the billows, also depicted on the present robe, peaches growing from the cliffs rising from the wave border convey the birthday greeting 'May your blessing be as deep as the Southern Mountains' (See note 3). The wish is reinforced by the inclusion of sprays of marigold rising from the rocks below the profile dragons on the skirt. This exotic late 16th/early 17th century import from Mexico was admired for its bright yellow and orange blossoms that were reminescent of the emperor's restricted colours. The Chinese name for marigold, wanshouju, literally 'chrysanthemum of ten thousand longevities', was often utilised as a pun to wish the emperor a long life (See note 4).

Compare with a similar chestnut gauze robe, Qianlong, which was sold at Christie's Hong Kong, 28 May 2014, lot 3345. See also a related Imperial brown kesi princely 'Dragon' robe, jifu, 18th century, which was sold at Sotheby's Hong Kong, 8 October 2013, lot 3088.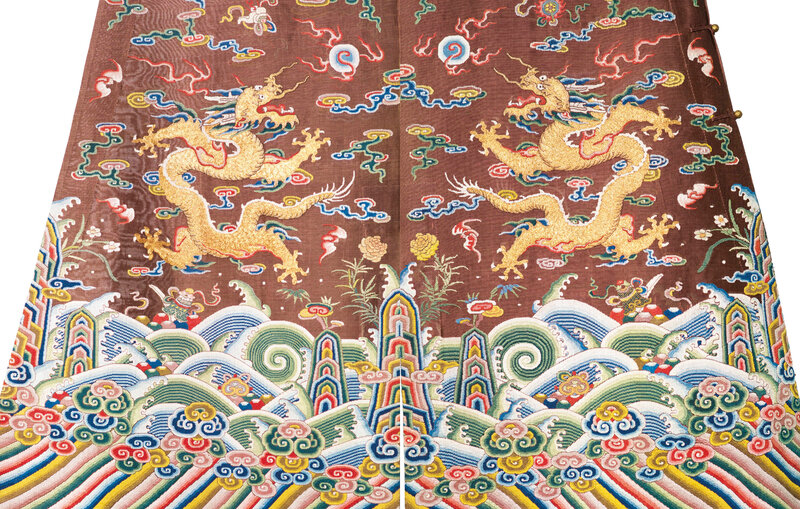 A very rare Imperial chestnut embroidered gauze dragon robe, mangpao, Qianlong period (1736-1795); 56 in. (142.2 cm.) long x 82 in. (208.3 cm.) wide. Sold for 1,600,000 HKD at Christie's Hong Kong, 28 May 2014, lot 3345. Image courtesy Christie's.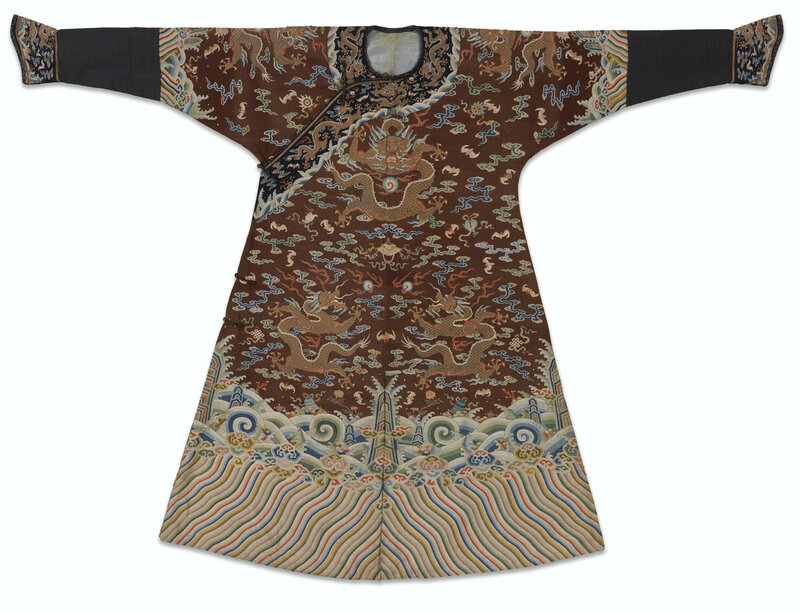 A rare Imperial brown kesi princely 'Dragon' robe, jifu, Qing dynasty, 18th century; length 139.7 cm., 55 in. width 196.4 cm., 77 1/4 in. Sold for 1,240,000 HKD at Sotheby's Hong Kong, 8 October 2013, lot 3088. Photo: Sotheby's.
Cf. my post: A rare Imperial brown kesi princely 'Dragon' robe, jifu, Qing dynasty, 18th century
1. M.Medley, The Illustrated Regulations for Ceremonial Parphernalia of the Ch'ing Dynasty, London, 1982; L.Wrigglesworth, Imperial Wardrobe, Berkeley, 2002, pp.14-30.
2. A.C.Yu, Journey to the West; Chicago, 1984, p.74; see also M.Loewe, Ways to Paradise: the Chinese Quest for Immortality, 2011, p.95.
3. T.Tse-Bartholomew, Hidden Meanings in Chinese Art, Hong Kong, 2006, p.221, no.7.55.1.
4. P.Bjaaland-Welch, Chinese Art: a Guide to Motifs and Visual Imagery, Berkeley, 2012, pp.38-39.
Bonhams. Fine Chinese Art, London, 16 May 2019