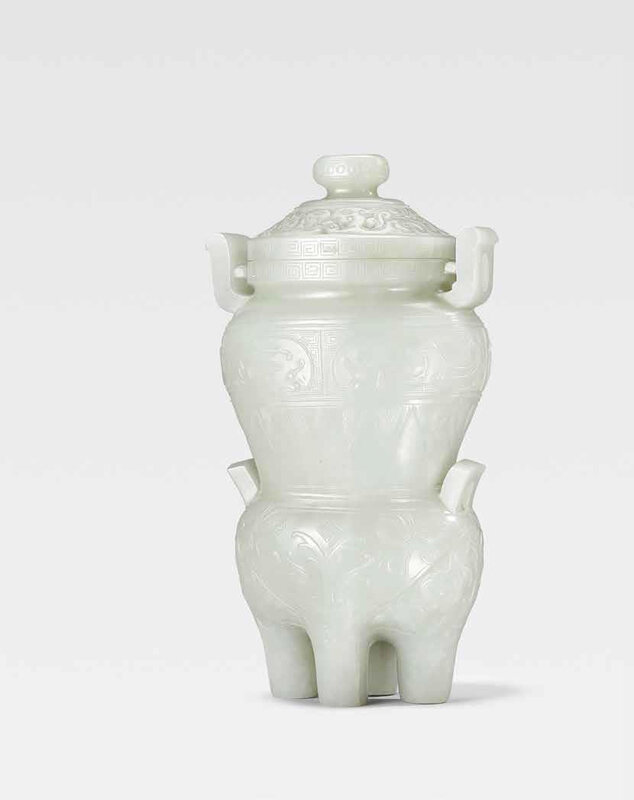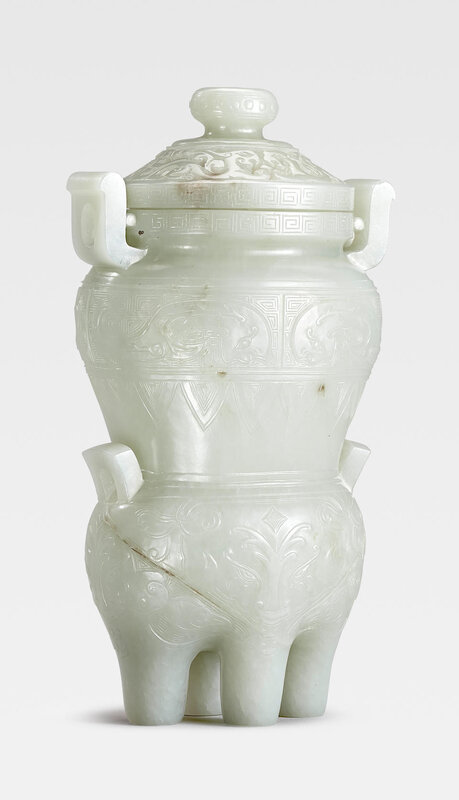 Lot 59. A very rare pale green jade archaistic vessel and cover, yan, Qianlong period (1736-1795); 19cm (7 1/2in) high. Estimate HK$250,000 - 350,000 (US$32,000 - 45,000). Sold for HK$ 525,625 (€ 60,100) inc. premium. © Bonhams 2001-2019
Unusually carved in the form of an archaic bronze ding raised on four straight feet flanked by a pair of upright loop handles, joined by a baluster vase atop set with a pair of S-shaped handles curving upwards, superbly carved on the four sides of the ding with a stylised taotie mask, the vase decorated at the main body with a band of opposite facing stylised dragons on a leiwen ground above a lappet border, all beneath a keyfret rim, the cover elaborately carved in openwork with two pairs of confronted stylised dragons in mutual pursuit of a pearl, surmounted by an oval finial, the stone of a greenish-white tone, wood stand.
Provenance: An American private collection
Marchant, London.
Exhibited, Published and Illustrated: Marchant, 90th Anniversary Exhibition: Ninety Jades for 90 Years, London, 2015, no.6.
Note: The present vessel is inspired in form and design from the archaic bronze ritual food vessel known as yan. These vessels were produced from the late Shang dynasty and throughout the Western Zhou dynasty. Such vessels were used during ritual ceremonies for steaming food; for an example see zhongguo qingtongqi quanji (Collection of Chinese Bronzes), Beijing, 1998, no.6.

The Qianlong emperor advocated taking inspiration from antiquity in form and design, proposing to 'restore ancient ways', suggesting that jade carvers turn to antiquity for models, which would enable them to imbue their designs with simplicity and honesty, and so achieve refinement and elegance. The 'ancient ways' referred to the intrinsic values of sincerity, simplicity, and happy exuberance; see Chang Li-tuan, The Refined Taste of the Emperor: Special Exhibition of Archaic and Pictorial Jades of the Ch'ing Court, National Palace Museum, Taipei, 1997, p.49.

Jade carvings imitating the archaic yan vessels are very rare; compare, however, a related imperial white jade vessel, Qianlong imitating the archaic bronze of yi from the Tianjin Museum, illustrated by Yun Xizheng, The Collection of Jades in the Tianjin City Art Museum, 2012, p.198, no.180; see also a related white jade he and cover, Qianlong, in the National Palace Museum, Taipei, illustrated by Chang Li-tuan, ibid., no.19.

Imperial archaistic vessels of similar form were also produced in other materials. Compare a related gilt-bronze and cloisonné enamel yan vessel and cover, which was sold at Christie's New York, 27 November 1991, lot 67, and later illustrated by Christie's in Reverence and Perfection: Magnificent Imperial Cloisonné Enamels from a Private European Collection, Hong Kong, 2013, no.10.
Bonhams. Marchant, est. 1925: Fine Chinese Jade Carvings, Hong Kong, 28 May 2019