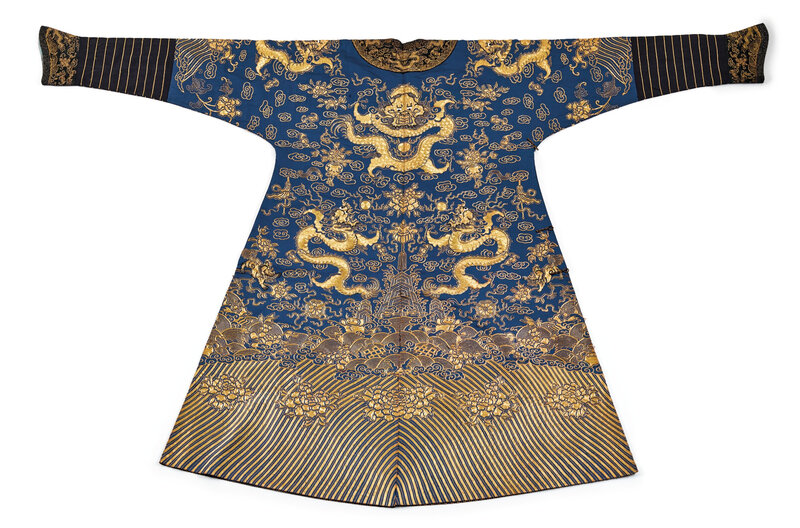 Lot 496. An exceptionally well-preserved blue-ground gold-couched 'dragon' robe, Qing dynasty, late 19th century; 135.5 by 212 cm, 53 3/8 by 83 1/2 in. Estimate 120,000 — 180,000 HKD. Lot sold 200,000 HKD. Courtesy Sotheby's.
brilliantly decorated against a blue ground in couched gold thread with dragons amidst clouds and bats, interspersed with auspicious emblems.
Note: According to Linda Wrigglesworth and Gary Dickinson in Imperial Wardrobe, officials of the fourth, fifth and sixth ranks wore dragon robes lacking the dragon on the inner flap. Robes decorated with eight dragons were also worn by mandarins in the first year after passing the imperial examinations.
The gold thread was made by beating high carat gold into gold leaf and pasting it on to a paper support with lac from a lac tree. The gilt material would then be burnished and cut into fine strips before being wrapped around a silk thread core. The gold threads would then be couched down on top of the silk to form the dragons.
Sotheby's. Chinese Art, Hong Kong, 30 may 2019 - 31 may 2019