Lot 400. A magnificent large gilt-bronze figure of Manjusri, Da Ming Yongle nian shi incised six-character mark and of the period (1403-1425); 9 7/8 in. (25.1 cm.) high. Estimate USD 1,000,000 - USD 1,500,000. Price realised USD 1,049,000. © Christie's Image Ltd 2008.
Very finely cast, seated in dhyanasana on a double-lotus base with right hand raised brandishing a sword, the left hand holding a lotus flower supporting a book, wearing a long flowing dhoti gathered in folds around his feet and an elaborate belt and necklace with beaded festoons, the head slightly tilted in a serene expression and framed by a finely detailed foliate tiara, incised six-character Yongle mark at the front of the base, base sealed with original base plate incised with a double vajra and retaining remains of red lacquer.
Provenance: Acquired in the 1980s.
Note: It seems likely that the future Yongle emperor was introduced to Tibetan Buddhism and became interested in it around AD 1380, when he was enfeoffed in Beijing, and of course he had strong ties to the Mongol military elite, who were also adherents of lamaist Buddhism, so it appears that he continued to practice this form of Buddhism for the rest of his life. Certainly more works of art depicting lamaist Buddhist deities and imagery were produced during his reign period than under any other Chinese emperor, with the exception of the Qing Emperor Qianlong. For further discussion of this topic see J.C.Y. Watt and D.P. Leidy, Defining Yongle: Imperial Art in Early Fifteenth-Century China, Yale University Press, 2005.

In 1406 the Yongle Emperor sent a mission to Tibet inviting the famous hierach of the Karma-pa monastry, Halima, to Nanjing, to take part in the memorial services for the Hongwu Emperor and Empress Ma. Halima first sent a tribute mission, and then in the Spring of 1407 came to the Ming court in person. There he was received with great honor, given the title Dabao Fawang (Great Precious Religious Prince) and asked to perform religious ceremonies for the emperor's deceased parents. After his return to Tibet, Halima continued to exchange gifts with the emperor. The Yongle emperor also invited the hierarch of the Sa-skya-pa to the court at Nanjing in 1413 and treated him too with great honor. Thereafter missions were sent from Sa-skya abbots until the 1430s. A high-ranking representative of the Yellow Sect was invited to Nanjing in 1413 and was also greatly honored and returned to Tibet in 1416 with many gifts. Gifts and missions continued to be exchanged with the Yellow Sect until the 1430s.

Manjusri, the embodiment of the Perfection of Wisdom (Sanskrit. Prajnaparamita), is shown here in his two-armed emanation, wielding a sword (khadga) and gracefully grasping the stem of a blue lotus (nilotpala) which rises and blooms at his left shoulder to support a manuscript of the Prajnaparamita Sutra (pustaka). This particularly large-sized cast, at 25 centimeters instead of those more typically ranging between 15, 19 or 21 centimeters, captures the regal impact of the deity and balances the martial power of the sword-wielding right arm with the languor and grace of the tilting body and left arm particularly successfully. The state of preservation of the present figure is remarkable and compares favorably with the other gilt-bronze of this form and size, illustrated in Buddhist Images in Gilt Metal, Chang Foundation, Taipei, 1993, no. 52. It is interesting to note that the present figure has the sword-tip cast integrally with the tip of the topknot, thereby preventing the fragile blade from snapping off, unlike on the Taipei example.

Large gilt-bronzes of this size are also to be found in a four-armed emanation, identified as Tikshna Manjusri, in which two subsidiary hands hold a bow and an arrow. Three are known in this larger size, one from the Speelman collection, sold Sotheby's Hong Kong, October 7, 2006, lot 804, another in the State Hermitage Museum, St. Petersburg, illustrated in M. Rhie and R. Thurman, Wisdom and Compassion: The Sacred Art of Tibet, New York, 1991, p. 139, pl. 130., and a third in the collection of the Potala Temple, Lhasa, illustrated in U. von Schroeder, Buddhist Sculptures in Tibet, Hong Kong, 2001, vol. II, pl. 359D (with sword lacking). The latter figure is preserved with three other smaller four-armed examples in the Potala Temple, Lhasa, see ibid., pls. 354A-C, and in particular p. 1236, fig. XX-2. Other examples of this smaller size, around 19 or 20 centimeters, are in the British Museum, London, illustrated by Zwalf, ed., Buddhism, Art and Faith, 1985, no. 308, and in the Metropolitan Museum of Art, New York, illustrated by J. Watt and D. Leidy, Defining Yongle: Imperial Art in Early Fifteenth-Century China, New York, 2005, pp. 70-1, pl. 25.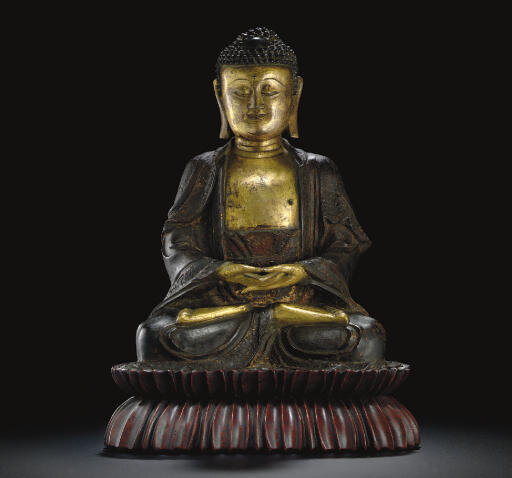 Lot 397. A parcel-gilt bronze figure of Buddha, Ming dynasty, 16th century; 12½ in. (31.8 cm.) high. Estimate USD 15,000 - USD 18,000. Price realised USD 15,000. © Christie's Image Ltd 2008.
Shown seated in dhyanasana with hands held above the lap, with a wan emblem in the center of the bared chest, wearing loosely draped robes and a tied dhoti with foliate borders, the face well cast with contemplative expression and with a small urna in the forehead, the hair indicated by small bosses surrounding the usnisha , wood stand.
Property from a Private Collector, South Africa.
Provenance: Spink & Son, London.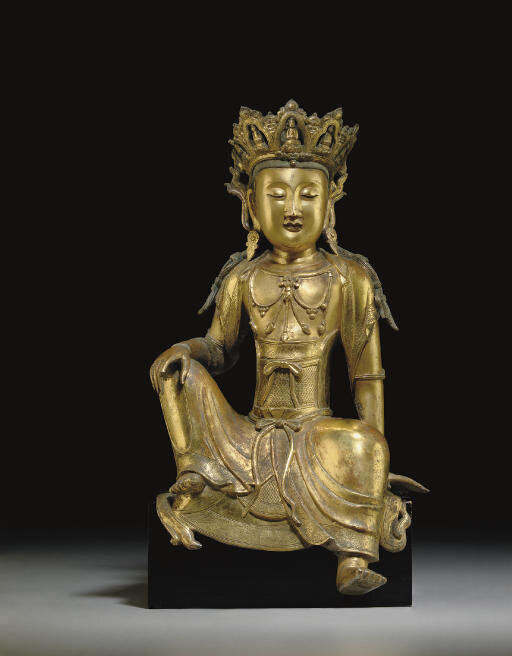 Lot 404. A gilt bronze figure of a seated Guanyin, Ming dynasty, 16th-17th century; 18½ in. (47 cm.) high. Estimate USD 20,000 - USD 30,000. Price realised USD 145,000. © Christie's Image Ltd 2008.
Shown seated in maharajalilasana with right hand resting atop the bent knee and the left hand held flat for support, wearing a necklace of beaded chains, a shawl, layered ribbon-tied skirts with finely engraved foliate scroll borders, including an overskirt with high stiff back, bangles and earrings, the hair drawn up into a topknot within a five-point openwork crown, each point centered by a seated figure of one of the five Tathagata Buddhas.
Note: A similar large bodhisattva with this rather unusual twisting waist seated in the lalitasana 'royal ease' posture, is illustrated in Buddhist Images in Gilt Metal, Chang Foundation, Taipei, 1993, no. 35; and two related figures, attributed to the late Yuan or early Ming period, were recently sold in these rooms, 24 March 2004, lot 83, and 21 September 2004, lot 130.
Lot 401. A gilt bronze figure of a standing monk, Ming dynasty (1368-1644); 9¼ in. (23.4 cm.) high. Estimate USD 6,000 - USD 8,000. Price realised USD 21,250. © Christie's Image Ltd 2008.
Heavily cast, possibly representing the disciple Ananda, shown standing with hands clenched in front and with a joyful expression beneath the thick, raised eyebrows, wearing loosely draped patchwork robes tied at the chest with a cord draped over the left shoulder, the hems and seams of the robes finely incised with a lotus scroll, Japanese wood box.
Provenance: Japanese private collection.
Note: Ananda is considered to be one of the closest and most devoted disciples of Buddha Sakyamuni. He was known to have an exceptional memory, and for this reason, was chosen to play a major role in the compilation of the Buddha's teachings after his death.
Lot 409. A gilt-lacquered bronze figure of a Guardian King, Ming dynasty (1368-1644); 10 in. (25.4 cm.) high. Estimate USD 15,000 - USD 18,000. Price realised USD 18,750. © Christie's Image Ltd 2008.
Representing Vaisravana (Ch. Duowen), Guardian King of the North, the powerful standing figure holding a stupa in his raised left hand while holding the right hand at his side, wearing elaborate armor and a celestial scarf billowing above his shoulders and trailing down the sides, his face with wrathful expression and his hair pulled up into a double-loop topknot behind the five-part crown, decorated in two tones of gold lacquer, the rockwork base lacquered red.
Note: The stupa represents the body of the Buddha, both his spiritual body and his person, as well as his Law.