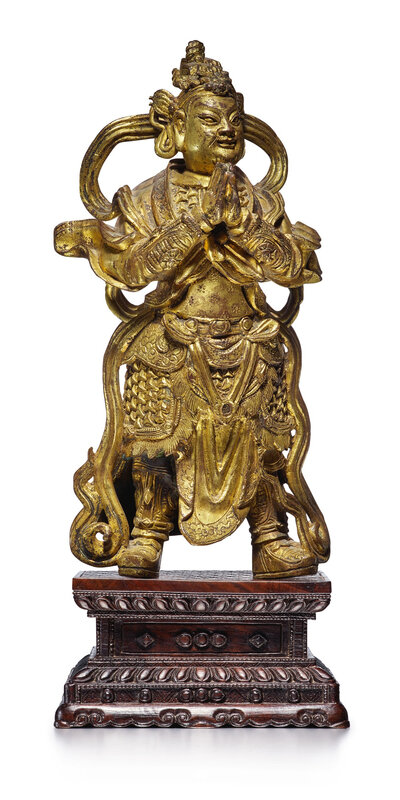 Lot 65. A gilt-bronze figure of Weituo, Ming dynasty (1368-1644). Height 8 1/4 in., 21.1 cm. Estimate 12,000 — 15,000 USD. Courtesy Sotheby's.
standing with the feet wide, the hands clasped in front of the chest, and the gaze directed ahead, the sturdy body elaborately dressed in a long underrobe with brocade borders, an armored knee-length tunic, and a short silk jacket tied at the chest, as well as richly ornamented arm and shin guards, patterned boots, a bejeweled cap secured with a ribbon, and a billowing sash framing the figure, the jacket sleeves and the hem of the underrobe similarly blowing in the wind, the round face with wide eyes drawn upwards at the corners, a short beard and mustache with a short tang extending from each foot, wood stand (2).
Provenance: Eastern Pacific Co., Hong Kong, 15th March 1987.
Collection of Florence (1920-2018) and Herbert (1917-2016) Irving, no. 1863.
Note: According to the Golden Light Sutra, Weituo is a bodhisattva responsible for protecting the teachings of Buddhism and is the leader of the twenty-four celestial guardian deities. Sculptures of him are traditionally placed in front of or to the right of images of the Buddha to serve an apotropaic function. Similar Ming dynasty gilt-bronze figures of Buddhist guardians include a pair in the collection of the Seattle Art Museum published in Hugo Munsterberg, Chinese Buddhist Bronzes, Rutland and Tokyo, 1967, pls 93 and 94; one in the collection of the Detroit Institute of Arts published in Hai-wai Yi-chen: Chinese Art in Overseas Collections: Buddhist Sculpture, vol. I, Taipei, 1986, pl. 182; and a figure of Weituo sold in these rooms, 17th September 2016, lot 1137.
Sotheby's. Chinese Art from the Metropolitan Museum of Art: The Florence and Herbert Irving Gift, New York, 10 september 2019