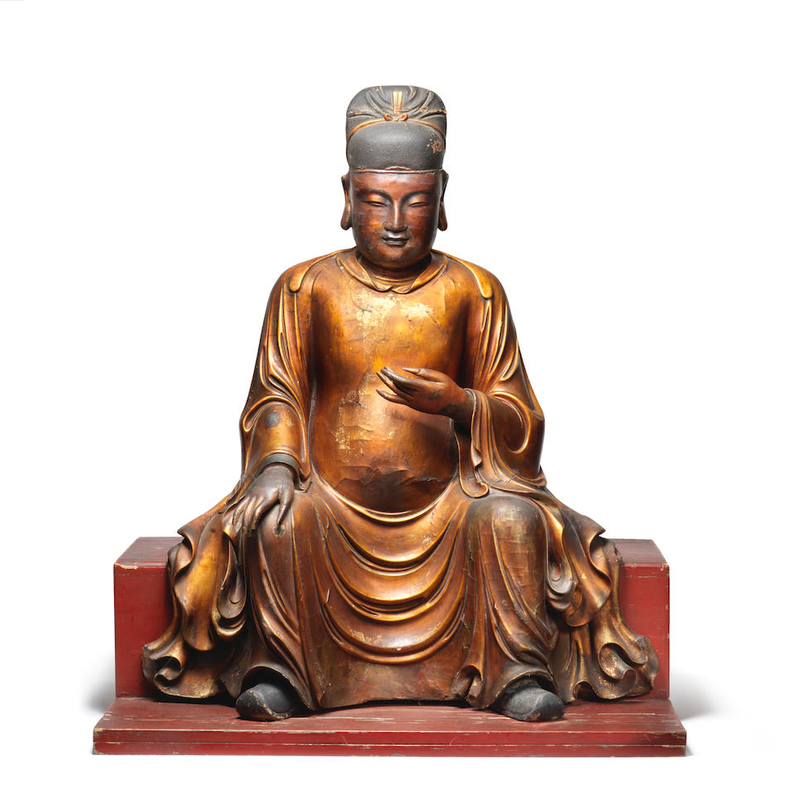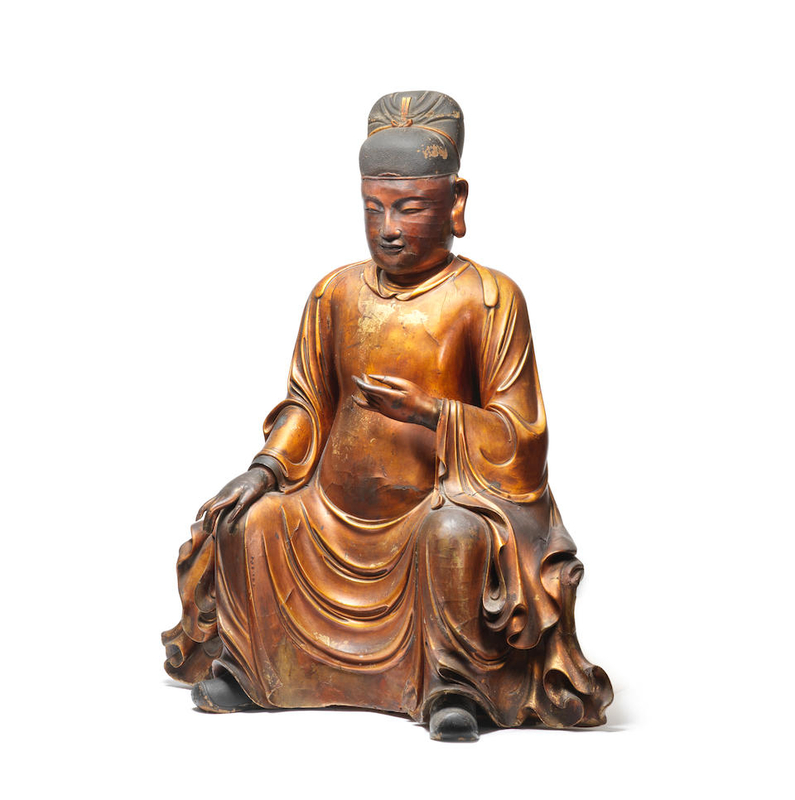 Lot 23. A rare and large gilt-lacquered wood figure of Wenchang, 17th century; 90cm (35 1/2in) high. Estimate: £60,000 - 80,000 (€ 70,000 - 93,000). Sold for £ 75,062 (€ 87,645). Photo: Bonhams.
The God of Literature carved seated wearing a scholar's hat and long cascading robes falling in folds over the legs revealing two slippers, the left hand raised to the chest, his right hand resting on his knee, the face with serene expression flanked by a pair of long pendulous ears, the surface extensively gilt, wood stand.
Note: Displaying a remarkable level of refinement, evidenced in the upturned slippers and the intricate designs decorating the hems of the voluminuous robes cascading in multiple folds, the figure may be identified as Wenchang Wang, the Daoist God of Culture and Literature. First worshipped as a snake god known as 'the viper' in Sichuan during the Six Dynasties period, he rose to prominence until by the Tang dynasty he was worshipped as part of the Imperial cult. In the Song dynasty the deity revealed himself in human form as a Daoist god, the Divine Lord of Zitong. From the Song period onwards, Wenchang was widely worshiped by the literati, particularly candidates in the civil service examinations; he was also venerated for his powers of healing and exorcism. His cult ultimately achieved a national following; see S.Little, Taoism and the Arts of China, Chicago, 2000, p.267.

The technique of coating carved wood figures with gilt lacquer appears to have emerged during the early part of the Ming dynasty, continuing into the Qing dynasty and echoing in form and decoration Buddhist bronze figures. See a related gilt and lacquered wood figure of Guanyin, Qing dynasty, in the British Museum (ref.no.OA+.7339).

A related large gilt-lacquered wood figure of Guanyin, 17th/18th century, was sold at Bonhams London, 14 May 2015, lot 64.
Bonhams. Fine Chinese Art, London, 7 Nov 2019