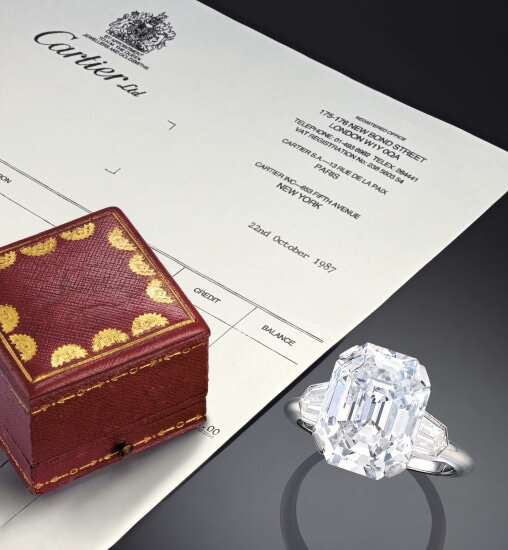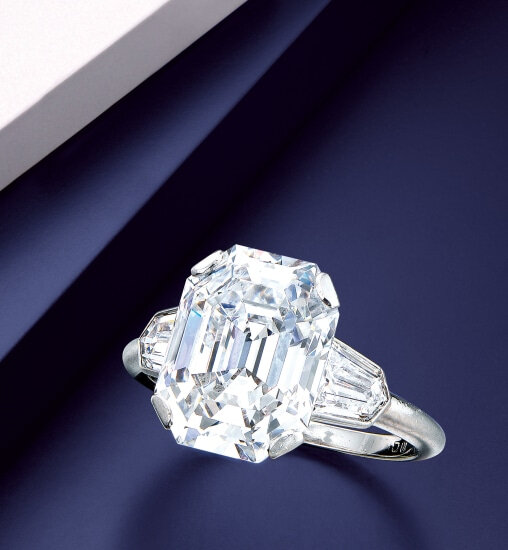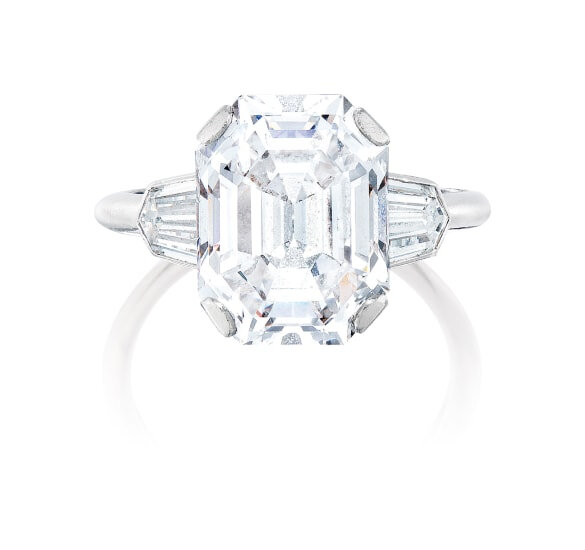 Lot 648. A Fine 7.09 carat D/IF Type IIa Diamond Ring, Cartier, Circa 1987. Estimate HK$2,300,000 - 3,300,000 ($300,000-420,000). © Phillips
One emerald-cut diamond, 7.09 carats. Flanked by two bullet-shaped diamonds, together approximately 1.20 carats. Platinum. Signed Cartier and numbered R6808, with English hallmark. Size 7½.
(7.09-carat Diamond)
GIA report, numbered 5085527, D colour, Internally Flawless, Excellent Polish. Diamond type classification report, Type IIa diamond.
Accompanied with a signed ring box and a copy of original Cartier receipt dated 22 October 1987.
Note: The superb quality of this diamond transcends its top colour and clarity grading, it is also certified as a Type IIa and described as a 'Golconda' diamond by Cartier. A Golconda diamond is distinguished by a high degree of transparency as a result of the purity of its crystal, imbued with a limpid quality that is reminiscent of a drop of ice water.
The name also evokes the myths surrounding an ancient mine in Eastern India, which gave birth to legendary diamonds including The Koh-i-Noor and The Regent. Revered by gem traders and collectors since the Renaissance period, Golconda was considered an exclusive source of the best diamonds in the world. Unfortunately, by mid-18th century, the insatiable appetites of Indian maharajas and European monarchs have completely exhausted its supply. Golconda diamonds, often said to be beyond white, is classified as Type IIa. With less than 1% of the world's diamonds certified as type IIa, this pure diamond is as rare as it is beautiful.
Phillips. Jewels & Jadeite, Hong Kong Auction 25 November 2019