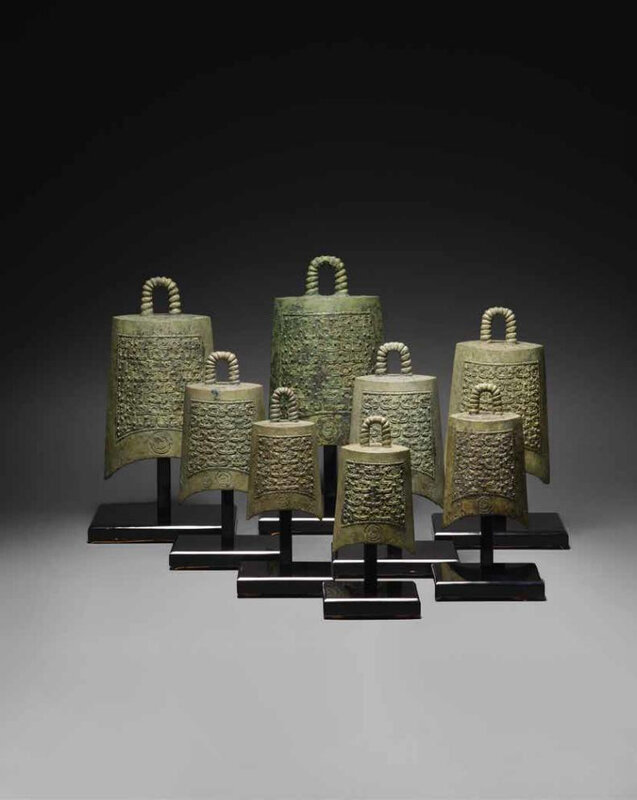 Lot 24. A rare set of eight archaic graduated ritual bronze bells, bianzhong, Eastern Zhou Dynasty (770-221 BC). The largest, 22cm (8 5/8in) high. Estimate £20,000 - 30,000. Sold for £ 62,562 (€ 73,050). Photo: Bonhams.
The bodies of oval cross-section with a concave base, cast on each side with bosses, all within borders of yunlei spirals, each applied with rope-twist loop handles at the top, the surfaces of a green patina with some encrustation, stands.
Provenance: Vanderven Oriental Art, 's-Hertogenbosch, 31 March 2000
John J. Studzinski, CBE.
Note: Bells play an important role among the bronze objects cast during the Shang and Zhou dynasties where they served primarily in rituals worshipping the ancestors. They formed part of an orchestra that provided musical accompaniment to ritual dances and singing. Glimpses of Zhou ancestral ritual may be found in the shi jing (Classic of Poetry), a collection of songs and ritual hymns of Western and early Eastern Zhou date. The following poem describes the musicians and dancers in action:
'They strike the bells solemnly,
They play their se and qin zithers,
The reed-organs and the musical stones blend their sounds;
Accompanied by them they perform the Ya and Nan [dances],
They wield their flutes without error.'
According to the Zhouli (The Rites of Zhou), from the Eastern Zhou, only kings, marquises and other select members of the aristocracy were entitled to possess such bronze bells, which in turn symbolised social status becoming auspicious gifts among the aristocratic class. It is believed that these bells were made only with refined material on an auspicious day and their completion was celebrated with receptions where guests could enjoy the tunes and the original golden sheen of the newly cast bells; see Feng Guangsheng, 'Chime-bells. Musical Instruments', Artistic Style of Cultural Relics from the Tomb of Zenghouyi, Wuhan, 1991, p.158. See also B.Karlgren, The Book of Odes: Chinese Text, Transcription and Translation, Stockholm, 1950, pp.159-161; and L.Von Falkenhausen, Suspended Music: Chime - Bells in the Culture of Bronze Age China, London, 1993, pp.23-28.

Compare with a related set of seven ritual bronze bells, Western Zhou dynasty, which was sold at Sotheby's New York, 20 March 2019, lot 663.
Bonhams. Fine Chinese Art, London, 7 Nov 2019