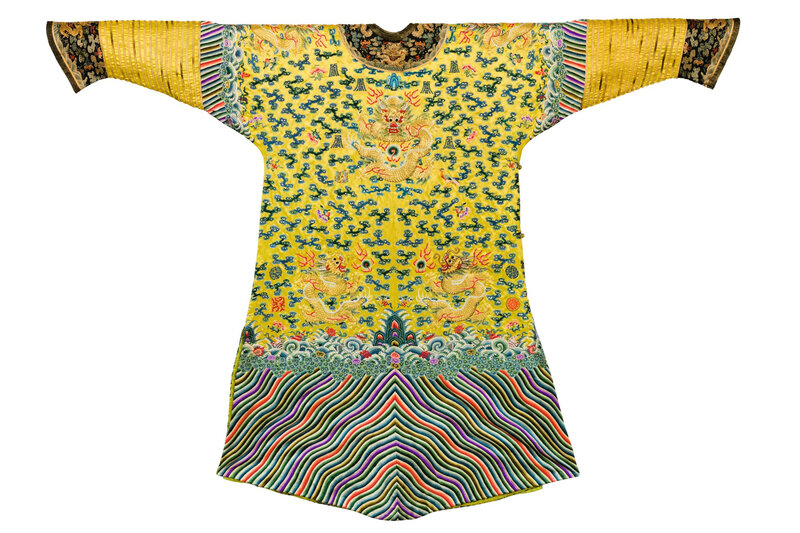 Lot 171. An imperial embroidered yellow silk twelve-symbol dragon robe, Jifu, Qing Dynasty, Guangxu period (1875-1908); 140 x 191 cm, 55⅛ by 74⅞ in. Estimate: 20,000 - 30,000 EUR. Lot sold: 25,000 EUR. © Sotheby's.
finement brodée de soie et de fils d'or à décor de dragons à cinq griffes affrontés ou pourchassant la perle enflammée à l'avant et à l'arrière de la robe et sur le lé intérieur, sur fond de nuages ruyi formes alternés de chauve-souris en soie, au-dessus d'une large bordure lishui multicolore surmontée de vagues écumantes dominées par le diagramme terrestre et emportant dans leurs flots des symboles auspicieux, les douze symboles de l'autorité impériale répartis en trois groupes de quatre, le soleil, la lune, la constellation et le rocher autour du col, le symbole Fu, la hache, les deux dragons et le faisan doré sur le corps, la paire de coupes, l'algue, les grains de millet et les flammes au-dessus des vagues, la manches rallongées par des empiècements de soie jaune ponctuées de stries tressées d'or, le col et les bout des manches reprenant le même motif sur fond noir.

Collection Particulière Suisse.
Note: The Twelve Symbols of Imperial Authority that are embroidered on the shoulders, the upper parts and skirts of sides of this fine yellow silk robe, only appeared on the emperor's clothing after 1759, were meant to demonstrate the emperor's legitimacy to the throne, visually associating him or her with the celestial and terrestrial powers. The four principal symbols included the sun and the moon, the constellation and rock prominently positioned on the shoulders, chest and back of the robe. Eight additional symbols aligned the wearer with astronomy and seasons and firmly positioned him or her at the centre of the world. These symbols comprise the the ax head and the fu character to the front and a pheasant and paired dragons in corresponding positions to the back. Along the skirt on the front and back of the robe appear the pair of libation cups, aquatic grass, grains of millet and flames.
The use of aniline dyes, particularly the purple colour found on the present robe, was first applied after 1870 when these colours were introduced in China, dating this robe to after 1870. Several Twelve Symbol dragon robes of this later Guangxu date are known, some of them made for a child emperor, presumably the young Guangxu emperor, such as a robe in the collection of the Palace Museum, published in Heaven's Embroidered Cloths. One Thousand Years of Chinese Textiles. Hong Kong Museum of Art, Hong Kong, 1995, p. 236, no. 72, or another robe offered at Christie's Hong Kong, 30th May 2012, lot 4026. Both these robes feature sleeve extensions enriched with gold stripes. Other Twelve Symbol dragon robes of Guangxu date were made for the adolescent Guangxu emperor and his consort, compare a yellow ground kesi twelve symbol dragon robe of Guangxu date, sold Christie's New York, 26th March 2003, lot 71.
Sotheby's. Arts d'Asie, Paris, 10 december 2019.