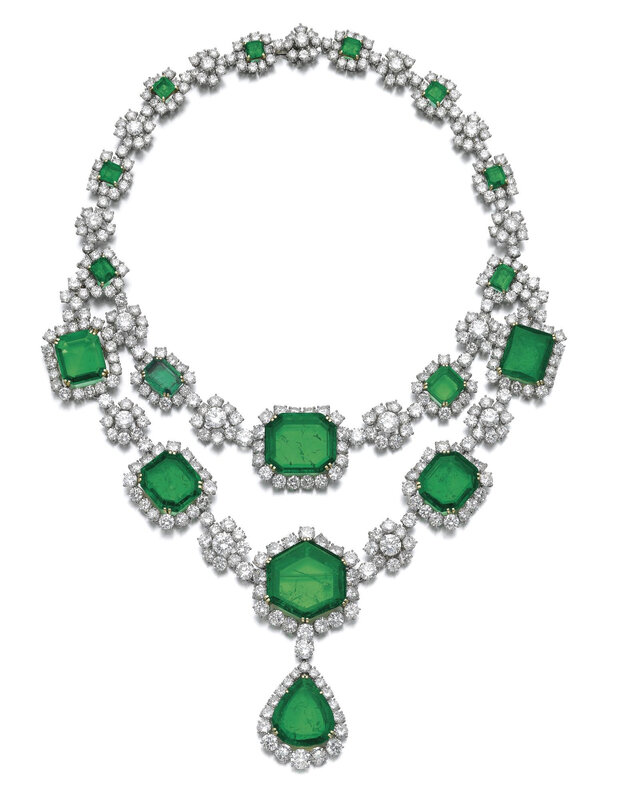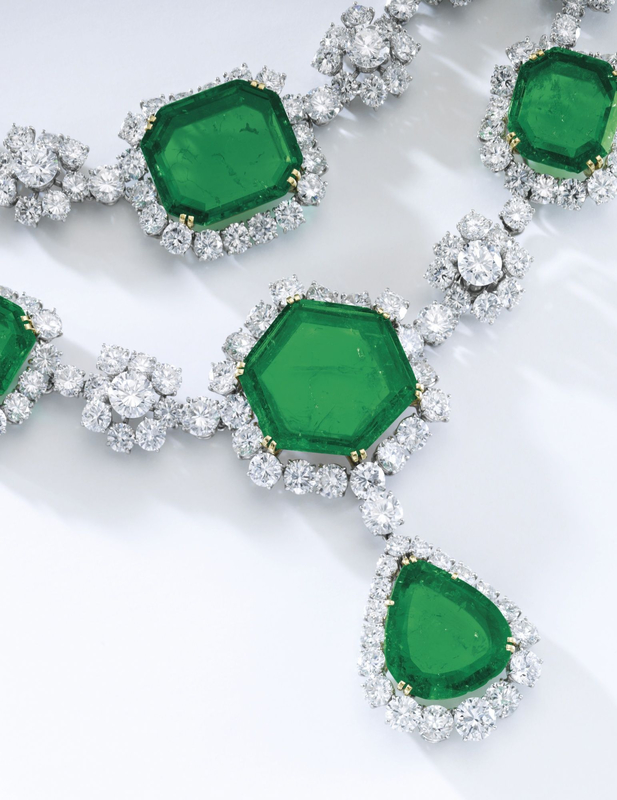 Lot 512. Property from the Estate of Dolores Sherwood Bosshard. Magnificent emerald and diamond necklace, Harry Winston, 1959. Estimate 1,950,000 — 3,890,000 CHF. Lot sold 3,834,000 CHF. Courtesy Sotheby's.
Composed of a line of step-cut emeralds framed with brilliant-cut diamonds, alternating with similarly cut diamond motifs, the central step-cut emerald stated to weigh 20.61 carats; the front highlighted with a detachable line of variously shaped emeralds and brilliant-cut diamonds, the central hexagonal emerald stated to weigh 22.25 carats, suspending a detachable pendant set with a pear-shaped emerald stated to weigh 15.97 carats, surrounded with brilliant-cut diamonds, unsigned, maker's mark for Tavernier.
Accompanied by SSEF report no. 81404, stating that sixteen emeralds are of Colombian origin and one is of Russian origin, six emeralds with a minor amount of oil in fissures and eleven of them with a moderate amount of oil in fissures.
Literature: This necklace is illustrated and featured in: Laurence S. Krashes, Harry Winston. The Ultimate Jeweler, New York, 1984, pg. 140.
Note: In 1959, the renowned Harry Winston created a magnificent emerald and diamond necklace for one of the most glamorous and beautiful woman of the time. Dolores Sherwood Bosshard was an enchanting, sophisticated and effortlessly chic member of an elite international circle of dazzling globetrotters whose every move was captured by the 20th century's newly formed paparazzi culture.
As the Hollywood elite rubbed elbows with royals at parties from New York to Los Angeles to Monte Carlo, society insiders such as Elsa Maxwell documented every detail of what was worn, what glittered and who dined with whom.
In April of 1963, Miss Maxwell hosted a party at the Hotel Delmonico for Princess Elizabeth of Yugoslavia, following which she described her guest Dolores Sherwood Bosshard as being "without doubt one of the world's most beautiful women". Known for her glamorous style and flawless taste, Dolores brilliantly paired her couture gowns with an array of jewels which epitomized the nighttime glamor of the 1960s. As stunning when adorned by Van Cleef as she was when wearing David Webb, Dolores acquired some of her most impressive pieces of jewelry from Harry Winston, including a cluster-style diamond bracelet and a pair of glittering diamond pendant earrings. But there was no better indication of Dolores' eye for high style and her ability to wear significant jewels with ease than the two-tiered emerald and diamond necklace featured here.
This beautiful necklace combines an elegant and delicate design with exceptional stones and exquisite workmanship. The emeralds have been carefully selected and display a beautiful green colour of medium strong saturation with a very good transparency. The result is a true Harry Winston masterpiece that Sotheby's is proud to present at auction.
untitled
Dolores Sherwood Bosshard wearing lot 512.
Dolores Sherwood Bosshard wearing lots 511 and 512.
Excerpts from Laurence S. Krashes, Harry Winston. The Ultimate Jeweler, New York, 1984.
" "People! Drama! Romance! Excitement! What more could you want?" Harry Winston once summarized his extraordinary career with these words. His life was a series of adventures and intrigues revolving around a deep, instinctive love for precious gems and a fascination for the people who shaped the world of fine gemstones. Years of experience gave him a wealth of practical knowledge as well as penetrating insight into the intricacies of human nature. Even so, he never ceased to marvel how often odd twists of fate had helped him become the "king of diamonds" (Elise and Harmon Tupper, "King of Diamonds", in Cosmopolitan, April 1947, pg. 48).
Harry Winston started in the jewellery trade at the age of fifteen in Los Angeles. His father had moved to California for health reasons and subsequently opened a jewellery store on Figueroa Street... A resourceful purveyor and connoisseur of gems even in his early years, [Harry Winston] would carry his father's wares from one saloon to the next, selling to newly affluent oil prospectors.
This resourcefulness became his hallmark when he returned to New York. In 1920, Harry Winston used the two thousand dollars he had saved while in California to set up what was at first a one-man firm, the Premier Diamond Company, in a small office at 535 Fifth Avenue.
During the 1920s, there was an abundance of estate jewellery on the market, costly pieces that people had begun to liquidate for a variety of reasons soon after World War I. The stomachers, corsage ornaments, ornate tiaras, diamond dog collars, and other jewels that had been the height of fashion during the late nineteenth and early twentieth centuries fell from favour. Such "antique" jewellery was usually sold at a fraction of its original price. Harry Winston's plan was to purchase the outdated pieces of jewellery and remove the gems, many of which were the "old-mine" cut. He believed that by recutting the stones for greater sparkle and brilliancy, and then mounting them in more contemporary settings, he would appeal to the taste of the "modern" generation.
With his successes in estate jewellery, Harry Winston achieved financial independence. By 1932, in addition to buying and selling estate pieces, he had started manufacturing his own jewellery. In that year, he closed the Premier Diamond Company and incorporated under the name Harry Winston.
Harry Winston's almost unerring instincts about gemstones grew over the years to legendary proportions. He had an uncanny ability to look at a stone and know exactly what could be created from it.
Like his predecessors Peter Carl Fabergé and Louis Cartier, Harry Winston set his own standards of originality in fine jewellery. All three men, each in his own way, helped elevate the jeweller's art to new heights of grandeur through bold, innovative designs and superior workmanship.
Mr. Winston's creativity sprang from a desire to display the finest-quality gemstones in the most elegant settings possible. While he admired the interesting jewellery designs of the Art Deco style, Mr. Winston wanted his settings to place more emphasis on the beauty of the gemstones themselves.
For these new designs, he gradually developed a fabrication device that would become his hallmark in the jewellery industry: fine, hand-made, flexible wire settings of platinum or gold. These independent prong settings enabled distinctive arrangements of variously shaped diamonds and coloured stones, giving a new freedom to the art of jewellery fabrication and helping to establish an entirely new trend in jewellery design.
The subtle grace of the handmade settings gave Mr. Winston's jewellery a delicacy that further enhanced the gemstones they contained.
For his jewellery, Mr. Winston assembled collections of rare gemstones that would have intimidated most others in the field. He would sometimes wait years to obtain just the right stones to complete a particular piece. Harry Winston often surrounded these large diamonds or coloured stones with a frame of smaller diamonds: he felt that just as a painting by a famous master deserved a beautiful frame, so did one of his precious stones. This "frame" has become another characteristic of the Winston style".
Dolores Sherwood Bosshard was last photographed wearing the dazzling diamond and emerald necklace while attending the Red Cross Ball in Monte Carlo in 1963. In the photograph from that evening she is also carrying the Van Cleef Minaudière (lot 511) within which she would have certainly had the additional lipstick case, the perfume holder, the compact, the comb and the lighter.
The jewels of Dolores Sherwood Bosshard are a study in elegance, representing a time when glamour was paramount, luxury seemed boundless, and the jewels extraordinary.