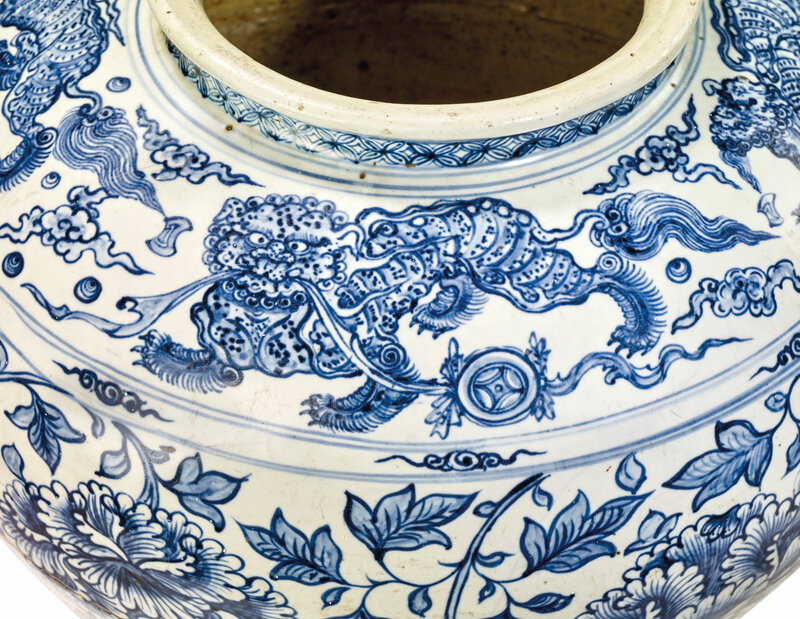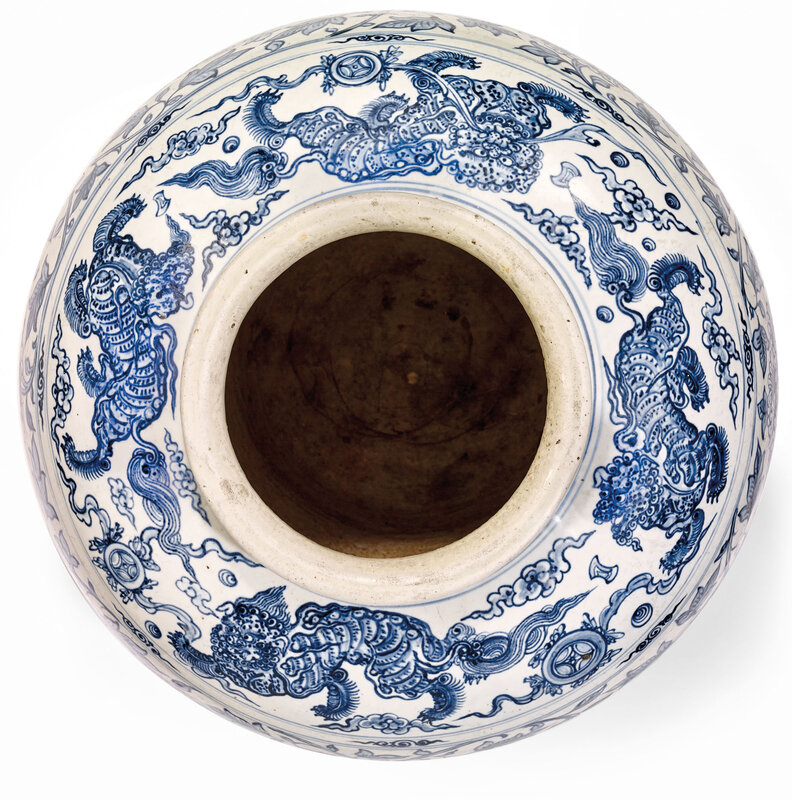 Lot 113. A rare blue and white glazed stoneware peony' storage jar, Vietnam, 15th century. Hauteur: 33 cm. (13 in.). Estimate EUR 15,000 - EUR 20,000 (USD 16,900 - USD 22,533). Price realised EUR 406,000, new world auction record for a Vietnamese porcelain. © Christie's Images Ltd 2020
La panse globulaire bombée est richement peinte de rinceaux de poivoines épanouis. L'épaulement est à décor de puissants lions bouddhiques marchant au-dessus des nuages. Le col est agrémenté de fleurs stylisées, le pieds d'une frise de pétales.
Provenance: Personal collection of Mr J.E. Hagen (1904-1976), former Assistent Resistent in the colonial civil service of the Dutch East indies, gifted in 1947 by Andi Batari Toja Arung Gilireng, eldest daughter of the Aroe Matoa XLIV, chief Prince of Wajo (22/11/1926-14/1/1933), Sulawesi, and by descent in the family.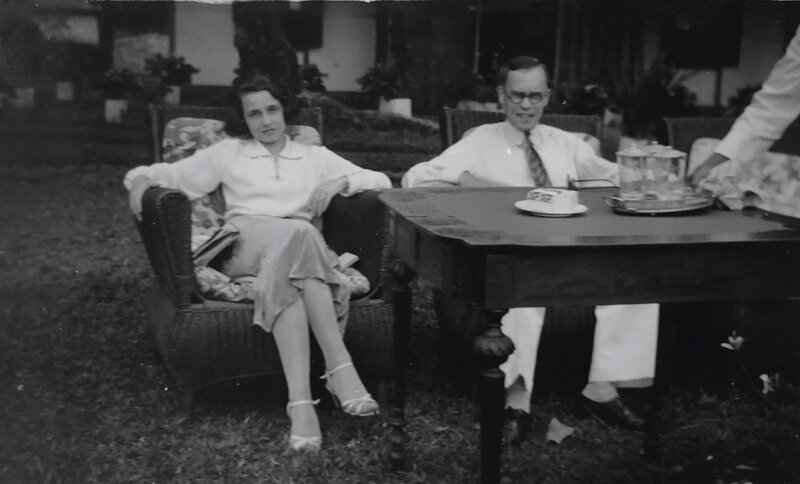 Mr and Mrs Hagen, in Menes, West (detail) Java, Indonesia, 1937.
Note: With its powerful form, bold design, the characteristic 'heaping and piling' effect, the present Vietnamese storage jar seems to derive from Chinese Yuan ceramics. Although the technique of painting with underglaze cobalt blue may have reached Vietnam from China before the 15th century, important Chinese influence in Vietnamese ceramics emerged from the Chinese annexation of Vietnam from 1407 to 1428 during the Ming dynasty. Due to these cultural and commercial exchanges, Vietnamese ceramic workshops which were in direct competition with the Chinese export ceramics were able to produce high quality pieces in the Chinese style such as this present jar.
An almost identical blue and white storage jar, also dated 15th century, bearing the same peonies and buddhist lions decoration, is in the collection of the Asia Society, donated by Mr. and Mrs. John D. Rockefeller 3rd (museum number 1979.097). Also see a massive blue and white storage jar (84.5 cm. high) with moulded animal masks handles, dated 15-16th century, sold in Bonhams, San Francisco, 18 December 2017, lot 856.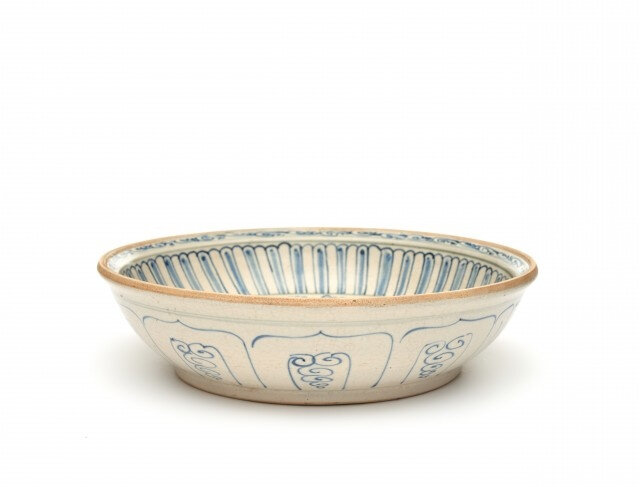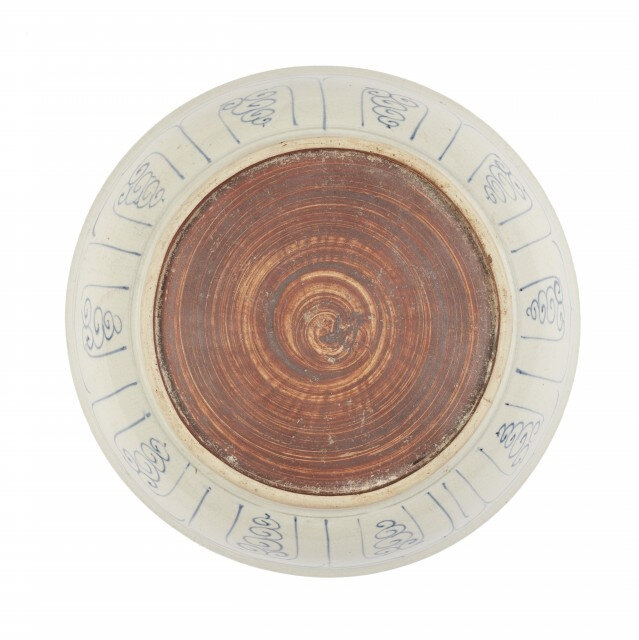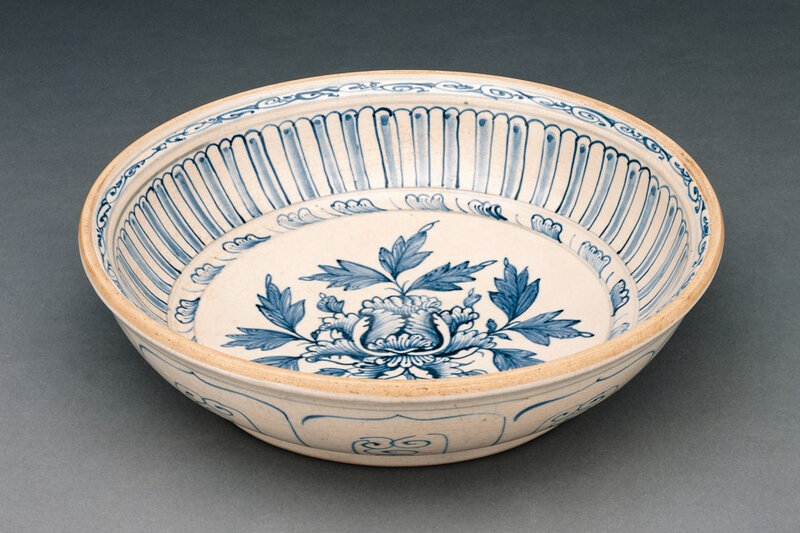 Bowl, 15th century, Vietnam. Stoneware painted with underglaze cobalt blue, H. 2 5/8 x Diam. 9 5/8 in. (6.7 x 24.4 cm), Asia Society, New York: Mr. and Mrs. John D. Rockefeller 3rd Collection, 1979.97. ©2020 Asia Society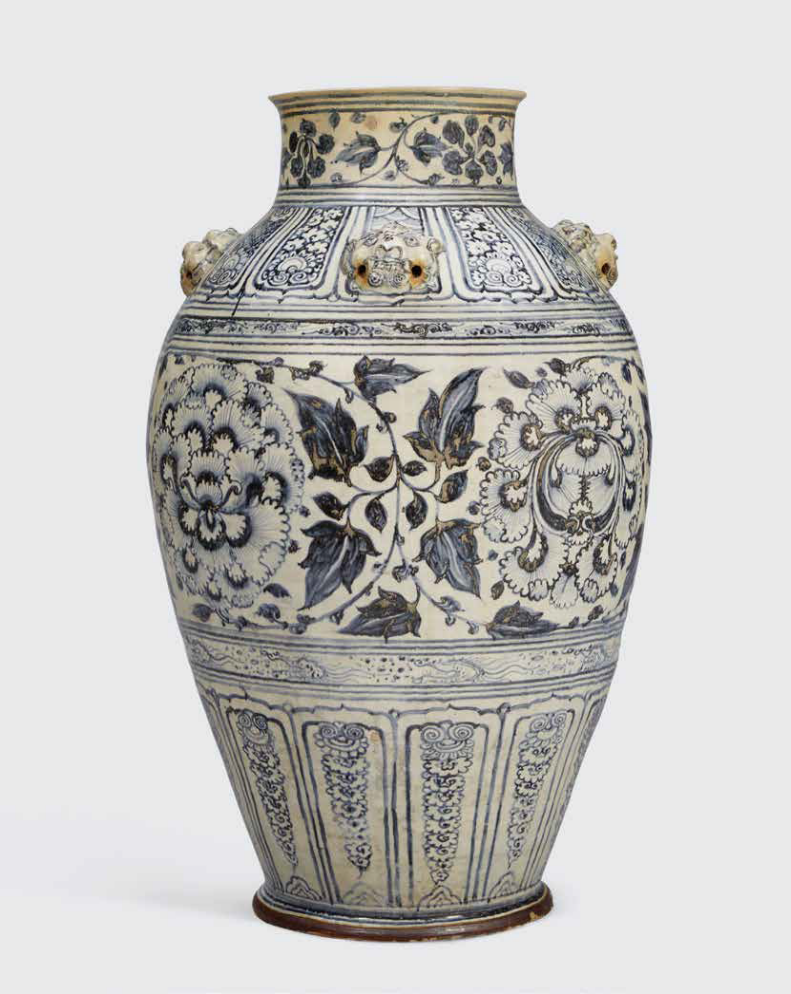 A rare massive blue and white storage jar, Lê dynasty, 15th-16th century; 33 1/4in (84.5cm) high. Estimate US$ 125,000 - 200,000 (€110,000 - 170,000). Sold for US$ 125,000 (€105,529) at San Francisco, 18 December 2017, lot 856. Photo: Bonhams.
Cf. my post: A rare massive blue and white storage jar, Lê dynasty, 15th-16th century
Christie's. Art d'Asie, Paris, 23 June 2020