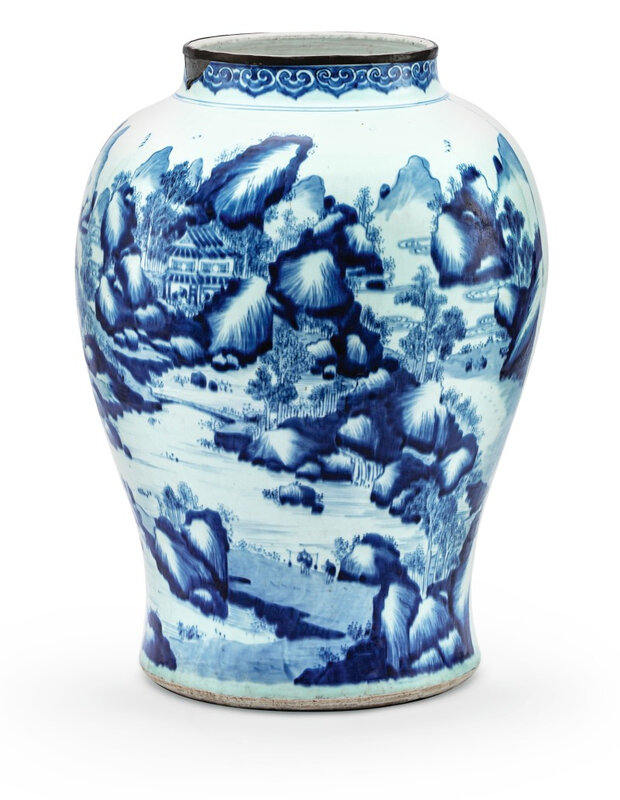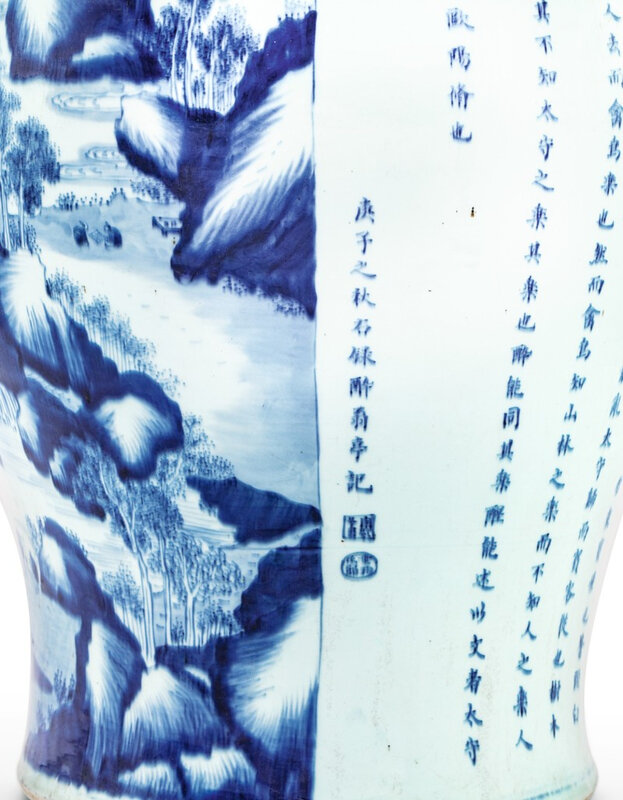 Lot 13. A rare large blue and white 'landscape' and inscribed jar, Qing Dynasty, Kangxi period, dated to the gengzi year (in accordance with 1720); 50,5 cm, 19¾ in. Estimate: 8,000 - 12,000 EUR. Lot sold 35,000 EUR. Courtesy Sotheby's.
l'imposante potiche de forme balustre, la panse décorée sur sa face d'un grand paysage montagneux animé de personnages cheminant vers un pavillon, sur l'autre face, un large poème titré 'l'Histoire du lettré ivre du pavillon' écrit par Ouyang Xiu (1007-1072) et daté de l'automne de l'année gengzi (correspondant à 1720).
Note: The vase is inscribed with the prose poem Zui Weng Ting ji, 'From the Hut of the Drunken Old Man' by Ouyang Xiu (1007-1072), one of the famous works of Chinese literature and considered as key text of the guwen literary genre that propagated a simple and clear style of prose, inspired by classical texts. Written in 1046 from exile in Anhui, Ouyang writes about his personal joys of sharing simple meals and drinking with friends, but above all celebrates the beauty of nature around his hut.
The combination of painting and calligraphy, rendering texts of famous Song dynasty intellectuals, was very popular as porcelain decoration in the Kangxi period. Well known are Kangxi blue-and-white bowls and brush pots inscribed with the Red Cliff Poem by Ouyang's contemporary Su Shi (1037-1101), for example, a brush pot of Kangxi mark and period in the Palace Museum, Beijing, in Chen Runmin, ed., Gugong Bowuyuan cang Qingdai ciqi lei xuan [Qing porcelains from the Palace Museum Collection Selected by Type], vol.1: Qing Shunzhi Kangxi chao qinghua ci [Blue-and-white porcelain of the Shunzhi and Kangxi reigns of the Qing], Beijing, 2005, pl. 206.
The intense cobalt blue of this vase and the painting style with dramatic shading to depict ragged cliffs are also characteristic of this period late in the Kangxi reign; another vase in the Palace Museum, similarly decorated with figures in a landscape and inscribed with a date equivalent to 1715, is published in Gugong Bowuyuan cang wenwu zhenpin quanji/Qinghua youlihong The Complete Collection of Treasures of the Palace Museum. Blue and White Porcelain with Underglazed Red, Shanghai, 2000, vol. 3, pl. 28. See also another vase inscribed with the same poem, sold at Christie's Paris, 13th December 2017, lot 32.
Sotheby's. Arts d'Asie, Paris, 18 Juin 2020