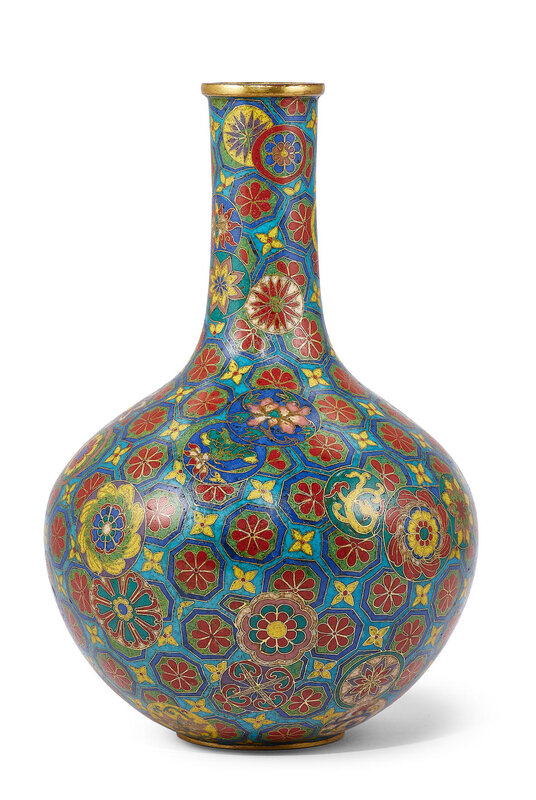 Lot 145. A fine and rare cloisonné enamel bottle vase, Yongzheng-early Qianlong period (1723-1795); 23m (9in) high. Estimate HK$ 300,000-400,000. Sold for HK$ 352,500 (€ 37,541). Photo: Bonhams.
The globular body surmounted by a tall cylindrical neck with lipped rim, vibrantly decorated in blue, turquoise, red, pink, yellow and purple enamels within bold gilt-bronze outlines, depicting medallions separately and jointly enclosing floral motifs and stylised chilong, reserved on a honeycomb diaper ground and florettes.
Note: The design of medallions is reminiscent of designs on gilt-decorated black lacquer of the Yongzheng and mid Qing era; see for example a rectangular box with embossed lacquer designs of roundels and floral motifs, mid Qing dynasty, in the Qing Court Collection, illustrated in Lacquer Wares of the Qing Dynasty: The Complete Collection of Treasures of the Palace Museum, Shanghai, 2006, p.197, no.148. See also a red lacquer case with design of roundels in the Qing Court Collection, mid Qing dynasty, illustrated in ibid., p.76, no.52. The design of roundels on lacquer may have been influenced by Japanese lacquer and design.

Compare with the medallion design on a cloisonné enamel vase, meiping, mid Qing dynasty, illustrated in Compendium of Collections in the Palace Museum, Beijing, 2011, vol.3, no.96. The floral roundels were a popular design particularly on Beijing enamel wares during the Qianlong period. See several Beijing enamel vases depicted with roundels in the Palace Museum, Beijing, which are illustrated in ibid, vol.5, nos.57-59.