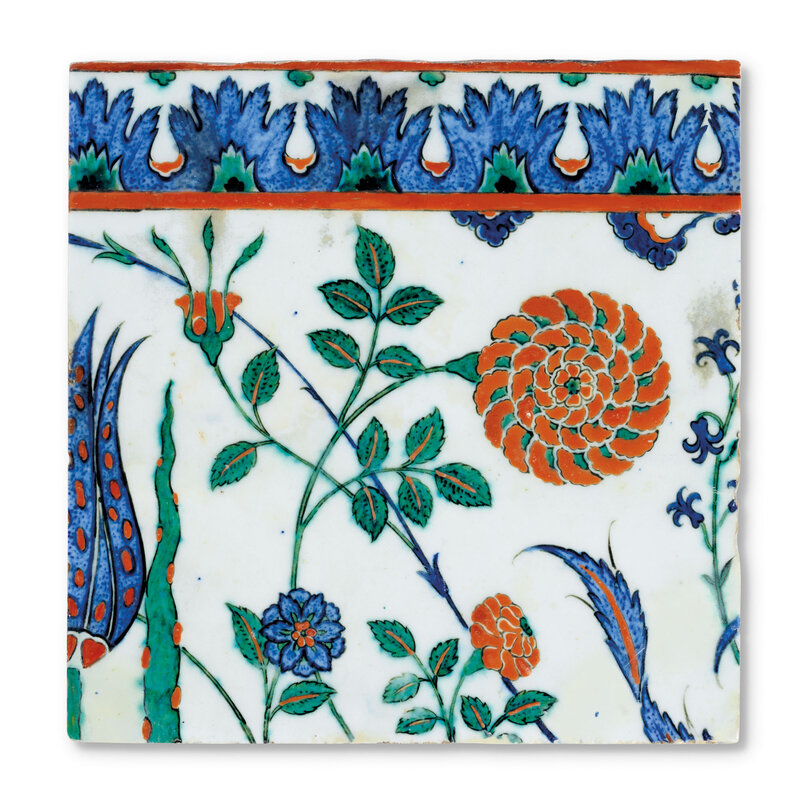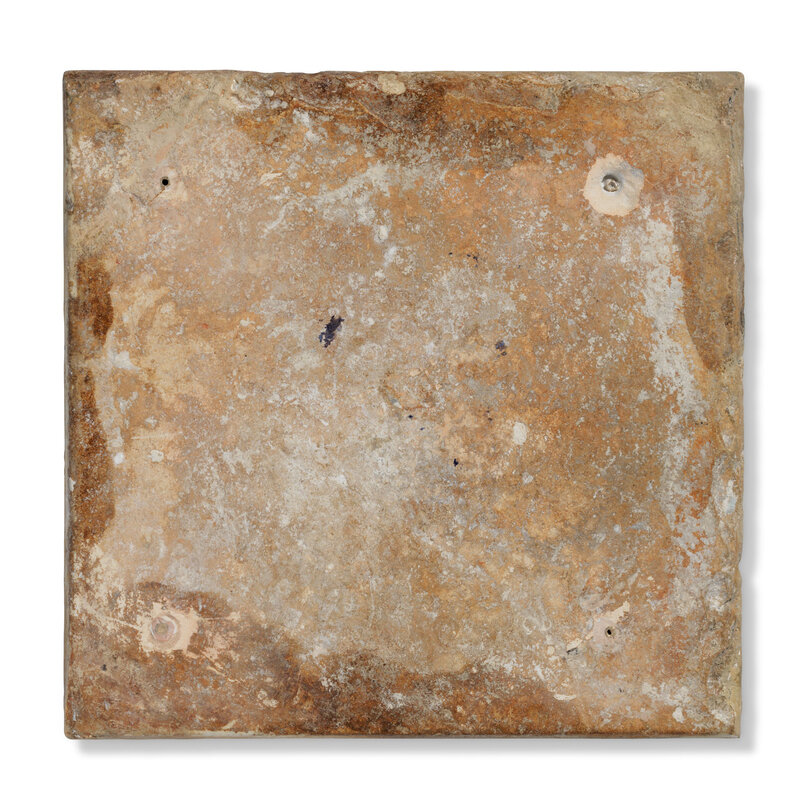 Lot 76. An Iznik pottery tile, Ottoman Turkey, circa 1570; 10 x 10 ¼in. (25.3 x 25.9cm.). Estimate: GBP 20,000 - GBP 30,000. Sold for: GBP 62,500. © Christie's Images Ltd 2021.
Th.e white ground decorated in cobalt-blue, bole-red and green with leafy stems terminating in roses, tulips and a large carnation, the upper edge with a border of serrated leafy palmettes in cobalt-blue, intact
Literature: Art ottoman: centenaire de la Maison Soustiel 1883-1983, exposition, Galerie Jean Soustiel, Paris, du mardi 20 mars au vendredi 13 avril 1984.
Note: This tile is closely related to two complete panels (each of twenty-one tiles) currently on view at the Louvre (formerly in the Musée des Arts Décoratifs in Paris (inv.5972 A and B; illustrated Purs Decors? Arts de l'Islam, regards du XIX siècle, exhibition catalogue, Paris, 2008, cat.102). The composition of the Louvre panels are however slightly different, and the design includes no hyacinths, as on our tile. An almost identical tile, with similar composition, and the inclusion of hyacinths (although there cropped such that only the tips are visible) is in the Los Angeles County Museum of Art (M.87.103). One very minor difference is that the border palmettes on the LACMA tile do not there have the tiny green spot between them along the upper border, as ours does. Another tile, similar but for a green faux marble border along the upper edge, is in the Çinli Kösk in Istanbul. A tile with similar equally fine drawing was sold at Christie's, Paris, 7 March 2007, lot 115.
Christie's. Art of the Islamic and Indian Worlds including Oriental Rugs and Carpets, 1 april 2021.