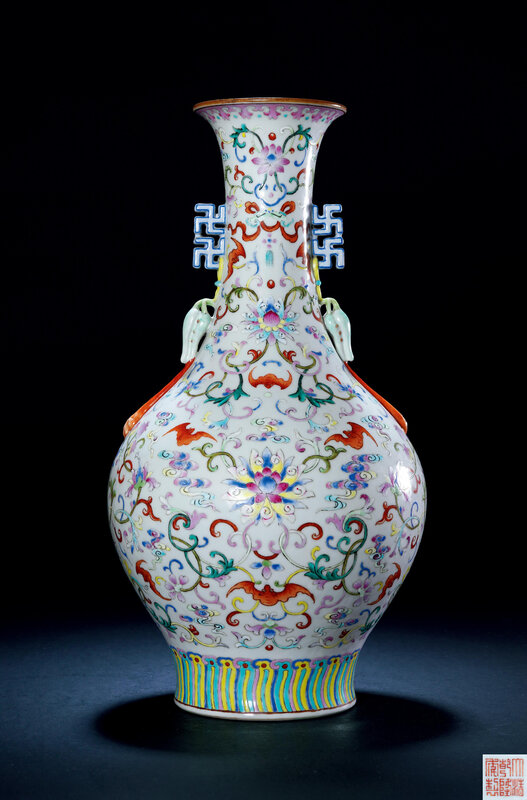 Lot 3216. A Famille-Rose 'Floral' Vase with Handles, Qianlong Period (1736-1795). H 34.5cm. Estimate HKD 680,000 - 800,000 (USD 87,179 - 102,564). Sold Price: HKD 1,620,000 (USD 207,692). Copyright 2021 © Poly Auction Hong Kong Limited
The vase is delicately potted with an ovoid body decorated in refined rose enamels with large lotuses emerging from leafy stems bearing smaller blossoms, surrounded by flying bats in iron-red and alternating cloud scrolls, between a border of ruby ruyi pendent and a skirt of C-shaped srolls around the base. The waisted neck is painted with chimes and is also flanked by two moulded double-swastika-form handles in blue and white enamel, each suspending yellow rope-twist tassels strung with green and red pendant again moulded in high relief. The recessed base is inscribed with an iron-red six-character reign mark.
Provenance: A European private collection.
Note: The current lot is part of a rare group of famille rose white-ground wares from the Qianlong period. See, for example of a Qianlong seal mark and of the period white-ground famille rose mallet-shaped vase from the National Palace Museum, Taipei, see Stunning Decorative Porcelians from the Ch'ien-lung Reign, Taipei, 2008, p.99, pl.25.

It is rare to find a Qianlong vase of this elegant shape and combination of such unusual swastika handles. Two examples with elephant head handles are sold in Sotheby's London, 14th July 1981, lot 122 and also in Sotheby's London, 15th June 1982, lot 378.
The form of the vase and the design composition are similar to that found on Qianlong colour-ground vases; see a large pink-sgraffiato ground vase decorated with bats amongst lotus blooms and swirling clouds, but with archaistic dragon handles, sold at Christie's New York, 21 March 2001, lot 280, and again in Sotheby's Hong Kong, 9 October 2007, lot 1220; and a turquoise-ground example, painted with lotus scrolls in famille-rose enamels and with scroll handles, from the W.W. Winkworth collection, sold in Sotheby's London, 12 December 1972, lot 175, and again in Sotheby's Hong Kong, 24 May 1978, lot 253.

White-ground famille rose vase is also available to Jiaqing Period. Compare also a Jiaqing vase, with reign mark and of the period, of related form and decorated with a floral scroll and central lotus and a bat, shou character and archaic dragons on the neck, in the Huahaitang collection, included in the exhibition Ethereal Elegance. Porcelain Vases of the Imperial Qing, Art Museum, The Chinese University of Hong Kong, Hong Kong, 2007, cat. no. 136.
Poly Auctions.Imperial Treasures: A Selection of Qing Imperial Porcelains, Hong Kong, 21 April 2021