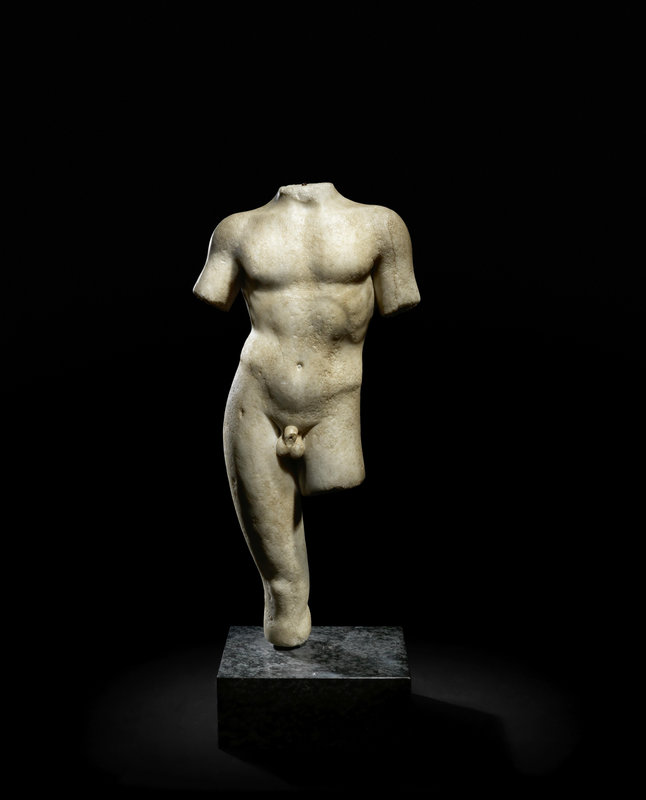 Lot 36. A Roman marble male torso, circa 1st-2nd Century A.D., 80cm high. Sold for £60,250/€70,447 (estimate: £40,000-60,000). Photo: Bonhams.
LONDON.- A Roman marble male torso circa 1st-2nd Century A.D. was the top selling lot at Bonhams innovative The Male Form sale in London yesterday (16 June). The statue sold for £60,250.

Held during Pride Month, The Male Form was the first-ever sale by an international auction house dedicated exclusively to a celebration of the male form in art and spanned centuries and genres, from Antiquities and Old Master Painting to Sculpture and Decorative Arts, from Contemporary Art to Photography. It made a total of £615,438 with 80% sold by lot and 64% sold by value. More than a third of the buyers were new to Bonhams.

The sale was curated by Bonhams Greek Art Specialist Anastasia Orfanidou and Bonhams Head of Books and Manuscripts, Matthew Haley, who said: "We are very pleased the Male Form sale attracted so much attention and so many bidders and new buyers on the day. We set out to challenge a market that has traditionally been centred around the western concept of the male gaze. The success of the sale demonstrates there is a strong appetite for taking this different approach and we hope to make it a regular feature of the Bonhams' calendar."

Other highlights included:
Lot 74. Antony Gormley (British, born 1950), Body LXIV,signed, titled, dated '2016' and inscribed 'for the Terrence Higgins Trust' (on the reverse), carbon and casein on paper, 111.5 x 76cm (43 7/8 x 29 15/16in). Sold for £34,000/€39,754 (estimate: £15,000-20,000). Photo: Bonhams.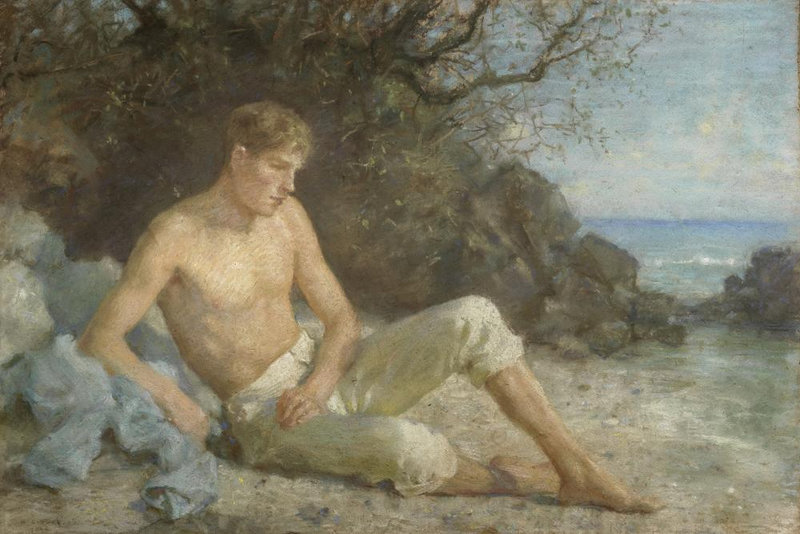 Lot 86. Henry Scott Tuke, RA, RWS (British, 1858-1929), By the Water's Edge, signed and dated 'H. S. Tuke/1926' (lower left); bears inscription 'By the waters edge/Henry S Tuke RA/Royal Inst Galleries/London 1926' (on a label attached to the reverse), pastel on paper, 29 x 43cm (11 7/16 x 16 15/16in). Sold for £31,500/€36,831 (estimate: £6,000-9,000). Photo: Bonhams.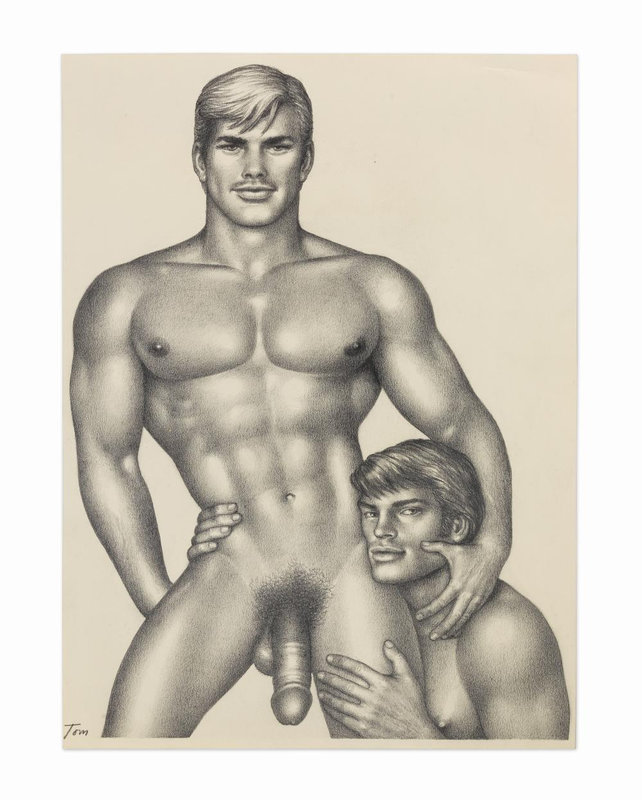 Lot 7. Tom of Finland (Finnish, 1920-1991), Untitled ('Happy Couple'), signed 'Tom' (lower left), graphite on paper, 30.5 x 22.5cm (12 x 8 7/8in). Executed in 1974. Sold for £ 29,000/€ 33,908 (estimate: £15,000-20,000). Photo: Bonhams.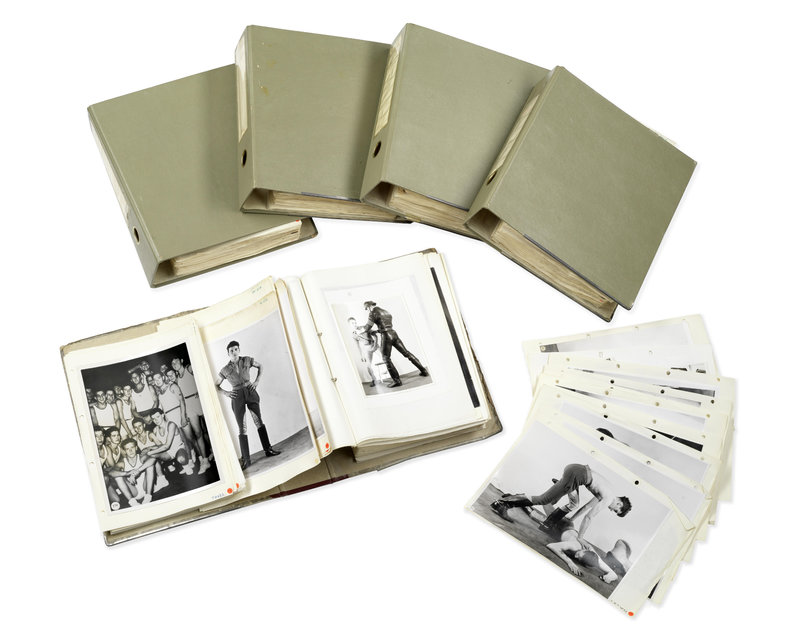 Lot 82.
Basil Clavering (1910-1973) An archive of homoerotic photographs, 1950s-1960s the majority 24 x 18cm (9 1/2 x 7in), but around a third 16 x 11cm (6 1/4 x 4 1/4in). ((large quantity)). Sold for £27,500/€26,600 (estimate: £15,000-20,000)
.
Photo: Bonhams.
Clavering was a successful businessman who owned the Gala-Royale cinema chain. More as a hobby than anything else, he established a photographic studio in the basement of his Pimlico home, with his friend John Charles Parkhurst (1927-2000). Both men had served in the Navy, and they were drawn to the military men around the Hyde Park and Chelsea barracks, whom they paid to model for them.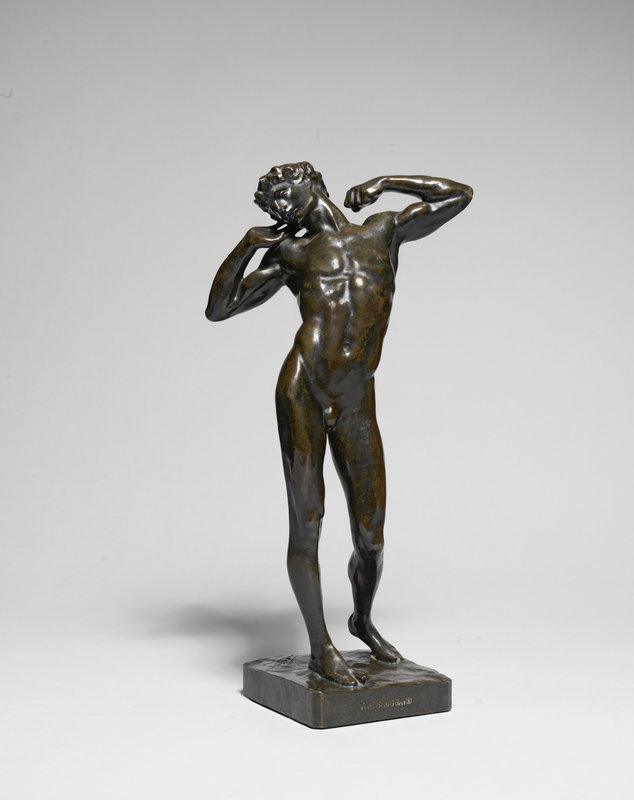 Lot 53. Lord Frederick Leighton (British, 1830-1896), A bronze figure of 'The Sluggard', the nude male stretching, on canted square base, inscribed THE SLUGGARD, and signed Fred Leighton, and with inscribed foundry marks, FOUNDED BY J. W. SINGER & SONS, FROME SOMERSET, 52cm high (20in high). Sold for £20,250/€ 23,677 (estimate: £4,000-6,000). Photo: Bonhams.