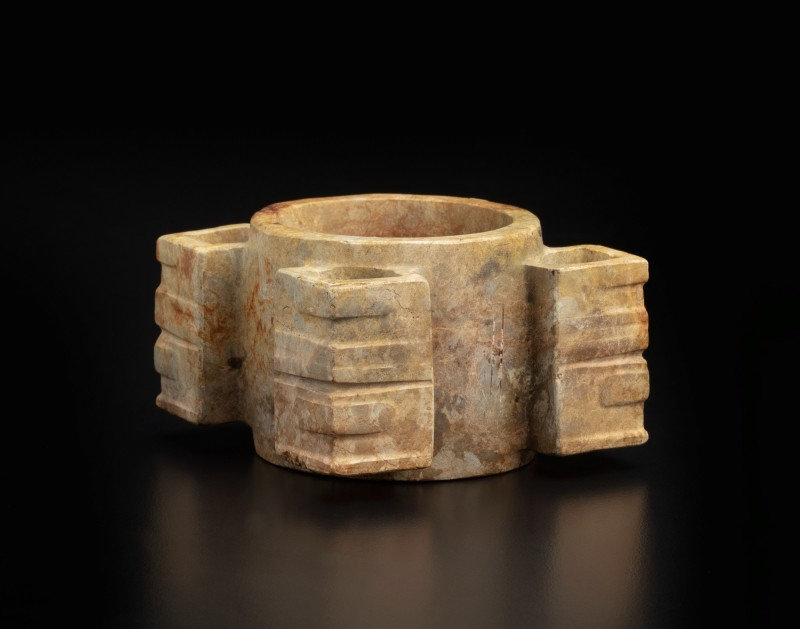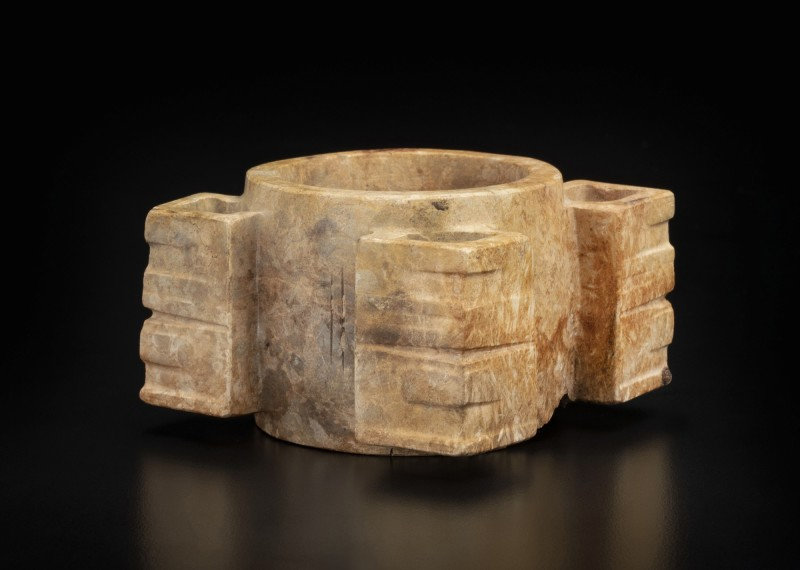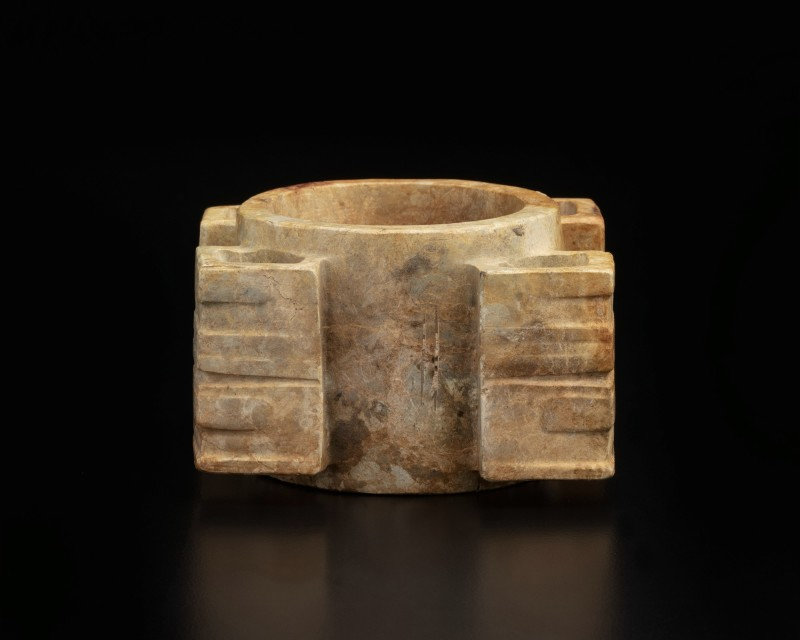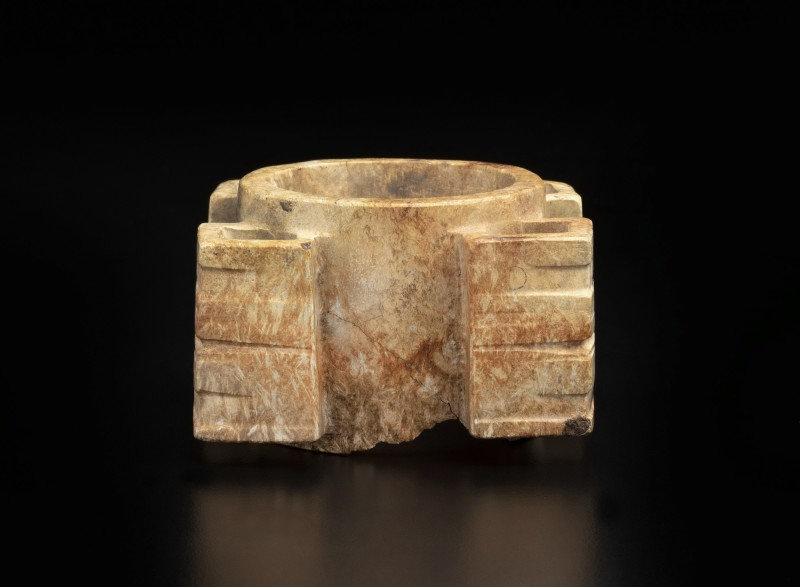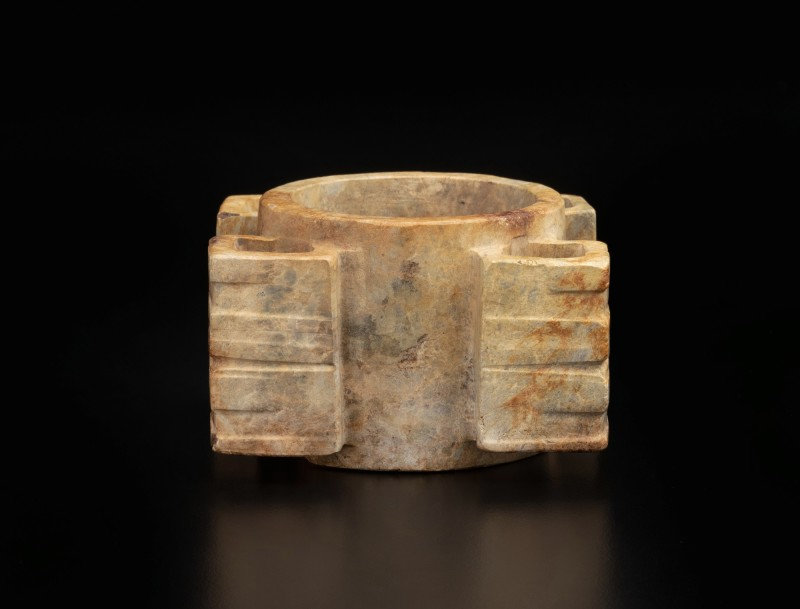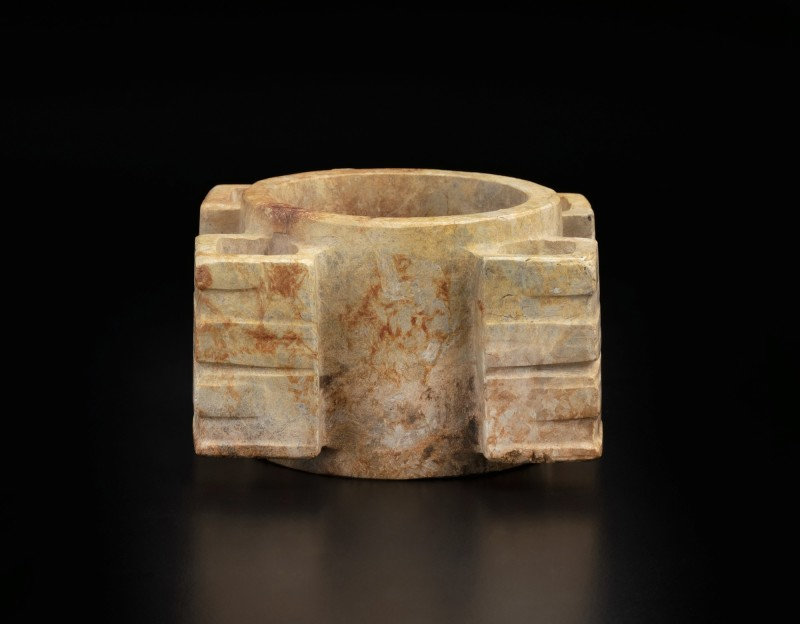 Lot 50. A rare Liangzhu-style beige jade cong. Width 3 in., 7.7 cm. Estimate: 40,000 - 60,000 USD. Lot sold: 50,400 USD. © Sotheby's 2021
the cylindrical central shaft abutted by four hollow square shafts rising along its sides, each square shaft carved with concave and convex bands with faint traces of two registers of taotie masks with incised lines and eyes, the calcified stone with russet and white variegation.
Property from the Junkunc Collection
Provenance: Collection of Stephen Junkunc, III (d. 1978).
Literature: Alfred Salmony, Chinese Jade Through the Wei Dynasty, New York, 1963, pl.XIII, fig. 1 a-b.
Na Zhiliang, Gu yu jian cai [Connoisseurship of Ancient Jade], Taipei, 1980, pl. 25c.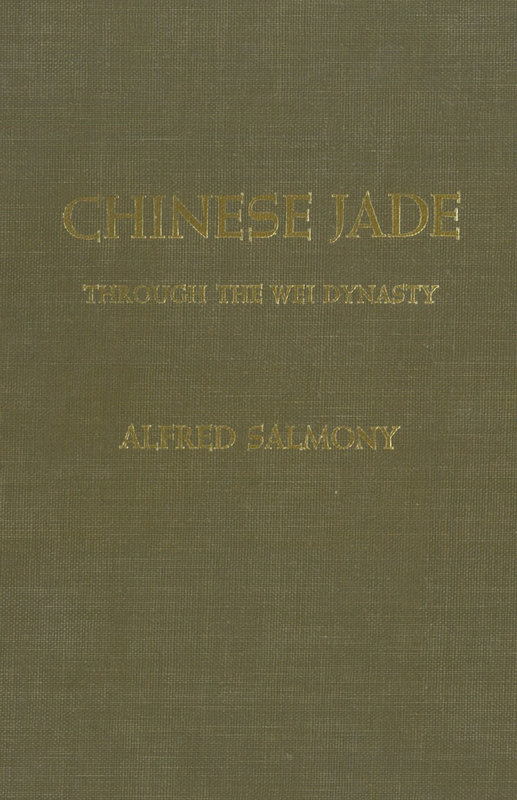 Note: This form of this cong appears as four distinct square sections abutting a cylinder. A cong of similar form but with solid and plain square shafts from Fu Hao's tomb was published in China's Social Sciences and Archaeological Research Institute, ed., Yinxu Fuhao mu / Tomb of Lady Hao at Yinxu in Anyang, Beijing, 1980, pl. 82.4.1230. Compare two other related examples with solid and plain square shafts: one attributed to the Shang dynasty or later, is published in Jessica Rawson, Chinese Jade—From the Neolithic to the Qing, London, 1995, pl. 7:4; the other, attributed to the Shang dynasty, is in the collection of the Royal Ontario Museum, Toronto, and published in Chen Shen and Gu Fang, Ancient Chinese Jades from the Royal Ontario Museum, Beijing, 2016, pl. 042.
Another example with solid peripheral shafts and mask decoration from the Liangzhu Culture was exhibited in Liangzhu yu gudai Zhongguo yuqi xianshi de wu qian nian wenming [Liangzhu and Ancient China: Jades Displaying a 5,000-Year Civilization], Palace Museum, Beijing, 2019, cat. no. 6.
Sotheby's. Important Chinese Art, New York, 21 September 2021