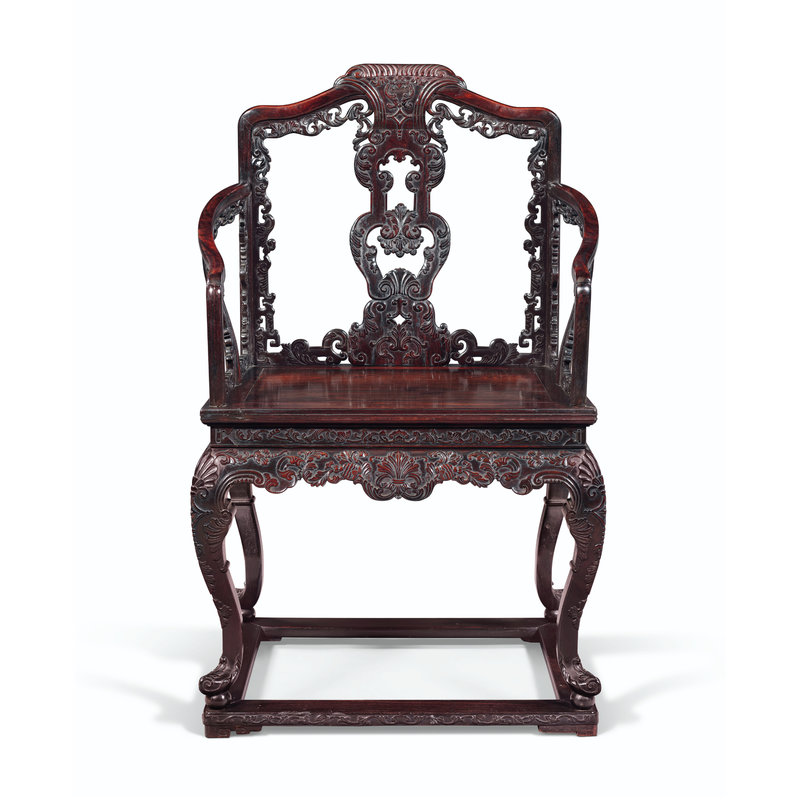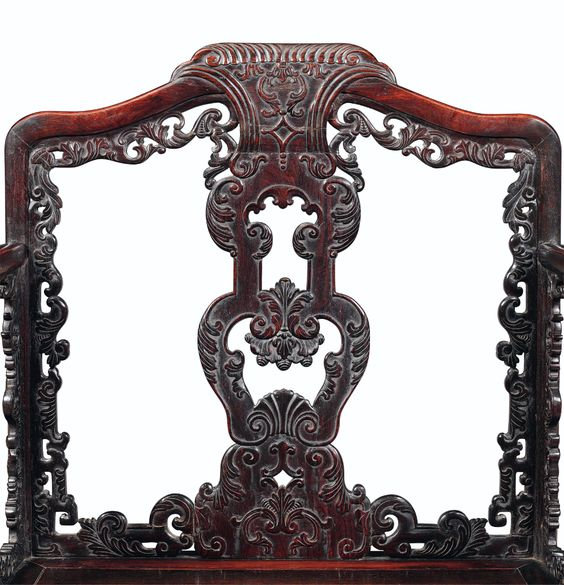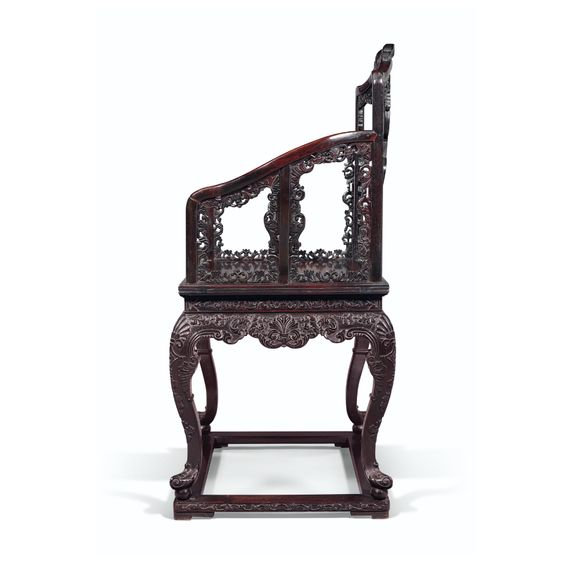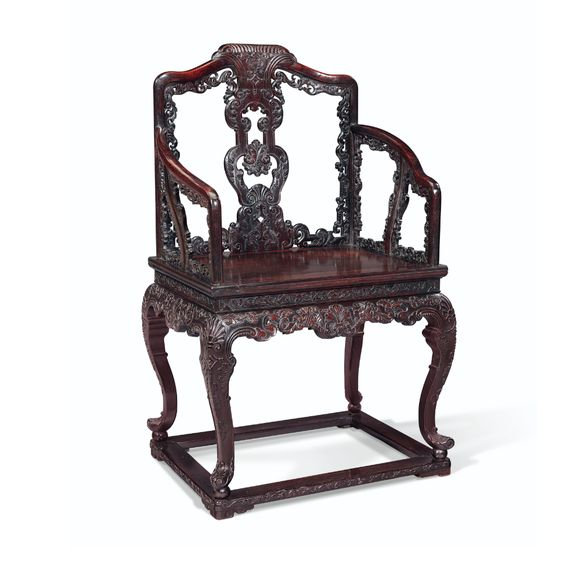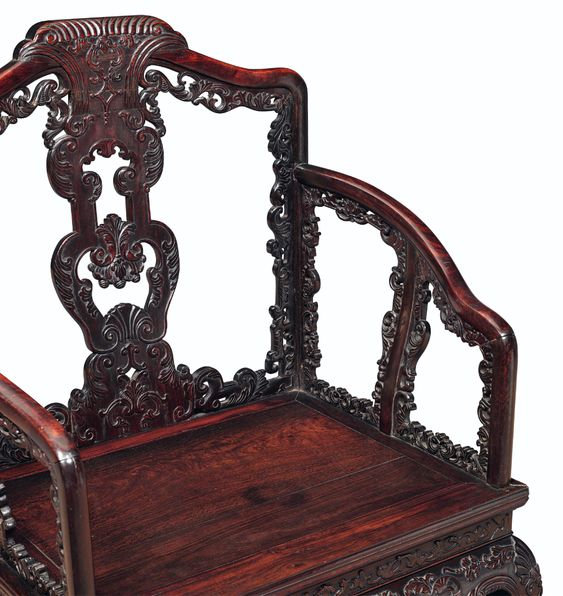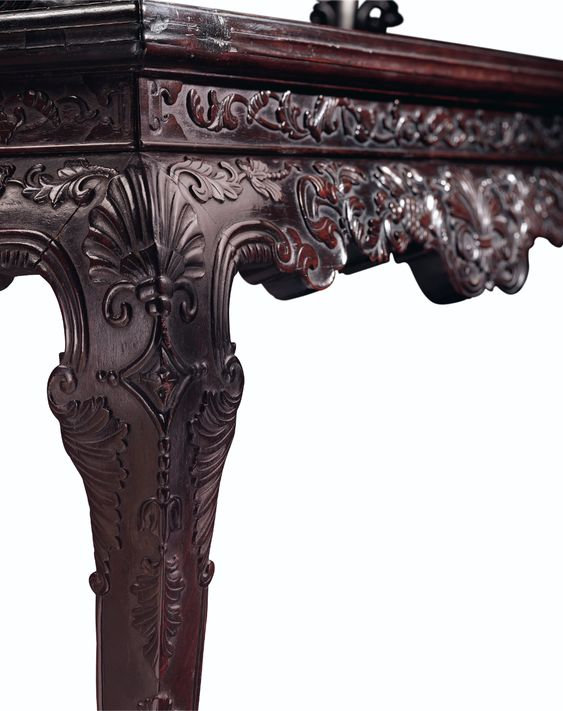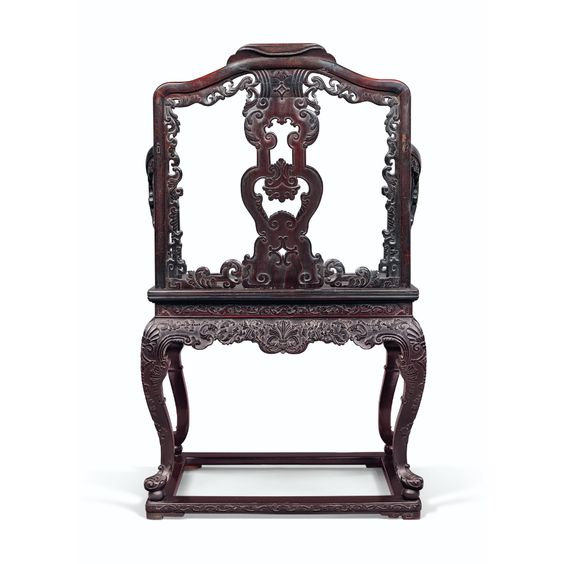 Lot 1010. An important imperial zitan armchair, Yongzheng-Qianlong period (1723-1795); 44 in. (111.8 cm.) high, 27 ¼ in. (69.2 cm.) wide, 20 in. (50.8 cm.) deep. Estimate: USD 500,000 - USD 700,000. Price realised USD 1,074,000. © Christie's 2021
The back splat is carved in openwork in the form of a vase and decorated in the European Rococo style below the scrolled headcrest and elegantly curved crestrail and curvilinear arms, fitted with openwork spandrels carved as scrolling leaves. The zitan seat is fitted in a rectangular frame above a narrow waist and shaped aprons centered by a stylized lotus flower amidst acanthus scroll. The whole is raised on elegant cabriole legs, carved at the top with shells, and supported on small ball feet above the rectangular floor stretcher.
Provenance: Lt. Col. Robert Gray Peck (1879-1956), and thence by descent.
Lt. Col. Robert Gray Peck (1879-1956) held the position of Second Lieutenant in the Peking Legation Guards from 1903 to 1904, and acquired the zitan chair and the huanghuali table (lot 1009) while stationed in China. He was a highly decorated military officer, and held several honors for bravery and acts of individual heroism, including a Distinguished Service Cross for the capture of an entire Battery with the aid of two runners in France during World War I. Born into a prominent Newark, New Jersey family, his engagement to Miss Alice Hyde Fessenden (1884-1977) of Highland Park, Chicago, and a Daughter of the American Revolution, was announced in The Chicago Daily Tribune in 1906.The present chair and the huanghuali table have remained within the family collection since their arrival in the United States in 1904.
Exhibited: Knoxville, Tennessee, McLung Museum, 2005-2013.
University North Carolina - Chapel Hill, The Ackland Art Museum, "Court and Capital," 31 May - 10 December, 2017.
A MUTUAL EXCHANGE – A EUROPEAN-INSPIRED ZITAN ARMCHAIR FOR THE EMPEROR QIANLONG

This magnificent zitan chair is the fourth surviving example in a suite of chairs of this distinctive design. Constructed of the finest quality zitan, the armchair is carved in high relief and is influenced by the ornamental style of Rococo design. The chair is a rare example of Western-influenced design executed in zitan using traditional furniture construction techniques. The density of the zitan made this material especially suitable for fine and intricate carving and its jade-like, lustrous surface made it the preferred material for Imperial Qing dynasty furniture, which favored elaborately carved and highly-ornamented furnishings. Furniture in this Western-style is termed Guangzhou-style or Guangshi decoration, after the port city of Canton in Guangdong province, the major trading port for East-West exchange. The present chair skillfully weaves together the East-West aesthetic, combining the lavish ornamental style favored by Europeans with the masterful woodworking skills of the Chinese carpenter.

Of the three known chairs, one pair was sold at Christie's Hong Kong, 3 December 2008, lot 2503, currently on display at National Museum, Beijing, and a single was sold at IGavel New York, 24 October 2012, item number 2733451. A small engraved plaque mounted to the back seat frame of the IGavel chair stated "One of a number of black carved hardwood chairs presented to emperor Chien Lung, Peking, 1736 by Jesuit missionaries." The final tally of chairs is unknown, but it was common for large sets of furniture to be commissioned to furnish Imperial palaces and halls.

The first half of the Qing dynasty welcomed an energetic exchange of ideas between East and West. To meet the demand for decorative objects in the Western style, Imperial workshops were established in glassmaking, clockworks, furniture, and other decorative arts. These furnishings and objects graced the Baroque and Rococo-style palaces commissioned by the Yongzheng and Qianlong Emperors. Acanthus leaves, scrolled capitals atop columns, and European garden designs and fountains were adopted from Western architecture and incorporated into newly built palaces and their outlying grounds. Furniture made with traditional Chinese joinery and decorated with European-style motifs provided an opulence that matched these splendid complexes. A zitan throne chair, dated to the Qianlong period, illustrated in Zitan: The Most Noble Hardwood, My Humble House Publications, Taipei, 1996, pp. 50-55, draws inspiration from a Baroque colonnade and shaped pediment.

Although the decorative scheme is heavily influenced by Western design, the present chair is rooted in traditional Chinese furniture. The downward-sloping serpentine arms and side posts can be compared to the sinuous lines of a horseshoe-back armchair or a black lacquer armchair in the Palace Museum collection, illustrated in The Complete Collection of Treasures of the Palace Museum: Furniture of the Ming and Qing Dynasties (53), Hong Kong, 2002, p. 46, no. 32. The arms are supported by a narrow waist, cabriole legs, and floor stretchers. The cabriole leg has its origins in China and was adopted by European furniture makers in the late 17th/early 18th centuries, demonstrating the reciprocal influence of ideas between these two cultures.

A closely related, more elaborate zitan armchair, dated to the Qianlong period, carved with a dramatic, oversized fanning shell on the headrest, vase-form back splat, cabriole legs terminating in ball-and-claw feet and joined by a base rails is illustrated in The Complete Collection of Treasures of the Palace Museum: Furniture of the Ming and Qing Dynasties (54), Hong Kong, 2002, p. 49, no. 39. A zitan throne chair with boxwood inlays, dated to the middle Qing period, is carved in a similar manner with the shell-form crest and corner-leg form base supported on cabriole legs and floor stretchers, illustrated by Hu Desheng, Gu gong bo wu yuan cang Ming Qing gong ting jia ju da guan (The Palace Museum Collection: A Treasury of Ming and Qing Dynasty Palace Furniture), vol. 1, Beijing, 2006, pp. 76-77, pl. 51. This elaborate style was applied to all furniture forms. For related zitan examples dating to the Qianlong period, see a zitan incense stand inspired by serpentine Baroque columns and incorporating shell and acanthus leaf decorative motifs and a pair of zitan corner-leg stools, carved with acanthus leaves at the corners, both illustrated by Zheng Nanwei et al., in The Most Noble Hardwood: Zi Tan Furniture of the Ming and Qing Dynasties, Beijing, 2016, pp.102-108, pl. 25 and p. 15-17, pl. 2.
Christie's. Important Chinese Ceramics and Works of Art, New York, 23-24 september 2021