Hans Holbein the Younger (German, 1497/98 – 1543), Simon George of Cornwall, about 1535-40. Mixed technique on panel. Städel Museum, Frankfurt am Main.
In the early 1500s, if you wanted to impress people with your good looks and accomplishments, a portrait by Hans Holbein the Younger was a sure way to astonish them.
In early 16th-century Basel, Switzerland, and Tudor England, Hans Holbein the Younger (German, 1497/98–1543) created captivating portraits for a wide range of patrons, including humanist scholars, statesmen, merchants, women of distinction, and cultured courtiers, as well as the English King Henry VIII, whom he served as court painter. In his compelling drawings and paintings enriched by inscriptions, Holbein combined an unrivaled ability to render accurate likenesses with evocative objects, such as animals, jewels, letters, and books to construct eloquent statements of personal identity.
Hans Holbein: Capturing Character in the Renaissance, on view at the Getty Museum from October 19, 2021 through January 9, 2022, is the first major museum exhibition of Holbein's art in the United States. Co-organized with the Morgan Library & Museum, New York, where it will head in February 2022, the exhibition features over 50 objects from nearly 30 lenders across the globe, including 33 paintings and drawings by Holbein, among them 24 drawn and painted portraits of prominent intellectuals, merchants, and members of the English court. The exhibition illuminates Holbein's brilliant artistic versatility in diverse media and highlights the impact of his international career on his portraiture. Holbein's paintings are presented with related works, notably his arresting portrait drawings in colored chalks, designs for personal emblems and metalwork, as well as closely associated objects, such as jeweled hat badges and portrait medals.
"A versatile artist with exceptional skills as both a painter and draftsman, Holbein rendered his sitters with extraordinary realistic precision while at the same time conveying the subject's values and ideals," said Timothy Potts, Maria Hummer-Tuttle and Robert Tuttle director of the J. Paul Getty Museum. "This exhibition features Holbein's most sophisticated drawn and painted portraits and is a once-in-a-lifetime opportunity for museumgoers to immerse themselves in Holbein's captivating work."
The exhibition will highlight the complex, international nature of Holbein's career, from his early association with humanists in Basel, when he became acquainted with one of his most important patrons, the Dutch philosopher and Christian scholar Desiderius Erasmus, to his engagement with the painters of the Low Countries, and finally his profound contribution to the expression of intellectual activity by foreign merchants, statesmen and members of the Henrician court in London.
"Holbein immortalized a vibrant Renaissance culture of self-definition, luxury, knowledge, and wit. He devised inventive pictorial solutions for his patrons and achieved the powerful impression of presence and specificity through a flexible working process and rapport with his sitters," said curator Anne Woollett. "Holbein created not just accurate likenesses but splendid celebrations of his sitter's values, aspirations, and professional identities"
Holbein: Capturing Character in the Renaissance includes some of Holbein's best-known works.
In A Lady with a Squirrel and a Starling (Anne Lovell?) (about 1526–28), painted during his first trip to London, an elegant woman, dressed in an ermine fur cap and a fine silk shawl, holds a squirrel on her lap. The dignified sitter remained unidentified until 2004, when the animals in this portrait were understood to be references to the Lovell family. Anne Lovell (née Ashby) was a wealthy English noblewoman whose husband, Sir Francis Lovell, served King Henry VIII. Her pet red squirrel, restrained by a silver chain and nibbling a hazelnut, alludes to the squirrels on the Lovell family crest. The starling on the left puns on East Harling, the location of the Lovell estate in Norfolk, England. Scientific imaging shows that Holbein implemented these crucial alterations at a late stage in the painting process. The work comes to the Getty from The National Gallery, London.
Hans Holbein the Younger, A Lady with a Squirrel and a Starling (Anne Lovell?), 1526–28. Oil on panel. The National Gallery London. Bought with contributions from the National Heritage Memorial Fund and Mr. J. Paul Getty Jnr (through the American Friends of the National Gallery, London), 1992. © The National Gallery, London.
Holbein portrayed Thomas Cromwell, Tudor bureaucrat and Henry VIII's chief minister, soon after he returned to England in 1532. Cromwell sits behind a table and holds a sheet of paper, a letter or memo, as an allusion to his authority. On the table rest letters, including a missive addressed to him in his capacity as the "Master of our Jewel House," and a book bound in gold, both ostensibly from the king. The painting, on loan from the Frick Collection, New York, is an important highlight of their collection.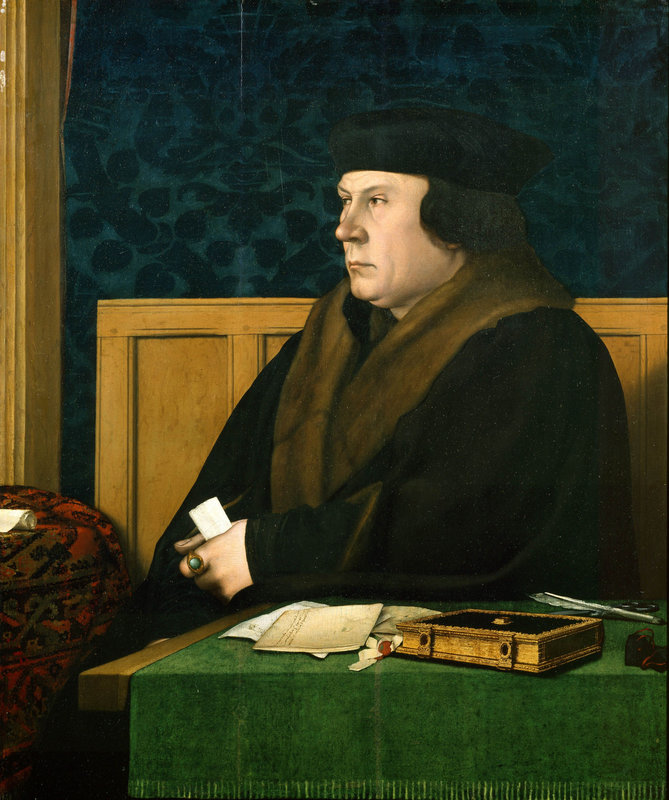 Hans Holbein the Younger, Thomas Cromwell, 1532–33. Oil on oak panel. The Frick Collection, Henry Clay Frick Bequest (1915.1.76). © The Frick Collection
One of the most significant aspects of Holbein's approach was his extraordinary skill at lettering and calligraphy. Inscriptions play an important role in his portraits, enabling paintings to "speak" and attest to the veracity of the portrait and skill of the artist.
Highlights of the exhibition include magnificent portrait drawings in colored chalks, pen, and ink lent by Her Majesty Queen Elizabeth II, and from the Getty's own collection. These remarkable portraits reveal not only Holbein's direct relationship with his subjects, but the range of techniques he employed to capture their appearance, character, and accouterments and provide insight into his flexible working method in which he responded to his patrons.
The exhibition also presents new insights into the meaning and significance of the Getty's Holbein painting, An Allegory of Passion, about 1532-36, highlighting findings from a recent technical study of the panel. This intriguing rhombus-shaped panel depicting a horseman astride a galloping mount may have been the personal emblem of an English courtier or part of a decorative series. The inscription beneath the horseman, E cosi desio me mena (And so desire carries me along) comes from the early Renaissance poet Petrarch's Canzoniere, written about 1342. The picture is exhibited with related objects, notably Holbein's sinuous pen drawings of ornamental motifs similar to those used for the vibrant red and gold decorative corners of the painting.
Holbein: Capturing Character is co-organized by the Getty Museum and the Morgan Library & Museum and will travel to the Morgan Library in February 2022. It is curated by Anne T. Woollett at the Getty Museum, and Austėja Mackelaitė and John T. McQuillen in New York, and supported by an indemnity from the Federal Council on the Arts and the Humanities.
A catalogue accompanies the exhibition: Holbein: Capturing Character, edited by Anne T. Woollett, with contributions by Austėja Mackelaitė and John T. McQuillen, Ulrich Hans Birkmaier, Peter van der Coelen, and John Oliver Hand. It features five essays that explore Holbein's relationships to patrons and artists, examines his role as a creative force within a vibrant humanist network, and articulates his distinctive artistic achievements in this sphere to make the Renaissance cultural process of self-definition accessible to modern audiences.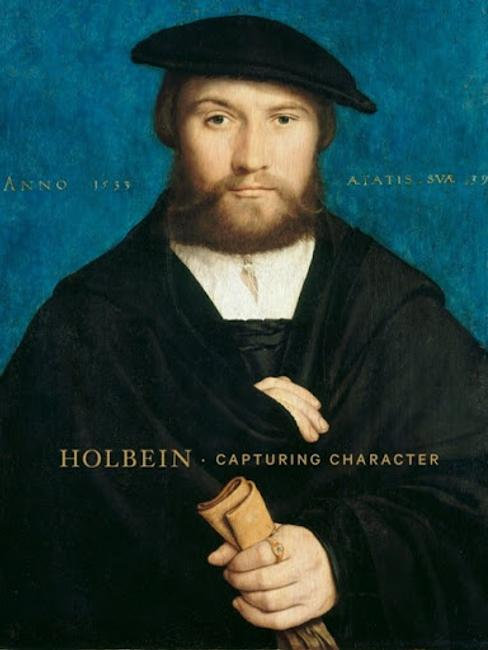 Cover of "Holbein: Capturing Character" exhibition catalogue.