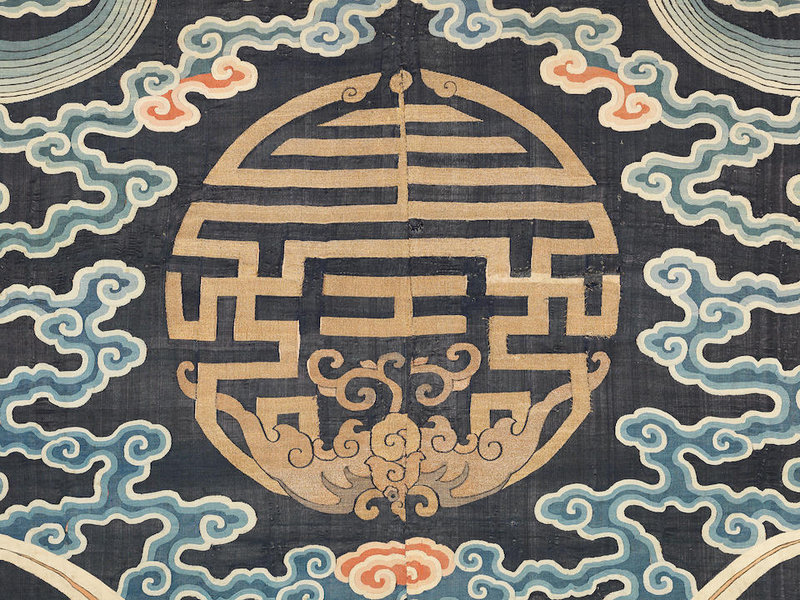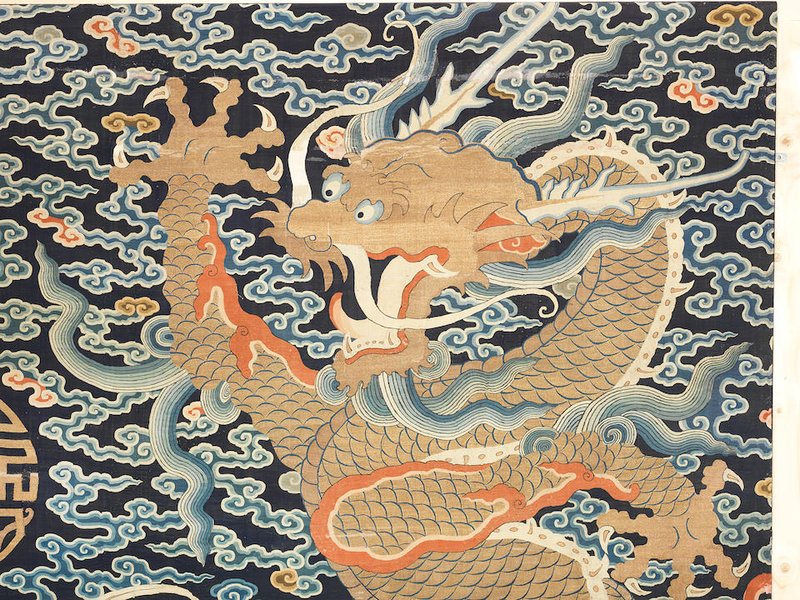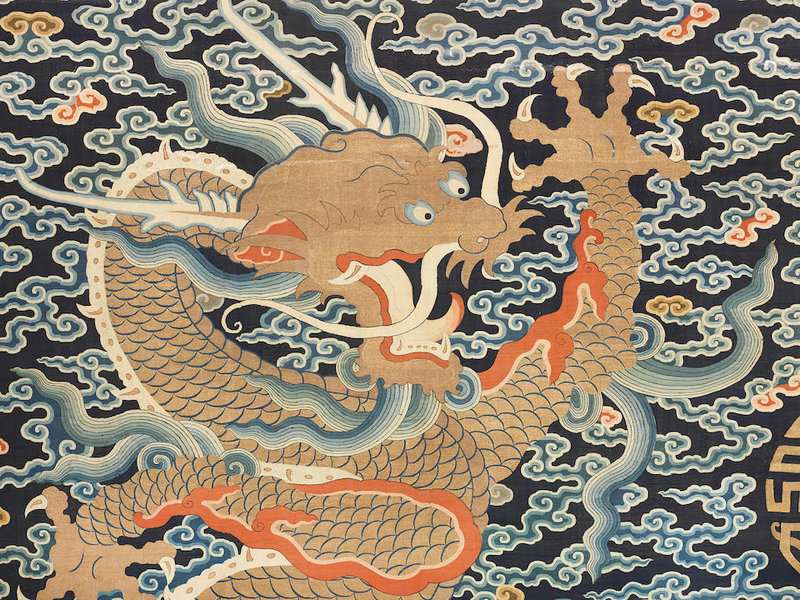 Lot 227. An exceptionally large imperial silk kesi 'double-dragon' wall hanging, Qianlong period (1736-1795); 307cm (120 1/2in) wide x 195cm (76 6/8in) high. Sold for £ 50,250/€ 60,230 (Estimate £40,000 - £60,000). © Bonhams 2001-2022
The impressive panel finely woven in gold and colourful threads with a pair of confronted ferocious five-clawed dragons, the scaly creatures framed by flaring horns and flowing mane, enclosing a Shou character and bat medallion, all on a dense ground of trailing five-coloured clouds on a midnight-blue ground, mounted.
Provenance: Sotheby's London, 14 May 2008, lot 679
An English private collection.
Superbly woven and impressive in its exceptionally large size, this magnificent panel is a splendid testament to the scale and opulence of the Qianlong Court. The exquisite tapestry wold have probably been hung in one of the ceremonial halls for a special occasions, likely the Emperor's birthday, as suggested by the ferocious five-clawed dragons alternating with Shou characters, the wan symbols and the lingzhi fungi resting on bats: these auspicious designs convey the rebus Wan Wan Shou which may be translated as 'May you live for 10,000 years', the Imperial birthday greeting reserved for the Emperor.

Large hangings with Imperial dragon imagery were used throughout the throne rooms and palaces of the Forbidden City, displaying the same symbolic colouration and celestial landscape imagery employed on Court robes. As with throne cushions, the designs on major Court hangings were specified by Court artisans of the Ju-i-kuan, and the actual fabrication occurred in one of the Court-administered textile workshops; see J.Vollmer, Imperial Silks. Ch'ing Dynasty Textiles in the Minneapolis Institute of Arts, Minneapolis, MA, 2000, p.949-951.

In Han Chinese thought, the five-clawed dragon was the quintessential symbol of Imperial power, embodying royalty and dominion. Capable of flying high in the sky and diving back into the sea, dragons were regarded in China as intermediaries between Heaven and Earth and empowered with extraordinary powers that compared with those of the Emperors. In conjunction with the flaming pearl, the dragon formed the visual metaphor of the good ruler who behaved wisely for the well-being of his subjects. Sumptuous silks decorated with dragons thus therefore, facilitated the Manchus' transformation of their image in the eyes of the Han populations to legitimate rulers of China.

The style of the powerful dragons decorating the present panel recalls the creatures adoring Imperial Court robes of the Qianlong period. See the side dragons decorating the lower part of a blue-ground kesi 'dragon' robe, late 18th century, illustrated by J.Vollmer, Imperial Silks. Ch'ing Dynasty Textiles in the Minneapolis Institute of Arts, Minneapolis, MA, 2000, p.141, no.41.
Bonhams. Fine Chinese Art Including Imperial and Court Textiles Curated by Linda Wrigglesworth, London, New Bond Street, 2 Nov 2021