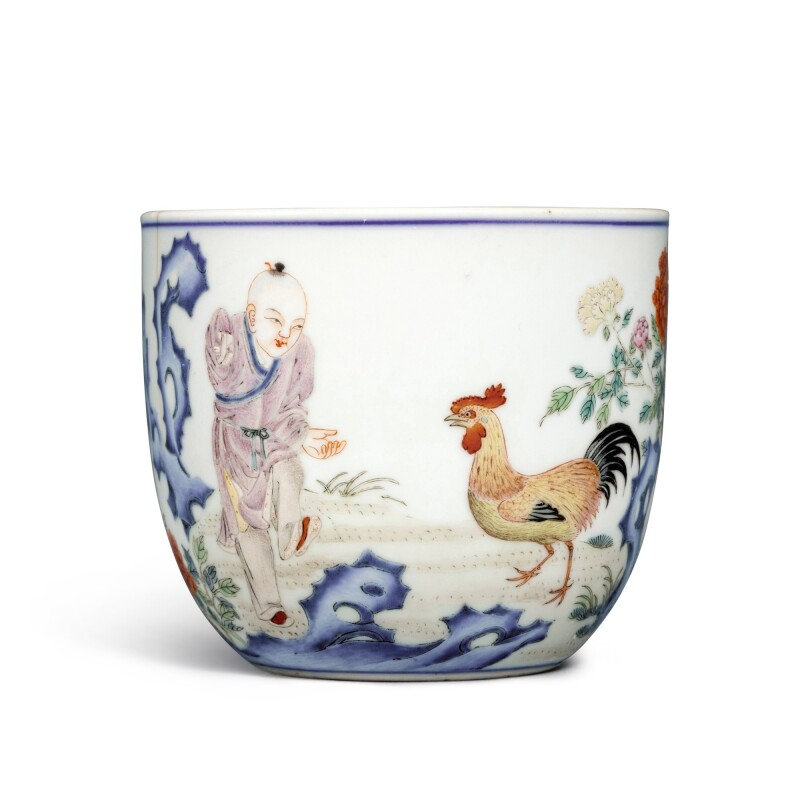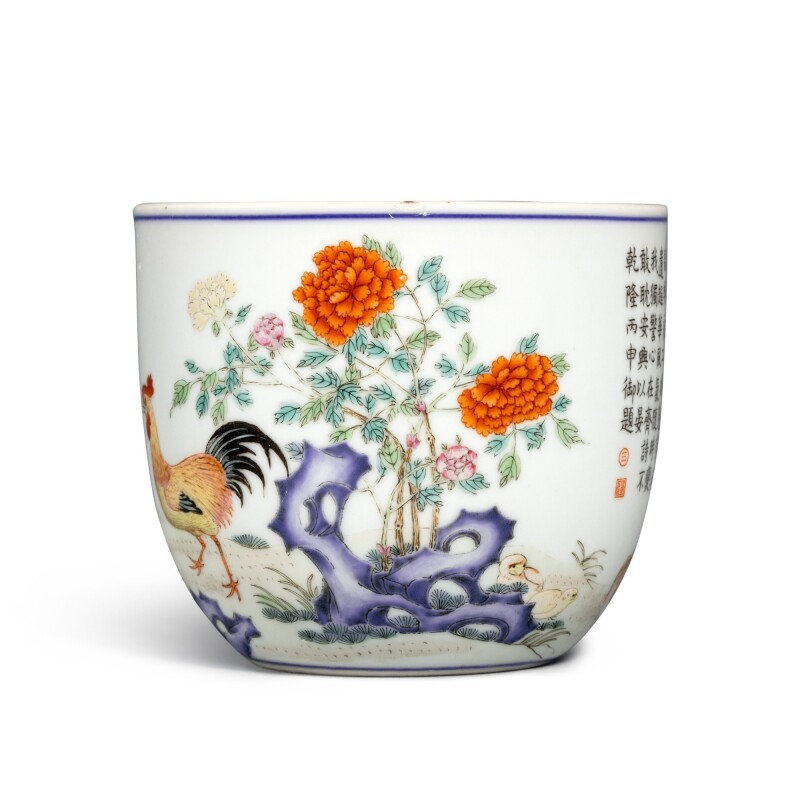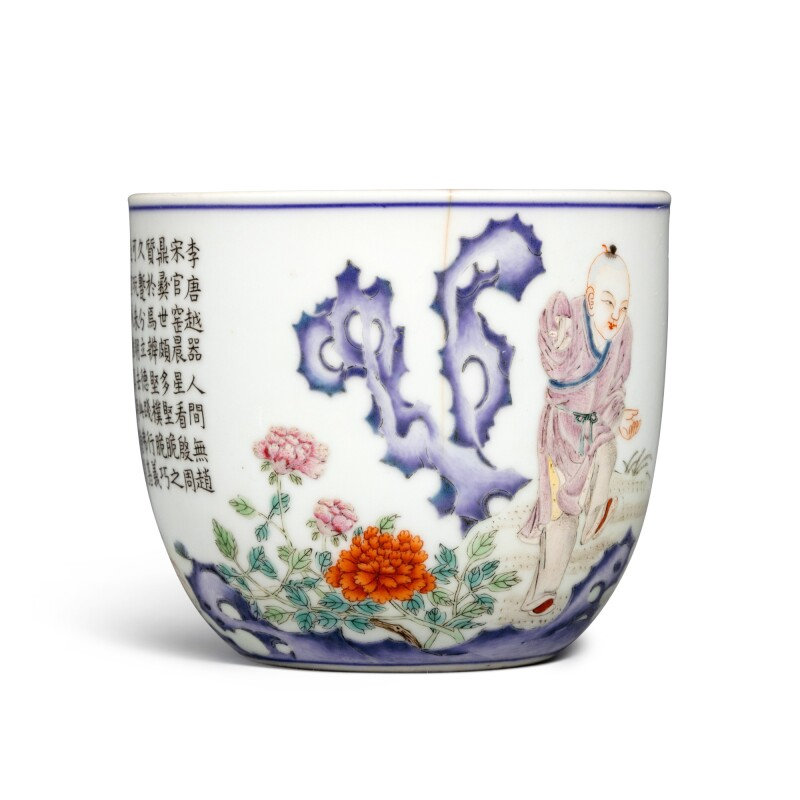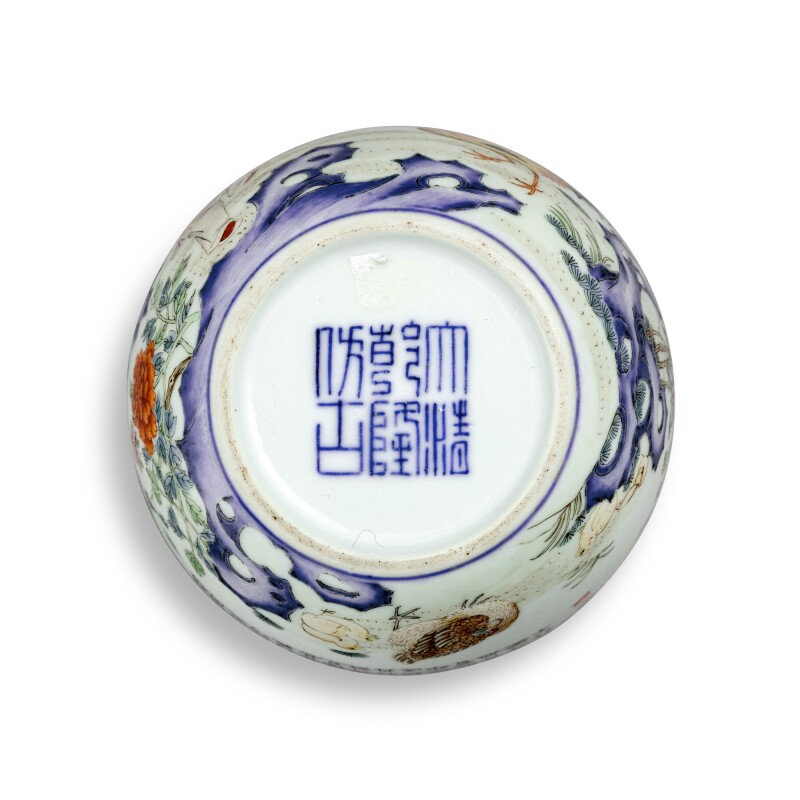 Lot 81. A famille-rose 'chicken and boy' cup, Seal mark and period of Qianlong (1736-1795). Height 2¾ in., 7 cm. Estimate: 20,000 - 30,000 USD. Lot sold: 81,900 USD. © Sothebys.
bearing an inscription of an imperial poem by the Qianlong Emperor dated to the bingshen year (1776) and followed by two iron-red seal marks reading san and long, the base with a six-character fanggu seal mark in underglaze blue..
Provenance:

Sotheby's London, 28th October 1958, lot 54
.
Collection of Dr Wou Kiuan (1910-1997).
Wou Lien-Pai Museum, 1968-present, coll. no. Q.

7.24

.
Note: From its first appearance on porcelains of the Chenghua period of the Ming dynasty, this charming motif of a cockerel, hen and chicks enjoyed continued popularity at court, especially during the Yongzheng and Qianlong reigns. While the form and design of the cup are altered markedly from the prototype, the Qianlong fanggu mark ('Exemplifying antiquity during the Qianlong Reign of the Great Qing Dynasty') and the poetic inscription clearly reflect the Qianlong Emperor's admiration for the Ming dynasty prototypes.
Similar cups are held in important museum collections worldwide, including a pair in the National Palace Museum, Taipei, included in the Museum's Special Exhibition of K'ang-hsi, Yung-cheng and Ch'ien-lung Porcelain Ware from the Ch'ing Dynasty in the National Palace Museum, Taipei, 1986, cat. no. 144; one included in the exhibition Selected Ceramics from the Collection of Mr and Mrs J.M. Hu, Shanghai Museum, Shanghai, 1989, cat. no. 64; another included in the exhibition Joined Colours, Arthur M. Sackler Gallery, Smithsonian Institution, Washington D.C., 1993, cat. no. 64; and two cups from the Sir Percival David collection now in the British Museum, London, published in the Illustrated Catalogue of Qing Enamelled Wares, London, 1991, pls A823 and A827.
The poem written on this cup, which was composed by the Qianlong Emperor in 1776, identifies the boy as Jia Chang (b. AD 713), a child prodigy who began training at the age of thirteen to fight cocks for the Xuanzong Emperor (AD 713-56). The boy is painted on tiptoe, possibly to form the rebus qiao zu er dai, meaning 'to expect something to be soon forthcoming'.
Sotheby's. A Journey Through China's History. The Dr Wou Kiuan Collection Part 1, New York, 22 March 2022