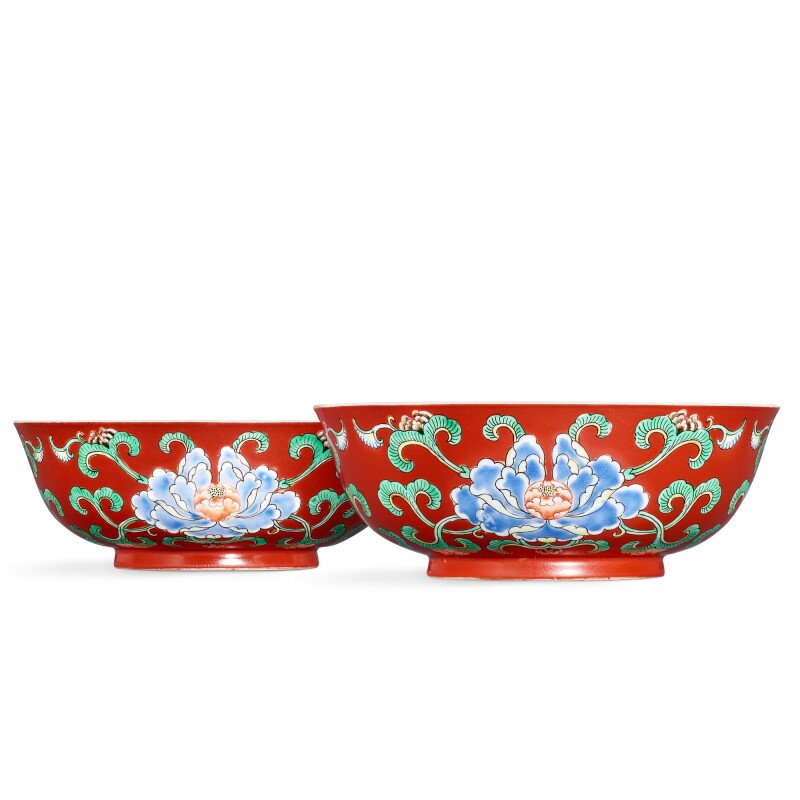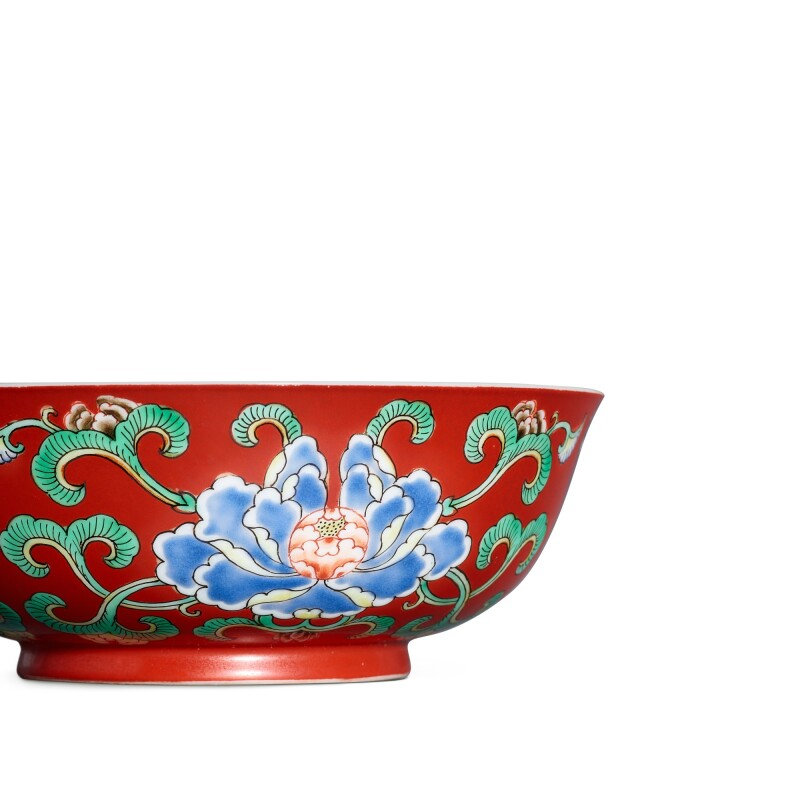 Lot 6. From the Private Collection of Joseph Lau. A fine and rare pair of coral-ground famille-verte 'floral' bowls, Yuzhi marks and period of Yongzheng (1723-1735); 11.9 cm. Lot sold: 6,300,000 HKD (Estimate: 3,000,000 - 5,000,000 HKD). © Sotheby's 2022.
each finely potted with low rounded sides rising to a slightly flared rim, the exterior skilfully painted with three large flowers rendered with blue petals showing yellow on the undersides, encircling a central red bud and seeded yellow sepals, each borne on the centre of stylised curling leaves issuing coloured floral buds and blue feathery tendrils, all reserved on an even rich coral-red ground, the interior and base left white, the latter inscribed in underglaze blue with a four-character yuzhi mark within a double square.
Provenance: Christie's London, 26th November 1974, lot 196.
Collection of Barry Dinan.
Sotheby's Hong Kong, 22nd May 1979, lot 237.
Sotheby's Hong Kong, 26th October 1993, lot 144.
Literature: Hugh Moss, By Imperial Command, Hong Kong, 1976, pl. 78 (one bowl).
Note: A similar bowl in the Shanghai Museum is illustrated in Chugoku toji zenshu [Complete book of Chinese ceramics], vol. 21, Kyoto, 1981, pl. 105. One bowl painted in this famille-verte palette from the Maze Foundation is also illustrated in Hugh Moss, op. cit., pl. 77, together with a related enamelled example, pl. 79, from the Grandidier collection and now preserved in Musee Guimet, Paris (accession no. G762); another pair of bowls from the collection of the British Rail Pension Fund was sold in these rooms, 16th May 1989, lot 72, one of them subsequently illustrated in Sotheby's Hong Kong Twenty Years, Hong Kong, 1993, pl. 226.
Bowls of this pattern are also found with yellow flowerheads, such as the pair in the Chang Foundation illustrated in James Spencer, Selected Chinese Ceramics from Han to Qing Dynasties, Taipei, 1990, pl. 142, and another bowl in the National Palace Museum, Taipei, apparently with yellow flowers, was included in the Special Exhibition of Ch'ing Dynasty Painted Enamels, National Palace Museum, Taipei, 1979, cat. no. 35.
Reign marks with the wording yuzhi [made for the imperial use of…] following the reign name, rather than nianzhi [made in the years of…] are rare and suggest a closer relationship to the imperial court. Wares enamelled in the imperial workshops in the Forbidden City of Beijing rather than by the imperial kilns at Jingdezhen in Jiangxi bear such yuzhi marks, but in overglaze blue or pink enamel, since the plain white porcelains came from Jingdezhen fully glazed and fired. The significance of the underglaze-blue yuzhi mark, which would have been added at Jingdezhen, has been much discussed, particularly since identical bowls are also known with underglaze-blue nianzhi marks. It has been suggested that such bowls were enamelled in the Palace at Beijing, with only the mark inscribed at Jingdezhen before firing. However, it is likely that they were decorated in Jingdezhen as the style of enamelling differs from that decorated with blue and pink enamels. Hugh Moss, op. cit., p. 82, suggests that such bowls bearing the famille-verte palette were probably produced in Jingdezhen following porcelains painted in the Palace Workshops in Beijing. Until the craftsmen in Beijing became acquainted with the developments in famille-rose of the Palace Workshops they continued to work in the dominant style of the Kangxi period.
Sotheby's. Gems of Imperial Porcelain from the Private Collection of Joseph Lau, Hong Kong, 29 April 2022