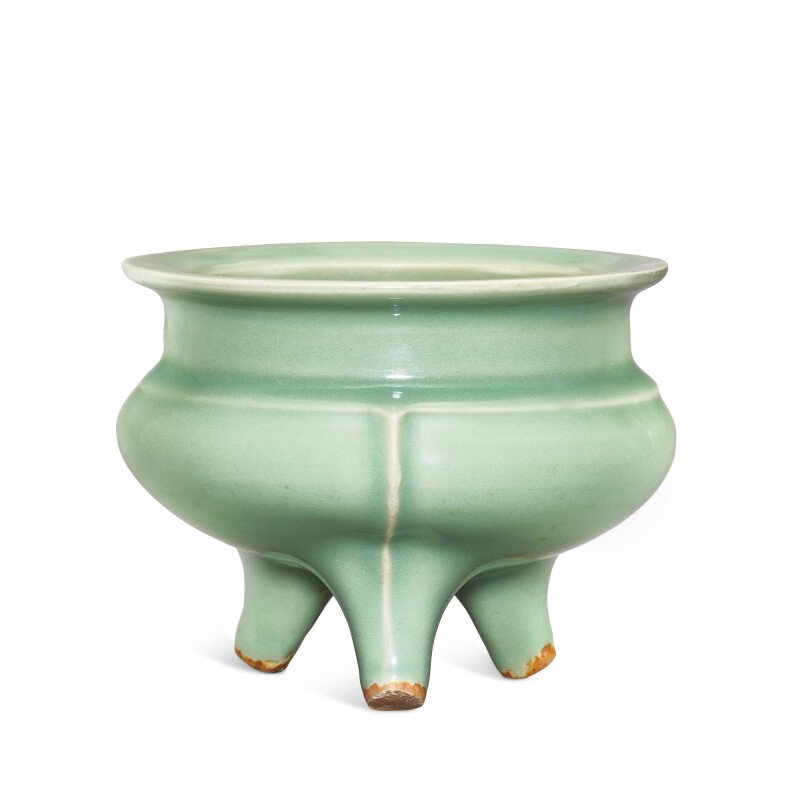 Lot 3601. A Longquan celadon tripod incense burner, Southern Song dynasty (1127-1279); d. 14.5 cm, Meiji period silver cover. Lot sold 819,000 HKD (Estimate : 400,000 - 600,000 HKD). © Sotheby's 2022
Provenance: A Japanese private collection
Note: The delicate celadon glaze and clear profile of this incense burner demonstrate the level of artistic and technical refinement achieved at the Longquan kilns during the Southern Song dynasty. Distributed in southern Zhejiang province, these kilns had been producing fine celadon wares in the preceding Northern Song period, although their popularity peaked after the move of the Song capital to Hangzhou in 1135. The support of the newly-established court and the kilns' ability to produce very fine wares, gave an unprecedented boost to the Longquan kilns.
Both the court and scholar-officials that settled in Hangzhou favoured wares with seemingly modest forms but covered in mesmerising glazes with a depth of colour and tactility that resembled treasured jade. To recreate the jade-like appearance, craftsmen began replacing the traditional lime glaze used for making the celadon tone, with a lime-alkali glaze, which resulted in higher viscosity and softer gloss. The glaze was applied in multiple layers, thus appearing thick and lustrous.
Longquan craftsmen were quick at adapting to the demands of the Southern Song dynasty, whose aesthetic ideals were well-rooted in Neo-Confucian philosophy. Neo-Confucianism gave rise to a centralised bureaucracy governed by scholar-officials selected through civil service examinations. A class of highly educated government officials, who displayed an increasing interest in China's Bronze Age, thus emerged. This led to a revival of antiquarianism and the study of antiques and history, which were considered a guiding principle in the pursuit of virtue. Potters at manufactories in southern China adopted these principles and introduced archaic forms into their repertoire. The form of the present censer, for example, was inspired by archaic bronze liding, food vessels with tri-lobed bodies supported on three legs.
Longquan censers of this form are held in important museums and private collections worldwide: two censers in the Palace Museum, Beijing, are illustrated in The Complete Collection of Treasures of the Palace Museum. Porcelain of the Song Dynasty (II), Hong Kong, 1999, pls 121 and 122; one in the Tokyo, National Museum, is published in Oriental Ceramics. The World's Great Collections, vol. 1, Tokyo, 1982, pl. 97; and a further example from the Tokiwayama Bunko Foundation, Tokyo, sold in these rooms 9th October 2020, lot 100.
Sotheby's. Important Chinese Art including Jades from the De An Tang Collection and Gardens of Pleasure – Erotic Art from the Bertholet Collection, Hong Kong, 29 April 2022