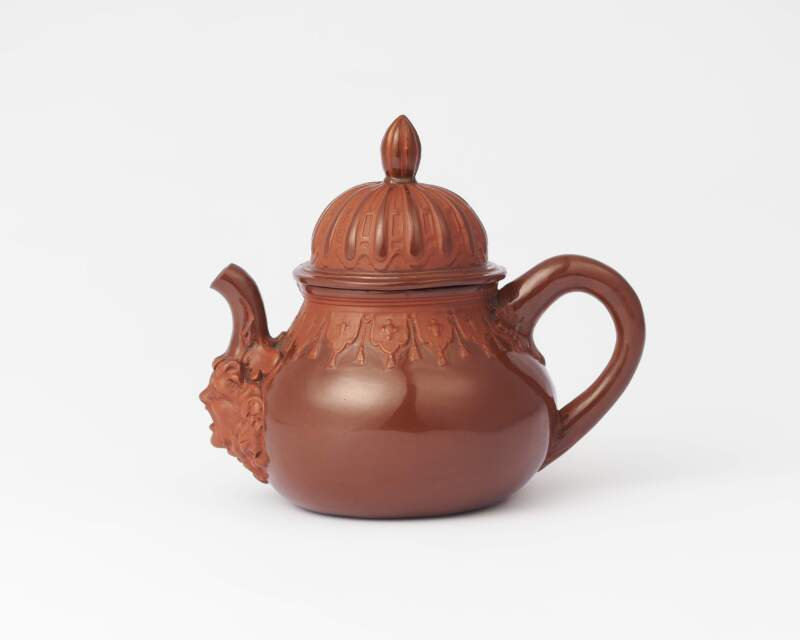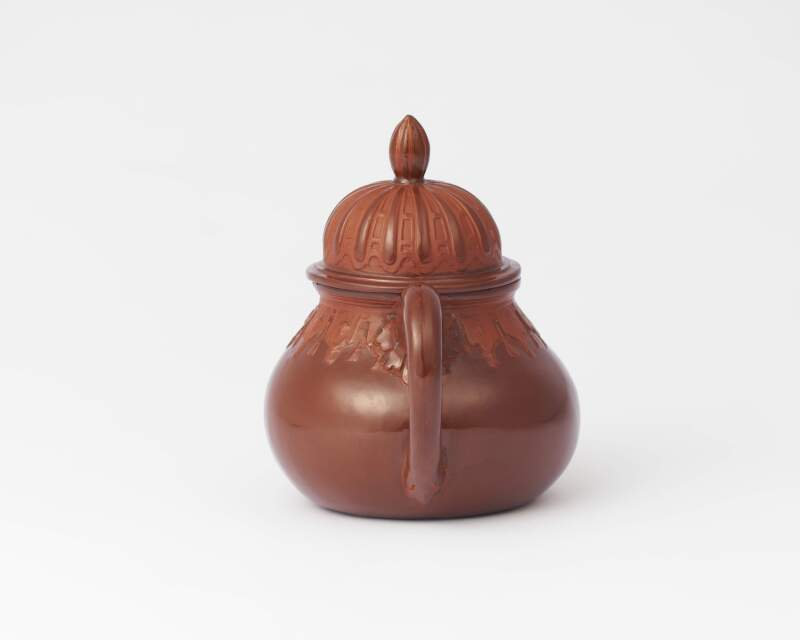 Lot 7. A Rare Böttger Stoneware Polished Small Teapot and Cover, Circa 1718; 3 3/4 in., 9.5 cm. high. Lot sold: 30,240 EUR (Estimate: 15,000 - 20,000 EUR). © Sotheby's
of squat baluster form, the upper section moulded with tasseled drapery above a polished section, the gadrooned domed cover part polished, the short spout issuing from the top of a gaping mask.
Provenance: Christie's Geneva, 16 November 1981, lot 58.
Note: Few examples of this form appear to have survived according to the literature. Most recently, a similar teapot from the West Collection sold at Christie's New York, 17 October 2017, lot 717, formerly sold at Bonham's London, 1 November 1994, lot 181. One was in the Weyerbusch Collection, Elberfeld, sold, Lempertz Cologne, 8-10 April 1924, lot 145. One, with a square-section loop handle and chamfered spout, remains in the Porzellansammlung, Dresden, inv. no. P.E. 784, illustrated in Johann Friedrich Böttger, Meißen Frühzeit und Gegenwart, exhibition catalogue, Dresden, 1982, pl. 1/8.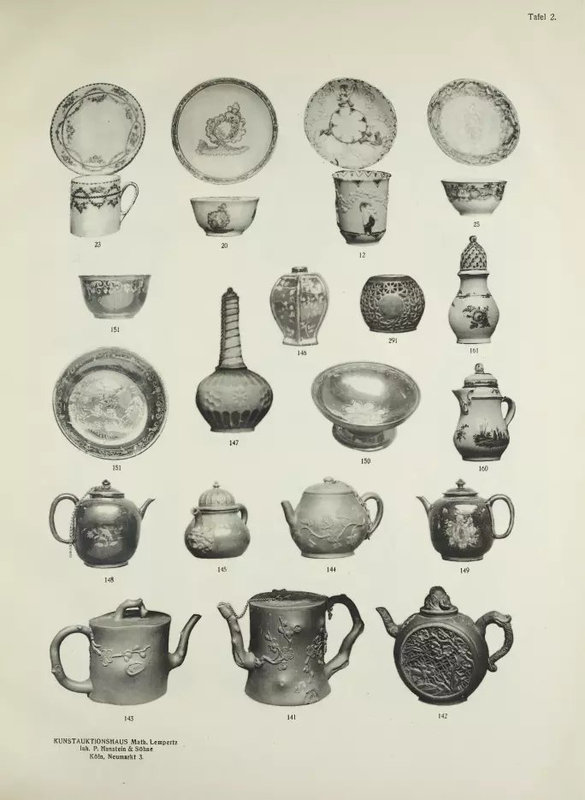 A Meissen teapot of the same form as the present lot, formerly Weyerbusch Collection, Elberfeld, sold, Lempertz Cologne, 8-10 April 1924, lot 145.
Five black-glazed examples of this form are known including those in MAK, Vienna, inv. no. Ke7235/1934; Schloß Lustheim, Munich, inv. no. ES 192 A,B and the Gardiner Museum, Toronto, Mus. K 98.2.118, as recorded by Maureen Cassidy-Geiger in Die Liedenscahft für Lack ihre Wirkung auf das europäische Porzellan, exhibtion catalogue, Munich, 2004, p. 43,
A related form, though slightly larger, in early white porcelain also remains in Dresden, inv. no. PE 2845 a, b. A similar teapot to this was sold at Sotheby's London, 19 November 1996, lot 104. Dr. Hermann Jedding, suggests this form probably relates to an entry in the 1721 Inventarium über das Palais zu Alt-Dresden, which lists the contents of the Holländische Palais, later to become the Japanese Palace:
'6 Stk. runde mit Roßen und anderen Zierathen belegte Theé Potgen, mit runden Henkeln, Schnauzen so mit Neids Köpffen belegt zing, und runden hohen belegten Deckeln, und kleinen Knöpffgen'; see, Jedding, Meissener Porzellan aus Hamburger Privatbesitz, exhibition catalogue, Hamburg, 1982, no. 28.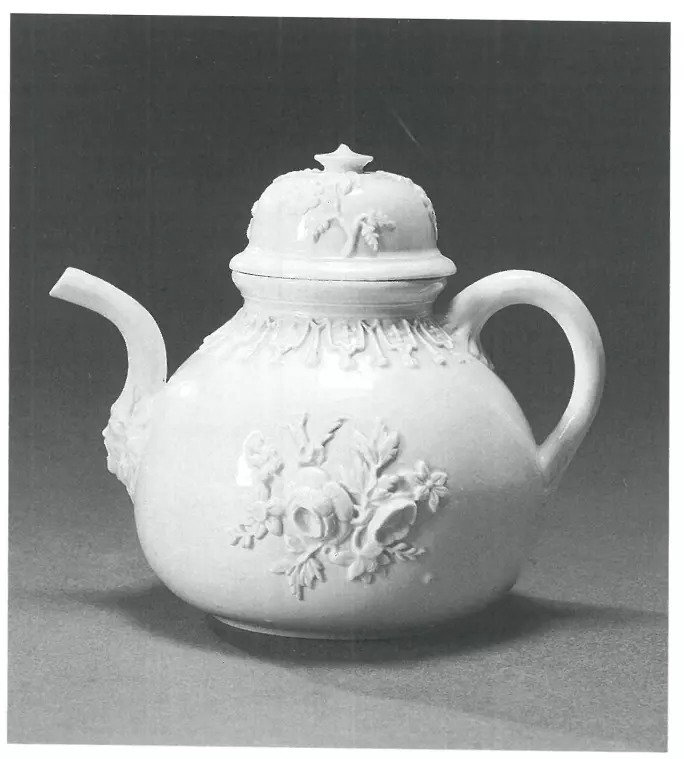 A teapot of related form, sold, Sotheby's London, 19 November 1996.
Sotheby's. Transformed by Fire A Private Collection of Early Meissen, Cologne, 1 July 2022